Comprehensive WordPress Development Company
WordPress offers many websites that are very functional and easy to use. As a full-service WordPress development company, we support clients in building all types of websites with WordPress, from personal blogs and professional portfolios to multi-vendor marketplaces using paywall integrations.
Apart from delivering WordPress Website Development from scratch, we also offer WordPress plugin development services to extend the visibility and improve the productivity and sales of your business with custom WordPress plugins.
With a focus on customization and functionality, we ensure that our client's unique requirements are met. Trust eBizneeds for top-notch WordPress development services that drive results and elevate your online presence.
Our developers believe human-friendly interfacing and heart-winning websites are not an easy task. We thrive to emphasize complexity for delivering creative and technical boundaries. It aids in offering smart SEO and robust WordPress development solutions.
Best-Fit App Solutions For Your Business

300
+
Global clients
served

500
+
Award winning apps developed

20
+
Years of enthralling success

100
+
Best app developer awards
DEVELOPMENT SERVICES
Custom WordPress Development Services
WordPress is an impressive and easy-to-use open-source system with a powerful template structure, detailed plugin instructions, and a simple admin panel. eBizneeds is experienced in providing customized wordpress development services. We offers a variety of wordpress solutions that provide a unique and complete canvas for your business and technology. A dedicated wordpress development agency provide the following services. which are:-
Plugin Development
Improve the look and feel of your website by integrating rich plugins with our plugin development services. Advanced wordpress plugins make it easy to customize your wordpress site.
Open CMS Development
eBizneeds also offer an open and responsive CMS development service, allowing developers to have a long-lasting and trustworthy relationship with potential users and customers.
Responsive Website Design
Our wordpress website designing agency empowers you to reach a large mobile audience and generate high traffic with high conversion rates with seamless performance across all devices and platforms.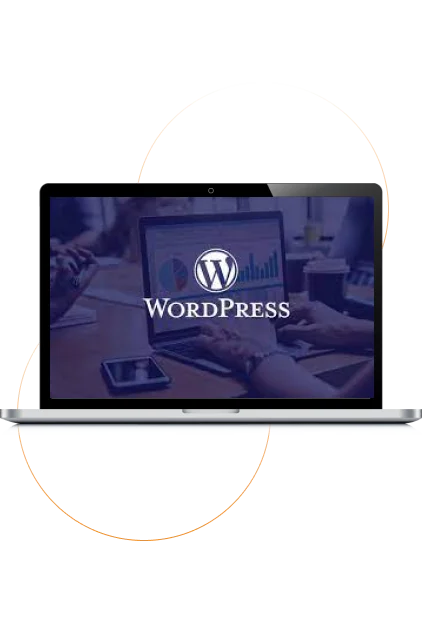 Theme Development
Our WordPress design agency uses wordpress theme development and customization services to decorate your website with a unique and eye-catching design.
ECommerce Solutions
Our expertise in custom eCommerce development using equivalent WordPress products enables us to build robust B2B and B2C solutions customized per business needs.
WordPress Shopping Cart
Get a simple online shopping solution with a fully functional store on your wordpress site and recent security patches to design your business projects with the latest trends, technology, and security features.
Our WordPress Development Process
Our company focuses on a DIY approach to creating wordpress websites, and we also have many teams for the development process. It initially requires more cost but can save maximum time and effort in the future and will also mean the final website functionality is highly smoother. Let's explore each of the development steps in more detail.
Project Initiation
Once the agency and client have agreed on and signed a contract, the project can initiate. Commonly, representatives from the agency would meet with the client several times to get depth knowledge about what the client wants to attain with their wordpress site.
Design
The site's visual layout and look are naturally significant elements in the site's success. The design team works to bring the client's vision to life. A good design will provide a set of technical know-how and innovative flair to the table. They will also utilise the current web design components and ensure a responsive website (mobile-friendly).
Data Migration
This data migration commonly begins with the client offering the development team access to their database files. The team then aligns the data mapping document, writes a data migration script, and starts the import procedure. Once the initial import is completed, the team will provide a quality assurance review against the data mapping document to ensure everything has been completed appropriately.
Development
After approving the final designs, the active development stage will start. The developers would develop the site functionality and custom features according to the client's needs. The designers and developers perform together to develop the new site according to the design decided by the client. Executing the custom functionality is made simpler by plugins but installing different plugins can adversely influence the website performance.
Testing
After completing all the development tasks, it is time for the QA and testing steps to start. It ensures that all functionality is in place before the site launch. The development team performs cross-browser and system testing to ensure that responsiveness and accessibility are in place. We run your new custom theme with our WDS theme check plugins. Our development team focuses on query monitoring and reporting to ensure the site is performant before launching.
Site Launch and Support
Each new website would have its unique launch system. A good agency will offer a support to clients for a particular period after launching. Currently, clients can develop bugs or issues with the agency's responsiveness. Developers can identify them and ensure the client is completely happy with their site's performance. Some clients would opt for higher support and maintenance plans.
Techstack for Wordpress Development
Yoast SEO

Rank math SEO
Visual Studio Code

sublime text
Git

GitHub
WHY WORDPRESS?
Why Choose WordPress Development?
Take advantage of innovative wordpress business development services based on extensive knowledge of VIP wordpress and the ability to meet changing business requirements, industry standards and environmental quality requirements. We give you all the experience and knowledge you need to create a wordpress business experience.
Scalable
WordPress is built on an open-source platform with a community of tens of thousands of developers, and there are plugins to suit all types of website needs.

Robust
WordPress has many security plugins that keep you safe from hackers, and WordPress security plugins come with backup plugins. It allows users to back up and restore data in a few clicks.

SEO Friendly
WordPress is the most SEO-friendly platform, and we love it because it is so easy to organize all the SEO data you need. Easy To Use
With the click of a button, you can improve the functionality of your WordPress site, update your pages, or add new pages and content with a single click.

Visual Editor
The WordPress visual editor lets you update the page content without refreshing one line of code.

Customizable
WordPress has a fully personalized and customized CMS platform. It allows you to perfectly create the look and feel of your website for the predefined brand you want.
INDUSTRIES
Expanding Industries
Our clients come from different industrial sectors for WordPress development, such as education, healthcare, eCommerce, banking & finance, media & entertainment, etc. Let's take on a look at these industries:
FAQ's
Frequently Asked Questions
A WordPress developer is a website programmer specializing in WordPress development platforms. Developers can customize WordPress templates according to the client's business requirements. You can use the unique feature of such a platform to create virtually any kind of online presence.
Definitely! You can relocate any website to a self-hosted WordPress installation.
WordPress permits you to post your ideas, stories, reviews, pictures, links, and rants of anything you select. You can personalize the representation of your site by selecting one of WordPress's available themes. It will assess the format of your site. Several plugins also permit you to extend the features of your site.
The cost of developing a WordPress site can differ considerably. The robust WordPress sites are developed from a template that needs some refining. It can cost as little as $500. Highly complex websites are developed from WordPress templates but need wider refinement and can cost as much as $25,000. A WordPress project's needs, objective, and purpose would significantly affect the overall cost of developing the website.
Clients We Cater
Connect with us and get ready to launch your business with smart digital transformation and zero turbulence.