Our Custom Software Development Solutions
Custom software solutions are tailor-made software applications that are designed and developed to meet the specific needs and goals of a client.eBizneeds is a leading custom software development company that has been providing custom software solutions for over 20 years. eBizneeds has a team of experienced and skilled developers who can create innovative and robust custom software solutions for various industries, such as eCommerce, education, healthcare, finance, travel, and more.
eBizneeds also uses the latest technologies and best practices to deliver high-quality custom software solutions that meet the client's expectations and budget.
Some of the custom software solutions provided by eBizneeds are:
Web Application Development
Unlock your business's full potential with our cutting-edge web application development solutions at eBizneeds. From intuitive user interfaces to seamless functionality, our expert team crafts tailored web applications that streamline processes, enhance customer experiences, and drive growth. Elevate your digital presence with eBizneeds.
Mobile Application Development
eBizneeds can develop customized mobile applications that are compatible with various platforms, such as iOS, Android, Windows, etc. We can create mobile applications for different functions, such as eCommerce, gaming, social media, education, healthcare, etc.
SaaS Software Development
Revolutionize your business with our cutting-edge SaaS software solutions. At eBizneeds, we craft tailored software-as-a-service applications that seamlessly align with your unique needs. Elevate user experiences, enhance operational efficiency, and stay ahead of the curve in today's dynamic digital landscape.
Software Testing Services
Enhance software reliability with our comprehensive testing services. Our skilled experts meticulously assess applications, ensuring seamless functionality and pinpointing potential vulnerabilities. We validate performance, security, and user experience, delivering software that exceeds expectations. Trust us to elevate your product's quality, leaving no room for uncertainties.
Best-Fit App Solutions For Your Business

300
+
Global clients
served

500
+
Award winning apps developed

20
+
Years of enthralling success

100
+
Best app developer awards
DEVELOPMENT SERVICES
Bespoke Custom Software Development Services
Software Consulting
Our software consultation team offers innovative solutions to help you carry out the ideal technology framework for your custom software development requirements.
Dedicated Software Developers
Improve your development skills by expanding your current development team. Our professional custom software development team are expert in all the latest innovations to deliver robust solutions.
Custom Migration Services
Migrate your existing application and leverage the benefits of the latest custom software trends and cloud innovations for improved ROI and reduced management and maintenance costs.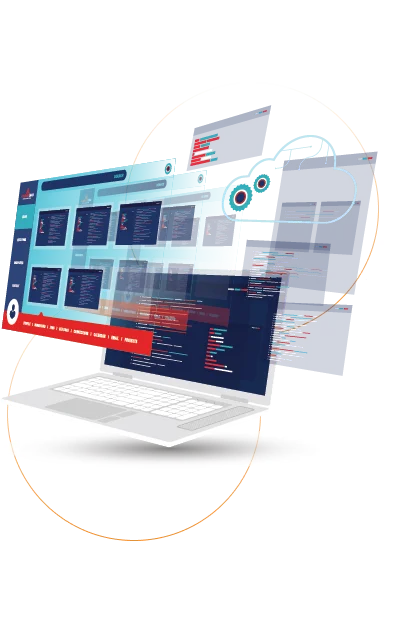 Custom Software Development
We offer custom software development services to start-up and settled enterprises that help with complex business challenges to improve brand value and productivity.
SaaS Software Products
eBizneeds offers end-to-end and enhanced SaaS software development solutions developed by professionals and skilled custom software developers that best fit your business requirements.
Testing Services
We offer thorough testing and QA services, including manual testing, performance, and security testing with the latest software testing frameworks and technologies to make the product bug-free.
Our Custom Software Development Process
We understand that the program development process goes through the development life cycle phases. Each phase in the development life cycle provides the rise to end products essential by the next stage in the consequences.
Planning
We collect the business requirements and outline the project's objectives. Collecting all that data helps the software development company understand that they are the right fit for the project. It encompasses all aspects of project management, such as allocation of resources, scheduling, capacity planning, sourcing, and cost estimation.
Designing
After completion of the planning stage, we create architecture for the project. It supports to decline of all possible flaws by developing a standard and trying to fix it. Prototyping is an essential aspect of designing. It demonstrates the basic idea of how the app works and looks.
Development
Developers start the coding and develop the software as per the design documents and detailed requirements. We use correct programming code to use according to project specifications.
Testing
We perform different types of functional or non-functional testing either automatically or manually. Our software development team finds and fixes the bugs and errors in validation and integration testing.
Deployment
Once testing is done, our development company is ready to release the app. In this phase, we introduce the new system, identify its capabilities, and learn how to use it. We conduct beta testing to get customer feedback, and if we find any bugs, they can be corrected and implemented in this custom software development process.
Maintenance and Operation
After releasing the product, we provide operational and maintenance services to you. It considers fixing errors and keeping up-to-date with the latest operating system.
Technology We Used For Custom Software Development
HTML5

CSS3

Angular

Javascript

React

Vue.js
.Net

PHP
Oracle

MySQL
WHY EBIZNEEDS?
Why Work with eBizneeds for Custom Software Development Services?
By hiring eBizneeds as your bespoke custom software development company, you pick the dependability of years of experience to transform dreams into reality. eBizneeds assures that third-party integration is the key and that you can rely on us for lifetime support.
Discovery Phase
To clearly understand your business idea for delivering a result-oriented solution, we perform a 3–6-week analysis.

Personalized For Your Business
As a reliable software development company, we are trusted by start-ups and large organizations globally.

IP Protection
All the rights and intellectual property of the software will belong to you and your business only. Budget-Friendly
Our developers follow agile development methodology to ensure the project is deployed before the deadline.
MVP Development
We create an MVP of the software to understand the product's core functionality and reduce the development time.

Dedicated Support
Our software development support and maintenance team are available round the clock to help you with your queries.
INDUSTRIES
Expanding Industries
As a leading custom software development company, we cover all major industries and offer good services according to your business needs. We focus on multiple industries such as education, travel, healthcare, eCommerce, and media & entertainment solutions.
FAQ's
Frequently Asked Questions
Custom software development is for a particular requirement of a business procedure or set of users. Such apps accomplish business goals by including features and workflows commonly not considered in highly conventional and widespread off-the-shelf software.
Project time of custom software development may differ from 3 to 9 months or more, relying on the 3 to 9 months or many more, relying on the software complexity and project structure. Each step of the software development procedure takes time according to project requirements.
Software development costs may differ as it relies on different factors like size, type of software project, and team size. But, the average cost of custom software development may range from $10,000 to $200,000.
Selecting a custom software development company that categorizes to your business needs further requires you to perform the given steps:
Identify your business objectives and timeframe for the development
Assess the reviews and referrals from online people
Check out the portfolio of the company
Ensure you have finalized the custom software size, as major companies mainly function on development projects of a specific size
Assess the tech stack applied by the company
Determine if they would provide frequent assistance and maintenance post-project delivery
Custom software development is essential for a business that moves to the next level. Some of the key benefits of using custom software development solutions are:
Customizing business needs
Smooth long-term business investment
Accessible and evolves as your business develops
Get real-time assistance from our technical team that was considered in software development.
Clients We Cater
Connect with us and get ready to launch your business with smart digital transformation and zero turbulence.