Bespoke SaaS Development Company
SaaS applications have become an integral part of today's digital transformation. Local software solutions are outdated. With years of experience in B2B SaaS application development, eBizneeds has grown into one of the leading SaaS developers. We have worked vertically with many industries and have helped launch a wide range of products on a large scale.
Moreover, we also offer SaaS-based consulting services. We can help you customize the characteristics of your product according to your marketing plan. Ensure your SaaS app incorporates the latest trends with cutting-edge technology experiences like AI/ML, AR / VR, and blockchain.
Using our end-to-end approach to SaaS development services, we execute all the required elements for an effective SaaS solution, such as website and mobile applications, APIs, cloud hosting, and well-organized data storage.
Our SaaS app developers encompass all modern software development practices for delivering SaaS products as rapidly as possible when making sure product quality and security.
TECH STACK
Techstack for SaaS App Development
Collaborate with Our Dedicated Developers Focused on Diverse Technology Stack
.Net

Kotlin

React Native

Blockchain

AI/ML

Python

Vue.js

Angular

Flutter

SQL
Hire Dedicated SaaS Development Team
You can hire our SaaS developers, who specialize in developing scalable web apps that enhance your business gains. Our web app development team can easily provide innovative SaaS solutions, from simple web applications to highly multifaceted feature-rich gateways.
DEVELOPMENT
How We Help with SaaS Application Development
eBizneeds creates SaaS development solutions to meet your business needs. Working with SMEs for over 10 years, we deeply understand the technical aspects of the business and help organizations apply cutting-edge technologies to attract leads.
Consulting
For market planning, aligning your MVP with the market for your product is important. We can also help you improve the product features you need in your business solution. Important decisions are made, such as billing and customer models, critical integrations, and end-user products.
Infrastructure Planning
eBizneeds helps you to plan and build a robust infrastructure for your SaaS application development. Whether building a multi-tenant architecture or retrofitting an existing one, our team has a simple blueprint to help you get the most out of your business.
Code Management
SaaS offerings require a completely different approach to code management because each customer focuses on different customizations. What and how much you customize will be important to expand your application further.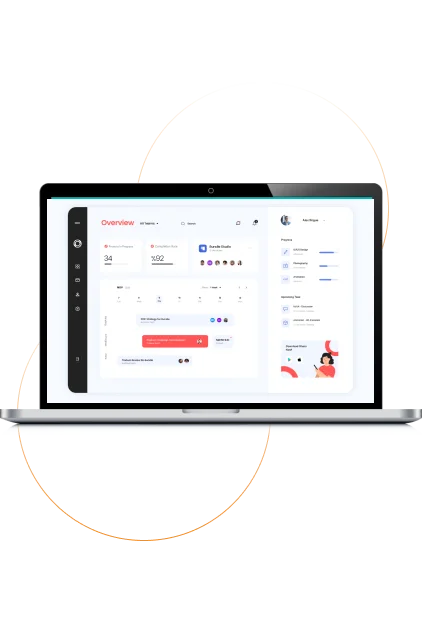 Technology Selection
The right technology is essential to scale your SaaS product later. With our expertise in artificial intelligence, machine learning, blockchain and cloud solutions, our SaaS offerings will never go out of style and will always keep your business on edge.
Agile Development Process
SaaS start-ups have extensive feature requirements when reaching their first customers. A team of experts would be best for quickly creating SaaS solutions for your business. Our SaaS development solutions remain focused and can be modified as needed.
Security
SaaS products can handle sensitive customer data. Ensuring your safety and integrity is an important task we have considered from the beginning. We ensure your solutions integrate the latest features and security patches.
Our SaaS App Development Process
You can transform your current solution into SaaS App Development. We help you to implement best practices and avoid possible pitfalls for business growth. Let's explore our process to develop a SaaS App.
Planning
It is a fundamental aspect of developing a successful app. The SaaS app development depends not only on the feasible technology but also on a target audience, outlining the app objectives, and investigating the market. It is the first step to follow when planning SaaS app development.
Discovery Phase
During this phase, we plan for SaaS app development and develop the document to support your development team in creating an expected app. Moreover, a business analyst develops the meetings to learn the project description and build the documents.
App Designing
Initially, you must consider the user interface and user experience regarding web app design. Before developing the cloud-based SaaS app, choosing an interface is significant; hence, it perfectly accomplishes the target audience's requirements. Our UI/UX designers will create the designs for devices with several resolutions so your users can perform conveniently at home, in the office, or on the go.
Architecture Design
The software architecture is the basis of an effective app that accomplishes the technical requirements of stakeholders. Cloud-based implies that the storage, services, and databases are located in the cloud, not on the physical servers. The highly recognized solution to develop cloud-based architecture is Amazon Web Services.
Development and Testing
SaaS developers perform on your app's front and back ends at this stage. Along with this, quality assurance developers check that each set of functionality performs properly in isolation and as part of one system.
Launch
The most awaited moment throughout the app development life-cycle is the app's deployment or launch. The app is released on the Apple App Store (iOS apps) and Google Play Store (Android apps).
WHY EBIZNEEDS?
eBizneeds Saas Product Development Solutions
SaaS software development services are available, from initial planning and strategy to final implementation and post-delivery support. We use our personal experience to implement ideas for software products. With our years of experience in SaaS application development, we have created over 13,800 successful projects and gained over 6,800 satisfied customers in over 38 countries.
ERP Software Development
Today we use functional ERP software to improve productivity, reduce operating costs, increase efficiency and optimize business processes.

Product UI/UX Designing
We create attractive user flow, journey mapping, wireframing, and user experience designs that engage and inspire end users.

Product Testing
Our software product testing frameworks and methods use automated frameworks and solutions to ensure excellent quality. Product Architecture
Our software developers use the latest tools and technologies to create custom SaaS software according to specific business needs.

Product Development
Our product design and development services ensure the use of advanced technologies for iterative development to accelerate time to market, robustness and scalability.

DevOps Software
Our experienced DevOps team works closely with the development team to automate the product delivery process.
INDUSTRIES
Expanding Industries
We focus on delivering effective SaaS product development services in different industries. Let's check out these:
FAQ's
Frequently Asked Questions
SaaS (Software as a Service) is a software model wherein service providers release an app for their customers. For example, SaaS considers email, office tools, photo editing tools, and calendar apps. SaaS development company develops solutions for start-ups and enterprises seeking to host apps over their servers and offer them to customers through the internet.
eBizneeds is among the top SaaS development companies that offer their services worldwide. Goodfirms and Clutch recognized it for complex tasks and dedicated developers. It is also awarded as a popular SaaS development company.
The cost of the SaaS app varies as it relies on the team's location. For instance, hiring developers from the US can cost you $120,000 per application, whereas moving this procedure to Eastern Europe can decline the cost to anywhere from $35,000/p>
It can take 2-10 months from initial planning to product launch. However, it relies on different factors like the app complexity, tech stack, scale, and number of developers on your team.
SaaS providers handle high security for a cloud app. The SaaS provider is highly accountable for securing the network, OS, apps, platforms, and physical infrastructure.
Clients We Cater
Connect with us and get ready to launch your business with smart digital transformation and zero turbulence.