Robust Power BI Dashboards For Your Team
We use agile methodology to create intelligent solutions for keeping your business on the top in the market. Leverage the benefits of Power BI for unified cloud and on-premise data to create ecommerce solutions for small start-ups and large enterprises. Get interactive Power BI dashboards with interactive tools to easily manage your business.
You can now access this intuitive dashboard from your mobile app to make decisions on the go. Power BI Development Services can help accelerate this robust deployment. It supports data preparation, defining business KPIs, creating custom visualizations, and creating custom dashboards and reports, regardless of your business model.
Using our Power BI development services, you can develop models and access and assess the data from anywhere, like the cloud, streaming data sources, on-premises, and Excel spreadsheets. We support you in extending the capabilities of Microsoft's inclusive business intelligence suite with BI tools, SQL server, reporting, and Power BI.
Best-Fit App Solutions For Your Business

300
+
Global clients
served

500
+
Award winning apps developed

20
+
Years of enthralling success

100
+
Best app developer awards
Our Power BI Developers Deliver Custom Solutions
eBizneeds is a prominent provider of customized Power BI consulting solutions. We have many years of experience offering better quality and innovative BI services. Our Microsoft Power BI developers can support you in getting most of Power BI solutions. With eBizneeds, you can get assured solutions promptly.
DEVELOPMENT SERVICES
Customer-Driven Power BI Development Services
In-house Power BI experts provide business intelligence solutions for processing, storing, and analyzing data. From the outset, we've turned large enterprise datasets into rich dashboards and reports that deliver impressive business intelligence solutions for start-ups, large enterprises, and small businesses.
Power BI Implementation
Power BI developers start by validating and analyzing data to deliver full-featured enterprise-grade business intelligence solutions. Based on the results, we quickly set up and implemented Power BI.
Power BI Customization
eBizneeds provides many custom Power BI dashboards and reporting services to provide a rich overview of business data across the business ecosystem. We also create a visual and personal element for every position and department in the company.
Embedded Power BI
Built-in Power BI services let you get stunning images, dashboards, and reports from existing apps or websites. Easy data exploration helps businesses make fast, informed decisions.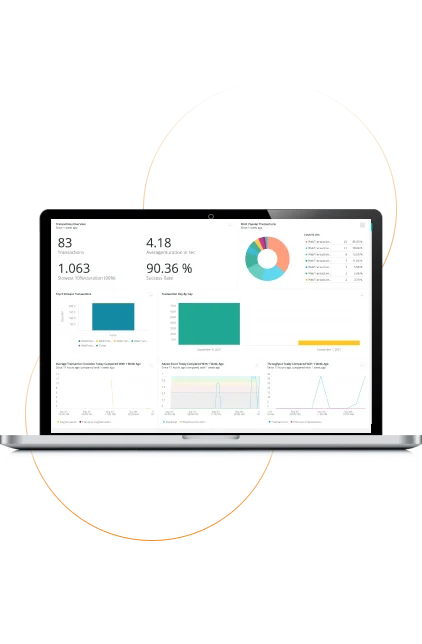 Power BI Analytics
Power BI Professional combines machine learning with advanced analytics. Our IT professionals can visualize the results of machine learning algorithms by simply dragging and dropping data modules.
Power BI Dashboard
Simplify the development of Power BI dashboards with custom designs and interactive reports. It is a data model repository for monitoring business processes and making immediate decisions.
Power BI Consultation
From planning to strategy and individual reporting. Microsoft Power BI experts guide you through every step of deploying a best-in-class Power BI implementation solution.
Our Power BI Development Process
The following steps will be considered in the Power BI development:
Requirements Gathering
Begin by understanding the needs and requirements of the project stakeholders. Gather information about the data sources, desired visualizations, analytics goals, and any specific functionalities or integrations required.
Data Preparation
Once the requirements are clear, proceed to prepare the data for analysis and visualization. This may involve data extraction, transformation, and loading (ETL) processes, data cleansing, and data modeling to ensure that the data is in a suitable format for Power BI.
Data Modeling
Design and create a data model within Power BI. This step involves defining relationships between tables, creating calculated columns and measures, and optimizing the data model for performance and usability.
Report and Dashboard Design
Develop visually appealing and interactive reports and dashboards using Power BI's drag-and-drop interface. Utilize various visualizations, such as charts, tables, maps, and gauges, to present the data effectively. Apply formatting, colors, and themes to enhance the user experience.
Testing and Iteration
Thoroughly test the developed reports and dashboards to ensure accuracy, functionality, and performance. Seek feedback from stakeholders and iterate on the design based on their input. Validate that the visualizations meet the intended goals and provide actionable insights.
Deployment and Maintenance
Once the reports and dashboards are finalized, deploy them to the desired Power BI environment, such as Power BI Service or Power BI Report Server. Set up appropriate access controls and permissions for users. Regularly monitor and maintain the deployed solution, making updates as needed to accommodate changing requirements or data sources.
TECH STACK
Techstack for Power BI
Collaborate with Our Dedicated Developers Focused on Diverse Technology Stack
Power BI

Oracle

MS SQL Server
POWER BI
Expand Your Business Horizons with Power BI
As Microsoft Power BI developers, we want to turn important business data into rich, visual interactive dashboards. Power BI is a cloud-based industrial analytics service that collects and interprets data with greater speed, performance, and intelligence. Connect people to diverse data with easy-to-use dashboards, powerful reports, and compelling visualizations that bring data to life.
Complete Insights
Power BI visualizations combine system information and provide a complete overview of your company. Easy access to important information and statistics allows you to track changes and take advantage of new ideas.

Custom Content Creation
Create and publish content in dashboards to empower your team and organization with personalized Power BI reports getting the most out of the business insights of your business.

Boost Productivity
Power BI dashboards simplify stakeholder engagement, ensure everyone has accurate data, and improve your company's productivity. Decision-Making Cycle
Generate and share informative reports from anywhere to empower your business decision for profitable results.

Standardize KPIs
specific KPIs, align business activities with strategic goals, and quickly achieve results.
All Your Data In One Placem
Get a complete understanding of the criteria that matter most to your company. With the Power BI mobile app and content replication, you can access your data in any form, anywhere.
INDUSTRIES
Expanding Industries
We have years of experience as a reliable service provider. eBizneeds delivers a wider range of services to industries such as healthcare, real estate, eCommerce, etc.
FAQ's
Frequently Asked Questions
eBizneeds provides different Power BI consultants to help you get the most out of this potent data analytics channel. Some of such features of our company consider:
An experience Power BI consultant team with expertise in data modelling, report development, and data analysis.
An emphasis on providing value to our clients by effective and innovative application of Power BI
Delivering high quality and better customer satisfaction.
We provide a wider range of services from primary Power BI set-up and configuration to data reporting and analysis.
Competitive prices and quick turnaround times
Superlative infrastructure and assists in making sure the reliability and quality
If you are seeking high-quality and reliable Power BI consulting services, then eBizneeds is the perfect option. Contact us now to get a feasible solution.
We cater Power BI services in the following manners:
Smooth BI
Customized BI App Development
Developing Role-based customization
Solution Integration
BI software solution enhancement
Dashboards
Mobile BI
Data Visualization and OLAP
We do not have a specific answer to this question as the service cost will vary depending on particular business requirements. We suggest our Power BI consultants for an estimated project cost to actual cost estimation.
As a reliable Power BI implementation partner, Our dedicated manager would share ongoing project details continuously over chats, calls, and emails.
The development time of Power BI depends on the complexity of a project. Creating a working prototype can take 2-4 weeks for a simple project. Creating a functioning prototyping can take 4-8 weeks or more for a complex project.
Clients We Cater
Connect with us and get ready to launch your business with smart digital transformation and zero turbulence.