Enhance your Business Output with Enterprise Solutions
Nowadays, staying competitive is making the most out of innovation. The market's scene is continually changing; every successful enterprise should change alongside it. As a renowned enterprise solution development company, we offer digital transformation services for multi-level organizations. We work with the Top 1% of IT Talent to help you on your way to development.
Our Custom Enterprise Software Development Services, are curated to set a strong software establishment for your business. By coordinating all of your present applications and planning customized solutions for your organization, we will maximize your features to ease your everyday work process. Your organization will improve its profits and produce new business opportunities with this.
As we are a leading software development company, we assure to provide reliable, secure, and exclusive software development services. We deliver customized software development solutions that provide digital experiences on mobile and web devices.
Best-Fit App Solutions For Your Business

300
+
Global clients
served

500
+
Award winning apps developed

20
+
Years of enthralling success

100
+
Best app developer awards
Software Development
Enterprise Software Development Services
To leverage the benefits of the latest trends and technologies, organizations frequently collaborate with eBizneeds that have years of experience in custom enterprise software development. We have helped numerous multinational enterprises transform their business processes for increased user engagement and productivity. eBizneeds offers enterprise software solutions for enterprises and institutions operating in various industries, such as finance, automobile, retail, and environmental assurance.
Data Management Services
Stay ahead with the latest data management trends with our intelligent automation and predictive analysis frameworks. Our in-depth information on the latest technologies will assist you in leveraging as much as possible from your data.
Enterprise Mobility
Our team are expert in offering enterprise software solutions that permit the effective administration of mobile applications, assets, and gadgets. Our software will help to streamline processes on the go.
Custom Software Development
Fabricate a customized solution that upholds your association with mobile programming and improves each business sector. Leverage benefits from our enterprise software solutions.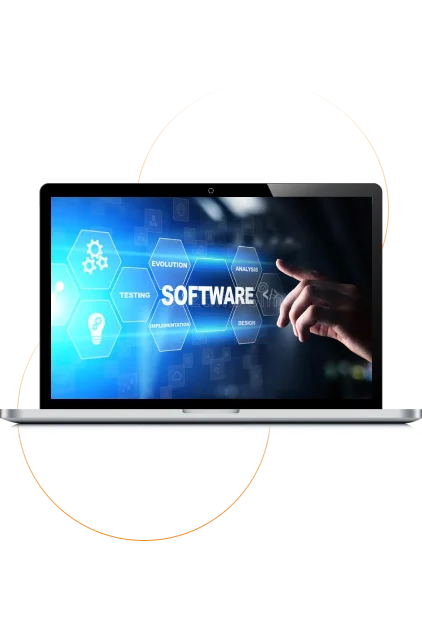 Legacy Application Modernization
Outdated software represents a critical security risk and is often costly to monitor and maintain. Our team can help you perform a detailed investigation of your solution and improve it with the latest tools and innovations.
Digital Transformation Services
We are a digital transformation company for multinational organizations from every corner of the world. Leverage the benefits of our skilled developers to fabricate new or alter the current business processes.
Software Integration Services
Improve your product infrastructure with flexible and enhanced microservices, solid APIs, and data integration software. Improve business systems with our far-reaching enterprise application development services.
Enterprise Software Development Process
As one of the top-notch Software development companies, we believe in using a unique methodology. While developing the Software , we keep scalability, longevity, and transparency in our mind. It is the reason that our app works super fantastic and provides real-time results.
Gathering Requirements
The first step in the enterprise software development process is gathering requirements. This includes identifying the business needs that the software is designed to meet and documenting them in a clear and concise manner. Requirements should be obtained from all stakeholders including users, managers and technical staff.
Design
Once you know your requirements, the next step is to design your software. A software blueprint is created that specifies the architecture, components, and interfaces. Designs are driven by requirements and should be flexible enough to accommodate changes as the project progresses.
Development
The development phase actually creates the software. This includes coding, testing and debugging software. Development teams must use a variety of tools and techniques to ensure that software is of high quality and meets requirements.
Testing
Testing is an important part of the software development process. This helps ensure that the software is error-free and meets your requirements. Various testing methods are available, such as unit testing, integration testing, and system testing.
Deployment
Once the software has been developed and tested, it can be deployed. Once deployed, the software is available to users. This can be done in various ways, such as on-premises, in the cloud, or a combination of both.
Maintenance
Once the software is installed, it is important to maintain it. This includes bug fixes, new feature additions, and updates to keep the software secure and up-to-date. Maintenance can be performed by the development team or by a third party.
INDUSTRIES
Industries We Serve
We offer systematic and structured enterprise software development services using advanced industry practices. Let's check out these:
WHY EBIZNEEDS ?
Why Partner with eBizneeds for Enterprise Software Development?
Choosing the perfect technology partner for converting your business idea into reality is difficult. The software can break or make your business, so hire a reliable enterprise software development company. Here are a few reasons why customers love to work with us:
Agile Methodology
We follow agile methodology for enterprise software development to ensure the delivery of result-oriented and seamless mobile app solutions for our client base.

Flexible Customer Experience
Our team is available 24/7 to assist our clients with their queries and issues. We use high-level communication protocols to keep the development process transparent.

Data Security And Confidentiality
We are ready to sign a non-disclosure agreement to ensure that your app idea and details are safe with us and will not be shared with any outsider or third party. Accountability And Availability
Even if you contact us after years of delivery of your project, we will be happy to welcome you and help you with the issues and problems with your solution

High-Quality Development
We have an in-house team of experienced enterprise software developers that are experts in curating future-ready solutions to meet all your business needs.

Expert Developers
We have a pool of expertise well-equipped with the latest trends and technologies of software enterprises that offer user-centric solutions for businesses.
FAQ's
Frequently Asked Questions
A software enterprise app provides numerous benefits for your business, such as declining operating costs, automation of regular activities, real-time access to actionable data, increased agility, standardization of procedures, increased agility, and declined IT complexity.
At eBizneeds, we have years of experience in enterprise software development. Developers are engaged to provide enterprise software solutions across different industries. Our developers have a sound knowledge base and specialization in developing world-class and stimulating enterprise-level projects. It is one of the key reasons why we provide differentiated and strong development solutions and services.
We initiate by going through the current app/software. Hence, we obtain a complete understanding of your business requirements and domain. According to our analysis, we recommend software management strategies.
The enterprise software cost varies, relying on different factors such as project complexity and software size. Get in touch with us to get an estimated cost of your business software development project.
We emphasize maintaining a clear and trusting relationship with our clients. We also sign a non-disclosure agreement before initiating each project and transfer the ownership code to you after the completion of the project.
Clients We Cater
Connect with us and get ready to launch your business with smart digital transformation and zero turbulence.