Partner with Trustworthy Laravel Web Development Company
eBizneeds is a trustworthy laravel web development company, renowned for delivering top notch laravel web application services to clients from every corner of the globe. Hire laravel developers from us that use Ajax and model view controller pattern to craft secure and scalable horrible web applications.
We follow agile software development methodology to create solutions that suits best to your business requirements. Our team of talented and certified laravel developers are always updated with the latest technologies and trends to make sure that your business grows in the right direction.
Being a highly reliable laravel development company, we can support you in getting higher success and releasing the laravel frameworks power. Our developers use different tools to create reliable, robust, scalable web solutions.
We have dedicated, experienced, and skilled Laravel developers to develop complex, advanced web solutions using emerging technologies. Our developers are engaging in providing comprehensive laravel development services considering planning, designing, developing, testing, and maintaining user-friendly web apps.
Best-Fit App Solutions For Your Business

300
+
Global clients
served

500
+
Award winning apps developed

20
+
Years of enthralling success

100
+
Best app developer awards
DEVELOPMENT SERVICES
Result Oriented Laravel Development Solutions
At eBizneeds, we offer result-oriented laravel development solutions that help our clients to achieve their business goals. Our experienced laravel developers use the latest tools and technologies to deliver robust and scalable solutions that meet the specific requirements of our clients. We focus on delivering high-quality solutions within the stipulated time and budget to ensure customer satisfaction.
Enterprise Solutions
Our professional laravel developers expert in crafting laravel enterprise solutions with latest tools and technologies to offer a competitive advantage.
Data Migration Solutions
We offer convenient laravel data migration solutions from one platform to another laravel platform with enhanced functionalities.
CRM Development
If you're planning to develop a fully functional laravel CRM application, then we can help you to manage your customers and business flexibly.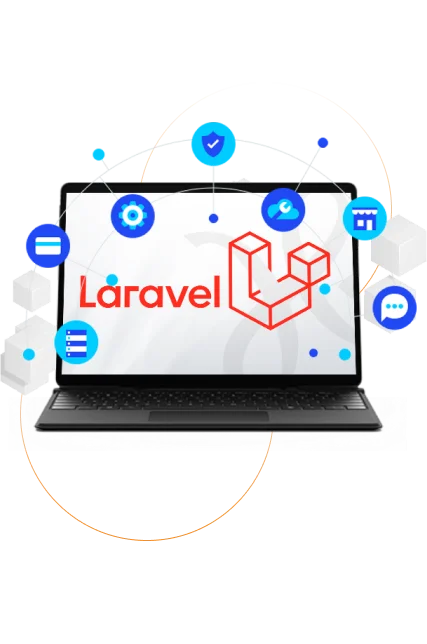 RESTful API Development
Get laravel API generator packages for crafting RESTful solutions and expand your business to connect with broader audience.
eCommerce App Development
Get one kind of laravel ecommerce solution for your business with powerful design, great performance, and high-quality security patches.
Maintenance And Support
We offer round-the-clock laravel maintenance and support to help you resolve complex problems.
Why Choose Laravel for Web Application Development
Being titled as top class laravel web development company, we can clear the confusion from your mind that why you should choose laravel for web application development.
Authentication
With laravel, users can configure roles by applying effective authorization logic and providing permissions to resources.
Database Migration
One of the key features of laravel is data migration that allows developers to migrate publishing package assets and boilerplate code.
Object Oriented
As laravel is written in object-oriented PHP, It offers huge number of object oriented and pre installed libraries with great features such as password reset, encryption, and so on.
MVC Based
The MVC (Model-View-Controller) Enables the developers to craft outstanding development architecture with a wide range of inbuilt functions.
High Security
Laravel is famous for its high level of security patches as it provides tokens to protect the files from malicious attacks and third-party code implementation.
Caching
Applications created using laravel's pre built applications such as redis and memcached, the memory caching of website is super-fast.
OUR PROJECTS
Our Projects
WHY EBIZNEEDS?
Why eBizneeds for Laravel Development?
With a focus on quality, scalability, and security, we strive to exceed your expectations and deliver exceptional customer satisfaction. Trust eBizneeds for all your laravel development needs.
Expertise
We have a team of highly skilled and experienced Laravel developers who have worked on a variety of projects and are well-versed in the latest tools and technologies.

Customized Solutions
Our developers create customized solutions tailored to the unique needs of each client, ensuring that the end product meets the desired specifications.

Quality Assurance
We follow a rigorous quality assurance process to ensure that all our projects meet the highest standards of quality and are free from errors. On-time Delivery
We understand the importance of timely delivery and work hard to ensure that our projects are completed within the stipulated time frame.

Cost-effective Solutions
We offer cost-effective solutions that are designed to provide maximum value to our clients while staying within their budget.

Customer Satisfaction
Our focus is always on customer satisfaction, and we go above and beyond to ensure that our clients are happy with the end product and the overall experience of working with us.
Our Laravel Web Development Process
We break down the laravel web development process into different steps. Let's explore it.
Requirement Gathering
This phase considers the requirement collection and defining the project scope. You will need to address the essential functionality and features as any timelines, constraints, and budgets. We focus on brainstorming sessions and meetings to ensure that both parties are on the same level.
UI/UX Designing
During this stage, we develop a detailed web design such as user interface design, wireframes, and database schema. It will support ensuring the web is intuitive, scalable, and user-friendly. It is a highly functional clickable prototype through different mockups and wireframes for client approval.
Development
The development phase considers the actual development of the web using the Laravel framework. It will commonly consider coding the web's front, backend, and database layers and integrating different third-party APIs and libraries. This phase includes the system architecture, database planning, code development, and infrastructure setup.
Testing
During this phase, you will test the web to ensure it works as expected and is free of errors and bugs. You may also conduct performance and loading testing to ensure the web can handle large traffic and users. It includes manual and system testing and regular client feedback as a component of agile methodology.
Deployment
After the web is highly tested and approved, it can be deployed on multiple servers. It will consider setting up databases, configuring servers, and ensuring the web is stable and secure. It also includes the client-server development, transferring, and deployment of the Laravel web project in a live environment.
Maintenance
Regular Maintenance and Support will ensure the app remains secure, functional, and up-to-date. It may also consider bug fixing, executing new functionalities, and updating libraries and dependencies in real time.
INDUSTRIES
Expanding Industries
At eBizneeds, we cater to various industries for Laravel web development, including healthcare, education, retail, and real-estate. Our team of expert Laravel developers has experience in creating customized web solutions that meet the unique requirements of each industry.
FAQ's
Frequently Asked Questions
Laravel is a powerful and popular PHP web application framework that simplifies web development tasks and provides robust functionality. It offers a range of features, including a robust routing system, built-in authentication, and database migration support. Its popularity is due to its ease of use, modular design, and extensive documentation, making it a favorite among developers for building scalable and secure web applications.
Laravel offers a range of benefits for web development, including a modular structure that simplifies code maintenance, a powerful ORM (Object-Relational Mapping) system that simplifies database interactions, and built-in features such as authentication, routing, and caching. It also has an active community, which provides support, updates, and new features, making it an ideal choice for modern web development.
Yes, Laravel can be used for e-commerce web development. It has built-in support for payment gateways, which simplifies the payment process and makes it easier to integrate with popular e-commerce platforms. Additionally, Laravel's modular structure makes it easy to add custom features and extend the functionality of an e-commerce site.
Yes, Laravel is suitable for large-scale web applications. Its modular structure and robust features make it an ideal choice for building complex and scalable web applications. Additionally, Laravel's performance optimization features, such as caching and queuing, make it well-suited for handling high traffic and large-scale web applications.
Laravel distinguishes itself from other PHP frameworks by offering a modular structure, a powerful ORM system, built-in features such as authentication and routing, and an active community that provides support, updates, and new features. It also emphasizes ease of use and developer productivity, making it a popular choice for modern web development.
Clients We Cater
Connect with us and get ready to launch your business with smart digital transformation and zero turbulence.