Blockchain Development Solutions Offered by eBizneeds
At eBizneeds, a trusted blockchain software development company, we offer a range of innovative solutions that leverage the power of blockchain technology to drive growth and efficiency. Our expertise in blockchain development empowers businesses to thrive in today's digital landscape.
Here are key solutions we provide:
Smart Contract Development
We create self-executing smart contracts that automate processes, ensuring trust, security, and accuracy in transactions. From supply chain management to real estate, our smart contracts streamline operations.
Supply Chain Traceability Solutions
Using blockchain's immutable ledger, we build solutions that enable end-to-end supply chain traceability. Businesses can verify the origin and journey of products, ensuring authenticity and quality.
Cryptocurrency Solutions
We assist businesses in creating custom cryptocurrencies and tokens, facilitating secure and efficient digital transactions. Our solutions cover wallet development, ICO/STO assistance, and more.
Blockchain Consulting and Integration
Our experts guide you through the entire process, from understanding blockchain's potential to seamless integration into your existing systems. We ensure you harness the technology effectively.
Best-Fit App Solutions For Your Business

300
+
Global clients
served

500
+
Award winning apps developed

20
+
Years of enthralling success

100
+
Best app developer awards
Hire Dedicated Developers For Innovative Blockchain Development Solution
At eBizneeds, we assist businesses in integrating secure and reliable decentralized blockchain services for their business automation. Our blockchain services are customized to particular business use cases by system modifications, feature integration, and execution.
DEVELOPMENT SERVICES
Bespoke Blockchain Development Services
Whether you want to create solutions for secure payments and quick microtransactions, or build self-executing smart solutions we will input our understanding and blockchain innovation trends into action. As a trustworthy blockchain development service provider, eBizneeds helps enterprises as well as startups to create solutions with transparency and trust.
Blockchain Technology Consultation
We follow the concept of what, why, and how blockchain can profit your business enterprise with the blockchain technology consulting to build trust and transparency amongst users.
Custom Blockchain Software Development
With skill in latest blockchain frameworks, including Tezos, Hyperledger, Corda, Tron, Stellar and EOS, we fabricate adaptable and robust custom blockchain software solutions for newly established startups and large enterprises.
Blockchain Wallet Development
With blockchain abilities and experience, our blockchain designers can create blockchain wallet applications that can hold a wide range of advanced resources and financial standards and offer the capacity to check balance and monitor history.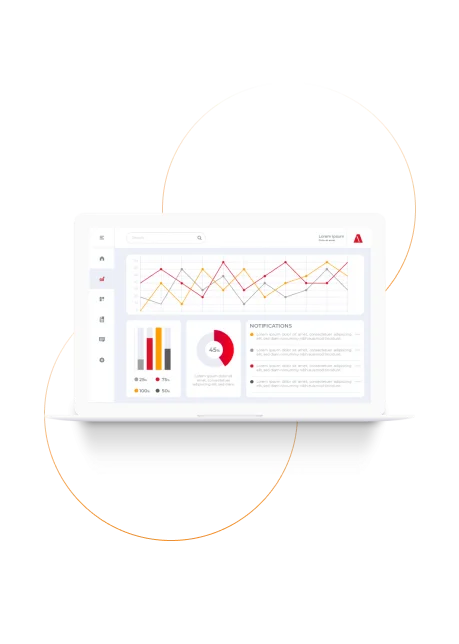 Decentralized Exchange
Our blockchain development experts can create secure and scalable platform on Android or iOS and Web application development frameworks to empower the real-time trade of digital currency safely.
Blockchain Supply Chain Development
We create, deploy and monitor blockchain supply chain network solutions for different business niches which offers total transparency at each progression of the item's journey.
DApps Development
From ideation to plan and deployment, our blockchain designers can fabricate business grade decentralized applications (dApps) to assist customers with improved time to market as well as boost ROI.
Blockchain Development Process
Whether you are just started or already have an adequate idea of how blockchain can fit within your business functionality, it is vital to go through the below steps.
Identifying the Business Requirements
The initial step is to identify, assess, and organize your requirements. Under the exact issue, you wish to solve and confirm whether executing blockchain solution will support you to solve them. You may initiate the pilot project, assess the results, and then executes them at a broader scale.
Proof of Concept
It is a process to assess how blockchain will be feasible for the business. Comprehending the planning phase and assessing the stages lead you to develop your proof of concept.
Select the Blockchain Platform
The selection of blockchain apps would influence the skill set you will require from your development team. Hence it is significant that you must find the feasible one. The procedure will take research and development to select the platform that best fits your business requirements. When choosing the blockchain platform, you may focus on cost, consensus mechanism, expected timeline, and developer needs.
UI/UX Designing
As the protocols are already designed, you can use the current mockups, sketches, and designs to initiate the user experience design. Your UI/UX designing can also leverage your APIs to interact with apps at the backend.
Development
In this step, people rely on the developers to get solutions for all complex tasks, but if you focus on achieving it, you can do blockchain development with a team of blockchain developers. You can also leverage the APIs to generate authentic data, key pairs and addresses, data storage and retrieval, and auditing functions. It will help you to achieve the desired features in your blockchain services, and that aids in providing ease of use to the end-users.
Launch
For releasing the blockchain app publicly, you can test the product thoroughly. This process aims to create the MVP to check how everything appears in action and if the blockchain app can deliver real-world business advantages.
WHY EBIZNEEDS ?
Why eBizneeds For Blockchain Development?
eBizneeds is your top choice for blockchain development, offering expertise in creating secure, transparent, and scalable blockchain solutions that revolutionize industries.
Expertise
Our team comprises experienced blockchain developers who possess in-depth knowledge of blockchain technology, including various platforms, frameworks, and protocols. We have a proven track record of successfully delivering blockchain projects across diverse industries.

Custom Solutions
We understand that each business has unique requirements. At eBizneeds, we specialize in developing tailored blockchain solutions that align with your specific business needs, ensuring optimal performance, scalability, and security.

End-to-End Services
From ideation to deployment and maintenance, we provide comprehensive end-to-end blockchain development services. We assist you throughout the entire development lifecycle, ensuring a smooth and seamless experience. Cutting-Edge Technology
We stay updated with the latest advancements in blockchain technology, enabling us to leverage the most suitable platforms and tools for your project. Our focus on innovation allows us to deliver solutions that are at the forefront of blockchain development.

Security and Transparency
Security is paramount in blockchain development. We prioritize robust security measures, ensuring the integrity and confidentiality of your data. Additionally, we maintain transparency throughout the development process, providing regular updates and clear communication.

Client Satisfaction
We value our clients and strive for their satisfaction. Our team works closely with you, understanding your requirements, providing regular progress updates, and incorporating feedback. We are committed to delivering high-quality blockchain solutions that exceed your expectations.
INDUSTRIES
Expanding Industries
We have focused on offering highly secure & scalable blockchain development solutions for clients in different industries, from education to travel solutions. Let's explore the different industries we cater to regarding blockchain development services.
FAQ's
Frequently Asked Questions
Blockchain is not a programming or coding language; hence the terminology of such type doesn't fit here. But, if you are considering blockchain tech in an application, you will need back-end developers. Additionally, front-end developers must develop a user interface that performs well with the back end.
Blockchain technology is not an easy-to-use process. Although it is not a highly complex process, you must still have technical skills to perform the blockchain system.
Blockchain apps work beyond bitcoins and cryptocurrency. Due to its ability to develop more fairness and transparency, it saves business time and cost. Technology impacts different sectors in ways ranging from enforcing contracts to making government work more efficiently.
Apps developed using blockchain technology have increased data privacy and made them highly secure. A blockchain encoding tech is complex to break because all the data is encrypted and saved using the cryptographic hash.
Solidity is one of the recognized languages used by blockchain developers. It was developed to target the Ethereum Virtual Machine. Some software influences blockchain development, like Python, C++, and JavaScript. Solidity enables the libraries, inheritance as well as, and refined user-defined natures.
Clients We Cater
Connect with us and get ready to launch your business with smart digital transformation and zero turbulence.