Artificial Intelligence A Modern Approach Solutions
Nowadays businesses are following machine learning process for data analysis to automate business operations and analytical models. Machine learning is basically an offshoot artificial intelligence structure with structured algorithms to perform business operations without the involvement of human beings.
Our professional designers and developers are expert in latest machine learning trends and technologies such as data science modelling, computer vision, natural language processing, deep learning, and so on. We follow these trends to enable your company to leverage all the benefits and potential of ML and AI. Convert your business ideas into reality with our top-notch machine learning solutions and services.
You can use our AI/ML services to consider massive amounts of data. Still, you can't use it to inform business decisions because of the higher-cost and laboratory nature of assessing it. Our solution will support you in handling many repetitive and time-consuming tasks that classic services can't replace according to algorithms.
At eBizneeds, we provide better AI/ML solutions. Business leaders can leverage purpose-built AI solutions to advance their enterprises and solve real-world issues by partnering with us.
Best-Fit App Solutions For Your Business

300
+
Global clients
served

500
+
Award winning apps developed

20
+
Years of enthralling success

100
+
Best app developer awards
Hire App Developers to Leverage AI & ML Solutions for Automation Processes and Smart Management
At eBizneeds, we deliver Artificial Intelligence & Machine Learning solutions. You can leverage enhanced analytics, automated procedures, strengthen customer relations, and secure your business procedures.
TRANSFORMING
Transforming Business with Customer-Driven Artificial Intelligence Solutions
We are committed to convert your AI dream into reality with latest trends and technologies including deep learning, computer vision, machine learning, and natural language Processing. We work with organizations to construct AI items from counselling to development, maintenance and training. As a leading artificial intelligence software development company, we have a pool of professional designers, data scientists, software architects, and full-stack engineers.
Business Intelligence
Our AI engineers develop and perform methodologies to execute development, client examination, forecasting and performance monitoring.
Computer Vision
Our team offers smart artificial intelligence software solutions for recognition of various items and the categories of the product in the images with deep learning visual search and Amazon Recognition.
Chatbot Development
We create chatbot software that work like people. Our team of skilled artificial intelligence development creates chatbots that work with customized communication to expand dependability and client support.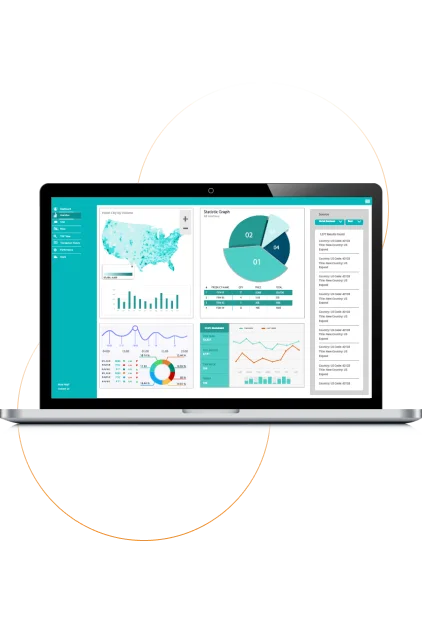 Machine Learning
Our Artificial Intelligence Developers use AI to assemble AI arrangements that can collect unstructured information and convert it into important insights to drive business development.
Natural Language
With NLP and NLU, our AI designers can assist enterprises to monitor and analyze client input and estimation to improve user commitment and improve business ROI.
Voice Assistant
Our AI engineers are also expert in developing voice associates with NLP and voice acknowledgment that improve brand awareness to increase business productivity through voice search.
AI/ML Development Process
We work competently with product teams, engineering, and research to provide a stellar AI/ML-driven product. We assume six steps for developing AI/ML that lead in the right direction.
Project Initiation
In this stage, you need to address the issue related to their machine learning project, solve it, and develop an outcome that meets your requirements. You must comprehend the issue, data, and also context. Goals should be aligned with potential outcomes using AI/ML learning tools.
Data Exploration
This step starts with examining the data to determine patterns and make a rationale for them in the context of your issue. You need to focus on available data differently, such as inserting new or transforming existing ones and then check the interesting association among those variables.
Data Processing and Functionality Selection
It transforms raw data into a form appropriate for assessment and model development. It is one of the key phases in evaluating the success of the final model. There are different ways to process your data.
Model Development
This stage is about developing the model. There are several algorithms and techniques available on open-source that you may wish to select for your issues. However, it would be best to initiate with a simple reiteration.
Model Evaluation
After developing the model, you must evaluate it and comprehend how to interpret the outcomes before deployment. Cross-validation is one of the significant methods to evaluate the model. Under this process, you develop a model on some datasets and then test its results on a completely diverse training set using it on the actual data. It ensures that the dataset is not biased and also aids in ensuring that your model will perform well in practice.
Model Deployment
After you read your first model, you need to deploy the model into production. It is one of the significant steps in AI/ML as it permits you to utilize your data for actual apps. You can choose model deployment, whether through manual process or automation.
BUSINESS PROCESS
Streamline Your Business Process with Machine Learning
With years of experience as renowned Machine Learning development company, our AI engineers assist enterprise with taking care of complex business projects by decision-based tools in data-driven business models. We use strategies, including computational intelligence, pattern reading and predictive analysis to create future-prepared Machine Learning Applications. Our point is to improve and automate your business measures with intelligence.
Predictive Analysis
With Predictive Analytics, we enable enterprises with evaluating what will happen later on by using the information, AI and factual algorithms. We create scalable and robust Machine learning solutions that can identify future outcomes with available data.

Optimization
We use predictive modelling to improve business execution, risk mitigation and performance tracking to improve ROI and help you with acquiring business intelligence. Our group enhances the model for maximum precision to accomplish the best results from the model.

Marketing Automation Solution
By integrating Machine Learning tools for marketing automation and CRM applications, we separate market division, execute precision marketing, upgrade demand forecasting, evaluate leads and improve content proposals for market and potential clients. Deep Learning
Hire our expertise in Deep Learning to develop business innovation frameworks that work like a human. We dig further into deep information to offer huge opportunities for your business and deliver flexible solutions to save revenues of your business.

Machine Learning Programming
Our AI professional offer custom machine learning software to make significant choice models and automate business measures. We convert raw information from big data suppliers and legacy software frameworks into clean datasets to execute classification, grouping and convey models across the frameworks.

CRM Solutions
We implement machine learning with CRM and marketing automation frameworks for precision marketing, drill down on market division, enhance pricing situations and request forecasting, create affinity models, score leads, and improve content suggestions for potential clients and market.
INDUSTRIES
Expanding Industries
With our years of experience as a trustworthy service provider, we have been offering our services and products to wide range of industries including real estate, healthcare, eCommerce, and so on.
FAQ's
Frequently Asked Questions
AI and ML development services refer to the range of solutions and services offered by companies specializing in the creation and implementation of artificial intelligence and machine learning systems. These services involve designing, developing, and deploying AI and ML models, algorithms, and applications to solve specific business problems or enhance existing processes.
AI and ML development services offer numerous benefits to businesses, such as improving operational efficiency, automating tasks, enhancing data analysis and insights, enabling predictive analytics, personalizing customer experiences, detecting fraud, optimizing resource allocation, and enabling intelligent decision-making.
AI and ML development services have applications across various industries. Some sectors that can benefit significantly include healthcare (diagnosis, personalized medicine), finance (fraud detection, risk assessment), retail (demand forecasting, recommendation engines), manufacturing (predictive maintenance, quality control), logistics (route optimization, supply chain management), and marketing (customer segmentation, sentiment analysis).
AI and ML development services typically require a combination of skills, including expertise in programming languages (such as Python or R), data analysis, statistics, algorithm design, deep learning frameworks (like TensorFlow or PyTorch), natural language processing (NLP), computer vision, and cloud computing platforms. Domain knowledge in the specific industry or problem area is also valuable.
To find reliable AI and ML development service providers, businesses can conduct thorough research, review company portfolios and case studies, assess their expertise and experience in relevant technologies, read client testimonials, and seek recommendations from trusted sources. Additionally, engaging in discussions and requesting proposals from multiple providers can help compare services, pricing, and suitability for specific project requirements.
Clients We Cater
Connect with us and get ready to launch your business with smart digital transformation and zero turbulence.