Bespoke IoT App Development for Your Business
Since IoT is acquiring popularity, the ideal opportunity for your organization to hold on to this trend right now. Most of enterprises and associations are now inclining towards custom IoT solutions for renovating the way in which their services connect with individuals, machines, and frameworks. So if you don't want to stay behind of your competitors, it's the right time that you consider hiring a custom IoT development company, for your next dream project.
Working with eBizneeds in your IoT project is the perfect method to start with this latest technology-enabled network. We offer professional IoT application development for organizations of all sizes and types. We can also develop personalized IoT application as per your business needs and goals.
We have solid experience in Internet of Things Software development. Our developers constantly focus on innovation and trends. We also consider the latest frameworks and platforms for IoT development and can always choose the most reasonable and cost-effective techniques for clients
Best-Fit App Solutions For Your Business

300
+
Global clients
served

500
+
Award winning apps developed

20
+
Years of enthralling success

100
+
Best app developer awards
DEVELOPMENT SERVICES
IoT Application Development Services Offered by eBizneeds
Better information helps you with bettering changes, settle on more informational choices and consistently stay ahead front of your competitors. That is why the modern age devices can send information to the new algorithms for business. From wearable gadgets to vehicles, IoT assists you with getting important information from all that is connected.
Development Consultancy
We offer Internet of Things consulting and management services through our accomplished IoT application professionals. Looking for your free meeting today? Get in touch with us now.
Backend And API Development
Our team of professional internet of things software engineers and coders offer robust backend and API development solutions for business of all types and sizes.
Gateway Development
We are one stop IoT Development company for all your IoT development and improvement requirements. We also offer IoT gateway development services for your IoT development.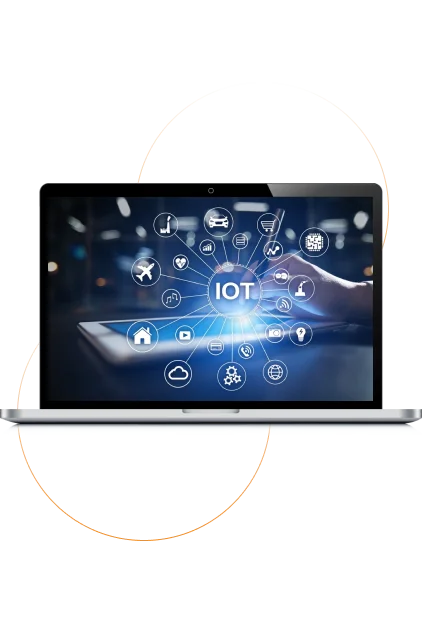 Implementation And Support
We not only offer IoT app development solutions but we also offer total support and maintenance to our potential clients.
Wearable Devices
As renowned IoT Development Company offer rich domain services in creating applications for a wide range of wearable gadgets and interface with it.
Application Development
Our IoT application development group assists you with creating personalized application for various gadgets, helping you with achieving your business objective through IoT application development.
Our IoT App Development Process
We develop customer-centric, client-focused, world class apps that deliver tangible results for businesses. We help global businesses attain a leading edge in today's highly competitive, digital landscape.
Strategy
It all begins with an impeccable strategy. During this phase, we identify the users of the app, research your competition, set up objectives & goals, and recommend the best platform for your mobile app, so you get the desired outcome from your app.
Planning
During the analysis & planning phase, your app idea begins taking real shape. This phase involves critical tasks such as creating product map, defining MVP (Minimum Viable Product), and identifying the skills required for app development.
Design
Designing the app is not just about how amazing its user interface looks and feels. Rather it is pivotal to ensuring seamless user experience and make way for the app's massive adoption and success by the targeted users. The process involves wireframing, mockups, style guide preparation, prototyping, etc.
Development
This is when the actual coding begins. The process involves everything about development – right from defining the technical architecture, and picking the suitable technology stack to defining the milestones of development.
Testing
This is highly important for any app because if not tested beforehand, the app may start unfolding several unpleasant surprises post launch. Testing involves performance testing, security testing, functional testing, platform and device testing, etc.
Launch
The most awaited moment throughout the app development life-cycle is that of the app's deployment or launch. The app is released on the app stores – Apple App Store (iOS apps), and Google Play Store (Android apps).
TECH STACK
Techstack for IoT Development
Collaborate with Our Dedicated Developers Focused on Diverse Technology Stack
Intel

Particle

Wifi

HTTP

XMPP

COAP
WHY EBIZNEEDS ?
Partnering with eBizneeds for IoT Software Development
The functionality of Internet of Things and Machine-to-Machine devices depends on the flexibility and connectivity strength of its network. eBizneeds is a leading IoT Development Company that offers particular M2M/IoT development services, including embedded software, cross-platform applications including database with our years of experience in networking.
Data Analytics
Our customized IoT mobile applications can perform advance level of information analysis that suits best to your business necessities.

Voice Enabled Technology
eBizneeds is a trustworthy IoT mobile app development company that works to give advance IoT mobile application development services and give Voice Enabled Technology Solutions.

API And Backend Development
Our team of professional and skilled Internet of Things software developers and designers offers reliable backend and API development solutions for our potential clients. IoT Dashboards
We offer robust IoT solutions to help our clients design IoT gadgets, analyse sensor information with devices, monitor IoT frameworks remotely and display them through responsive dashboards.

Edge Computing
We execute edge competing on IoT gadgets rather than traditional cloud computing to guarantee lower inertness rates and faster information offloading time.
Network Solutions
We develop custom Universal Plug and Play (UPnP) tools that permit wireless and smart gadgets to be connected over Wi-Fi connections, NFC, RFID, iBeacon, LAN, Lora WAN, BLE and Bluetooth organizations.
INDUSTRIES
Industries We Cover
We have considered different industries most benefit from executing Internet of Things solutions. Being a leading IoT development company, we mainly emphasize offering IoT services in different industries, but some of them are discussed below:
FAQ's
Frequently Asked Questions
IoT provides different benefits to companies, such as higher productivity, workplace safety, and better customer experience, relevant business insights, less operating cost, optimum asset utilization, and enhanced security.
Choosing eBizneeds as a certified company in IoT app development sector has several benefits. We have a large number of in-house experts in different technologies. Our experts have experience working in different industries vertically and use cases.
Absolutely! You can choose the IoT app developers as per your business requirements.
Yes! We appreciate it. Our IoT app development company develops an app on the server and provides you with an encrypted password and username to sign in and check your website progress.
No! After getting the IoT project order, we check your IoT progress needs and determine the cost accordingly. To estimate the IoT app development cost, we evaluate different factors that can affect it.
Clients We Cater
Connect with us and get ready to launch your business with smart digital transformation and zero turbulence.