Last updated on May 24th, 2023 at 06:37 am
Magento is generally an open-source platform that has triumphed across the globe in developing online stores and e-commerce websites that own larger SKU amounts and predict wider traffic. Hence, you need to hire magento developer to grow your online business in the right direction.
If you are already an owner of an e-commerce business, then you already have the idea that running an online store is a challenging task. To operate an eCommerce business effectively, you require a highly competent and easily managed eCommerce website.
Along with this, to develop such a kind of e-commerce store, you require a modern eCommerce platform like Magento 2.
Magento is a comprehensive e-commerce platform, but to build a rich-featured and fully functional Magento store, you need to hire a skilled Magento developer.
So, you can relax because this blog will discuss how to hire magento developer.
Statistics and Market Size
Companies that use Magento to run their e-commerce business tend to grow 3% quicker than their counterparts.
It includes about 1.2% of total web usage. Along with this, over 250,000 live dynamic websites use Magento.
Magento is ranked 7th amongst the most widely used CMS across the globe.
About 400,000 businesses run their businesses on the Magento platform.
Magento is average in the industry as a whole is 1.9%, and in the field of highly used, unmodified eCommerce CMS, it is ranked second.
Magento is the go-to option for about 1000 retailers such as Walmart and Adidas, and the net worth of such top retailers is about $51 billion.
In the current scenario, big commercial giants like Lenovo, Samsung, Nestle, and Nike are procuring the advantages of Magento-based websites, hence you can consult with Magento Development companies to get the opportunities of it.
After deciding to hire a Magento developer, you will realize that this activity in itself is monotonous. You will require a large quantity of knowledge regarding different things that go into hiring a Magento developer.
For example, finding the right place to obtain talented Magento developers and following the feasible steps for recruiting them. Here is a complete guide on how to hire a professional Magento developer.
Before we get into the Tips to Hire Magento Developer, let's talk about why you should hire a Magento developer in the first place.
Watch More:-
Source: Packt
Why Should You Hire Magento Developer?
Magento is a multifaceted technique that needs in-depth technical understanding. Hence, if you want to run a developed online business but you are not well-informed and out of Magento, you would need a professional and certified magento developer to handle all your challenges.
Here Are the Benefits of Hiring a Professional Magento Developer:-
Technical Support
An efficient Magento developer will improve your technical understanding of Magento and assist you in succeeding. Apart from handling rationale stuff and website development, you can hire a web developer that will assist you in developing an HTML theme or PSD, personalization, and optimum utilization of potential upgrades in Magento.
Time-Saving
The first thing that comes to mind while hiring a professional Magento developer is saving time. Moreover, you do not need to handle stuff and code.
As a result, you can prioritize other critical tasks such as marketing and sales, as well as branding. It will also aid in lowering Magento Developer costs.
Better Performance
Hiring a professional developer for your eCommerce platform is an excellent way to ensure quality performance. In particular, when you don't have good technical knowledge, you can hire Magento developer to enhance the appearance of a website, manage backend complexities, and provide both security and speed to your store.
Modification
Developing an eCommerce store is a challenging task. It needs creativity and innovation on your website. When you hire magento developer, you make sure to get a fully customized site that demonstrates professionalism.
A Magento theme developer can offer that creative and unique appearance to the store.
The best part is that you can communicate with your developer whenever you desire to modify your site.
How to Hire An Expert Magento Developer?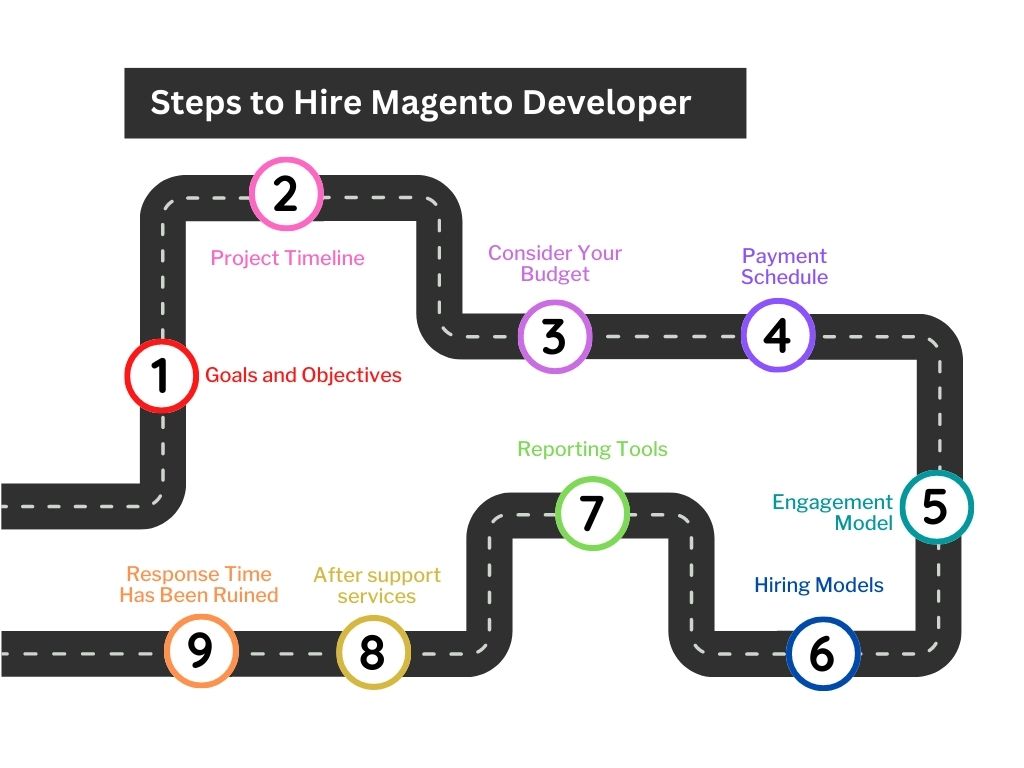 Initially, you need to be aware of your project needs:
Goals and Objectives
You must have full knowledge of the goal that you wish to attain with the business model. You should have an objective related to the project. When you know for sure what your goals and objectives are, it will be easy to talk to the Magento developer you want to hire.
Project Timeline
You must interact with your Magento developer about the timeline of your project. The Magento developer will give you enough information about the working progress of the project and the time required for completing it. If the timeline matches your expected timeline, then you can give it a try as a Magento developer.
Consider Your Budget
Another aspect that has a significant place in opting for the development procedure for your project is Different businesses have different aspects for their websites, and their budget allocation can have a significant impact on the product they seek.
You must measure how much you can make an investment in the project and must express this to your developer. Transparency in the context of a budget is vital.
Payment Schedule
Every business that runs on the e-commerce channel is distinct from its counterparts, and this is the cause of different payment schedules for every company. Hence, before hiring a developer, strike up a conversation with him regarding the payment agenda of your company.
Magento developers should have clarity regarding the company's policies, such as the payment process, and you will eliminate any opportunity for miscommunication in the long term.
Engagement Model
It includes certain essential steps that go hand in hand with completing the website development. It is discussed below.
Improve operation transfer
A dedicated development center
Virtual development lab
Global Resourcing
Hybrid model

Hiring Models
When you hire a Magento developer, you must be attentive regarding what you expect from them. Experienced professionals from your company must interview the developer because they would be competent to convey the needs of your business.
They could also ask developers questions that will assess their ability to perform for their company.
Reporting Tools
It is significant for assessing the information and demonstrating it in a readable and precise design. Certain famous reading techniques are JasperReport, Birt, ReportServer, Seal Report, KNIME, Pentaho, and SpagoBI.
After support services
Developing a website that you expect is one thing, and maintaining the success of your website is another. The Magento designers and developers from a Magento development company would be best fitted to keep your site on top and offer all the essential needs.
Your website should constantly grow, and developers should offer you all the cost-effective techniques for accomplishing it.
Response Time Has Been Ruined
It will help to transfer data sets to the end-user very rapidly. Hence, it is very necessary to have a 100ms TTFB on your server, which is the ideal speed to run an online website.
Read Also: Custom eCommerce Website Development : A Complete Guide
The Required Skillset For Expert Magento Developer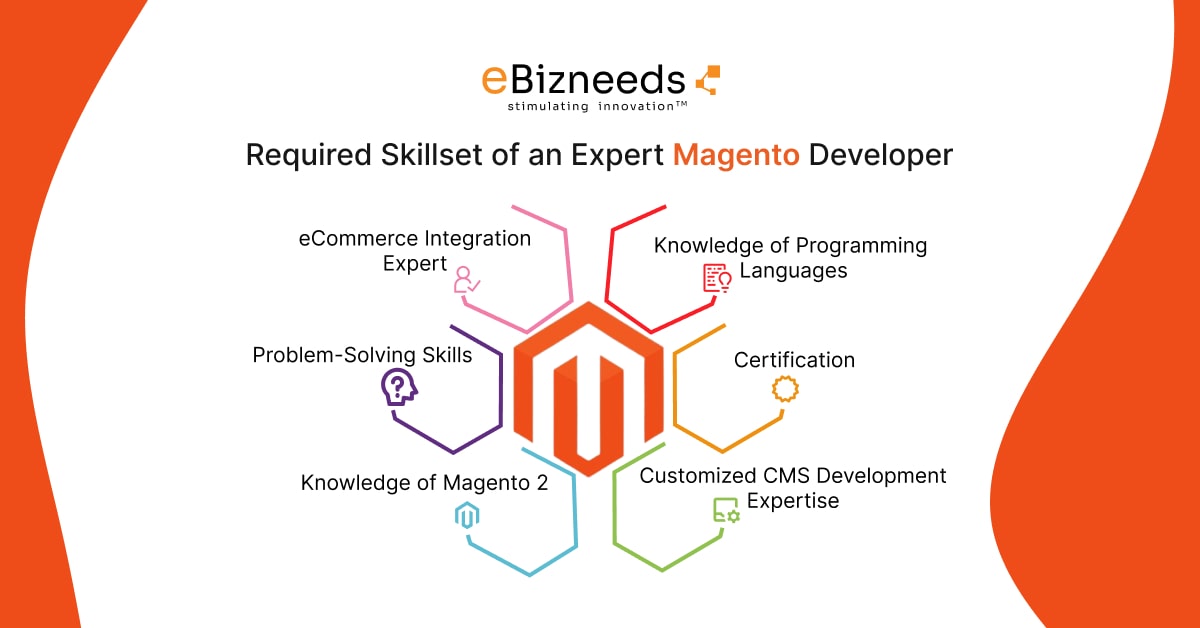 Following are different Magento Developer Features that are elaborated as below:
Knowledge of programming languages
A Magento developer must have a pertinent understanding of all the basic programming languages. This is the least they should have because all the website development business runs on the feasible application of programming languages.
Major programming languages that are applied in website development include CSS/HTML, Java, PHP, C++, SQL, Ruby, Python, Javascript, and others. The PHP language is the one that a Magento developer should master to become a professional in the Magento development business.
Certification
The Magento developer that you are seeking to hire for your website development must have a valid certification regarding Magento skills which is a significant Magento Developer Feature.
They should possess a valid Magento 2 certification that is particularly intended to validate the competencies and basic understanding that are highly required for appropriately deploying a Magento eCommerce Store.
Magento Certification is highly recommended due to the increased availability of developers, and you need to choose the best one among them for your project.
Customized CMS Development Expertise
It is the basic stuff that a company looks for when choosing the best Magento developers. They should be competent to integrate their competencies and development skills as per their website needs. Their expertise in development is basically in the following areas:
Customer extension development
Magento module and theme development
Magento website development.
Shopping cart development
Customer e-commerce services
Required Knowledge of Magento 2
The Magento developer that you are seeking to hire should have a sound understanding of Magento 2 since it creates easier overall stuff for you to handle. Magento 2 is a full-fledged shopping cart solution for medium and large-scale companies.
It is a platform that considers different features and provides elasticity to its users; hence, they effortlessly manage the layout, content, and functionality of an e-commerce business platform.
Problem-Solving Skills
In the current era, problem-solving skills are required in each area of business, and Magento developers must consider them to develop the task at an easier level, especially for e-commerce businesses that hire them.
A high number of coding and design issues will arise when developing an eCcommerce platform, and during such times, the Magento developer will get an advantage from the problem-solving competencies.
eCommerce Integration Knowledge
eCommerce integration is something that has been in higher demand recently because it comes with different benefits. These advantages involve a wider increase in revenue and also an improvement in profit, provide reliable consumer targeting, and assist you in managing your adaptable customer service costs.
Every eCommerce business wishes to procure these advantages, and that is the reason to hire Magento developer with a sound understanding of e-commerce integration. You can Hire a eCommerce Developer to develop more integrated knowledge.
What Kind of Developers Do You Need?
Full-Stack Developer
A full-stack developer excels in both front-end and back-end development activities. A large number of businesses across the world have some tech understanding, and that is why they select both front-end and back-end developers or full-stack developers.
The reason behind this is that both end developers will look after all of their development issues along with working on all aspects of their sites.
Back-End Developer
A backend developer is required if you want to develop server-side logic and keep a central database. They are also essential when you want to develop an app for your store. Being detail-oriented and technically sound are two significant features that each backend developer should possess.
Front-End Developer
The demonstration of your site, navigation, colors, and layout are all required for front-end developers. They must have integrated knowledge of the given below.
PHP
JS
CSS
Magento CMS
APIs
HTML
How to Identify Your Magneto Developer?
Ask Previous Clients For References
You can get connected with existing clients who have hired that specific developer in precious time. Discussing with them provides a clear idea regarding the competencies, working techniques, and persistence of the developer.
Look For Reviews and Ratings
Scrutiny star ratings and reviews are an essential aspect that all businesses must have before hiring a developer. By looking at their ratings, you'll get a full picture of a candidate's profile, professionalism, and work quality.
Check Magento's Work Portfolio and Credentials
Assessing the certification of developers and work portfolios will give you a clear idea of whether a candidate is a proper fit for your project or not. The work portfolio will demonstrate their competencies, working techniques, and the work they have executed until now.
The developer's work portfolio will focus on the following:
Proficiency
Count of projects
Lesson plans
Experience
Frameworks
Design and development work
Certifications
Allocate a Sample Test Project
When you are unsure about the expertise of developers and want to be sure regarding the selection that you make, then you will consider a professional test project. It is significant when you have a giant project that is time-consuming.
Interact with your developers about the paid coding test as well as hiring them only while they are sure regarding their skillset.
Describe the Project's Specific Requirements
You should share the exact project information and guidelines with your web developer.
The reason why this is necessary is because, if you do not, your developers will not deliver the results you want. As a result, you will have to continuously ask them to make changes.
Communication Skills Must be Good
It must be the initial thing that one should consider before hiring a Magento developer. Communication skills should be a must for Magento developers as well as their technical skillset.
Where to Find the Top Magento Developers
Freelancer Portals Like:
Freelancer
The procedure for recruiting a professional web developer has become so much more stress-free due to the convenience of freelancers. If you are looking to hire Magento developer, you only need to post the job, and you will get competitive bids from developers within a minute.
The payment technique with a freelancer is highly secure, and there are thousands of developers available, so you can choose the best one among them.
Upwork
Upwork is a globally renowned freelance platform that has a database of millions of freelance talents from all over the globe. This platform offers great service to independent contractors who are looking to hire their first seamless developer.
It also aids companies in addressing the reviewed professional freelancers that involve Magento developers. If you are seeking freelance web developers, then Upwork is the best place for you.
It permits you to find the contractor's files for free. Freelancers have a different slot rate, so you have the option to choose it as per your budget.
Find Magento Developers on Social Media
Facebook
It is another significant site for addressing talented developers who are keen on Magento sites. You need to join the Facebook group that is dedicated to developers, conduct some research, and then post your needs.
Moreover, you can visit different web developers' profiles and connect with them to discuss the dream project.
Twitter
It is another platform for addressing Magento developers because they continuously tweet their competencies and new projects and also share their insights.
You simply need to tweet that you are looking for web developers and use trending hashtags like # MagentoJobs, # Developer, and # Magento. You will get several replies regarding the job rapidly.
LinkedIn
You can easily assess web developers on LinkedIn. You need to directly search for people who have mentioned Magento in their skills and access their profiles. This is a highly trusted professional platform for connecting internationally.
Catch the Best Magento Developers Through Research Companies
eBizneeds Business Solution
As a web & mobile app development company, it provides wholesale/offshore development services via dedicated backend providers. As a product and start-up development company, eBizneeds has a large number of experience and expertise.
The company performs onshore and offshore work using a hybrid model. We focus on long-term services and working together as a team.
Goodfirms. co
It is a research-based company that functions on addressing and identifying the best software development companies from all over the globe. They link the service seeker and the best development provider.
In such a way, they assist the service provider to progress the counterparts. It also increases credibility and value at an industry-wide level.
ITFirms.co
It is personalized in offering top-notch mobile app development, web app development, software development & eCommerce development services all over the globe.
They offer their best to aid you to address some of the best companies that would support you in meeting their requirements and aid you to get high-quality services. They offer eCommerce developers, web app developers, and mobile app developers.
Clutch.co
It is a recognized data-driven firm that supports you in B2B purchasing and obtaining decisions. They have approx. 150,000 agencies under them about 500 are categorized. They also assist you in:
Web & Software development
IT services & solutions
Mobile app development
Advertising & Marketing
In a nutshell
Addressing Magento developers is not an easy task because Magento is a challenging platform and only experienced Magento developers can do all the complex coding. Hence, in this blog, we tried to provide you with the right directions that will enable you to get a feasible Magento developer for you.
FAQs
How do I hire Magento developers?
Skills are a significant part to Hire Magento Developer. Hence, each company should ensure that their developer has everything they require for the expansion of the company.
Ask past clients for references
Look for Ratings and Reviews
Find Magento Work Portfolio and credentials
Address the specific requirements of projects
Assign a sample test project
Good Communication skills
How much does it cost to hire a Magento developer?
Magento Developer Cost can be anywhere starts from $50 to $250 per hour and it has relied on location, experience, and certifications.
What features are needed while hiring a Magento developer?
The following are some features required to hire Magento developer:
Advance PHP knowledge
Strong object-oriented programming knowledge
Extensive LESS & CSS knowledge.
Magento certification
JavaScript is required for front-end development.
How can I hire Magento 2 developer?
You can opt for online channels such as Facebook, LinkedIn, and Upwork to get connect and hire certified Magento 2 developers. Furthermore, you can go through the websites of Magento development agencies that offer Magento services and conduct depth investigations to understand their services, project, portfolios, and experience.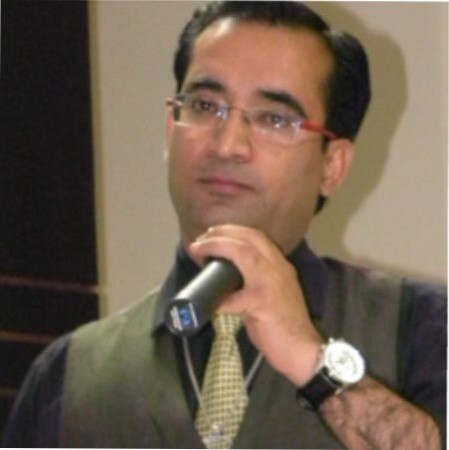 Naveen Khanna is the CEO of eBizneeds, a company renowned for its bespoke web and mobile app development. By delivering high-end modern solutions all over the globe, Naveen takes pleasure in sharing his rich experiences and views on emerging technological trends. He has worked in many domains, from education, entertainment, banking, manufacturing, healthcare, and real estate, sharing rich experience in delivering innovative solutions.