On-demand app development is a leading trend in the mobile app development industry. It is a highly demanding concept. On the other side, businesses are also concerned about the cost of developing an on-demand app. So, here we have created a blog that will take you through the various aspects of it.
Smartphones have a significant impact on our lives, and we use at least two apps per day, such as a taxi booking app or food delivery app. What do you think – what are these?
These are some of the best examples of on-demand apps that are being built by keeping customers' requirements in mind. The best advantage of these apps is that they cater to the variety of demands of their customers. Users can opt for any service they need.
There is a massive craze for on-demand app development in the market, and businesses are focusing on growth with its help of it. On the other hand, if you own a business entity and want to develop an app, then the cost to develop an on-demand app is also essential to know.
This blog is all about how much it costs to develop an on-demand app.
If we talk about the cost of developing an on-demand mobile application, it depends on the category. It is like:
Cost to develop a simple on-demand app: $20,000- $30,000
Medium-complexity cost: $25,000-$40,000
The cost of highly complex apps: $35,000- $50,000+
The data mentioned above represents the average cost. The actual price depends on project requirements. However, the price will fall in the mentioned range.
Before we explore this blog more, let's look at the key stats and facts about on-demand app development.
Key Stats of On Demand App Development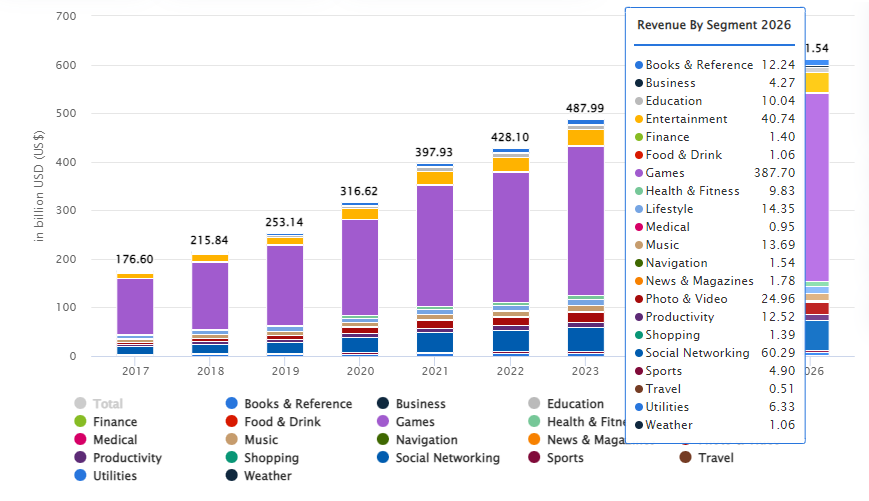 Source: https://www.statista.com/outlook/dmo/app/worldwide#revenue
In 2022 the mobile app market revenue is estimated to reach USD 430.90 billion in 2022, and by 2026 it will be US $611.54 billion.
The expected annual growth rate (2022-2026) is 9.27%.
USA is at the top in the app development market, where generated revenue is US $74,830 in 2022.
By the end of 2022, the estimated in-app purchase revenue will be US $5.25 billion.
High revenue-generating apps are gaming apps, as they have a huge craze.
The video-on-demand segment is estimated to project $157.90 billion by 2027.
These stats represent the progressive face of on-demand app development. Several industries are leveraging it for growth and reaching a wide audience base.
What Is An On-Demand App Development?
To understand the definition of on-demand app development, we first need to understand what an on-demand app is. So, the definition can be given as follows.
A mobile application a user uses to buy or order products or book services whenever they need is called an on-demand mobile app. When any service provider wants to cater to customers' demands and onboard new customers via a mobile app, then its development is called on-demand app development. The best examples are:
Food Ordering App
Taxi Booking App
Medicine Delivery App
OTT App
Appointment Booking App
Healthcare App
And more.
About the basic definition, you also need to understand its working. Whenever it comes to how on-demand app development works then, it is like this:
Users download and install the app on their smartphone
After signup, create a username & password, and the profile app is ready for use.
A user places the request for service or purchasing the project.
The service providers notify about the update
After accepting users' requests, the service providers or product sellers deliver the service.
Customers pay for the services via multiple payment methods. It can be advanced or paid on delivery.
What Are The Benefits of On Demand App Development?
There are several benefits of developing an on-demand app for business. However, the cost of on-demand app development is an important factor to consider when deciding how to build an app.
To grab the business opportunities, you need to spend the money to develop an app, but it is such a great investment for the future.
One of the best advantages of an on-demand app is that it connects millions of customers to millions of service providers. Moreover, a business can have new customers with ease. It is a better way to serve the customers in an acceptable way.
Let's start with the list of benefits:-
Worthy Investment
The cost of building an on-demand app is a worthwhile investment. You will spend your money not only on having an app but also on having something valuable that can help you to take your business to the next level.
If your app is perfectly developed and matches the intent of its users, each penny will return the value.
Scalability
Scalability is also one of the biggest advantages of on-demand mobile app development that you can leverage for business. With traditional tactics, you can limit your business, but if you want to take your services to a larger audience, developing and using an on-demand apps is a fantastic idea.
Improved Customer Service
New-generation users prefer online shopping instead of roaming the corners of the city or shopping malls. On-demand apps are the best way to connect your business with them. You can offer your products and services with improved customer service via an attractive app.
Analytics & Report Generation
For better business, analyzing the data collection and finding more possibilities via report generation is essential. Having an app for the business is the best way for it. The on-demand apps have analytic features you can leverage to make strategic decisions.
Having A Strong Online Presence
There is no need to mention multiple times that executing business online is the only way that can lead you to the path of success. With the help of an app, you can have a great online presence.
Types of On-Demand App Development
The cost to develop an on-demand app also depends on its type. The following are the key types of on-demand app development.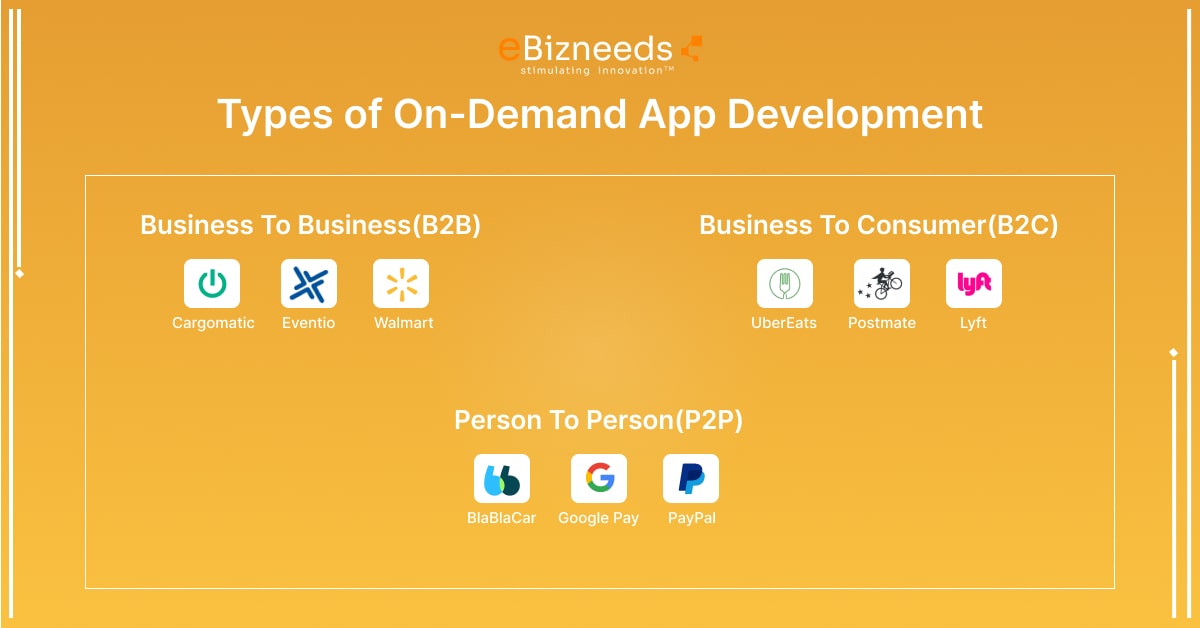 1. B2B On Demand App
As its name implies, these apps are being used for business-to-business deals. These apps can be related to corporate banking, supply chain management, transportation, and more. Its examples are Cargomatic, Eventio, Walmart and others.
2. B2C On Demand App
When an app works for a deal between a business and the customers, it is called a B2C on-demand app. The perfect examples of B2C on-demand apps are UberEats, Postmate, Lyft, and more.
3. P2P On Demand App
These apps are also called C2C on-demand mobile apps. Via these apps, users can offer services or products to others. The best examples are BlaBlaCar, Google Pay, PayPal and more.
The Cost Factors Affecting On-Demand App Development
Some key factors affect the cost to build an on-demand app. Each factor contributes to the overall cost of mobile app development. So, let's start the list.
Operating System
There are two major operating systems: Android and iOS. Almost all smartphone owners are divided into these two, although a major percentage (71%) is of Android users.
The cost to develop an Android app is different from the iOS app development cost. If you want to develop a basic on-demand Android app, it may cost you around $20,000 compared to the iOS app($30,000 average cost).
App's Complexity
App complexity is one of the biggest factors that decide the cost of an on-demand app you need for your business. The complexity depends on the app's size and type.
From the complexity point of view, there are three levels: Low level, Medium Level, and Large level. For example, developing an app like Apple's TV is more complex than developing an on-demand travel app.
Features & Functionalities
The apps are known for their features and functionalities. On the other hand, it requires a portion of the cost later, which influences the overall cost. The features include such as user login, profile creation, navigation, push notifications and more.
The functionalities include back-end infrastructure, third-party infrastructure, payment integration, and more.
UI/UX Designing
Millions of smartphone owners use on-demand apps, and these apps come with UI/UX that attracts users. The user interface is one of the essential elements of any app. To have a stunning app interface, you need to invest money in hiring designers and tools.
App's Security
The app's security implementation also holds a major portion of the cost of developing an on-demand app. The app's security is because it contains all types of essential data of users and businesses. Any kind of beach can create disaster.
Hire On-Demand App Developers
The cost of building an on-demand mobile app strongly relates to hiring mobile app developers. The hiring cost covers the biggest portion of the on-demand app development cost. It includes the hiring of app designers and developers.
Another factor is the location of developers. You can hire dedicated developers at different costs from different countries.
| | | |
| --- | --- | --- |
| Sr. No | Location | Average Hourly Rate |
| 1 | USA | $250-$300+ |
| 2 | UK | $200-$250+ |
| 3 | Europe | $150-$200+ |
| 4 | Russia | $150-$200+ |
| 5 | India | $25-$50+ |
The Cost To Develop An On Demand App
The cost to develop an on-demand app ranges between $20,000-$50,000. The cost may be more than this based on the requirement. Usually, the cost-driven factors are the app's complexity, features, functionality and cost of on-demand app developers for hire.
Let's find out the cost based on the category of the app:
#1. Simple or Basic On Demand App
As the name implies, the basic app contains basic and only key features. Usually, these apps are for a single platform. The cost to develop a single platform-based on-demand app is $15,000–$20,000.
#2. Medium Complexity On-Demand App
Medium-complexity apps are mobile applications with sophisticated functionality such as multiple payment options, in-app chat, payment gateway integration, and more. These apps are more advanced than simple on-demand apps, affecting the cost.
The cost to develop an on-demand app with medium complexity is $25,000-$40,000.
#3. Highly Complex On-Demand App
Suppose any app has multiple advanced features & functionalities. If it has a large size, then it is called a complex on-demand application. Usually, these applications are especially used by large-sized organizations with a presence worldwide.
From the costing point of view, the starting range of the cost is $50,000+, which can go up to $120,000. The rest of the things depend on requirements.
#4. Custom On-Demand App
Customization is trending everywhere, and the same is applied to the mobile app development industry. App customization facilitates businesses to turn their idea into real-life working apps. The cost to develop a customized on-demand app is approximately $30,000-$40,000.
The Final Thoughts
Suppose you are looking to develop an on-demand app. In that case, it is the right decision for your business as these types of apps are trending, and businesses are leveraging them in a real sense.
The mobile app development industry is a multi-billion dollar, and there is always a high demand for innovative solutions. There are a few things you should keep in mind.
First, you'll need to ensure your app is user-friendly and easy to navigate. Second, you'll need a robust platform that can handle many users. Make sure your app can handle high traffic effortlessly. Lastly, you'll need to make sure your app is secure.
Users will input sensitive information like credit card numbers, so you'll need to ensure your app is safeguarded against potential security threats.
The best way to create the best user experience is to take assistance from an experienced on-demand mobile app development company. The biggest advantage is you will have an optimized cost of on-demand app development. It will make your investment worth it.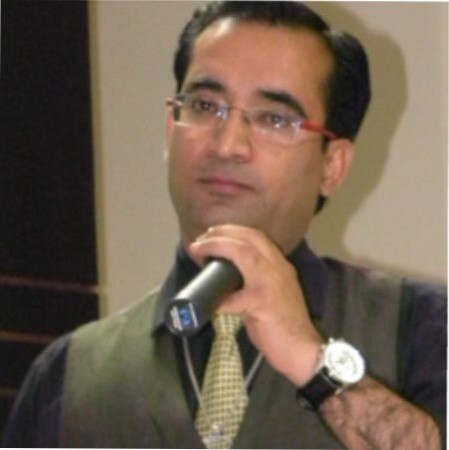 Naveen Khanna is the CEO of eBizneeds, a company renowned for its bespoke web and mobile app development. By delivering high-end modern solutions all over the globe, Naveen takes pleasure in sharing his rich experiences and views on emerging technological trends. He has worked in many domains, from education, entertainment, banking, manufacturing, healthcare, and real estate, sharing rich experience in delivering innovative solutions.