Last updated on December 22nd, 2022 at 01:01 pm
Mobile app development appeared as a potential medium for connecting with customers in a great way and taking the business to a further level. Especially if you are looking for app development for startup, you are on the right trail. This blog will help you as an ultimate guide for mobile application development that you can consider moving forward in 2022 with your business.
A cutting-edge, robust and scalable mobile app can promise you benefits that you have never experienced before in this competitive world.
The top brands you have seen progressing have not established their names overnight, such as Amazon, Netflix, Walmart and otters. Their consistent efforts and marching with the latest trend, such as a fantastic mobile app creating wonders.
The mobile app works as a great tool to retain customers and provides a smooth way to onboard new customers. Most apps are being developed for iOS and Android.
The reason is their popularity among smartphone users worldwide. These applications allow users to use from any respective location as from their home, office or while travelling.
On the other hand, android app development services are also progressing via providing innovative solutions to enterprises, businesses, and startups.
Due to this latest trend of the decade, almost all businesses migrated on the app platforms such as native and cross-platform.
What Is Mobile App Development?
It is the procedure to develop a mobile app that works on smartphones. These applications could be fixed previously on the device, accessed via a mobile web browser, or downloaded from the mobile store.
A mobile app uses a network link to work with the remote resources of computing. Therefore, the app development procedure considers
Developing installable bundles of software
Executing the backend facilities like data access with an API
Testing the application on target devices
Focus on screen size, hardware requirements, and other factors that can affect the development process if you want to make mobile apps that are reliable and scalable.

Statistics About App Development for Startups
With the help of mobile applications, businesses are catering to their customer's needs in a delicate way. Before we deep dive into the blog, here are some eye-opener statistics to help you understand the points as a startup owner.
In 2025, mobile app revenue is expected to reach $613 billion, and there will be 7.49 billion mobile users worldwide.
Since 2020, mobile gaming and video apps have been on the rise.
In the Covid-19 era, virtual classroom apps are the new normal.
The total number of app downloads in 2021 was 203 billion.
There are 2.87 million apps in the Google Play store and 1.96 million in the Apple App Store.
In general, smartphone owners use 10 apps a day and 30 apps a month.
These statistics directly indicate that many opportunities are waiting to grab; you only need to implement the right strategy regarding app development for the startup you own. An experienced mobile app development company can help you to do it better.
As a startup, instead of hiring an in-house team, it would be a wise decision to hire dedicated developers for startups.
Mobile Application Development Trends for Startups in 2022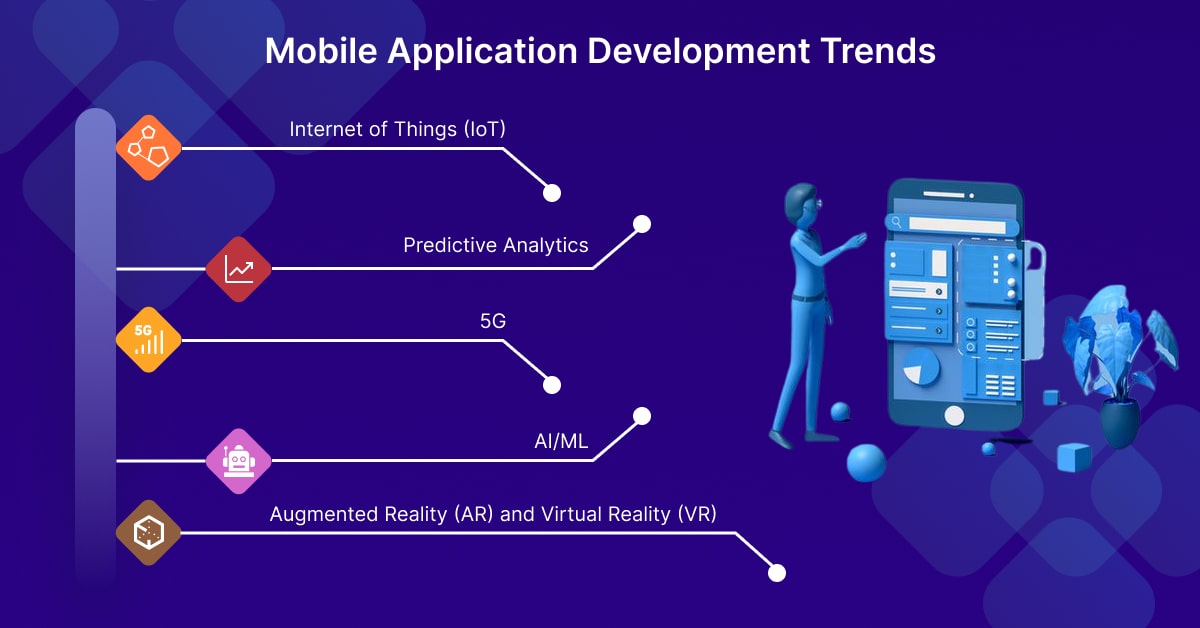 Our developers bring you this stimulating accumulation of the latest trends in mobile app development that are certain to satisfy the needs of modern users.
While ignoring these trends may create risk for your project, following them would aid you to produce lucrative results in long term.
The Internet of Things (IoT)
It is emergent network policies associated with the internet, providing automated control and accessibility to users. In addition, smart home tech is a good example of growing IoT in the context of mobile app development for startups.
A mobile app could be implemented for connecting the home security system as well as, transforming the regular in-house from a remote location as well as, and locking or unlocking the front door.
The global IoT market is estimated to arrive at USD 1,842 billion by the year 2028 at a CAGR of 24.5%. According to statistics, revenue obtained from IoT technology will reach 1.6 trillion by 2025. These numbers show how IoT devices are used and how their use is growing steadily in mobile app development.
5G
This tech would have a positive impact on app development trends in 2022. 5G technology is a way for altering the way of developing and using apps for developers. There were about 3.5 times more 5G connections in 2021 as compared to the previous year. These connections would nearly triple in the current year.
How will it impact mobile application development?
5G will radically enhance efficiency and speed. This tech is estimated to decline 10x in latency and enhance the efficiency of network and traffic capacity.
In contrast to 4G, 5G would be faster 100 times and also depend on the operator of the mobile network you choose. The mobile app functionality would be enhanced by 5G penetration.
It will also permit app developers and startups to consider new functionalities and features for apps without adversely impacting their efficiency. 5G network speed can be considered by developers during the app development and testing stage.
Augmented Reality (AR) and Virtual Reality (VR)
It can be considered another mobile app development trend for a startup to look out for in 2022.
There are wider cases where mobile apps use AR features. Pokemon Go is a great example that paved the AR way in mobile application gaming. AR is becoming more useful in other areas as well.
We can take another example of L'Oreal Paris as it uses AR in its My Hair App. Using augmented reality, the app shows the user the different hairstyles and colors right in front of their eyes.
VR is also included in the context of mobile app development. This app has recently become popular in gaming apps. It can be linked to smartphones, apps, and wearables to make mobile gaming better.
Predictive Analytics
It can project events via gathered data to leverage technologies such as AI and machine learning. Market players for a startup have been practicing predictive analytics for a long time. For example, Netflix is practicing this technology to demonstrate movie recommendations according to what users have seen in the past.
In the year 2022, it will be implemented for a wider category of mobile applications on a more mainstream level. The primary aim would be to improve the UI/UX of an application. It would ultimately help to increase customer engagement and retention.
Artificial Intelligence and Machine Learning
These technologies penetrated the mobile app development sector many years ago. However, utilizing these technological additions maximizes customer reach. Whenever we talk about AI, virtual assistants like Siri or Alexa come to our minds. However, the used case goes beyond this mobile app development for a startup.
In the previous year, Apple launched Core ML 3, an iOS machine learning structure that permits app developers and startups to assimilate AI technology into their applications.
Here is a certain illustration of AI features that could be executed in a mobile application.
Face detection
Recognition of Image
Sentiment recognition and organization
Classification of Text and image
Predictive maintenance
Recognition of Speech
AI can build a smarter app and also enhance its efficiency at each stage. In the year 2022, AI has changed the way applications develop from frontend to backend development.
Why Do You Need App Development For a Startup?
For business advancement, you can also ask yourself: Why do I need mobile app development for my business?
It will help you decide about the goals you can achieve from a fantastic mobile app. Based on the real-time facts, the app development for startups worked as a boon. Multiple startups have progressed in terms of boosted growth sales and used an app as an excellent brand promotion tool.
Here are some key reasons that depict why you need startup app development-
Potential customers are exposed to more information
Improved quality of service
Achieving high business standards
Ease of handling business operations
Excellent customer service
Stand out

of

the crowd
Easily track customer activity
Enhance brand credibility
Easy financial management
& many more that you have never thought.
Having a business mobile application is such a worthy investment.
How to Develop A Mobile Application for Startup?
If you are confused about how to develop a mobile application or provide an edge to your current startup business with a new app, here are some phrases you should consider to start the mobile app development process.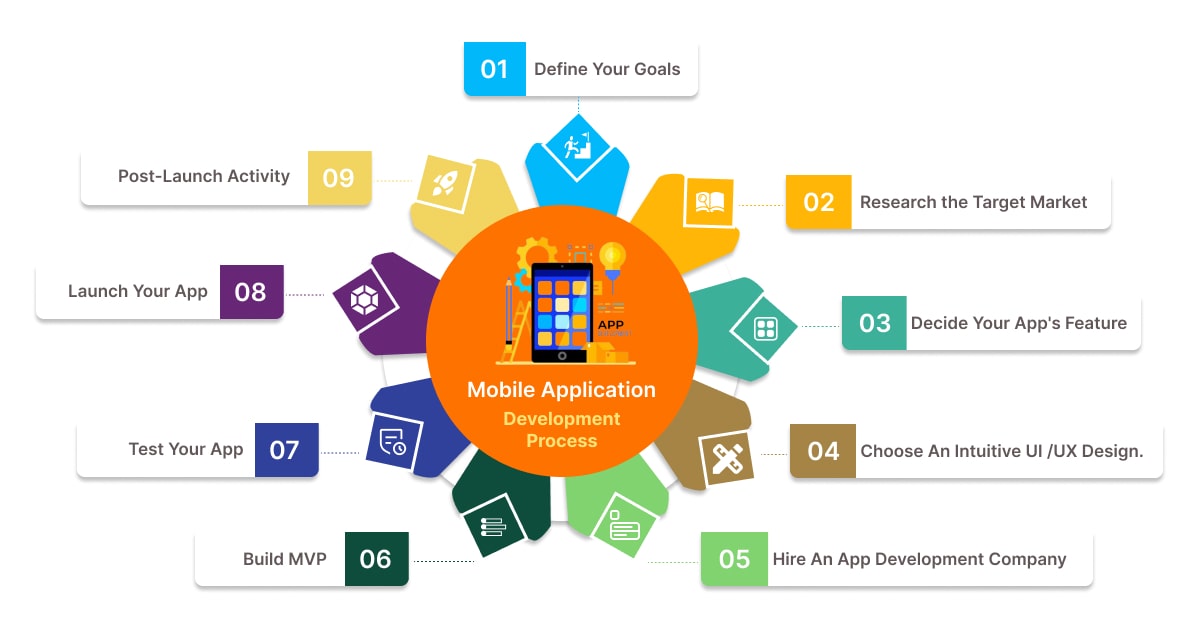 These steps are significant to evaluate the application's success; hence you shouldn't skip any of them.
Define Your Goals
When starting the app development procedure, you should have clarity about your goals. When are you planning to attain it?
What concerns you are trying to resolve with your application?
When these aren't well-defined from the start, it is easy to get lost along the way once you are starting to develop an app for a startup.
You should only focus on measurable goals because if you set any goals, you will not utilize your resources and time efficiently. You can also develop the goals associated with end-users and businesses.
Each goal must have clear KPIs to track and measure its achievement. For illustration, if wish to develop an application for an e-commerce shop. Your goal can be related to reducing shopping cart abandonment rates on mobile systems.
To make sure that you attain this goal, you should understand your current abandonment rates so that you can measure them against the numbers when you ultimately launch your application.
Research the Target Market
For mobile app development in a startup business, you should conduct an investigation and address more specific market concerns. It will help you to comprehend how consumers communicate with market players, brands, market dynamics, and more.
You must also assess user reviews for top applications in the market. It will assist you in coming up with a superior product. You need to know who your audience is and how old, where, and what kind of devices they use on average.
Decide Your App's Feature
It is significant to consider the right features to be assimilated into your applications for a startup. You have to address the features that are required to deal with your users in the best possible manner.
When taking into account the foremost features in your app that might sound eye-catching, avoidable features may frustrate your users. Moreover, the cost and length of time depending on the app's features.
Hence, it is advisable to emphasize simplicity in the early development phase.
Choose An Intuitive UI/UX Design
What is the first thing your customers see when they open an app? It is not the features, but it is the best way your app interacts and looks with users. Moreover, the ease of control and user-friendly app features for a startup is what make it alluring to its users.
A mobile user interface (UI) illustrates how your mobile app demonstrates itself to a user. Moreover, user experience (UX) is about the user interacting with the app and providing commands for completing it to resolve the concerns that it was originally developed for.
Your effectiveness as an app can be determined through the optimal integration of functionality and attractiveness.
For example, we have currently built an innovative mobile application for Pizza Hut for their Middle East users. Our experts developed an engaging UX/UI to permit users to simply navigate and order the foods in a few clicks.
Moreover, our team combined unique features to automate food ordering as well as the delivery right to the doorstep of the customer to avoid unforeseen delays.
Hire An App Development Company
Hiring a consistent startup app development company will make sure that your app includes all the latest features and functionalities at an affordable rate. A mobile app development company considers project managers, UI/UX designers, market specialists, and app developers for startups who always emphasize your vision and provide valuable suggestions.
Startup companies also provide access to the expertise of industry and advanced technologies.
Build MVP
The MVP is the app version that has key features to explain to users the mobile application for a startup. However, it does not consider all advanced levels of features.
The main benefit of MVP app development is that you get to address how app store users acknowledge your idea before you invest any more money into scaling the app for its upgrade stage.
Several brands have considered building MVPs and have now become the most renowned businesses, like Airbnb, Twitter, Spotify, Dropbox, and Groupon, among others.
Test Your App
When you think of developing an app for a startup, it is natural to keep testing the app. You can test everything from the performance of the app and content to the user experience. Feasible testing helps you reduce development costs and time, address bugs, and improve your reputation as a service provider.
Launch Your App
After successful app testing, you can launch your app on the Play Store or Apple Store. But, you need to comply with Apple and Google's developer guidelines. Moreover, you need to integrate the monetization strategy into their needs as a startup.
Post-Launch Activity
After a successful launch of the Play Store or App Store, the next level is marketing it for a startup. If users do not have awareness of your app, then there is no opportunity that they will download it.
To explore the data about your application and convince your specific audience to check it out, and also make inspiring and informative videos that can demonstrate the core functionality of your app.
You should always consider the potential of social media because digital platforms can help you reach every corner of the globe. It will show glimpses of an app to people and also spotlight the prime features that can streamline their lives.
Now that we have focused on mobile app development for startups, it's time to explore the types of mobile apps for your business. So, let's deep dive into it.
Types of Mobile Apps That You Can Focus For Your Startup
As you are reading this blog, there is no need to say that Android and iOS are the only platforms you need to focus on; they hold 73%(Android) and 27% global market share. Although for your information, you must note that there are three key mobile app types that you can choose as per your need. So, these are-
Native App Development
As their name implies, a mobile app is designated and developed for a single platform called a native app. For example, suppose you are focusing on the iOS platform users, then the iPhone app development services provider will be the best for the iPhone app for your startup.
The same example you can co-relate with the Android apps. Its advantages are that the app will utilize the platform-oriented device for execution fast. On the other hand, the disadvantage is that if you want to focus on more than one platform customer, it will be costly to develop separate apps for each platform.
Cross-platform App Development
It is the best method to develop the app for targeting multiple platforms users in a cost-effective way. Cross-platform app development stands for developing the app using a single code base and making it executable on any platform.
The React Native app development is a direct example of it. You will be surprised to know that it is one of the most favored options for a startup where it is tough to manage the funds. It makes it easy to reach more audiences.
The best point about these apps is that they function like native but work on every platform that gives the enterprises or startups freedom to expand their respective business.
It supports the strong concept of code re-usability and cost-effectiveness. On the other hand, the challenge is integration and a complex development process.
Progressive Web App Development
The PWA is also a promising concept that you can think about app development for a startup. It stands for the websites acting like a native app that can be accessed via browser from any smartphone device. It makes it most favorable for the users that they do not need to download as they can directly use it from the browser.
Many businesses are using these apps around the globe, and they are really leveraging them. Its advantages are offline access, no installation required, platform & device independent, remains secure, and can be developed fast.
Its limitations are that they do not use device cameras and other features such as calendar, contacts and others. Additionally, they also consume more battery power.
Now you are aware of the types of mobile apps that you can focus on for app development to handle your startup business. You can choose any of the options mentioned above as per your concurrent requirements.
The next section of this blog represents the essential features that would be better to include in your app.

Mobile App Development Platforms for Startup
In the present times for a startup, two well-known mobile app channels are iOS and Android. iOS is a limited operating system that Apple developed initially for iPhones.
In contrast to this, Android can operate on mobile systems developed by diverse OEMs, such as Google.
When there are similarities between the two discussed options, it should be considered that diverse software development kits should be applied on diverse platforms.
Apple exclusively applies iOS to its system, but Google permits other companies to apply Android to achieve particular needs.
Basic Features You Should Consider For Startup App Development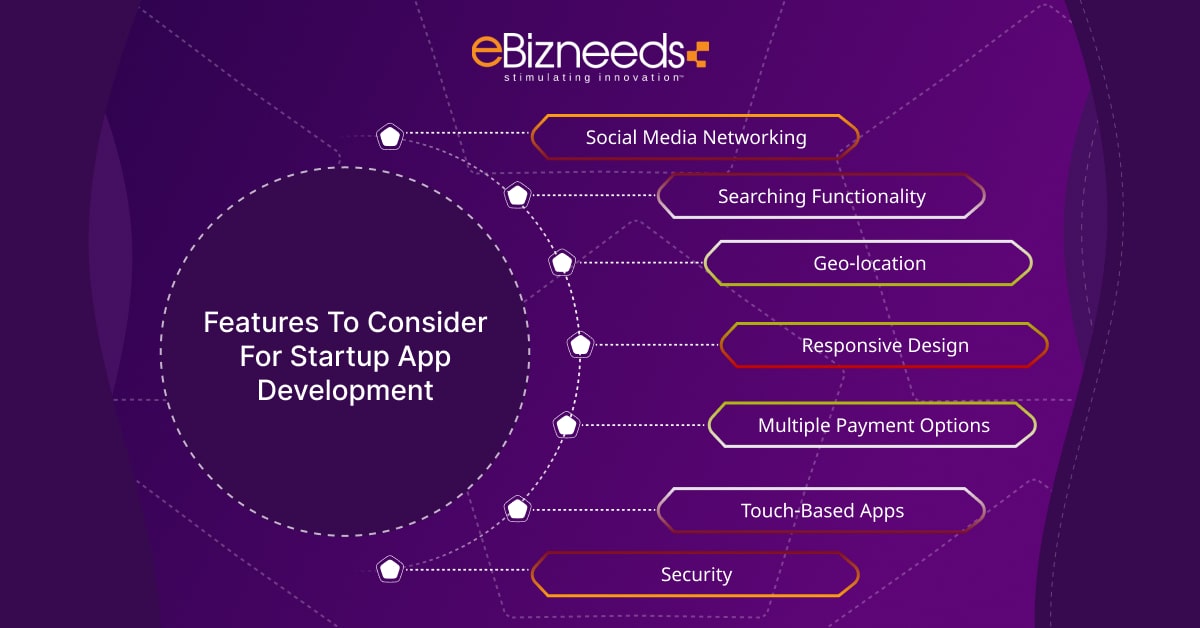 Features decide the fate of the app. Startup app development is very crucial for new businesses. Instead of making the app feature-laden first, you think about the basic features and then decide on the advanced features.
The basic features will provide a firm base for your app. So, check out these key basic features that you consider regarding app development for startups.
Social Media networking
More than 95% of apps use social media integration, and mobile app development companies also consider it one of the top-notch factors while developing enterprise mobility solutions. It works as a great communication tool to interact with the customers if they are geographically scattered.
On the other hand, it will also help you do social media marketing for your brand easily. You can directly perform social sharing about the products and services.
Searching Functionality
More than 90% of users admitted that they need an empowered search functionality in an app. Instead of searching here and there, it will be such a wonderful experience to find the services or products via a fast functioning search bar. You will find this functionality in top-notch apps that makes it more useful for the users.
Geo-location
Most of the on-demand apps use this functionality for operational purposes. It allows businesses to navigate the customer's location for delivery of ordered stuff.
It can be online food delivery or eCommerce delivery. If your business requires on-time deliveries, then it must be worked in real-time. Most experts involved in app development for startups consider it one of the essential features.
Responsive Design
A mobile app can't be restricted to using a specific design. So, its design must be responsive and can work similarly on various devices and resolutions. Each device comes with its own resolution, so it would be best that the mobile app users get the best experience of your app without any distortion.
Multiple Payment Options
There is no need to carry a money wallet for shopping or purchasing stuff. Via mobile wallets or online methods, payment can be done anytime and anywhere.
Multiple payment options will give 360-degree freedom to the users regarding payment for subscribing to the services or ordering their favorite item from your app. You can also include in your mobile app for the startup to facilitate the users in more significant terms.
Touch-Based Apps
Nobody uses the app for typing and typing till the fingers get pain. Most high-quality apps come with less typing-more touch where a user can get the desired option via touch only.
The users use mobile apps for easy use instead of websites. So, while developing the app, you can ask a mobile app development company to develop your startup app in fashion, so the user must find it easy to use with touch functionality.
Security
Making the app secure is also a big concern because there are multiple cyber threats, and hackers can steal sensitive information. If your app is secure, it will increase the trust factor between you and users.
The Common Mistakes Happened While Developing The Mobile App
It is okay that you need an app for your business. But you must be aware of the common mistakes that businesses make due to the unavailability of appropriate guidance.
You are at the starting phase, so you can avoid it. Let's check out what are these-
? Concept- instead of going with the standard concept, first, you need to identify the uniqueness of your business and develop the app accordingly.
? Planning- app development can't ensure success. For it, you need to implement things with a proper plan.
? Budget- most of the startups fail due to improper budget management. App development requires cost, so you need to manage it.
? Marketing- Things will not end after launching the app; you need to make promotion and branding.
? Features- multiple apps have basic features, but it would be best to include some advanced features to stay out of the crowd.
Key Steps to Hire Mobile App Development Company
For developing the app for your startup, you need to hire a mobile app development company or an experienced mobile app development services provider. So, you can follow some crucial steps to do it adequately.
? Check what they have done: Before initiating communication with mobile app developers or a company, go through their portfolio of what kind of products they have developed so far.
? Team Expertise: If you are thinking about developing an app in a particular niche, it would be better to ask a team about their expertise.
? Feedback & Ratings: It is the advantage of technology that you can check about the ratings and feedback given by their existing clients of the app development company you will hire.
? Tech Stack: App development quality is also affected by the tech stack. So, before starting with the development company, ensure they use the latest technology.
? Quality Assurance: Testing and quality assurance are crucial as other components of mobile app development, so you must inquire what they have with themselves regarding it.
? App Development Cost: App development cost is also one of the biggest bottlenecks for a startup, so be clear at the time of deal for development what cost they will charge and the payment terms and conditions.
Read the blog: How to Build an Educational App for Android and iOS in 2022?
Cost to Build An App For Startup
The startup costs for app development rely on different factors:
Third Party API Integrations
application type
Timeline
Functionality, design, and basic and advanced features
business model
hosting and security.
App development team's location
App Updates and Maintenance
Testing of Apps
The Final Thoughts
The points mentioned in this blog will give you great insight. In a nutshell, as a startup business owner, you need to move forward with the latest trends in which app development is the most promising one.
It will facilitate you to take your business to the level next. The startups and the established brands are also catering to their customer's needs via a mobile app.
Almost all businesses have a mobile app for providing services to the customers, brand promotion and targeting the potential audience.
You can use this blog as a guide as a reference to app development for startups. So, set your target, identify the target audience, develop & launch your app and enjoy the benefits.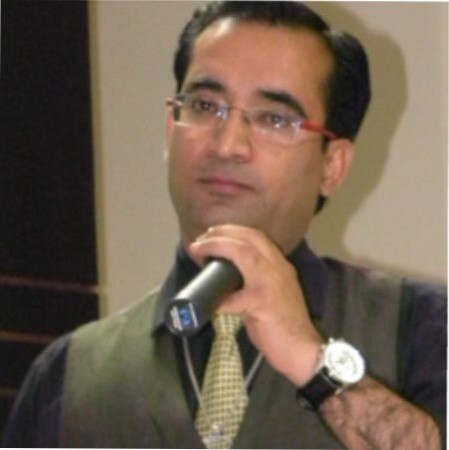 Naveen Khanna is the CEO of eBizneeds, a company renowned for its bespoke web and mobile app development. By delivering high-end modern solutions all over the globe, Naveen takes pleasure in sharing his rich experiences and views on emerging technological trends. He has worked in many domains, from education, entertainment, banking, manufacturing, healthcare, and real estate, sharing rich experience in delivering innovative solutions.