Last updated on October 27th, 2023 at 07:11 am
Nowadays, there is a wide variety of choices for e-commerce solutions available in the market that somewhat makes it tough to choose the one for your business. Some of the popular eCommerce solutions globally are Magento, Laravel, Volusion, Shopify, etc. A custom-made eCommerce solution helps you meet all your needs precisely; allowing you to add extra features and remove the unwanted features making it less complicated and faster.
 If you are the one who is looking to set up your business's online presence or perhaps looking for migration, with the availability of plenty of choices, you must be left with thinking which is the best platform for my business, which one can help me meet the specific needs of my business or which platform will allow me to customize it as per my needs – Magento or Laravel or some other platforms?
Well, answering all the questions hitting your mind and choosing the best solution is certainly not that straightforward and simple. You need to get into the details and understand them well, and then only you will be able to figure out which one is right for you.
Therefore, in this article, we will have a detailed discussion on the most popular solutions – Laravel and Magento. You simply go through the write-up thoroughly to understand the basics about frameworks and both the eCommerce solutions well, it probably will help you make your decision on which one to go for?

What is a Framework?
A framework includes a library of various programs and source files that allows you to integrate a variety of features and functionalities in your application. Developers can choose certain functions, add extra codes, modifying them as per specific needs, and developing custom application software.  
Frameworks are comprehensive, including a great number of code-creation files, plug-ins to enable the functionalities you want and allow you to customize a solution as per the needs. The task of development can be accomplished in a little time as the frameworks are pre-built.
However, it is not just about choosing the right eCommerce solution but also hiring a competent developer to craft an outstanding solution is equally important.
Laravel and Magento: PHP Frameworks for eCommerce Development
With a wide variety of software frameworks available, PHP frameworks are most preferable. It is because PHP frameworks are more reliable, secure, highly customizable, and easy to maintain as compare to the other frameworks. Other frameworks also allow customization, but the PHP frameworks provide greater scope and flexibility to customize. The most popular PHP frameworks are Laravel and Magento.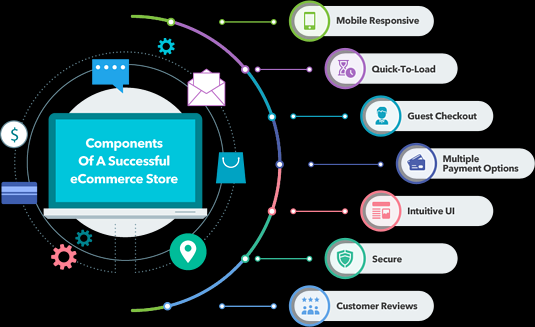 Both the frameworks offer great advantages and are completely safe to go for, however, you may get confused as to which one to choose among the two. Let's talk about the features and various aspects of both frameworks, it will assist you to decide with which eCommerce framework you should go with.
Proven Results
It's been a decade now, proven results, high-performance, awesome features, and advanced tools of Magento have made it the best one among other frameworks. It has been around 2.5 million times downloaded and approx 100,000 websites have been built on this platform.
Nowadays, another popular PHP framework is Laravel, it is getting popular all around the world due to its latest technology, simplicity, and scalability. Though, it is comparatively a new platform to build eCommerce websites.
When it comes to experience and fame, Magento wins the race. Magento Development Company can provide an outstanding software solution. However, if it is about the latest and advanced technology, then Laravel comes on the top. Laravel is leading in some areas across the world with a greater number of searches.
Open Source Platform
Both are open-source platforms, the only difference- Magento is owned by eBay and Laravel is a free open-source platform. Both the platform helps businesses' establish their powerful online, enhance their reach across the world and manage their online store effectively.
Being an open-source platform, they allow developers to integrate additional functionalities and third-party plug-ins, extending the platform; however, this also increases the chance of security risk at the same time. Laravel Web Development Company can definitely provide you a secure safe and reliable solution, meeting the needs of your growing business.
Simplicity of Code
Another important consideration when making a decision on the right platform is the simplicity of the code. Magento is there in the market for ages and has gone through hundreds of iterations till now. There is no denying that all these iterations have made it more flexible, convenient, and beneficial for every kind and size of the development task, however, it also made the code more complex at the same time.
Its complexity of code has increased along with time, which has made the Magento quite slow, and tough to read and fix the issues. Debug and troubleshooting have become daunting tasks. This is one of the biggest downsides of Magento. However, Magento Website Development Services can deliver you the best solutions for your business.
On the other hand, Laravel is new and advanced and that makes it easy to use and understand. The simplicity of code helps developers work fast and can troubleshoot any bug quickly and easily. Laravel uses a PHP-based syntax with Object Relational Mapping-based coding language; unlike Magento, it is not based on the SQL scripting language which is complex. All these features help the Laravel take the cake.

Availability of Developers
The next important aspect is getting the expert to implement the technology and create a robust solution. You need to consider that where and how you can find the talent of your chosen framework and how much it may cost you before you make a decision. Since Magento is an old- eCommerce platform, it is pretty easy to find a Magento developer.
Whereas Laravel is just a few years old, a relatively new platform, finding a Laravel expert in the market is tough. The growing popularity of frameworks has increased the demand for Laravel developers as well. Laravel Web App Development Services have the ability to manage and grow your business smoothly and faster. The availability of experienced and trained larval developers is very less, which makes businesses go for Magento. The availability of developers to easily is certainly an added advantage for Magento.
When it comes to cost, many businesses believe that Laravel is much costly. It seems like it costs high, but in actuality when we calculate the development cost, additional plug-ins, other customizations, maintenance cost, and developers pay, collectively in the long run Laravel turns out to be a budget-friendly solution.
Community Support
Community support always plays a significant role in choosing the right software solution. Since Magento is an old platform, it has a wide acceptance and huge community of developers all around the world. It is being considered the most reliable and secure platform.
On the other hand, Laravel is away far to have community support that is similar to Magento. So, when it comes to community support, Laravel is yet to build a strong one, as it is has a low number of contributors.
Conclusion
Since we have gone through all the important aspects of both the platform which states it clear that Magento is an old platform with a strong reputation and wider acceptance. The only downside of it is its complexity and sluggish behavior which makes it hard to maintain the database.
On the other hand, Laravel is simple and fast which makes it preferable over Magento, but since it is a new platform, it does not have a great availability of experts and community support.
Laravel is a safe, secure, and more trustworthy open-source platform that offers a wide variety of customization and creating a solution from scratch. It will allow you to design a solution completely as per your needs. These are the things that make Laravel the most preferred solution for your business. There are many top brands that are moving to the Laravel platform for their eCommerce solutions.
However, you must not forget to choose the best and experienced developer for creating a wonderful solution, it is extremely important for both the solutions equally. The right talent will be able to provide you a high-performance, easy-to-use solution with an outstanding interface.

Read Also: Magento Vs sitecore Choose The Best Framework For Your Next Project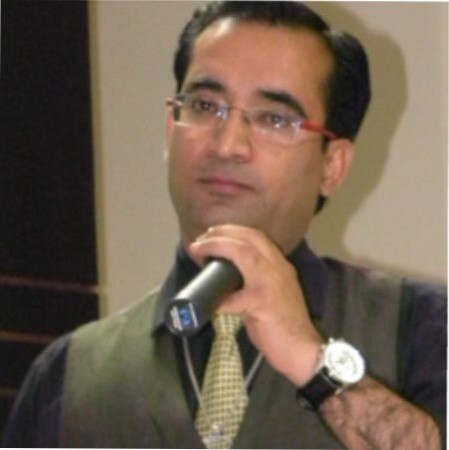 Naveen Khanna is the CEO of eBizneeds, a company renowned for its bespoke web and mobile app development. By delivering high-end modern solutions all over the globe, Naveen takes pleasure in sharing his rich experiences and views on emerging technological trends. He has worked in many domains, from education, entertainment, banking, manufacturing, healthcare, and real estate, sharing rich experience in delivering innovative solutions.