Last updated on December 7th, 2022 at 07:18 am
Companies must hire Android app developers if they want to provide scalable and user-friendly offerings. By creating an Android application, you can outperform your rivals. Your company may get a competitive edge because of its flexible frameworks, appealing UX designs, inexpensive development costs, and minimal distribution constraints.
Businesses and start-ups can use their apps to give Android users a rich user interface, which is a good way to market themselves and build long-term relationships with their customers.
An Overview of Android Apps
Having an Android mobile app is a popular option among consumers since it gives you access to all the features you require at the touch of a finger. The number of mobile apps purchased from Google Play increased to 111.3 billion in 2021 from 76 billion in previous years.
To ensure that the requirements of the client are handled and comprehended, developing Android applications involves experience and understanding of the different IDEs, platforms, and languages, as well as current trends.
This will help them to make software that aids to reach these goals that is easy to use, creative, and fun.
The mobility of Android phones is continuously changing the market's sectors. In recent times, mobile has exceeded desktop norms, and the gap is growing daily. It has become an important part of our lives and is no longer just a tool for talking.

Reasons to Hire Android App Developers For Your Company
Here, we will describe some of the best points which define the reason to hire android app developers for your company. Following are:-
Greater Possibilities
Users actively look for cutting-edge apps that can assist them in completing tasks more conveniently and quickly. Start-up businesses will have a door open with numerous opportunities in the market for your firm if they concentrate on Android app development, put the appropriate resources in place, and show their inventiveness.
Increased productivity
The developer of an Android app could save a lot of time by using one of the many code libraries that are accessible. You don't have to start from scratch to build useful apps for your clients. Instead, you can use scripts that are already out there. This will save you a lot of money and time.
An increase in returns on investment
As an open-source platform, Android is much less expensive to develop and offers free access to the SDK and design process to developers. Additionally, there is a sizable market of devoted Android app developers with modern skills. As a result, it generates significant returns on investment that are profit-generating.
Global App Distribution
The release of the app is completely under your control on Android. You can choose your target market and whether or not the software must be paid for by users.
As a consequence, your app provides you with total market control and enables you to simply steer your Android app development company in the direction you desire.
Applications with Function
Using Android, you may make completely dynamic and unique applications. You can swiftly release feature-rich applications on the market because of its simple internal customization capabilities.
Using a set of development technologies and open-source application frameworks, you may build an interactive app with a stronger user interface. Because the mobile app has so many features, it may make things easier for users and bring in more money.
What Skills Do Android App Developers Require?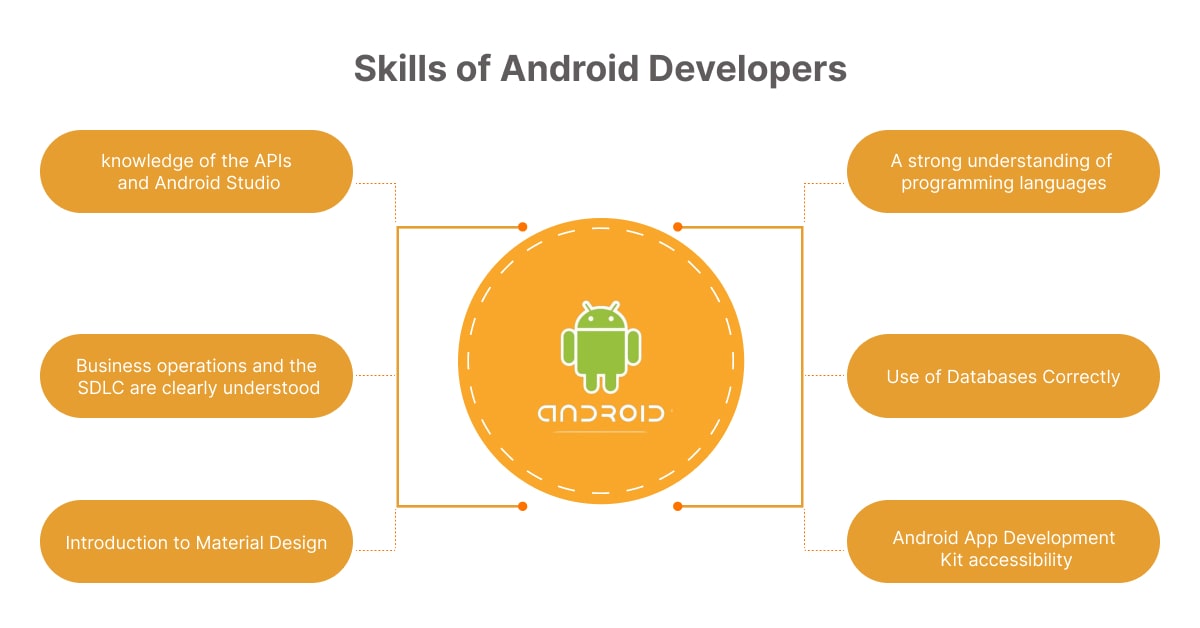 Mobile app design requires a particular set of abilities, knowledge, and capabilities. To create an app that makes money by fulfilling specific business objectives, your specialized android application developers should be capable of comprehending the user's requirements and possess the necessary technical skills and knowledge.
Here is a list of important developer skills you should look for in a mobile app development company:
A strong understanding of programming languages
The two most popular programming languages for developing Android apps are Java and Kotlin. Make sure your hired mobile app developer is familiar with the fundamental concepts of these two programming languages, such as syntax and fundamentals, libraries, multiprocessing and synchronization, design patterns, as well as generics.
Android App Development Kit accessibility
The creation of Android mobile apps is sped up considerably by this pre-packaged collection of code. All Android developers must have access to the Android SDKs. Think about the scenario when you need to connect your application to Facebook.
A Facebook SDK would be required by your developers to expedite product development.
Knowledge of the APIs and Android Studio
A must-have IDE (integrated development environment) for working with different Android SDKs is Android Studio. The developer also needs to be knowledgeable about APIs.
Apps are connected to other services and applications using APIs. For instance, you might use Google APIs to find your consumers, help them identify nearby businesses, or make use of a map inside your app.
Use of Databases Correctly
Your app must interface with a database that does not exist on the phone because it deals with a lot of data. Firebase is the best way for app developers to store data in the cloud and make it available on all devices right now.
Introduction to Material Design
In contrast to Apple, Google initially did not keep all of its apps' designs consistent. Google has unveiled a set of design principles called Material Design. It serves as the basis for UI/UX design.
Business operations and the SDLC are clearly understood.
The rationale behind the top management decisions at the Android app development company should be understood by developers. They can use it to help them identify critical features, plan the project's evolution, and create a mobile app solution that meets all business requirements.
How Can I Find a Trustworthy Android App Developer for Hire?
Using experience
You will get a better understanding of how the developer would respond to various circumstances that can happen during the development process.
Considering previous projects
By asking about their prior projects, you can gain insight into the developer's technical knowledge and sense of teamwork. Some developers are perfect for designing appealing and high-performance apps alone due to their speed and ingenuity.
Some developers require a team to carry out research, design, as well as development, depending on how they operate.
According to Specialisation
It does not matter how great an Android app developer is if they lack industry knowledge. Understanding your business's needs and what you do will help you choose the best developer. The technical skills of a developer have a big impact on the quality and functionality of your app.
According to consumer feedback
Ask them about the experiences of their past clients. Previous projects have demonstrated their abilities and intellect, but you are unable to monitor their conversation or behaviour when it comes to Android app development services. You may rely on customer response for this.
Factors Affecting the Android App Developer Cost
Some of the most important things that affect how much app developers get paid per hour are listed below: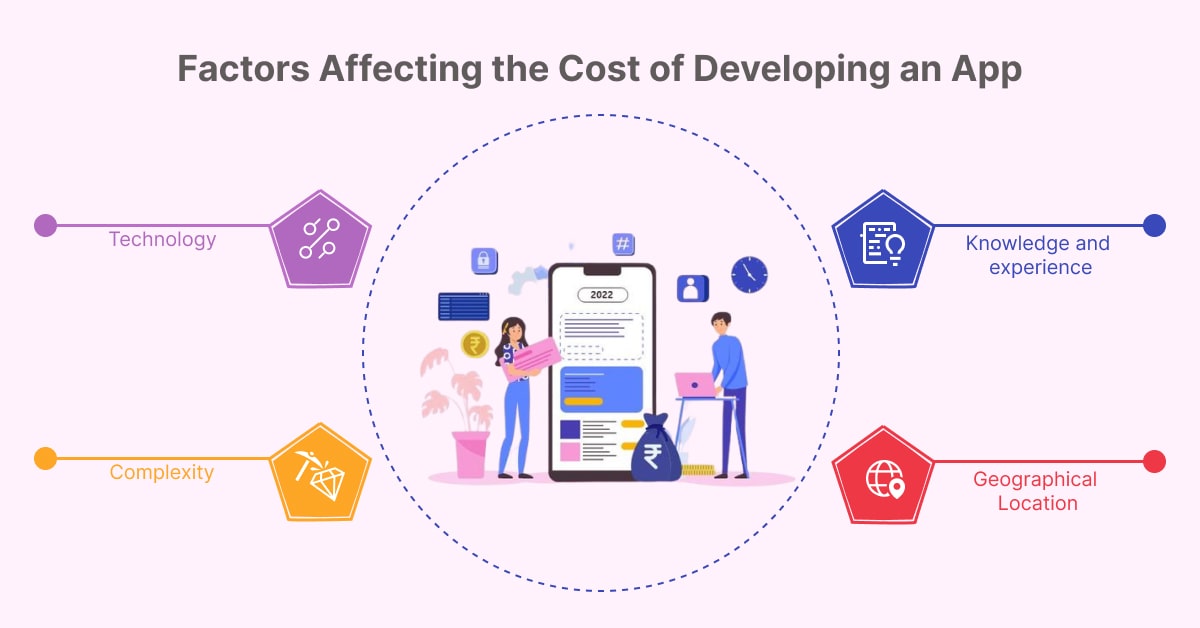 Knowledge and experience
An Android developer with much more than 5 years of expertise will cost more than one with less or mid-level experience. If you intend to hire a full-stack developer for several stages of development, you might need to change your hourly fee.
Even though experience has little direct effect on the quality of work done, it has a big effect on android app developer cost.
Geographical Location
The developer's geography is one of the key factors affecting hourly prices. The high living costs and labour market dominance in the nation of residence both have a big impact on it.
Technology
The technology stack that you need for your project also affects the android app developer cost per hour. Most of the time, it costs more to hire an emerging technology developer than a regular developer.
Complexity
In addition to the hourly rate, the android app developer cost is determined by the project's sophistication. The bulk of developers like to stay within their comfort zones and only use patterns they are familiar with. However, some people embrace a challenge, even when it will affect their pay.
Read Also: Android App Development Cost in 2022
Choosing a Staff Augmentation Company or a Freelancer
Choosing a freelancer by yourself
It can be challenging when you have to manage several projects at once. Your list of duties is so extensive that it may be difficult for you to concentrate on just one item without getting annoyed.
There are various security issues with the data in this situation because the employee is acting against the organization's policies. This is especially critical for companies that hire independent contractors to create Android apps.
Using a staff augmentation firm
This choice will save you both money and time because the recruitment agency will handle the difficulties on your behalf. Only qualified applicants must be chosen. The agency's fees and the developer's hourly rate are often put together to calculate the average cost.
For you, a knowledgeable team of subject-matter experts has already been assembled. All other facets of the hiring process are handled by the outsourcing firm.

How Much Does It Cost to Hire an Android App Developer?
Because of Android's wider and more open environment, developers prefer it to iOS developers.
Let us look at the requirements for an Android developer for hire before we talk about how much it costs to hire one.
A mobile developer must continuously provide clear, transparent, and adaptable code. They also need to possess the following skills:
The backend is one of the more complicated components, so someone qualified to create Android apps should have a thorough understanding of it.
A good understanding of the Android SDK. This SDK has important ideas and tools for making Android apps in Java, Kotlin, or both.
They must be able to use APIs. A high compliance rating and communication with numerous programmes are essential for the app.
Despite our desire to place a monetary value on the price of app development, we are only able to estimate it since each app development procedure involves a variety of factors that affect the final android app developer cost. But there are a few things that affect app development budgets that can help you figure out how much it will cost to build an app.
The cost is determined by:
app's functionality and goal
Mobile platforms
Integration touchpoints
Visual Object Integration
Features and Technology Categories
Maintenance Schedule
After making that point, we may apply some typical or average standards for app development project costs to different kinds of apps. These benchmarks differed greatly depending on information from many organisations who determined these app development expenses using their client projects' research.
Low-cost app: $40,000 to $60,000
Applications of medium complexity range from $61,000 to $120,000, and those of complicated complexity range from $120,000 and more.
In addition to these, geography and area also have an impact on how much it costs to hire an Android app developer.
How Do Hire Android App Developer?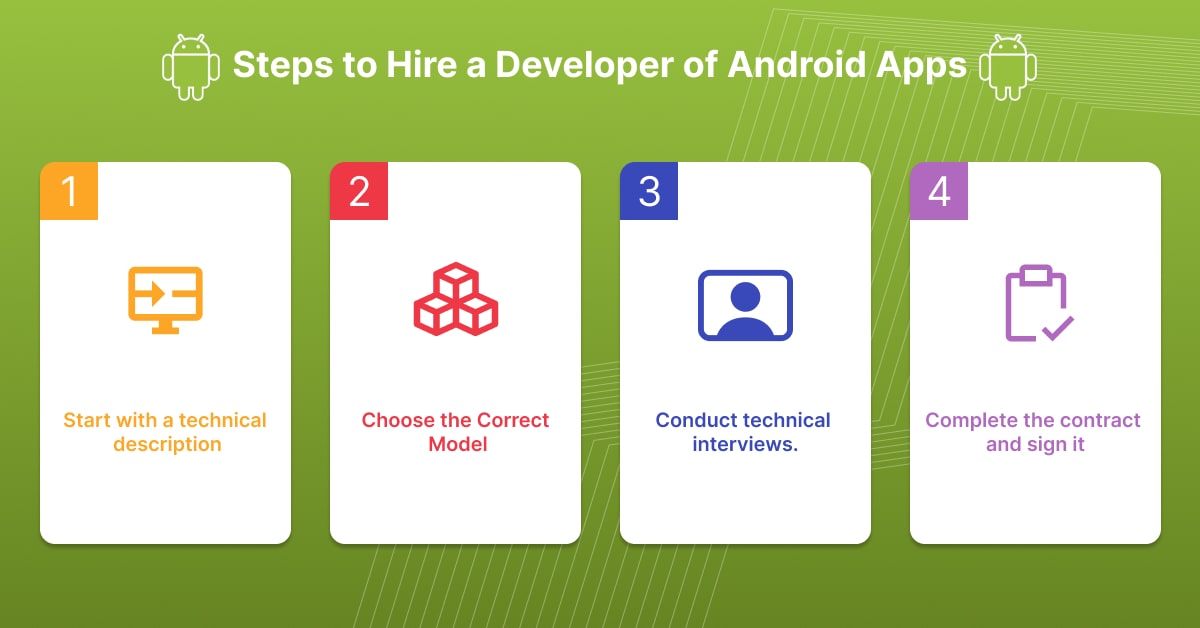 Not everyone possesses the technical know-how required to design, assemble, and debug Android apps. Only a qualified developer can assist you in achieving your business objectives. But for most business owners, the biggest challenge is locating and hiring a true developer.
The following is a step-by-step procedure for locating the best Android app developers:
Step 1: Start with a technical description
Gather all of the activities and industry standards into one file. While looking for them, you may easily share the document with app developers. It will make it possible for you to clearly express your needs to the expert and have them carried out.
Step 2: Choose the Correct Model
There are several ways to have your app created. You can either hire a team to develop mobile apps internally or outsource the process. Hiring internal app developers is the most expensive option to get your app built.
Because of this, most business owners choose to outsource. You may access a broader pool of developers through outsourcing, which also makes it possible for you to produce your app more rapidly and for less money.
Step 3: Conduct technical interviews
To select your developer or outsourcing partners, you must conduct technical discussions, look at portfolios, and also consider evaluations. Sometimes the best way to find out about a possible outsourcing partner is to look at what past clients have said about them.
Step 4: Complete the contract and sign it
Establish timetables, discuss the frequency and format of your daily or weekly sessions, evaluate every area of your app development project, and obtain early project estimations. Remember to discuss security concerns as well as sign NDAs.
Finding Android App Developers: The Best Sources
You must have a clear understanding of where to find the correct developer teams once you have chosen the recruiting possibilities and considered the typical developer attributes and skills you have come to know about.
You may quickly and simply get the top developer expertise for your app projects through several reliable and well-regarded sites.
They range from developer platforms to specific systems for hiring qualified Android app developers as freelancers, as well as B2B rating sites for software enterprises.
Clutch
A well-known B2B ranking platform for technology companies is Clutch. Here, independent developers and companies can have their developer profiles available, complete with descriptions of their specialties and samples of their coding.
Clutch builds a bridge between businesses in need of developers with the necessary skills and developers who are ready to be employed. You can get an accurate impression due to customer feedback and ratings.
Upwork
A marketplace for recruiting independent developers is called Upwork. It is a site where you can find developers with varying skills, including novice, intermediate, and professional developers.
Toptal
Toptal is a well-known freelance recruiting site with a wide range of skill sets. The service makes it simpler to find top developer talent in every niche by constantly filtering spam through automation.
GoodFirms
GoodFirms is another well-known B2B ranking and review platform, much like Clutch, that allows you to identify the top development businesses and teams with various expertise. It focuses heavily on reviews and ratings, as well as job ads for tech companies.
Conclusion
Every business and individual owner seeks an Android app developer that can deliver both quality and value. The location and degree of experience of a developer are two of the primary criteria when estimating their cost.
Therefore, hiring foreign developers from nations with low developer rates, like the USA, might be a good method to achieve that balance.
FAQs
1. What would it cost in 2022 to hire an Android mobile app developer?
The following is a preliminary estimate of what it will cost to hire an app developer on average in 2022:
React Native developers make $25-$70 per hour.
iOS developers make $45-$75 per hour.
Android developers make $25 to $85 per hour.
Xamarin developers make $25–$50 per hour.
2. How do I hire a developer of Android apps?
Clearly state your requirements.
Shortlist and interview potential candidates.
Base your decision on the requirements of the project.
Start the procedure for developing the app.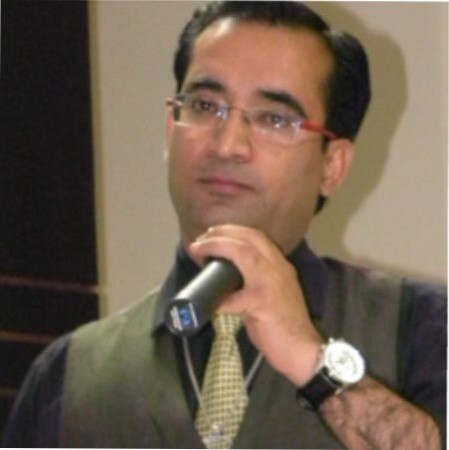 Naveen Khanna is the CEO of eBizneeds, a company renowned for its bespoke web and mobile app development. By delivering high-end modern solutions all over the globe, Naveen takes pleasure in sharing his rich experiences and views on emerging technological trends. He has worked in many domains, from education, entertainment, banking, manufacturing, healthcare, and real estate, sharing rich experience in delivering innovative solutions.