Last updated on June 7th, 2022 at 09:37 am
Mobile application development has become a lucrative industry that has become one of the best ways to promote businesses and generate revenue.
To gain more prominence in this field, it becomes essential for businesses to use mobile applications to reach their targeted audience and provide them with the best services & products that fulfil their demands.
However, creating the apps from scratch on your own can be an expensive affair. You will have to hire mobile app developers proficient in programming the apps.
They must know the intricacies of developing apps on the Android platform or Apple's iOS platform.
Before we deep dive into the blog first, it would be better to know-
What Is Custom Mobile App Development?
Custom mobile app development has become crucial because it allows enterprises to convey their brand values and messages interactively and engagingly.
User demands are shifting rapidly and there is ample need for unique solutions that can be developed in the form of custom mobile apps. These apps facilitate the developers to implement unique features and functionalities.
There are so many mobile applications in the market, and businesses use them to engage their customers in the best way. It is a surprising fact that a major percentage of these mobile apps are custom mobile applications.
If we go with the conceptual definition, the custom apps can be described as tailor-made mobile applications built based on specific business requirements called customized mobile applications.
These are the trending solutions representing the modern face of mobile app development. Businesses worldwide are progressing forward with the latest mobile applications having a great boost in the business.

The Need for Custom Mobile App Development
With the arrival of mobile technology in recent years, mobile applications have become a new way for businesses to acquire new customers. A custom mobile application is also a means to increase brand presence and awareness.
When it comes to custom mobile app development for enterprises, many benefits make it a hot topic these days. The following are some statistics that you would love to know. These statistics will also help you recognize why you need custom mobile app development.
The app development market is projected to reach $1039.89 billion by 2027.
There are 5.13 billion smartphone owners who exist to date, and numbers are increasing.
By 2023, the generated revenue by mobile applications will be $935 billion, whereas mobile enterprise applications will generate a major percentage of revenue.
Average smartphone owners like to install 11-15 mobile apps on their phones.
The above statistics prove why you need a custom mobile app for your enterprise. In simpler words, you can understand it as there several advantages of having a mobile app for business in which customer engagement and boosting business growth are key advantages.
It is a benefit to develop a mobile application with the help of a custom mobile app development company.
Advantages of Custom Mobile App Development  
There are several advantages of tailor-made or customized mobile apps. One of the key benefits is these types of solutions works in 360 degrees covering all the business's specific requirements.
When it comes to developing an enterprise mobility solution, custom mobile app development is also worthy. This section will read about the advantages that customized mobile application development offers.
Before going further, it is better to know about the advantages of custom mobile apps. So these are the following:
Improved Focus
The best part about the custom mobile app is that the enterprise and company can keep a specific task as their focus. Usually, mobile apps are not being built to perform specific or single tasks; they are used to perform multiple tasks. So, with the help of an app, you can focus on various crucial tasks instead of spending time on other activities. It will help you have better operational efficiency and improve employee productivity.
Scalability
is one of the most required elements for a business. Scalability works when you need to expand your services. The app must be scalable, and the best part is that a customized mobile application offers better scalability than ordinary mobile apps. Suppose you need a scalable Android app for your business. If you have hired experts from a well-known android app development company, then it is sure that they will take care of the scalability because it is a standard practice of mobile app development.
Market differentiation
The most crucial thing is that the app must be capable enough to solve any tasks. Custom mobile applications are known for their capability of working as per the market requirement and changing trends. It will help boost sales and enhance the service experience as per the company's objectives. Additionally, if you are thinking about producing something different and want to target a large audience the Android platform is the best. It would be best to hire Android app developers for developing a unique and customized mobile app.
Easy Maintenance
for better execution of the app, regular maintenance is required. If you are operating your business operations using an app that less supports the maintenance activity, it will lead you to potential risks. On the other hand, if you use the custom mobile app, then maintenance work will be easy to enhance the user experience.
Personalization
In terms of personalization, custom apps work fantastically. It helps in giving an experienced and personalized manner that helps ensure the topmost working mode. The audience can easily work personalized to get a proper structure for every flow. In addition to this, it will also help in giving a design restricted to development. This helps in increasing the ROI of the business just with the increase in customer engagement.
Revenue Generation
Although revenue generation is the main objective of any business, if you serve your customers with a mobile app, it is your responsibility to provide them with the best customer experience. Indirectly, a custom app will help you generate good revenue, retain existing customers, and help you onboard more customers, increasing revenue.
Data Security
Ordinary developed apps can't ensure security, but custom apps help implement the security mechanism in real-time. The custom mobile app remains extremely good in terms of security and robust in terms of development. The accessibility of data works amazingly well with the authentication of different levels. It helps provide a configuration that gives the best security for the company. It will help in achieving the topmost security flow with no loopholes.
What Kind of Mobile Applications Are In Trend?
If you are an entrepreneur, you must know about trending mobile apps or enterprise solutions so you can make up your mind accordingly. So, let's start with the types of apps you can consider for your business as a custom mobile app or the application covered under the custom mobile app development services.
Native Mobile Applications
As the name implies, native mobile apps are platform-oriented apps, such as iPhone app development or Android application development. The native mobile applications work super-fantastic in combination with the platform-oriented hardware and that is one of the prime specialities.
The only disadvantage with these apps is that suppose you want to launch the same app for iOS and Android; then you need to write a separate code. It can also increase the cost.
Hybrid Application
Hybrid applications are also known as hybrid mobile apps, which are built using web technologies such as JavaScript, CSS & HTML. In simpler terms, you can understand it as these are the perfect blend of web and native mobile app development.
These apps have cross-platform capabilities, but these are not actual multi-platform-oriented apps. The best part about these apps is their cost-effectiveness.
Cross-Platform Mobile Apps
The applications developed using a single code base for performing similarly on multi-platform then are called cross-platform solutions. For developing these apps, code reusability skills are required.
Once the app is developed, you can launch it on any platform. These apps can help you target a wide range of audiences where minimal development cost is an advantage. For cross-platform apps, it would be best to hire a dedicated development team.
Progressive Web Apps
PWAs are also in the trend. To run these apps there is no requirement of any specific device; you can execute these apps on any web browser.
The progressive web apps are based on web technology and in terms of performance, these apps work similarly to mobile apps. It is one of the cost-effective options for mobile app development.
What Are The Things To Consider While Developing Custom Mobile Apps?
There is no doubt that the mobile application can help in a number of things. Business expansion and growth are key objectives of any business in which custom mobile apps can help you a lot.
It is fine that you have decided to have a customized mobile app for business, but there are some things that you need to consider while developing the apps, which are the following:
#1. The Market Exploration
Without exploring the market, it is like going without direction. So, the first-ever task you need to do is to study the market from top-to-bottom and find out the existing challenges that your app can help overcome.
Also, check the uniqueness of your custom mobile app idea by comparing it with the existing solutions.
#2. Monetization Model
The ultimate goal of launching a mobile app is to boost business growth or start entrepreneurship with the app. Here, it would be best if you thought about your app's monetization.
So, once you decide on the model then you can discuss it with the mobile app developers to bring it into real life. You can choose the models like – Subscription, In-app purchase, and advertising.
#3. Identify Target Audience
One of the success criteria for a mobile app is how users take an interest in it. To identify the target audience, you need to ask some questions like
Who will use my app?
What is the age group of users who like to use these app types?
How will the app solve the user's problem?
Finding answers to these questions will lead you closer to the target audience.
#4. Right Platform
For your custom app, you also need to choose the right platform. It does not mean that one platform is superior to another. Here the right platform refers to the one on which you can earn the desired revenue. Suppose your app's concept will work fine with Android users, then Android will be the right platform for you.
Read Also: Things to Consider While Hiring React Native Developers
#5. Budget Planning
For developing an app, budget planning is a must. Inappropriate budget planning or insufficient funds can take your app at stake. It would be best to know how much it approximate costs to develop an app based on your idea?
What is the cost breakdown? What fund do you need to implement advanced features? Once you find the answers, you can proceed with the app development.
Wrapping It Up!
For launching a professional mobile app location, it is better to be careful about the whole process of planning and building. Hiring app developers to work on major aspects that help ease enterprise development is vital.
A customized app can help you to achieve your business goals. You only need to work on your concept and the rest of the things you can handle with the help of experienced mobile app developers.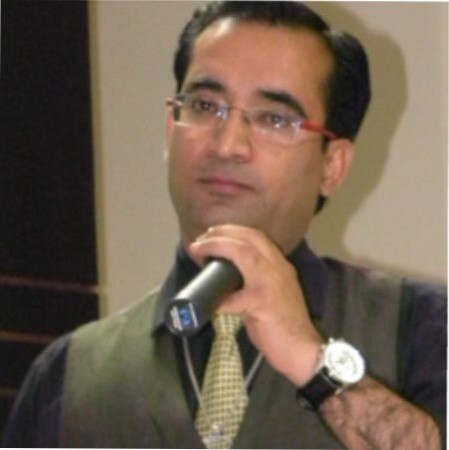 Naveen Khanna is the CEO of eBizneeds, a company renowned for its bespoke web and mobile app development. By delivering high-end modern solutions all over the globe, Naveen takes pleasure in sharing his rich experiences and views on emerging technological trends. He has worked in many domains, from education, entertainment, banking, manufacturing, healthcare, and real estate, sharing rich experience in delivering innovative solutions.