Last updated on October 12th, 2023 at 06:36 am
Around the world, 7.1 billion mobile phone users exist, and the major percentage is smartphone users. That is the reason behind the continuous evolution of mobile app development.
Businesses are targeting their potential customers with the help of mobile apps. Statista mentioned in a report – By 2025, the number of mobile phone users is expected to reach 7.49 billion.
Only a few users exist who are using keypad phones; most of the users are using a smartphone that facilitates them to perform several tasks from entertainment to sending instant mail to the senior.
From the revenue generation point of view, the mobile app market revenue is projected to reach $613 billion in upcoming years, i.e., by 2025.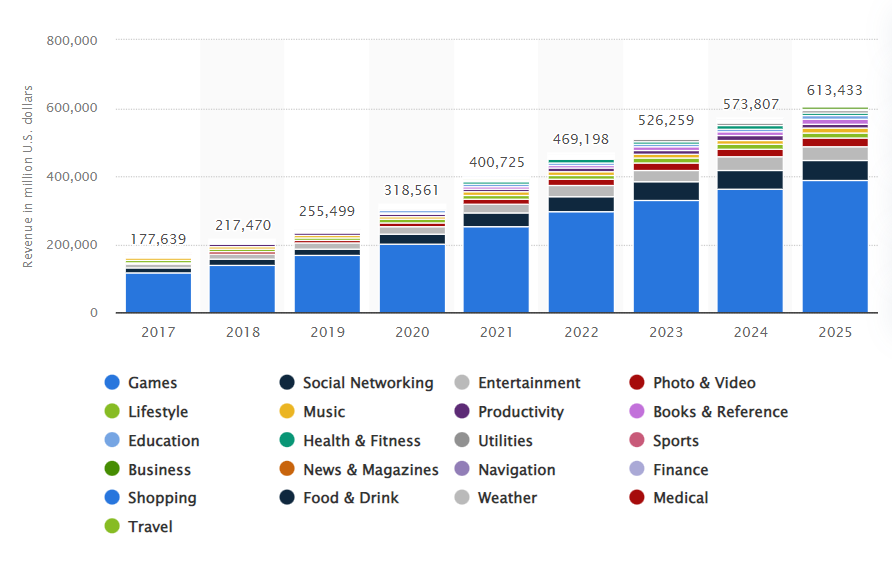 One surprising fact is that almost all industries leverage mobile apps to serve their customers and boost business growth. When it comes to developing mobile apps for business, then most of the interested persons try to find on the search engine like:
–What kind of apps are in demand by 2023?
–Which app should I develop to earn money?
Many users search for the queries mentioned above. So, in this blog, we have tried to cover all the points that will lead you to the top mobile app development ideas you can monetize in 2023.
How You Can Find Mobile App Development Idea For Your Business?
There are several mobile app development ideas you can follow for your business needs. You can take references from the market or put your query on the search engines. On the other side, you can also develop your unique idea.
But the question is – How?
The most common step for idea formulation is to identify the end user's problem that you can solve via your unique mobile app. It will work as a base for your idea. Let's expand it. Following are some steps to find the best mobile app development ideas.

Find Out The Solution
Every problem in this world has the solution that you need to find. It is not a proverb or phrase; it is the universal truth. It is okay that you want to develop a mobile app, but before you proceed, you need to figure out the problem and how you will provide the solution to it with the help of a mobile app.
What you can do is research the market- Are there any similar apps available in the market that you want to build? And if yes then these apps are useful or not? If not, then figure out what you can implement to solve the issues. It will give you clear insight into developing the mobile app development idea.
Improve The Existing App
If you already have an app, you can improve your existing app by expanding its idea instead of developing the new one. For this work, it would be best to take the help of a well-established mobile app development company.
The better idea is to introspect the app that what it lags that you can implement to improve its usefulness. You can also check what others offer via their app, similar to your app. Once you find out all the points, it is the right time to implement the missing functionality.
Find A Space For Innovation
Finding the space for innovation does not mean that you need to set up a research laboratory. It refers to the industries that need innovative solutions to improve user experiences.
In simpler terms, you can understand it as follows – Suppose industry(X) is working fine, but they need some innovative solution for progress; then, if you propose the solutions with the help of your unique mobile app development idea, then you will be a trendsetter and can generate good revenue.
Identify The Latest Trends
Several apps are being launched on the app stores, but few succeed- why? Because those apps provide something unique and trending. So for the success of your app, you need to keep an eye on the latest trends so you can also implement them in your app.
In addition to it, sticking with the old fashioned app is not the right thing when the whole world is moving forward. So, try to come up with something new and fresh that can grab the users' attention.
Hear The Voice of Users
What do you think about which kind of apps are being liked by the users? The answer is only those which satisfy the need of the customers. So, here you need to listen to the voice of the end-users about what they want in a mobile app. If you catch that, then you can implement your idea into a form of a real-life app.
Top Mobile App Development Trends To Follow In 2023?
Now you will read some of the top trends to follow in 2023 for implementing mobile app development ideas to make money. This year will be full of new trends; some are already in execution, and some are yet to come as it is mid-year.
Here we have created a list of top trends to follow. So, let's start one by one.
#1. Mobile Apps With 5G Capability
The whole world is using 4G technology now, but we will soon experience 5G technology as it is ready to launch. As per Statista.com, China(356 cities) and the USA(296 cities) are the two countries on the top which are already using 5G technology.
The other countries are- Philippines, South Korea, Canada, Spain, Italy, Germany, the United Kingdom, and Saudi Arabia.
Countries like India and others are fasting up their seat belts to launch the 5G network. So, if you focus on developing and launching a 5G compatible app, you can generate good revenue. You will be surprised to know that 660 Million smartphones will use the 5G network in upcoming years.
#2. Apps That Works On Voice Commands
The voice search command is new normal as most people prefer the use of voice-assisted devices such as Google Mini, Alexa, and others. The voice command provides easiness to the users for any information retrieval or playing their favourite songs; they only need to provide the voice command.
So, you can implement the mobile app development idea like a Food & Grocery delivery app with a voice command that can allow the users to order their stuff with ease instead of clicking the options on the app.
#3. Applications For Foldable Devices
Do you know that 5o million foldable devices have been shipped so far, and more devices are yet to be launched in the market based on the foldable screen concept? In 2023, there will be more users of it.
So, if you are planning to develop the app, then implementing a mobile app development idea for foldable devices is fruitful. It is one of the best trends to follow in 2023.
The reasons behind the popularity of these devices are that a larger screen provides the best experience for watching and users can operate multiple windows instead of switching from one to another.
The foldable screen provides extra space for the users for more activities. Most of the foldable devices are android devices, so it will be best to take help from an Android app development company.
#4. Augmented & Virtual Reality  
Have you used the apps like Lenscart or Ikea? If yes, then you have experienced AR(augmented reality). The Ikea app allows the users to generate a view of how their home will look after using a particular piece of furniture, and the Lenscart app facilitates the users to try the glasses in a virtual environment.
The major brands like Apple, Metaverse and Google are focusing on improving the user experience to a greater extent. In a report, Statista reveals that AR & VR market will be worth $209 billion in 2022.
This fact proves that AR & VR is one of the most trending technology from the mobile app development idea point of view.
#5. Apps for Wearable Devices
Wearable devices are expected to reach 929 million by 2022. The best example is Apple's branded devices. The popularity index of these devices is high in the USA, and users from the age group of 18 to 29 years use Apple's wearable devices. Another fact says that smartwatches and fitness tracker unit shipment will be 280 million.
The fitness trackers and medical wearable devices are so popular, and the revenue is expected to reach 89.3 million USD by 2026. These facts are enough to say that Wearable device technology is most trending, and thinking about developing the mobile apps related to this technology is worth it.

#6. IoT Middleware Apps
IoT stands for Internet of Things, and it is a technology that connects software & internet-enabled hardware for performing specific tasks. It can be your smart home automation or smart assembly line at some manufacturing unit.
The middleware connects different complex IoT solutions and devices, including the backend process. IoT app development is the futuristic technology you can consider to launch your next app. For the same, it would be best to hire mobile app developers having in-depth experience in IoT development.
#7. AI & Machine Learning Apps
Now here comes another sensational technique that you can consider for mobile app development. Artificial Intelligence is fastly progressing, and it offers several ultra-modern features. It is one of the best technologies for mobile app development.
Machine learning is a subset of AI and works based on data feeds. The motive of machine learning is to train the machine that can think like a human brain and perform self-learning. If you are interested in launching something unique and ultra-modern, AI & ML are the best technology. It provides the best user experience and offers ample opportunities for earning.
#8. Mobile Gaming
The mobile gaming content market value will surpass 121 billion by 2022. Additionally, mobile video games market revenue worldwide is $55.31 billion. Surprisingly, Google Play Store contains 449k mobile gaming apps, and the Apple app store contains 288k.
There is ample scope for earning via mobile gaming app development. Globally there is a huge fanbase of mobile games, and people used to download unique games.
So, if you have a mobile app development idea that can quench the thirst of people to play an exciting game, then it is the right time to go for that.
How to Hire Mobile App Developers?
For implementing trending mobile app development ideas, it is necessary to hire experienced mobile app developers who can ensure the best results.
But most business owners hire the developers in a hurry that later put the mobile app at stake. So, here we have mentioned some crucial steps that you can follow to hire the right resources for your work.
Portfolio
In the market, you will find multiple mobile app development services providers, but it is too tough to find the right one. The first step is to go through their portfolio. It will give you an insight into the projects they have done so far.
Experience of Developers
It is okay that you have a unique mobile app development idea and decide about that who will be your service provider. But for developing an app in the best way, it would be best to enquire about the experience of developers. If the app developers have less experience, then it may disrupt the feel of the app.
Hiring Model
The hiring model is one of the important things that you need to keep in your mind while hiring the developers. However, the decision will be yours as you can choose any one of the options available in the market, which are full-time hiring, part-time hiring, and hourly basis.
So, whatever company you are thinking about hiring must enquire about their hiring model. It will also help you in the budget preparation for the project.
Tech Stack
The robustness of any mobile app depends on the tech stack. So, it is necessary to enquire what kind of the stack will be used by the developers whom you want to hire.
For any ultra-modern app, the ultra-modern tech stack is required, so before hiring, the developers ensure they must have practical experience in using the latest tools & technologies.
Feedbacks & Reviews
For hiring the developers, reviews and feedback given by customers are also important. Although it is not necessary that all feedbacks are genuine, it will give an insight that to move forward or not with particular developers.
The Final Thoughts
There are two major mobile app platforms- Android and iOS and loaded with millions of apps. How would you compete with those apps? The best way to have an extra edge in the competition the best way is to launch a mobile app based on cutting-edge technology.
We have arranged a list of mobile app ideas based on the latest technology in this blog.
You can take reference of it and plan to launch an app that can grab the attention of users and helps them to overcome the problems they face in their daily life. Moreover, it will also lead you to generate a good revenue.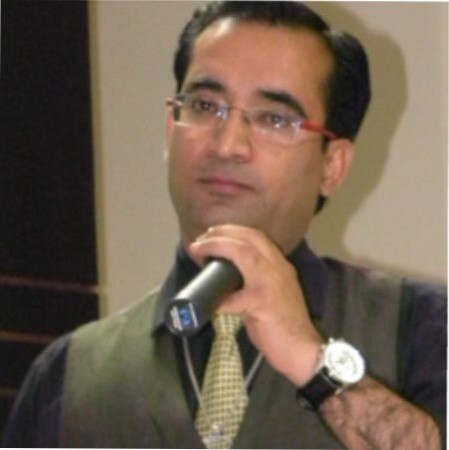 Naveen Khanna is the CEO of eBizneeds, a company renowned for its bespoke web and mobile app development. By delivering high-end modern solutions all over the globe, Naveen takes pleasure in sharing his rich experiences and views on emerging technological trends. He has worked in many domains, from education, entertainment, banking, manufacturing, healthcare, and real estate, sharing rich experience in delivering innovative solutions.