Last updated on October 12th, 2023 at 06:49 am
Now, these days iPhone App development is grabbing the attention of many businesses as its craze is going higher every day. Although the percentage of Android users is higher compared to iPhone users and the number of iPhone users is also increasing rapidly. When it comes to developing an iOS app, then the first question comes to mind –
"How much does it cost to develop an iOS or iPhone App?"
Keeping this in mind, this blog is created to answer the above question. Here, we have written this blog as an ultimate guide that will walk you through all the aspects of iPhone app development costs in detail.
Globally, iPhones are popular, and the iPhone 13 has recently gained popularity among users of all ages. A new version of the iPhone will be released very soon. One thing is clear from this trend: having an iPhone app for the brand can lead to substantial growth in business.
Let's check what the data or facts say about it.
iPhone App Development Statistics
After one day of Q3, the Retention of iOS apps was at 25.6%, whereas after 30 days, it was at 43%.
iOS apps have a higher retention rate as compared to Android apps.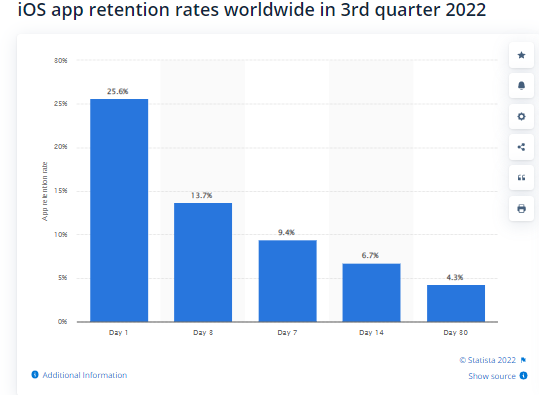 Source: Statista, 2022
Number of Available Apps in the Apple App Store from Q1 of 2015 to Q3 of 2022
About 1.64M mobile applications were available in the Apple App Store during Q3 of 2022.
It demonstrated a 25% decline in available applications for iOS users contrasted to the last quarter.
Between 2015 and 2022, the number of mobile applications varied, arriving at the top of 2.22M iOS apps during Q1 of 2021.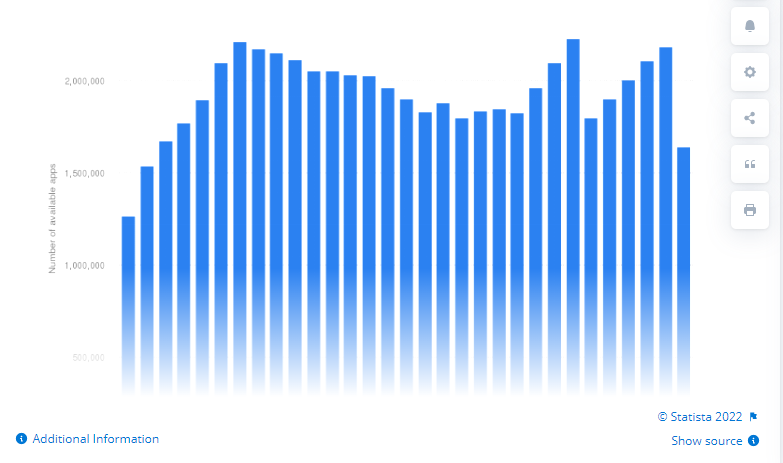 Source: Statista
What Will be the Cost of iPhone App Development?
The cost of iPhone app development depends on several factors that we will discuss later in this blog. Initially, it can be like the cost depends on what kind of app you want to have for your business.
There are three key apps you can develop with the help of an iPhone app development company which are – Basic iPhone App, Mid-level, and iPhone app with advanced features or customized iPhone app.
The following table showcasing the cost estimation about these three categories-
| | | |
| --- | --- | --- |
| App Type | Cost-Estimation(in USD) |  Development Timeline(in Months) |
| Basic iPhone App | 30 K- 50K | 2-3 Months |
| Mid-Level iPhone App | 50K- 70K | 3-6 Months |
| Customized iPhone App | 70K – 100 k or more | 6-8 Months |
Note: The mentioned cost estimation includes the cost of designing, development, testing and launching.
The average hourly rate to develop an iPhone app remains between $40- $150/ hour, and the rest of the things depend on what kind of features you want to include in it.
What Are The Categories You Can Consider While Developing iPhone Apps? 
It is one of the most important questions you need to ask while developing an iPhone app, as these apps come with different costs. These categories can be found on the iOS App store as well. Let's read about the following-
Stand Alone iPhone Apps
The iPhone applications that do not require any third-party integration are called stand-alone applications. These applications are basic in terms and require less cost for development.
Most businesses start with the help of these apps and hire a mobile app development company for the same. These apps come with features like a calendar, clock, calculator, and other basic features.
Social Networking iPhone Apps
Although brands such as Facebook, Twitter, or Tinder are present on the iOS platform, if you also want to launch your application, then it is such a nice platform. One of the main specialties of social networking apps is Scalability.
Moreover, these apps come with security features so the information of their users can be saved from cyber attacks.
Custom iPhone App Development
The success of any business app depends on whether it is customized or not. The reason is every business has its own unique way that must be reflected in the app.
To develop these custom iPhone apps, a different kind of skill set is required, which can only be achieved by hiring experienced iPhone app developers.
eCommerce Applications
Now online shopping apps are not for the specific set of users; these are being used by almost all smartphone users. These apps facilitate the users to order their favorite stuff such as clothes, fashion accessories, shoes, or whatever they need.
The brands such as Amazon, Etsy, etc., are the best examples of it as a huge amount of money transaction takes place, so you also need to implement the security mechanism that increases the cost of these types of apps.
On-demand Applications
Apps like Kroger, Grubhub, or Uber fall under this category. These types of apps are trending, and millions of customers use them. The prime features of these apps are navigation, in-app chat, online ordering, multiple payment options, and more.
On-demand applications have three segments: one is for users, one for the service providers, and another for admin. So, for implementing the features and developing its segments, high efforts are required that increase the cost of on-demand apps.
Ultra-Modern Apps
The iPhone apps based on the concepts AI, Machine Learning, IoT, and Blockchain fall under this category.
These apps work with compatible hardware, so their cost remains higher than any of the above categories.
Benefits of iPhone App Development
Mobile apps play a significant role in transforming various sectors in this tech world. Most businesses spend on iOS development to enhance their business reach and influence more customers.
Meanwhile, if you are leaving to launch your startup and opting to go with the iOS platform, we may discuss what profits it can provide to your business.
There are astonishing advantages to iOS app development for any of your businesses.
High-Quality Standards
iPhone app development for business purposes remains incomplete until the apps are developed to meet the high-quality standards of Apple's App Store before they are made accessible to the market.
Users can be assured flawless performance and a unique experience when they download an iPhone app. This goodwill and trust in Apple's legacy have helped to gather a large and loyal customer base for your iPhone apps.
Android app developers stick to open-source repositories and permit a non-standardized development strategy. This results in apps that provide the best user experience on specific devices and a less-than-suitable experience on others.
Along with this, iPhone users are welcomed by the same dazzling UX across all the systems.
Because Android apps are slower, the cost of Android app development is much greater than that of iPhone development. Companies are forced to outsource their Android projects to the lowest bidder, which can deliver substandard products.
This is why, before releasing and publishing an app to the market, the Apple Play Store thoroughly vets it.
Better App Revenue
iPhone apps generate a higher ROI as compared to Android apps. It is a fact that makes iOS app development advantageous to a considerable extent.
To obtain higher revenue generation opportunities from the iOS app development procedure, focusing on mistakes, tips and tricks, and other related data will be a more significant benefit.
You can refer to our guide to iPhone app development costs, developed from the experience of our dedicated developers, to get worthwhile ideas.
Established Customer Base
The developed user base is one of the USPs of Apple and one of the crucial advantages of iOS app development. Apple is an innovator in tech and app development. Although 75% of app users are Android users, Apple has a well-developed niche of clients that swear by its performance and quality.
Indeed, it is stated that once a user of a smartphone experiences iOS, they will never prefer any other OS. Along with this, Android apps have to fight tough competition because many other apps are accumulating in this category.
Exemplary User Experience
iPhone apps delight users with outstanding user experiences, assisted by the inherent competencies of Apple's iOS. Total consistency among hardware and software amounts to outstanding performance related to iPhone apps.
On top of that, inclusive customer support and maintenance help enhance users' satisfaction via the app's lifecycle.
Development Time Has Been Cut
When you think about how long it takes to build an app, iOS apps require about 28% less time than Android apps with the exact provisions. It is because Android apps should be tested across 20 devices with varying screen sizes, OS versions, and resolutions.
Undoubtedly, the Android app's development cycle is longer, and development apps' payment relies on the location. For example, the charge for Android app development may differ from that of California, and so forth.
iPhone for businesses assures profitability, market visibility, and customer loyalty. This helps offer iPhone app development services in less time, with reasonable maintenance costs, and low production costs, making the mobile app development procedure very advantageous for the business.
Companies can consider piggybacking on Apple's legacy to secure a prominent position in the viable market for apps.
Another thing that adds to the benefits of choosing an iOS app development is discussed below.
Secured Transactions
iPhone app development provides a safe and secure environment for conducting online deals with the apps on such platforms. All the iOS apps developed for users consider secure and advanced features that can safeguard the operating system against threats such as phishing and hacking.
This app makes sure that each online transaction is fully encrypted.
Steps to Develop An iPhone App
For having a professional app for the business, it is significant for you to know about the process of iPhone app development. It will give you an idea of how iPhone app development takes place and what you need to do to have unique business apps.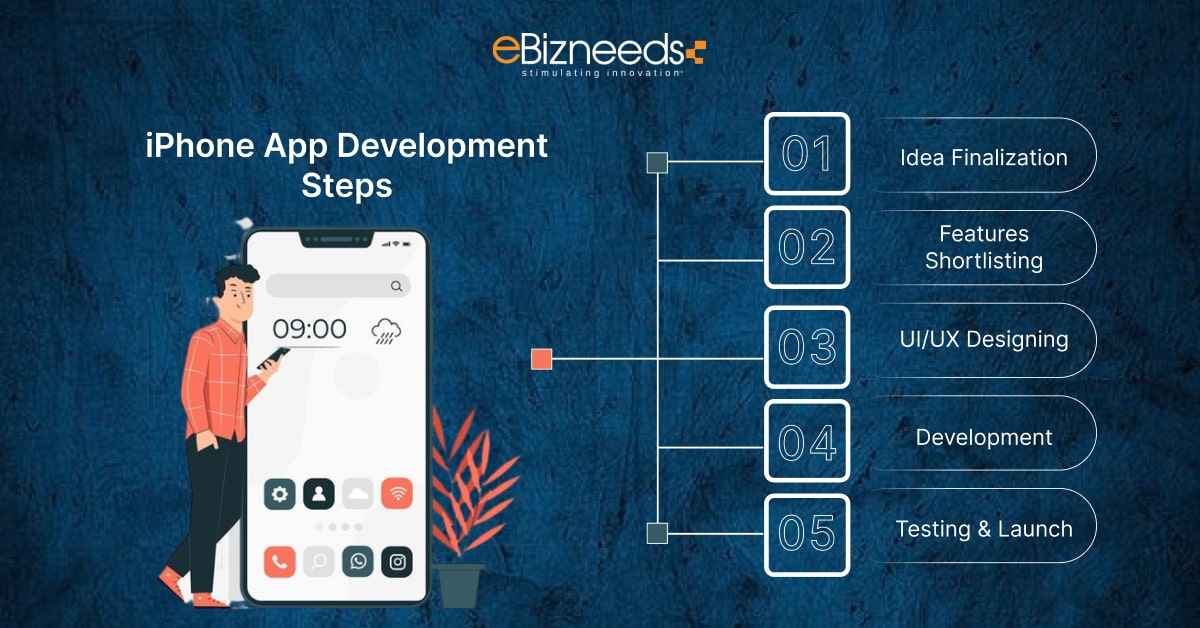 Idea Finalization
The idea makes the app unique, and it has been proven multiple times. Each leading app that is trending and other businesses following the trends was once a unique idea.
So, first, you need to finalize your idea – What will be the core concept of your app? What kind of services do you want to provide with the help of an iPhone app? What are the features you want to see in your app? And others. Once you decide about it, then proceed to the next step.
Features Shortlisting
Although you have made up your mind about the features during the idea finalization stage, it will be much better to do more research and prepare a list of the features based on the users you want to target.
Suppose, if you want to go with on-demand app development, you need to decide about the features for the user panel, service provider panel, and admin panel.
UI/UX Designing
Creating the best and smooth user experience is a must to design and develop UI/UX components in the most interesting way. Here you need to implement the design that it must be user-friendly, responsive, and interactive.
Development
It is the phase when your iPhone app developers will write actual code to reach the ultimate goal of iPhone app development.
With the help of chosen tech stack, they will develop all segments of the app and later will join all to make the app completely developed.
Your hired iPhone app developers will take care of developing functionality, implementing the features, integrating the third-party APIs, if any, and services such as push-notification real-time navigation, including many other features.
Testing & Launch
Testing is more crucial than any other development phase as the future of the app depends on it. Under the testing phase, the real potential of apps is being tested by QA professionals by using tools, designing the test cases, and putting them under rigorous real-time conditions to find out the bugs and vulnerabilities. Once all the bugs are eliminated, then the app will be ready to launch.
After testing, the app is being checked whether it is fulfilling the App Store's guidelines or not. Although the developers take care of it while app development but to ensure it is fine it is again done under expert supervision.
With some little modifications, if required, the app is submitted to the app store and launched for the user so they can download it.

What Are The Factors That Influence An iPhone App Development Cost?
Although the overall cost to develop an iPhone app ranges in between $30k- $50K with basic features. There are several factors that influence the cost, which is subsequent-
Features & Functionalities
If we look at the factors that affect the iPhone app development cost , then features and functionalities are the top-notch ones. These are the features that differentiate an app from the others.
For implementing these, a tech stack is required, and you know that professional tools require cost, as well, as the cost of efforts is also associated with it.
Designing
It includes front end designing via implementing UI/UX components to make an iPhone app super fantastic. It requires equal effort and tech-stack as we require for coding to shape the app.
There are certain necessary tools whose paid version is always necessary for implementing the UI/UX components. It contributes to the overall cost.
Backend Infrastructure
It directly refers to the server-side programming that every professional app requires. For running the software or a mobile app, robust programming and server storage are required that handles the run-time operations.
Here the cost of server hosting is associated. You can also set up your own server, but it will be costlier than getting the hosting and storage from any service provider.
Maintenance
It is also one of the required things for the fine functioning of the app. If your app is complex, then the role of maintenance is more crucial. Although it will be done after post-launch, its cost is also a factor that affects the overall development cost.
App Submission
After developing the app, you need to submit it to the App store. For the same first, you need to pay the one-time registration fee. Till the last update, you have to pay $90 for making your app developer account.
Actually, this account will belong to you, not to the iPhone app developers you have hired. So the next time, you can easily submit your next app.
Miscellaneous
There are some miscellaneous costs also associated with the app development, such as iPhone app hosting, updates, licenses, third-party integration, and others.
Essential Tips to Reduce the Cost of iPhone App Development
There are some points that you can follow to reduce the cost while developing the iPhone app for your business. These are discussed below –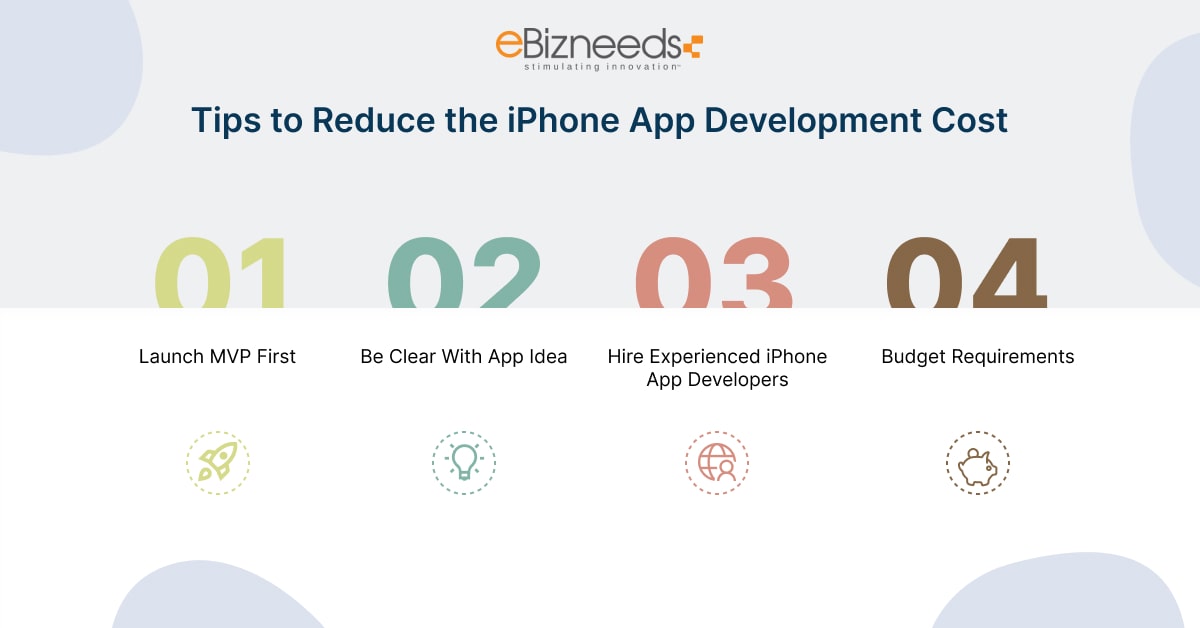 Launch MVP First
MVP is a minimum viable product that refers to the first-ever version of an app with basic features instead of a feature-laden app. It enables businesses or developers to get real-time feedback on apps.
Once the feedback is received, it can be used to add the full features and remove the discrepancies found while executing the MVP. It is best to consult with iPhone app development service providers to clear any doubts.
Be Clear With App Idea
The idea determines how your app will be developed and function. So, before hiring the developers, you need to think clearly about your idea. It can save you money as the developers will have a clearer understanding of what they must implement.
Hire Experienced iPhone App Developers
The cost is also determined by the type of developer you hire for your app. Although hiring dedicated developers is a little bit more expensive, it will be more beneficial than hiring novices, and there is no guarantee of quality.
Budget Requirements
One of the essential points you need to consider before taking any step, especially if you are a startup, For a well-established organization, it is okay if more funds are required for app development. Still, for a startup, it is too risky.
So, decide how much money you want to spend on app development, and then find the best iPhone app developers for your project.
Wrapping It Up!
iPhone devices and apps are fantastic, as both provide a smooth user experience. You can leverage it to target potential customers for your business. When developing the app, the cost is one of the biggest concerns that come into an individual's mind.
In this blog, we have tried to explain the average cost criteria and what you can do to reduce the iPhone app development cost. You can refer to this blog as one of the references while thinking about app development.
You can consult an experienced mobile app development company for more ideas.

Frequently Asked Questions
Q. How much does it cost to develop an iPhone app?
The cost of iPhone app development varies depending on factors like app complexity, features, design, and development hours. Simple apps may start from $10,000 to $50,000, while complex apps can go beyond $100,000.
Q. What factors influence the cost of iPhone app development?
Several factors affect the cost, including app features, design complexity, platform (iOS versions and devices), third-party integrations, backend development, and app maintenance.
Q. Are there ongoing expenses after the app is launched?
Yes, post-launch expenses include app updates, bug fixes, server costs, adding new features, and ongoing maintenance. Budgeting for these is crucial for a successful app.
Q. Can I develop an iPhone app on a limited budget?
Yes, it's possible. Start with an MVP (Minimum Viable Product) to validate your idea and gradually add features with user feedback and revenue.
Q. Should I hire a freelance developer or an app development company?
Both options have pros and cons. Freelancers may be more affordable, but app development companies offer a complete team with diverse expertise, ensuring better project management and quality.
Q. How long does it take to develop an iPhone app?
Answer: The development timeline depends on the app's complexity. Simple apps may take a few months, while complex ones can take a year or more.
Q. Can I update the app later with new features?
Yes, you can update the app with new features and improvements based on user feedback and market demands.
Q. What about app submission costs on the App Store?
Apple charges an annual fee for its Developer Program, which is required to submit apps to the App Store.
Q. Can app development cost be reduced without compromising quality?
Answer: Yes, consider using open-source components, reusing code when possible, and focusing on essential features for the first version.
Q. What's the importance of UI/UX design in app development cost?
Well-designed apps with excellent user experiences tend to attract and retain users, ultimately impacting the app's success and profitability. Prioritize design within your budget.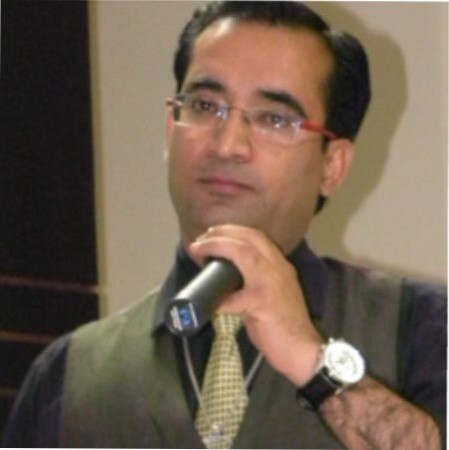 Naveen Khanna is the CEO of eBizneeds, a company renowned for its bespoke web and mobile app development. By delivering high-end modern solutions all over the globe, Naveen takes pleasure in sharing his rich experiences and views on emerging technological trends. He has worked in many domains, from education, entertainment, banking, manufacturing, healthcare, and real estate, sharing rich experience in delivering innovative solutions.