Last updated on September 19th, 2023 at 11:27 am
Now, you can control the lighting or security camera of your house. Have you ever thought that how it would be possible? Or Here, I want to ask you another question: have you heard about smart home automation?
The answer to all these questions is one, and that is – the Internet of Things(IoT). It is an ultra-modern concept that allows users to control multiple devices with a single control device, and that will be your mobile phone.
I have written this blog for the interested readers who want to know about the challenges and benefits associated with IoT mobile app development. The concept of IoT allows smartphone owners to control various devices with the help of the Internet. So, before we dive deep into the blog, let's read some basic information about the Internet of things.
What is IoT?
First of all, the abbreviation IoT stands for the Internet of Things, a network of physical devices embedded with software and sensors where data exchanges occur between these devices. These devices can be smart home devices or connected internet-enabled devices at some manufacturing unit. As per the facts and statistics, there are 7 billion IoT devices in use worldwide, and the projected volume of these devices will be 22 billion by 2025.
Over the past few years, due to the research and evolution in technology, the use of IoT-enabled devices is increased, and in the upcoming years, we will see more. We can connect each object with the help of IoT that we use every day, such as coffee machines, kitchen appliances, air conditioners, CCTVs, cars, and even medical devices that can save the life while sending real-time alerts.
Without any human intervention, IoT-enabled devices collect and share the data that allow system monitoring in the best way. That is one top-notch reason that makes the internet of things a useful technology.
The following are some technologies that make IoT implementation easy which are:
Sensors
for the implementation of IoT technology, sensors are crucial because they are responsible for generating and collecting data in combination with the devices.
Internet Connectivity
Internet connectivity offers a smooth the way for the sensors to connect with the cloud network for data exchange. The devices remain in sync with the help of internet connectivity.
Cloud Computing Platforms
cloud computing platforms help users and businesses to access the data without having any boundation of resources.
Machine Learning
it helps the machines for self-learning where data generated by the clouds work as input in the form of data sets.
Conversational AI
NLP stands for natural language processing, and it is a subset of AI. The conversational AI empowers digital personal assistants such as Alexa, Cortana, and Siri.
A development company can leverage all these technologies to develop an IoT mobile app, as mentioned above.
Another term also associated with the IoT is called Industrial IoT. Its other name is Industry 4.0, and the uses are-
Smart Cities
Wide-ranging manufacturing of smart home devices
Smart power stations & grids
Smarter shipping and logistics
Integrated supply chain management
Effective warehouse management
And others.
Some Important Facts & Statistics That You Should Know For IoT Mobile App Development
It was 1999 when the term IoT aka Internet of Things, came into existence by British technologist Kevin Ashton. Via continuous evolution now, this technology is ruling over the world with other technologies such as AI, Machine Learning, and Cloud Networking.
Here are some important facts you should know before proceeding with IoT mobile app development. These stats will give you great insight into the technology and the market. These facts are also useful for businesses thinking about app development for startups.
So, let's check these stunning facts that depict how IoT is progressing.
By 2023, the projected global spending on IoT will be the US $1.1tr.
In 2021, consumer spending on IoT was the US $123 billion.
Current Internet of Things managed service market revenue is $35 billion.
Global IoT security market revenue is 11.5 billion.
By 2025, the end-user spending on IoT solutions will be 1567 billion USD dollars.
By 2030, the projected volume of IoT-connected devices will be 25.44 billion.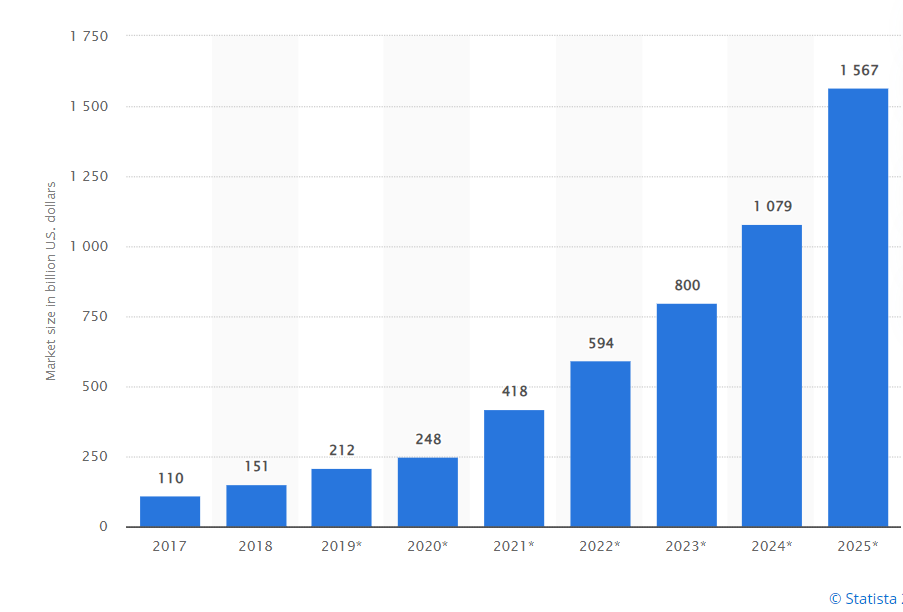 It is one of the top-most searched queries on the internet 
Is the Internet of Things(IoT) the future of mobile app development?
The answer is yes. It is a fact that you can have an extra edge over the competition by launching an IoT-based mobile app for your business. The mobile app development industry is rapidly progressing via providing innovative solutions to businesses around the globe wherein combination with IoT, it works super fantastic.
Another reason that makes IoT mobile app development fruitful is its applications in diverse industries. You can develop a specific solution with the help of a custom mobile app development company.
The IoT Mobile App Development And Industries
Instead of moving forward, it would be best to read what industries can be benefited from IoT mobile app development. So, these are:
Manufacturing
When it comes to reducing operating costs, better uptime, and improving asset performance management then, IoT is the only solution for the manufacturing industry. The point is sensors can help manufacturing business owners with production monitoring in a real-time sense.
Automotive
There are several benefits of applying IoT in the automotive sector. Automotive manufacturers and suppliers can leverage this technology in production lines. It works like sensors that can identify an impending breakdown in vehicles already on the road and provide detailed information to the driver with the help of a mobile app.
Transportation
Based on the IoT sensor data, re-routing and monitoring the vehicle fleets carrying goods can be done best. The transporter can decide based on weather conditions, vehicle availability, or driver availability.
The deliverables, such as food and beverage, flower, and pharmaceutical, can be monitored with the help of sensors and mobile apps having temperature-control monitoring capabilities.
Retail
One of the best examples of IoT mobile app development in the retail sector is monitoring the smart shelves that send shop or store owners alerts about the stock. The advantages of internet of things empowered mobile apps in the retail sector are inventory management, best customer experience, and replacement of operational costs.
Public Sector
The governments and authorities can leverage IoT mobile apps to provide the best governance experience to the users. It can help the authorities to monitor the appropriate flow of fundamental facilities like electricity, water supply, sewerage, traffic management, crowd management, and more.
Healthcare
Most researchers and medical scientists are focusing on improving medical care facilities and their monitoring with the help of sensors. There is no need to tell how IoT is beneficial for healthcare and the medical sector. Even it can also help in emergency response to drastic health conditions.
The Benefits of IoT Mobile App Development
IoT mobile app development offers several advantages to businesses. It is such a great technology that can help business owners to transform their traditional businesses into ultra-modern ones. The IoT is the best technology not for large-scale enterprises but also for startups and mid-scale businesses.
If you are looking to hire app developers regarding Iot mobile application development for your business, then you might also like to read what its advantages are.
Real-time Monitoring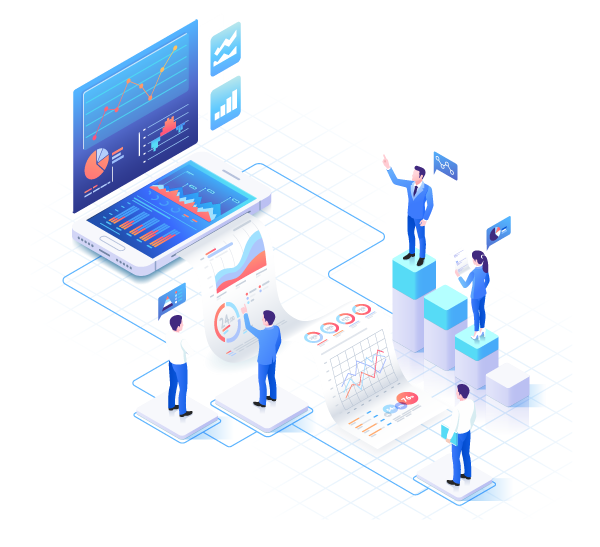 In IoT, the main game is sensors and data collection from it. With the help of sensors and an IoT mobile app, it is very easy to monitor everything, such as a manufacturing unit, types of equipment, vehicle fleet, retail store, surroundings, and even patients admitted to the hospital for treatment.
The device equipped with sensors generates real-time data that can be accessed with the help of an IoT mobile app.
Improved Analytics
Implementing strategic decision analytics is a must process for every business. You will be surprised to know that IoT mobile apps can help you to a greater extent with data analysis. The reason is IoT devices generate & collects real-time data and share it with the help of mobile apps.
So, it can help the brands or businesses take the right decision at the right time based on the analysis of collected data.
Maintenance And Support
There is no need to mention that IoT works with the help of devices and sensors. These sensors collect all the data. So, suppose you are running a manufacturing plant, and machines have IoT capabilities.
In case of any disorder, it will inform you that any specific part needs to be changed or required a replacement. Then it will be easy for you to replace that existing part. It can save you from spending the extra cost on maintenance and support.
Seamless Accessibility
IoT mobile apps offer seamless accessibility. Users from any corner of this world can manage the devices located at their home or office with ease and within a second with the help of their smartphone. Suppose you deal in home appliances; then, with the help of IoT, you can provide a unique user experience to the customers.
Competitive Edge
Although the internet of things is the trend, some businesses are still lagging in implementing it. So, if they implement it in their business, they can have a competitive edge over the competitors and stand out from the crowd.
Lower Cost Systems
Comparatively, IoT offers a lower cost in implementing centralized systems having monitoring compatibility. With the help of an IoT mobile app development company, you can have the best experience of smart system implementation at a low cost, as all the devices will be connected to a single network.
Real-time Security
IoT mobile apps provide real-time security without any location boundation. Whether you are a homemaker or a factory owner, you can keep a constant eye on your premise and control the devices with the help of your smartphone from any location in this world.
Enhanced User Experience
The IoT lets developers improve the user experience of products. IoT apps include features that simplify people's lives. These features can include remote control, real-time data exchange, and automation.
Increased Efficiency
IoT-based mobile applications can make things highly efficient by reducing manual procedures. Connected devices can rapidly gather and transmit the data and let the developers automate specific tasks. The IoT makes mobile apps highly cost-effective and efficient.
Scalability
IoT mobile apps are highly scalable, allowing you to include new features and devices as tech advances quickly. It indicates you can promptly adapt to changes in the IoT market and benefit from new opportunities.
Business Innovation
IoT-based solution supports businesses to fix the concern associated with operations, customers, visibility, and more. Using better insights and knowledge about the internal and external factors affecting businesses, C-Suite managers are increasingly building innovative solutions for their pressing concerns.
Location Independence
Mobile apps effectively complement IoT tech for controlling the whole IoT ecosystem anytime and anywhere. For example, the camera at your smart home's main entrance door can send reminders on your IoT-based mobile app anytime.
Similarly, business owners can remotely monitor multiple warehouses using IoT mobile apps. This functionality may benefit different industries in different manners.
IoT Mobile App Development Challenges
Although the IoT mobile app development is advantageous in many terms but there are still some challenges associated with it. With the internet of things (IoT) becoming more mainstream, there are a number of new challenges that developers need to tackle.
Mobile app development is currently one of the most important aspects when it comes to IoT. User-friendly interfaces, easy-to-use navigation, and fast loading speed are just some of the key features that a good mobile app should have in order to gain success in this world.
The key challenge for developers is making sure that their mobile apps work on both Android and iOS systems without any compatibility issues. This way, they will have a much wider reach, and their customer base will grow exponentially.
So let's check what these challenges associated with IoT Mobile app development are:
Security Challenge
Security is one of the top-notch challenges with IoT mobile application development, irrespective of Android app development or iOS app development. The reason is that for the implementation of the internet of things, all devices must be connected to each other via a common network.
So, if there is any security breach, then the whole network's security can be easily demolished. In this scenario, it is a must for mobile app developers to retain the security of the app and network.
Data Collection And Processing
The mechanism of the internet of things works based on data collected via the device's sensors. So, storage can be a big issue that can be handled with the help of cloud technology. However, it is going on but not on the full scale and as required.
So, there is a need for a process that can help the data collection and processing in a fine way. The good news is that it will be achieved soon as research is continuously progressing.
Software Compatible Hardware
For IoT, implementation hardware must be compatible with the software. To date, these types of hardware are available but with some limitations. It would be best if the hardware must be available with full compatibility with the software to implement the IoT network. It will benefit all terms, such as data collection, analytics, security, etc.
Selection of Gateways
A key to integrating all elements is IoT gateways. Different devices come with distinct protocols for connectivity, such as Serial ports, Bluetooth, and Wi-Fi. Each element has its different energy profiles. These gateways are located between clouds, sensors, and IoT devices in a way that completes the ecosystem depending on them.
Choosing one of the bases of network and interface specification, power rating, memory capacity, and the development environment becomes challenging.
Lack of Skill Set
All the development challenges discussed above can be solved in case skilled talent is present. However, since IoT is relatively developed, the skill set has not reached a good point till now. Several developers are making experiments in their way across the techs.
User-Friendly Design
At the user end, the IoT app must be as design-driven as possible. The solution must be intended to focus on data visualization and speedy decision-making. Tight cooperation between designers and developers is required to ensure secure and effortless authentication, robust transition between devices and systems, and user experience personalization.
Complete Control on Quality
Since the already used cases of IoT has no more restriction in the supply chain, the data that is now transferred is related to life-transmitting sectors such as finance and healthcare. It emphasizes ensuring the higher quality of IoT apps.
IoT developers must consider security testing at the start of their software development lifecycle. Hence, they can assure its quality at each step.
Cross-Platform Deployments
Devices with different protocols, operating systems, and architectures combine the IoT ecosystem. Every one of such variables should fit together and act absolutely robustly. It is vital to know why companies such as IEEE and IETF have developed open architecture and standard models for deploying IoT solutions on cross-platform devices.
While there can be different challenges related to developing an IoT app, the ones discussed in the blog are those that IoT App development companies highly focus on. Now, you understand the challenges, and it is time to focus on their solutions. IoT app development company would be able to provide the solutions. Contact us now to get the solution!

The Final Thoughts
There are several possibilities hidden within IoT mobile app development. A business can leverage this technology to boost business growth in a great sense. On the other hand, there are some challenges also associated that need to be removed for a better experience, such as – Security being a major concern in IoT mobile app development.
A lot of data is transmitted and collected through IoT devices, which needs to be protected, and the lack of standards for different types of devices can result in incompatibility issues between them. So, if these types of challenges are removed, then the users can get the best experience of customized IoT mobile app development.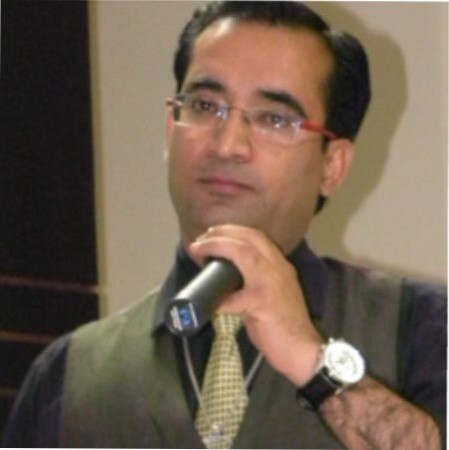 Naveen Khanna is the CEO of eBizneeds, a company renowned for its bespoke web and mobile app development. By delivering high-end modern solutions all over the globe, Naveen takes pleasure in sharing his rich experiences and views on emerging technological trends. He has worked in many domains, from education, entertainment, banking, manufacturing, healthcare, and real estate, sharing rich experience in delivering innovative solutions.