In a fast-paced environment, nobody is using the traditional mode to get access to taxi services. Just like any other service, everyone wants online taxi hiring services.
The online application services provide promptness and convenience and are accessible at a reasonable rate. The old trends are being ignored as the industry moves towards digitalization.
The most popular Grab mobile app provides push notifications to ensure confirmation and other data. Every app service is used to fill the hiring void because it provides instant access and ride services.
A large number of people are already regular users of popular taxi-booking apps such as Grab Taxi. You should focus on the audition procedure instead of relying on the driver itself.
Several users are admiring the idea of building an app like Grab Taxi, which is why in this blog we have discussed the development process of an app like Grab Taxi.
What is a Grab Taxi?
Among the online taxi services that have established a strong reputation and level of trust is Grab Taxi. This ordinary taxi can be booked through the app. There are also character taxis that are colorful and feature cute animals.
However, you will feel extra safe in the pink kitty taxi. Like all taxis, Grab taxis can be inadequate during a hasty hour and in some destinations. Drivers can also detect your area and decline your request, especially when you do not provide an additional tip.
The Grab Taxi application is also offering certain choices for their Grab Car, Grab Express, and Grab Car+ services. Furthermore, Grab Express is an on-demand delivery and pickup service.
How Does a Grab Taxi work?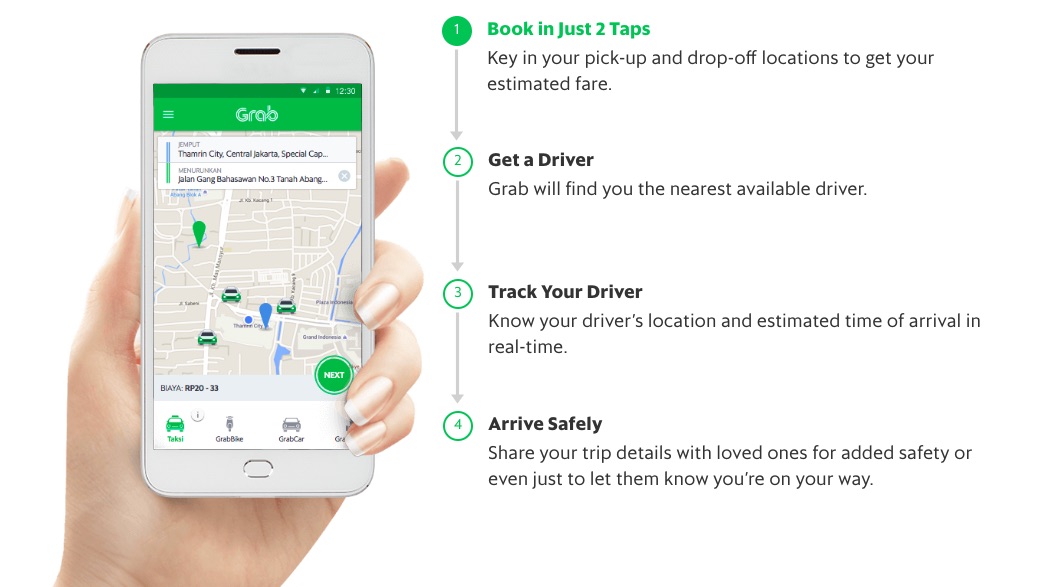 Booking a Grab Taxi considers the following steps:
Only two taps are available:You need to enter your pick-up and drop-off destinations to get your expected fare.
Get a Driver: The nearby driver will be assigned to drop you at your destination point.
Track Your Driver: You should check the location of the driver, their contact information, and their expected arrival time.
Arrival Safety: You can share your description on the go and across all of your favorite social media channels for added security, or you can let your loved ones know you're on your way.
What Are the Reasons For Investing in a Taxi App like GrabTaxi?
Regardless of the epidemic situation, people have had experiences related to this taxi booking app. The accessibility of taxi choice and drop-off at the entrance is something that an individual will never forget.
Therefore, this sector is forecast to earn billions of dollars in the coming period.
Certain other noteworthy benefits include:
Through the application, you have a chance to understand how your customers feel about your taxi booking app development services and which areas need your immediate attention. The reviews and feedback would act as your report card, and you can handle it in the form of improvement.
Your business reach expands Mobile applications have become hold-hold devices, and individuals will always keep booking a taxi ride with a few taps. Therefore, by building an app, you can reach all those application users and increase your transparency.
You have a better chance of earning money by building an application. All of your scheduled slots are engaged, and the driver does not have to wait for the next occupancy. Moreover, as discussed above, you can charge based on the type of service or car and thus earn more money.
You have an opportunity to win the customer's heart with your taxi booking app development services, and thereby you can earn their trust. If you live up to their expectations, then they will love to spread the word about your business.
All of your tasks are computerized, so you do not have to invest in the manual recording of travel. Thereby, you can save a lot of time and emphasize wholly business expansion approaches.
Features of the Grab Taxi App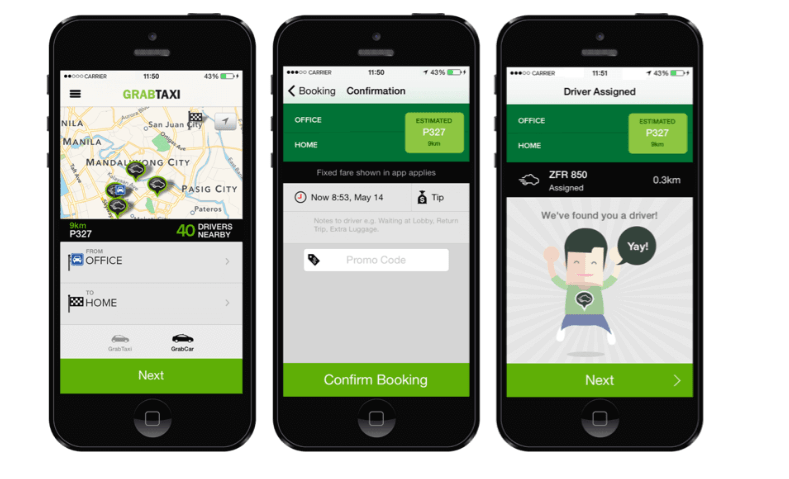 Source: woxapp, 2022
The Grab Cab app adheres to the same basic guidelines as any other taxi ordering service:
A traveler's application where anyone can easily book a ride
The production process for drivers who carry out instructions is an app for drivers.
Managerial board: The command web board for managing drivers and requests.
The primary attributes of the Grab Taxi app for users
The tracking area of the driver gradually
Menu to consider in a request: to assess goal addresses and select a cabbie
Check the ride cost when requesting
Registration/log in: by online networking or email
Booking account
Push warnings
In-app installment
Feedback and audits on the management
The key features needed to build an app like Grab Taxi Driver app
Registration/check/status: The driver should be confirmed and promoted by an administrator and must be competent to select his work agenda and achieve his online position.
Push notices
Accept or reject orders from riders; check the rider's destination point with the estimated guide, and check the booking history.
Riding costs, client input, and bolstering
Navigation
Admin web-panel
The administrator web-board plugs in as the gadget to check and handle each procedure of an application. By the administrator, web board driver implementation can be assessed together with client data, and their grumblings and sources of income can be identified.
Similarly, by the instrument, the driver can be added to or removed from the administrator, and also their records can be ended or suspended as a consequence of breaking the principles or receiving unfavorable input.
The Architecture of the System
To build a taxi booking app, the versatile interface, and back-end parts matter. It is regarding the server application that provides client data, develops it, and sends it to the particular applications and management.
This back-end part creates the correspondence among different elements of a potentially versatile app structure. The engineering can be classified into different structures:
Servers
Admin board and versatile apps (front-end part)
App on servers (back-end part)
Due to API, communication among framework components is made feasible. The building has a significant loading while facing challenges. To implement it significantly and show a higher speed of work, the design should be advanced.
Illustrate the extreme stack structure.
Test the stack before forcing the apps.
Select the advances that will get used in the heap.
Well-structured data on the server
Select affordable servers for the destination point.

Picking the stage: iOS or Android?
You should select the one between the two that is closest to the audience. It makes sense to design the components on both stages from the perspective of the passenger taxi app. But, concerning apps for tighter sets of people, such as drivers.
There can be more top-choice phases on the off chance that every driver of the Grab Taxi app is an iPhone user.
The application must be more affordable and inherent in the app interface, as this makes the app more productive. Grab's app makes it easy to find capacities and menus. There is no alternate app available on this device in contrast to the Grab app built for iPad.
The same goes for the Grab Taxi app for Android, and that is called activeness.
Application distributing
When the app is finished being developed, it can connect with the group of observers and begin functioning. It should be shared on the App Store or Google Play. You must think about the things to achieve this:
Pay registration fees.
Ready materials for sharing (depiction, screenshots, and icons)
Submit the app here to App Store and Google Play.
Decide whether the app controls the App Store and Google Play navigation.
Payments
It is another essential requirement for developing a taxi app. To pay means using your charge card and, if possible, your telephone. The key prerequisites for including this product in your application are that you are a US citizen and that it adheres to Payment Card Industry security standards. With a reasonable installment rate, partners like Stripe, Card.io, as well as Braintree are possible.
Push notifications and SMS
On-time notification plays a significant role in holding and procuring new riders. To feasibly work off push notices, you need to give your developers:
The APN (Apple Push Notification Service) is used when working with Apple systems.
The GCM (Google Cloud Messaging Service) is used when working with Android systems.
For sending SMS alerts, a cell-portable manager is thought to be necessary.
Analytics
To obtain the target criticism on framework and planning battles, it is significant to consider expository devices. You can consider Google Analytics and Firebase.
Registration of a profile
To grasp the historical backdrop of a considerable amount of appointments, remember the picked-up rewards and installment aspect of interest. You can hire dedicated developers to assist with the enrollment of client profiles. Such choice enhances the client's life and is a complete requirement for the app, in which the versatile installment is demonstrated.
Feedback and support
Regardless of when the flexible software was developed, these highlights must not be missed. You should make it clear to your prospects that you are available for communication.
Riders should have the chance to comment on the service, stamp their evaluation, and give feedback to the driver. This type has an impact on the app's total rating.
How to Build an App Like Grab Taxi?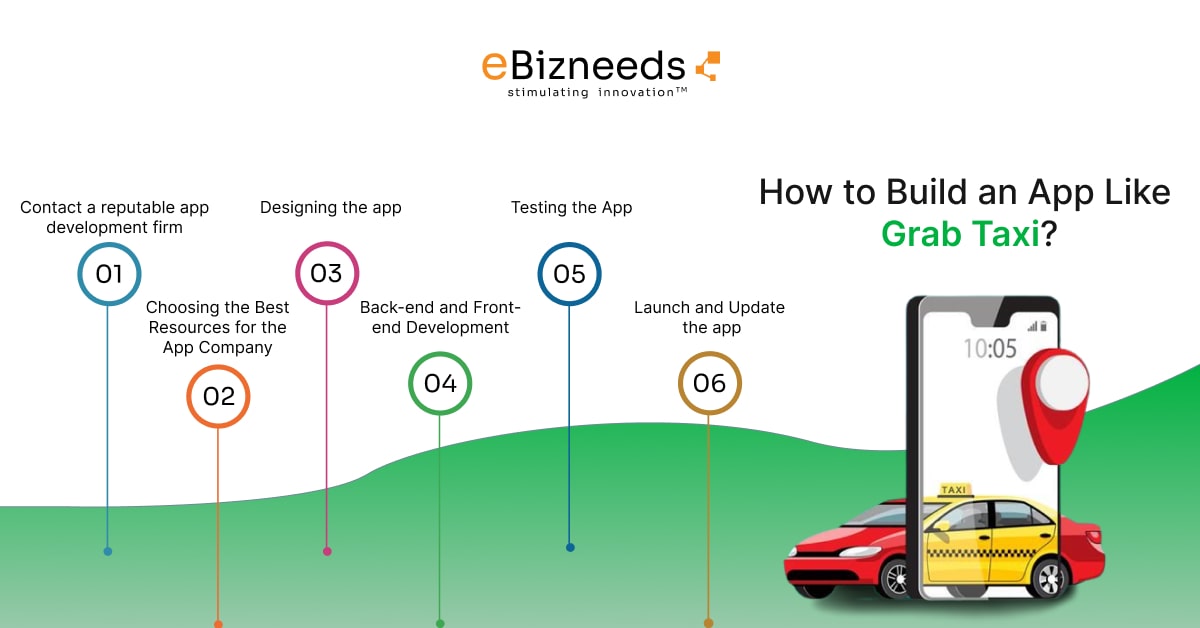 It is time to learn how to create an app similar to Grab now that you understand the finest aspects to include in a taxi app.
Step 1: Contact a reputable app development firm
Do you know how to create a Grab-like app? I am almost certain that the answer would be no. Finding a reputable on-demand app development company with experience creating apps like Grab is therefore the first step.
Step 2: Choosing the Best Resources for the App Company
Assume you locate a reputable taxi app development business. Any reputable app development company would now have a big resource pool—more than you needed. The next crucial step is to build the ideal team by combining resources.
Interviewing technical people can be intimidating for a non-technical creator. Therefore, it might be a good idea to interview the right project manager before hiring taxi booking app developers or a company's CEO to handle this task and your project.
Step 3: Designing the app
The design of the Grab cab app is the next step after assembling your team. An app like Grab Taxi is designed with the aid of on-demand app developers. The designer will map out an application's structure and overall appearance before sending the finished product to the app developer.
Step 4: Back-end and Front-end Development
The actual application development process is the most important and time-consuming stage. It takes both front-end and back-end software development into account. The back-end and front-end of cab apps like Grab are built concurrently by two teams of engineers.
Step 5: Testing the App
It is time to do thorough testing after creating an app with features similar to those of Grab Taxi. Numerous tests are run, from automation through beta, to make sure your taxi app is operating realistically.
Step 6: Launch and Update the app
It is now time to release the app to the market once all testing and revisions have been finished. The software is typically released by the app development company directly on several app stores, including Apple's App Store and Google Play Store.
The last step is to innovate while maintaining originality. A company can only succeed if it continues to be relevant. As a result, your app needs to be updated with the newest features, technology, as well as design.

Technologies behind an application like Grab Taxi
Grab Taxi is a strong, contemporary, and stylish WordPress theme that can be used to build a car rental service, a car repair shop, or an auto mechanic service company.
Common for Web and Mobile
Rendering, Building, and State Control: React.js and Standard Flux
Languages: Node.js
Web Server: Express.js
Website Development
Backend: SQL Server, MySQL, and PostgreSQL
Programming Languages: CSS/HTML, Java, and Python
App Development for Android
Architecture: RxJava
Logging: Timber
Networking: GSON, retrofit, OKHTTP
Build System: Gradle
Automation Coding: Expresso
App Development for iOS
Storage: LevelDB
Backend: MySQL, Schemalass
Testing: OCMock
Location-Based Service
Radiofrequency (RF) location methods
Invoice
RFID
UUID
Wi-Fi positioning system
Device GPS coordinates
Device fingerprint
Web or app design
It should involve eye-catching pictures, graphic design, background, coding, SEO guidelines, and user experience design. You can consider web design tech such as Panic Coda and DreamWeaver.
Payment Gateway Integration for Grab taxi app development
Grab Taxi considers cashless compensations. For payment purpose, credit or debit cards is used by riders. They can consider promo codes or app discounts. When we involve Stripe assimilation into taxi rider applications, there could be some deliberations:
Multi-currency requires a 3.9% fee for Bitcoin and a 2.9% fee with a 2% conversion fee for Bitcoin, with $0.30 per transaction.
USD with 2.9% and $0.30 per transaction after the first $50,000
Infrastructure and Storage Database
Languages: Go and Java
Distributed storage and analytics: Hadoop warehouse
Long-term data storage: MySQL and Cassandra
Caching and queuing: Celery workers, Redis, and Twenproxy
Virtual Machines: Boto, Packer, Unison, and Vagrant
Inventory management: Clusto
System configuration: Puppet
Ways to Increase Your Earnings as a Grab Driver!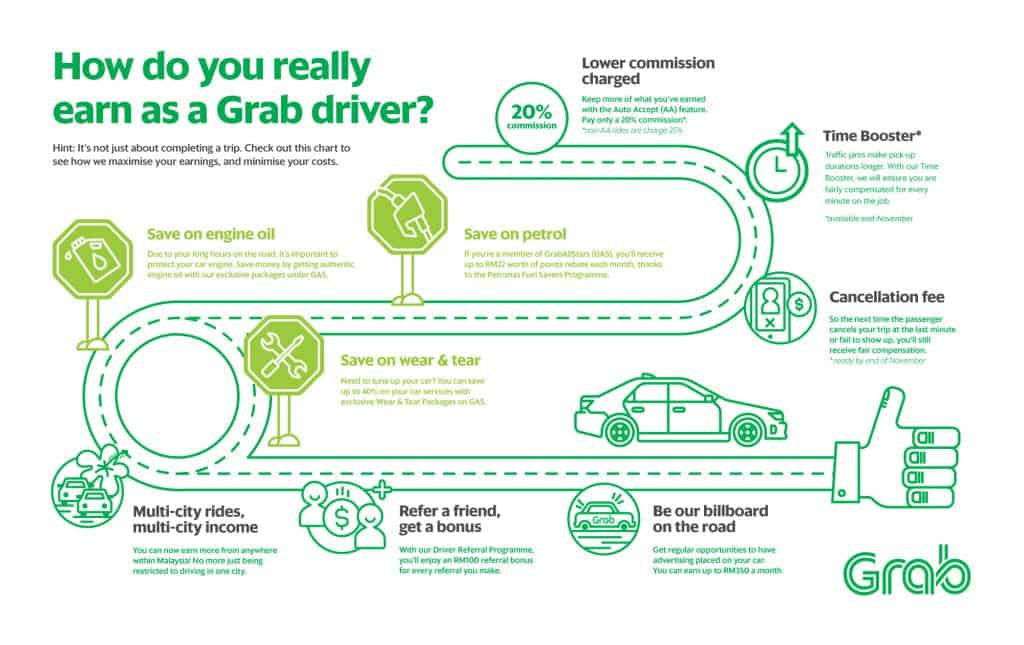 Source: NEXEA
Obtain a Per Minute Fare
Grab is initiating new fare elements soon. It is intended to make sure that you will not lose out and spend a long time picking up a ride. Previously, a 10-kilometer trip on the same fare took 20 minutes to complete, whereas a 10-kilometer trip took 40 minutes to complete.
To affordably compensate their drivers, Grab will now assess the fares according to expected trip time and distance. This way, you will get paid for each minute you spend on the road. Just turn on "Auto Accept" and take on each ride.
Spontaneously receive a bigger cut
Grab provides 25% commission after leaving 75% of each ride. You can increase your cut to 80% from each ride just by turning on the auto-accept feature.
Auto-accept makes it faster and easier for you to get the next rider ahead of your rivals. It indicates you get to earn more and more.
Get a Time Increaser
Grab is not only changing their past fare per km to a fare per minute, they have also launched a Time Booster Bonus. Grab drivers can get an assured fare per min in peak hours.
When the trip charge does not match this assurance, you will get a time booster bonus for this difference. The grab top-up would appear as a time booster bonus on your job card. Now even the worst traffic jam will not bother you.
Get Paid to Refer Friends
Grab has a driver referral program. All you need to do is invite your friends to join the Grab Driver program and get compensated up to RM 100 for each referral.
Furthermore, you will receive an additional RM 500 bonus, similar to when you refer three friends each month and are paid RM 500.
Embrace Cancellations
Several drivers are getting afraid to pick up the ride from further away as passengers may cancel the ride, which wastes their fuel, time, and effort.
There is no need to worry, as Grab will pay you whenever your rider cancels the trip. So let them cancel, because you get paid anyway.
Get Paid Without Driving an Extra Mile
You can get Grab to compensate you up to RM 350 per month without driving an extra mile. Just let them advertise on your car and accept their in-car branding projects.
Get Your Monthly Gasoline Rebate
You can get up to RM22 in petrol rebates each month by becoming a member of GrabAllStars (GAS) and joining the Grab Mesra Fuel Savers Program.
Save money on car maintenance and repairs
This GAS program also provides a discount of up to 40% on car services and repairs. You can earn more money by lowering your car maintenance costs.
Save Money On Engine Oil Changes
Another benefit of becoming a member of the GAS program is that you get a discount on the engine oil changes they provide.
Discounted commission
Several useful perks come with gig and incentive payments. Drivers are permitted to pay a discounted 20% commission when they turn on auto-accept. a feature where the next rider request is spontaneously accepted.
How much does a Grab Taxi cost?
Due to factors like job unpredictability, the benefits of work speed, and the hourly cost of each expert, it is difficult to evaluate the cost of mobile applications at static uniform rates. The price tag of building a taxi-hailing app like Grab will be influenced by the following factors:
Native app advancement on Android and IOS
Design
Quality Confirmation
Backend Development
Project management
Web development
Let's talk about the cost estimation based on the required time:
The respective times for the driver and passenger apps for Android and iOS are 148 and 196 hours, respectively.
Rider App (iOS): 196 hours
Admin Board: 440 hours
Experts demand hourly prices of $20 – $150. Costs for developing an app for iOS average around $30,000. Some Android average is $35,000. The total cost of the project's two phases is $65,000.
In a Nutshell…
Developing an app like Grab Taxi is not an easy task, so you can make it with the support of an app developer. The key thing that you need to focus on is finding a feasible mobile app development company within your budget.
To check out more information regarding developing an app like Grab Taxi, contact our  talented team at eBizneeds.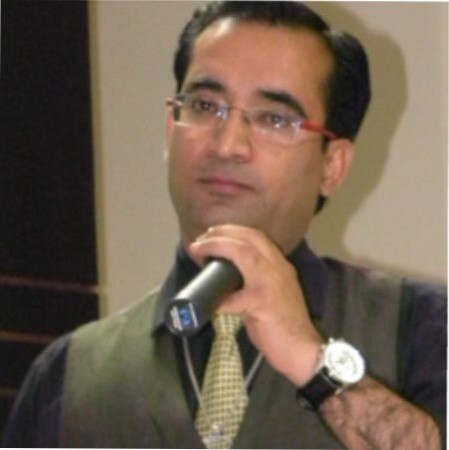 Naveen Khanna is the CEO of eBizneeds, a company renowned for its bespoke web and mobile app development. By delivering high-end modern solutions all over the globe, Naveen takes pleasure in sharing his rich experiences and views on emerging technological trends. He has worked in many domains, from education, entertainment, banking, manufacturing, healthcare, and real estate, sharing rich experience in delivering innovative solutions.