Last updated on October 27th, 2023 at 01:12 pm
Businesses need to find a way to make their revenue in order to survive, and every business is different. There are many ways that you can start a business, and one of the best ways you can do so is to start a taxi booking business. It is one of the high revenue-generating businesses.
Taxi booking app development might seem like an intimidating task. Still, it can be done if you have the right guidance and assistance.
This article describes the top-10 taxi booking apps in the USA that you can refer to for the question of how to create your own taxi booking app so that you can provide better services to your clients or even use it to launch your own business.
Before we jump onto the list of the 10-best taxi booking apps in the USA, it would be best to know about these –
What is Taxi Booking App Development?
The taxi booking app is an example of a mobile application that is used for the purpose of booking taxis. Mobile apps are being developed in different shapes and sizes to cater to the needs of various industries.
For instance, there are taxi booking apps that have been developed specifically for the needs of businesses, and there are also apps that have been developed for personal use.

List of Top-10 Taxi Booking Apps In USA 2023
Taxi booking apps have become extremely popular recently. They offer great benefits to both the customer and the service provider, and more people are using them every day to book their taxi rides than ever before.
This article lists the 10 best taxi booking apps in USA 2023, allowing you to pick one that meets your specific needs and gives you the best possible experience on a daily basis. We have it here if you're looking for an app with great deals or some of the most advanced features.
Read on to find out which apps made our list!
#1. Uber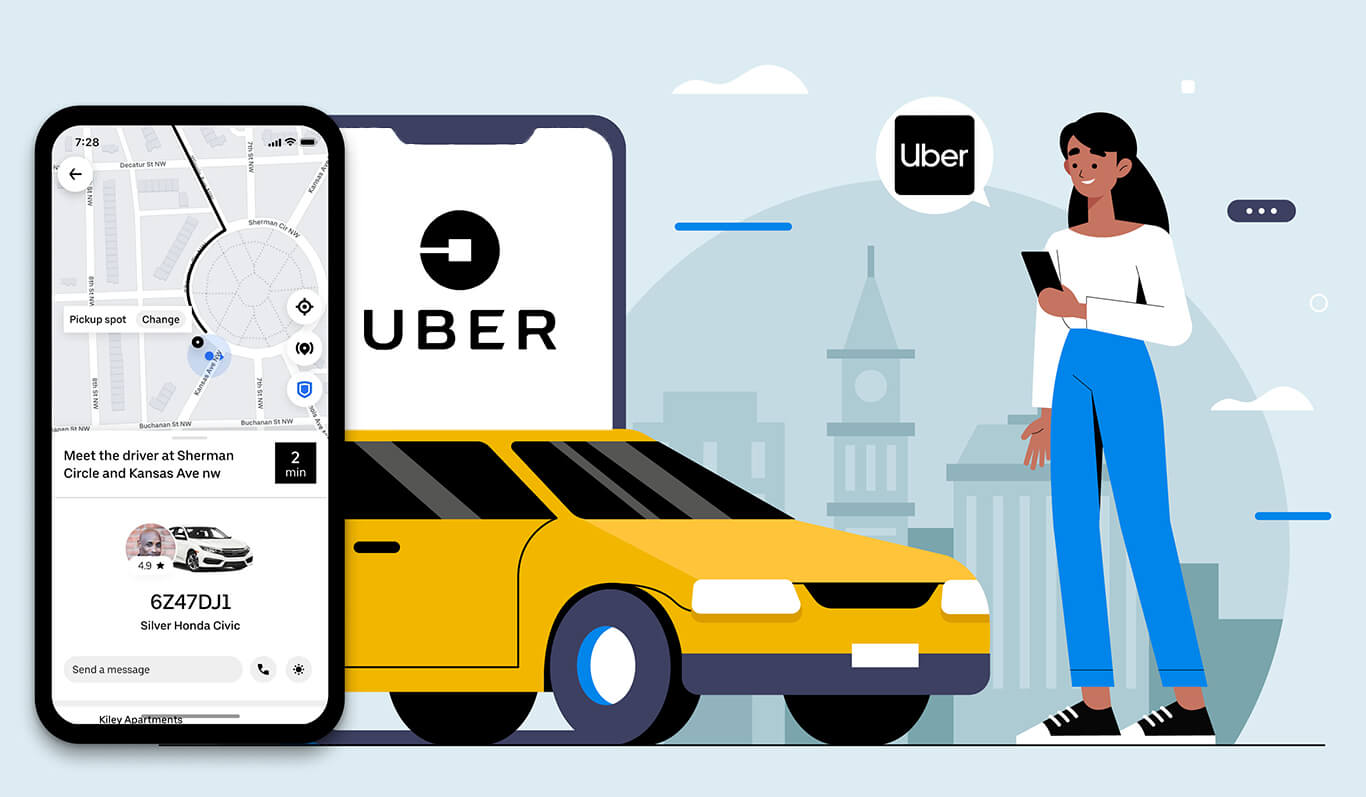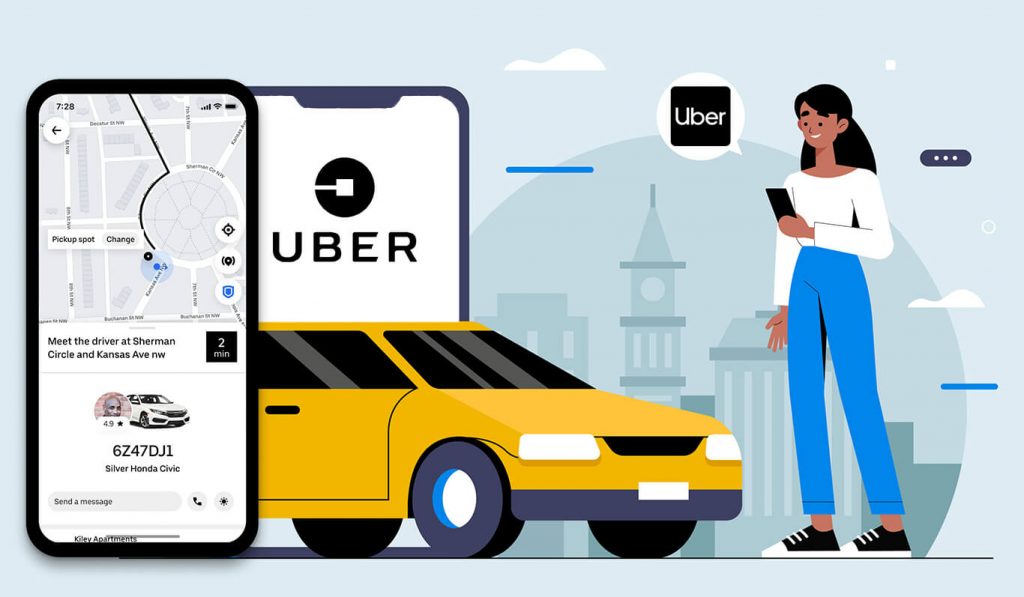 Source: Neetable
Uber is one of the most popular taxi booking apps in the USA. The company has been a pioneer in the space, and its app is used by millions of people every day. Uber has been able to scale its business by hiring dedicated developers and partnering with other companies.
However, it has faced challenges from smaller startups and big corporations. Nonetheless, Uber remains a strong player in the taxi booking app space and is expected to continue growing in the coming years.
Download from Google Play store and App Store
#2. Lyft
If your quest is to find out another fantastic or one of the best taxi booking apps in the USA other than Uber, then Lyft is your second choice. It is a USA-based ride-hailing app that provides services to customers or users from 640 cities, and it also has a presence in 9 cities in Canada.
Its owners are Logan Green and John Zimmer. Lyft's year of establishment was 2012, and it started with the objective of improving urban transportation.
Download from Google Play Store and App Store
#3. Wingz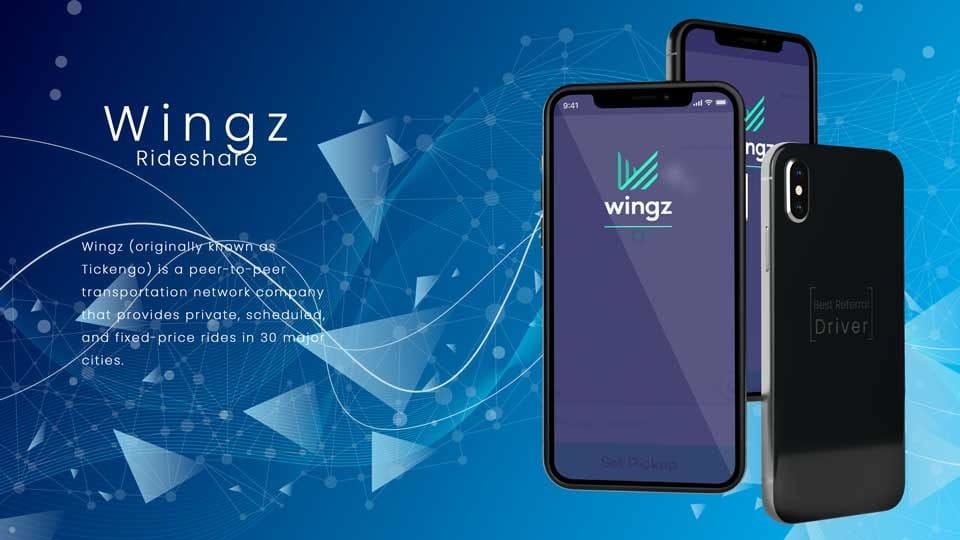 Source: bestreferraldriver
When it comes to referring to the top-10 taxi booking apps, you do not want to miss the Wingz app, which is a San Francisco-based ride-hailing app. It is a fantastic option for all types of users, from high-class professionals to common family man.
The Wingz app covers more than 16 metro areas and is also connected to 21 airports. The best part about it is the price does not change abruptly. The riders can choose the drivers for their upcoming rides.
Download from Google Play Store and App Store
#4. Curb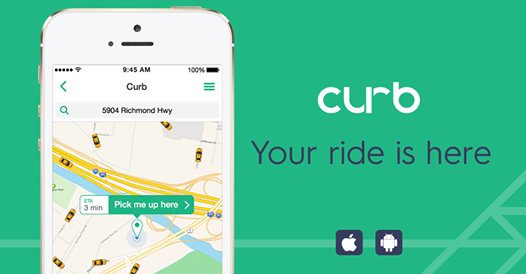 Curb is one of the most popular taxi booking apps in the USA. The app is available in over 150 cities across the country, and it's easy to see why it's so popular.
Curb offers a simple and convenient way to book a taxi, and it's one of the few apps that doesn't require you to pre-book your ride. You can simply hail a taxi from the app when you need one.
Download from Google Play Store and App Store
#5. RideAustin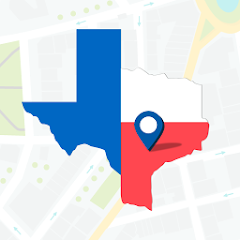 RideAustin is one of the best taxi booking apps in the USA. You can use it to find and book taxis in Austin, Texas. The app is easy to use and has a clean interface. Plus, it's affordable. Users are charged $1 per ride with a minimum fare of $4.
It also offers multiple payment options such as cash, credit card, or Apple Pay. For those who prefer dedicated mobile app development services, make sure you hire the right ones for your project needs.
Download from Google Play Store and App Store
#6. Gett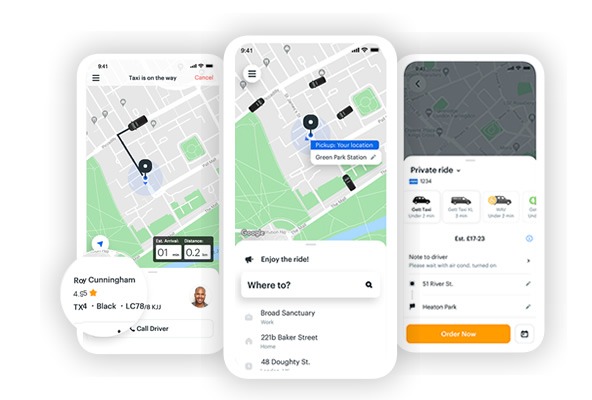 Gett is one of the most popular taxi booking apps out there, and for a good reason. With Gett, you can hire dedicated developers to help you create a custom solution for your business, which means you can tailor the app to your specific needs.
Gett offers a wide range of features, including fare estimation, GPS tracking, and more.
Download from Google Play Store and App store
#7. Strip
The Strip is a top-rated taxi booking app that operates in the United States. With Strip, you can book a taxi in advance or on-demand and pay using your credit or debit card.
The app also offers fare estimation, so you can know how much your ride will cost before you book it. You can also see driver ratings so that you can choose the best one for your needs.
#8. Hailo
If you're looking for a taxi booking app that's available in major cities across the United States, Hailo is a great option. With Hailo, you can request a taxi with just a few taps on your smartphone.
Plus, you can pay your fare using the app, so there's no need to fumble around for cash. The only downside? You'll have to provide your personal information before requesting a car. This could be the perfect solution for people who live in areas where taxis are hard to come by.
Download from Google Play Store and App Store
#9. Via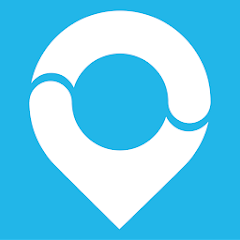 If it's okay that you do not want to book a ride alone and do not have issues sharing the ride with others, then Via- a taxi booking app, is the most suitable option for you.
Instead of a customized static route, it works on pre-set static routes and drops the passengers accordingly at dropping points. Its services remain available 24/7 and cover almost all major cities in the USA, such as Chicago, New York, Los Angeles, California, Salt Lake City, Utah, Birmingham, Washington, D.C, and more.
Download from Google Play Store and App Store
#10. Easy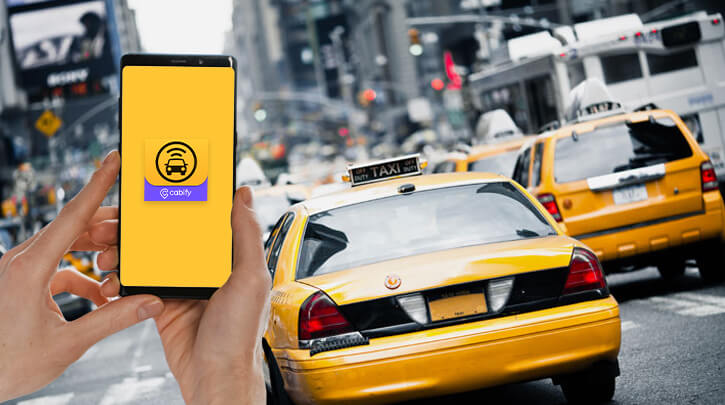 As its name suggests, it is such an easy task to use the Easy taxi booking app. The app has a simple interface and modern features such as accurate estimation, an improved GPS algorithm, on-demand ride-hailing, and more.
It has its presence in multiple cities in the USA. From an overall stats point of view, globally, 20 million users use it from 420 cities in 30 countries. In terms of overall user experience point of view, it is such a fantastic app.
Download from Google Play Store and App Store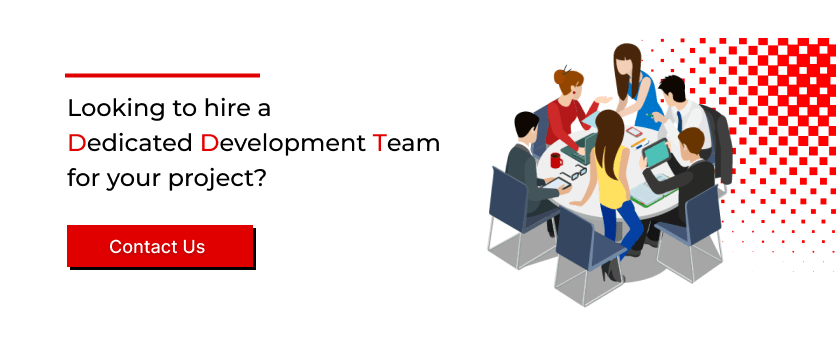 Things You Need To Know Before Starting To Develop Taxi Booking App
Although there are multiple types of vehicles available that you can own, there is still a need for taxi booking apps that help in catering everyday commuting needs. Millions of commuters used to book taxis due to multiple advantages.
One of the biggest advantages is that you need to take care of parking, traffic hurdles, or the route. The taxi driver will handle it. You only need to book from point A to reach point B.
The point is that there are still multiple taxi booking apps in the market, but if you launch a unique app, you can grow greatly.
So, here are things that you need to know before you start to develop a taxi booking app.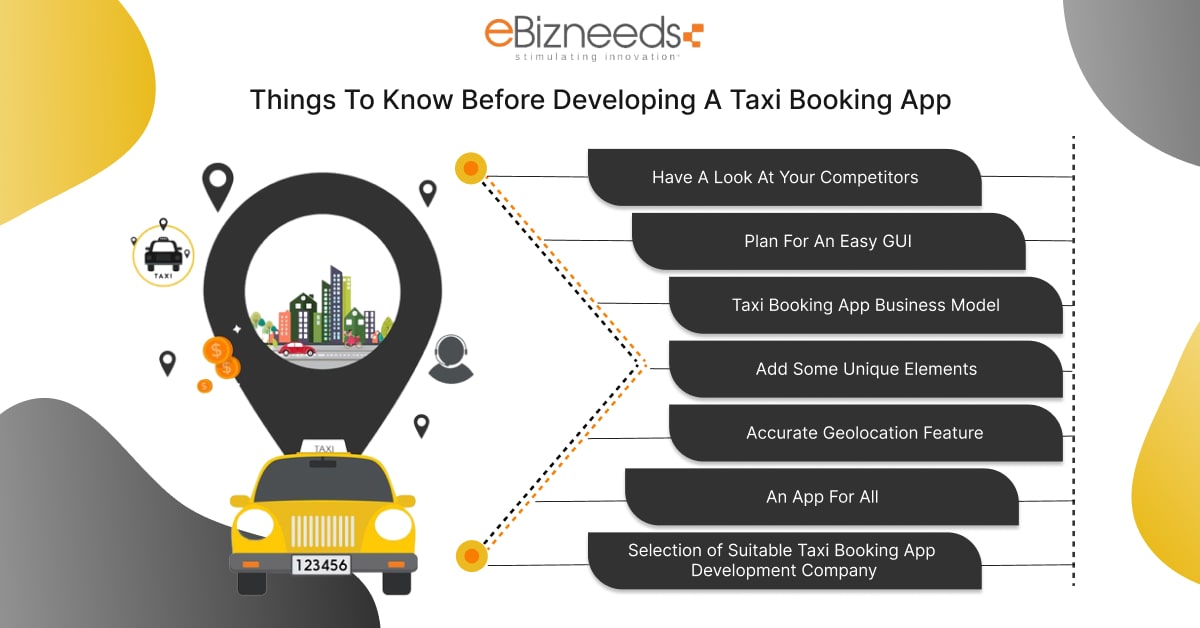 #1. Have A Look At Your Competitors
It is one of the most required things that you need to consider first if you are looking to go through developing a taxi mobile app development. Here you need to do extensive research with whom you are going to compete, what kind of features and functionalities their app offers, how many users are using it, and others.
One of the unique ideas to enquire about the competitors is that you can also do a survey among the customers to find out what they actually need.
#2. Plan For An Easy GUI
An end customer interacts with only GUI; they do not want to know about what technology you have used for developing the taxi booking app. On the other side, most of the customers leave the app if they find a confusing or complex GUI.
So, it is recommended that if you want to excel in your taxi booking business via app, then it would be better to plan and implement an easy GUI so users will enjoy it while using the app.
#3. Taxi Booking App Business Model
Usually, there are two business models. One is dedicated, and another is an Uber-like taxi booking app model or Aggregator model. The dedicated model works when you have your own fleet of vehicles.
Going through this model, you have to manage all the resources like managing drivers, vehicles, and bookings. It is a suitable option for dedicated business. But, if you want to start your business without having a fleet and drivers, then the aggregator model is the best, where you only need to manage the bookings and schedule.
#4. Add Some Unique Elements
There are several apps in the market, and they already have a separate fanbase that indicates tough competition in the market. The only thing that can save you from it is including some unique functionalities and features that others are failing.
It will not only assist you in serving existing customers, but it will also assist you in on-boarding new customers.The indirect brand promotion is also an additional advantage.
#5. Accurate Geolocation Feature
The taxi booking app works on the basis of geolocation that works for tagging source and destination. For accurate location, the GPS functionality of the app must work fine. Not only for the customers, it is also required for the drivers to navigate the dropping point. If GPS location works fine with the app, it will make vehicle tracking easy.
#6. An App For All
While creating the taxi booking app, it would be best to develop it with the mentality that it must be for all. In simpler terms, you need to design and develop the app so it can work fine for all stakeholders, which are customers, drivers, and stakeholders.
#7. Selection of Suitable Taxi Booking App Development Company
Developing a taxi booking app is daunting, and that can't be possible without experts' help. So, the best idea is to take care while choosing a taxi booking app development company that can help you to build your car booking app based on your requirements.

The Conclusion
Over the past few years, taxi booking apps have grown in popularity significantly and have become an important part of our lives and our daily routines. These services have helped travelers across the country.
The world connects with drivers on-demand and gets to their destinations safely. With so many apps available, it can be hard to decide which ones are truly worth your time and which ones are lacking in some way or another.
So we put together this list of the best taxi booking apps in the USA. You can refer to this blog as one of the references to develop a taxi business-related mobile app for your business.
Download Our Guide in PDF Here
Faqs
Q1. What are the benefits of using taxi booking apps?
Using taxi booking apps provides convenience, easy accessibility, real-time tracking of rides, and cashless payment options.
Q2. Can I book a taxi in advance using these apps?
Yes, most of the taxi booking apps offer the option to book a ride in advance, allowing users to plan their trips accordingly.
Q3. Are these taxi booking apps available for both iOS and Android users?
Yes, all of the taxi booking apps on our list are available for both iOS and Android users.
Q4. How do I ensure the safety of my ride while using these apps?
These apps have implemented safety features such as real-time ride tracking, driver background checks, and user ratings and reviews to ensure the safety of riders.
Q5. Do these taxi booking apps offer customer support?
Yes, these apps provide customer support through in-app chat, email, and phone support to help users with any issues or concerns they may have.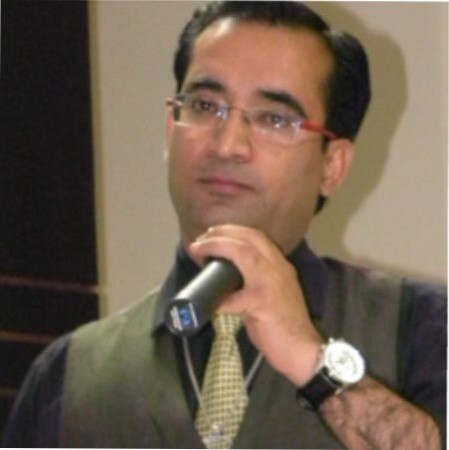 Naveen Khanna is the CEO of eBizneeds, a company renowned for its bespoke web and mobile app development. By delivering high-end modern solutions all over the globe, Naveen takes pleasure in sharing his rich experiences and views on emerging technological trends. He has worked in many domains, from education, entertainment, banking, manufacturing, healthcare, and real estate, sharing rich experience in delivering innovative solutions.