Fintech apps have revolutionized how people communicate with their finances and have become a significant part of our lives. With the increasing mobile technology, building a fintech app has become more accessible than ever.
Fintech apps have made it easier for individuals to manage their finances, make payments and invest. But, developing an effective fintech app needs a lot of planning, market research, and implementation.
Currently, many fintech startups have emerged that provide innovative solutions to meet the needs of modern consumers. Building a fintech app can be daunting, but using the feasible approach can be a rewarding experience.
In the blog, we will discuss how to build a fintech app that is secure, scalable, and user-friendly.
What is Fintech App?
A fintech is a mobile app offering innovative financial services or products. Fintech apps can be used for different purposes, such as investing, mobile banking, budgeting, payment, and money transfer.
It often leverages advanced tech like Ai and Ml, blockchain, and to offer a personalized user experience and services that traditional financial institutions may be unable to serve. For instance, some fintech apps use AI algorithms to assess user spending patterns and offer customized budgeting solutions.
Fintech apps have become increasingly popular as consumers have become highly comfortable using their smartphones for making financial transactions. Several fintech apps provide services with lower fees compared to traditional financial institutions. It makes them an attractive option for people looking to manage their finances more significantly.
Fintech apps are transforming financial services by making them highly affordable, accessible, and convenient for users. It also delivers cutting-edge products and services unavailable in the traditional financial institution.
Market Statistics of Fintech Apps
Let's go through some of the figures in details:-
In 2023, digital finance would be the biggest market, with a total transaction value of US$51.04bn.
The average transaction value per person in the digital trading market is expected to be $916.70 in 2023.
It is expected that the digital asset market will bring in 34.5% more money in 2024.
The digital payment market is expected to have 320.20 million users in 2027.
In 2023, the digital investment market is projected to have a total transaction value of US$51.04bn.
Top Fintech App Development Trends in 2023
Estimating the top fintech app development trends will be in 2023 is complex. However, based on the latest development in the industry, let's discuss some key trends that are expected to continue the shape of fintech app development.
Artificial Intelligence
AI in fintech app development can be used for different purposes, such as customized financial advice, fraud detection, and chatbots for customer services. Consequently, customers and businesses can benefit from effective security management, declining operating costs, bespoke banking experience, and automated procedures.
Blockchain
It is a significant way to let companies and individuals securely assess and transfer digital assets in a decentralized manner. It makes the cornerstone of smart contracts, cryptocurrency, online financial transactions, and everything associated with modern fintech apps.
Robotic Process Automation
RPA is tech that uses software robots to automate repetitive tasks. In fintech app development, RPA can be applied for automating the tasks like data entry, regulatory compliance, and account reconciliation.
Biometric Authentication
Biometric authentication considers facial recognition and fingerprint scanning as it is becoming recognized nowadays in fintech app development. It helps to enhance security and also improve the user experience.
Neobanking Applications
Online banks without physical branches are among the growing financial trends. This bank offers more streamlined and cost-effective solutions than traditional banks, such as instant payment, virtual banking cards, budgeting tools, online account opening, etc.
Microservices
It is a software development approach that breakdown complex tasks into smaller and independent components. This approach can make it simpler for developing and maintaining the fintech apps and can also make them highly customizable and scalable.
Voice Command Integration
It provides convenient and hands-free ways to conduct financial transactions and access financial data. Using Alexa, chatbots, and voice assistants, users are keen on voice assistant services.
Mobile Banking and P2P Loans
Mobile banking and P2P loans are key trends in fintech app development. Mobile banking enables users to manage their finances on the go, whereas P2P loans provide an alternative to traditional banks to borrow and land the money.
Types of Fintech Apps
The goal of fintech apps is to give users access to a wider range of financial services and methods that are easier to use, more handy, and less expensive than those offered by standard financial institutions. The fintech industry is always changing, with new technologies and apps coming out to meet the needs of customers and companies as they change.
These are some popular types of apps that use fintech. Let's talk in depth about each type of fintech app.
Banking Apps
These apps let users do things like check their account balance, pay fees, send money to other accounts, and deposit checks. Some banking apps have things like planning tools, financial advice, and ways to put money.
Leading Apps
Most of the time, it's easier and faster to get a loan through one of the top apps than through a standard bank. It also includes websites and apps for peer-to-peer funding, microfinance, and cash loans.
Payment Processing Apps
These apps make it possible for businesses to accept payments online or through credit cards. Most of the time, these apps have tools for product management, customer relationship management, and billing.
Insurance Apps
With these apps, people can buy and manage insurance plans. Home insurance, car insurance, and health insurance are all examples. Some insurance apps have tools for comparing policies and taking care of claims.
Personal Finance Management Apps
Users can manage their money, keep track of their spending, and make a schedule with these apps. They offer tools like keeping track of investments, making financial plans, and keeping an eye on your credit score.
Cryptocurrency Apps
Cryptocurrency lets users buy, sell, and keep cryptocurrencies like Ethereum, Bitcoin, and Litecoin. Robo-advisor apps: You can use a program to offer automatic financial ideas and account management services. Robo-advisor apps may give the user personalized financial advice based on their risk tolerance, investment goals, and other factors.
Crowdfunding App
This app helps people raise money for different projects or causes. It is often run with money from gifts or rewards. Some of these apps may focus on social cases, creative projects, or business ventures.
Reasons to Develop A Fintech App
Fintech is a big part of how the banking field is changing. Fintech apps offer new benefits and solve different problems in the financial business that people face today:
Reach and Presence in a Larger Market
Fintech apps have the ability to reach a larger and more diverse audience, especially those who prefer to do financial activities online. It can help companies get more customers and raise the profile of their brands.
Superior Customer Experience
Customers have a better experience with fintech apps because they are easy to use and don't get in the way. This makes it easier for customers to manage their finances and use financial services. It can make customers more loyal and happy.
Security
This app has advanced security features like encryption, digital identification, and scam detection to protect private financial data and make sales and interaction more likely. It can help lower the chance of theft and build customer trust.
Data Management
It can handle and analyze more financial data effectively, which companies and users can use to gain insights. It can help businesses make better choices and improve the financial goods and services they offer.
Better Financial Inclusion
Fintech apps can give companies and customers who didn't have access to financial services before, like those in rural or neglected areas, access to those services. It can help bring more people into the banking system and reduce economic inequality.
Lightning Speed
This app can handle financial deals at lightning speed. Customers can get their money right away, and regular ways of doing business take longer and cost more.
User-friendly programs are made with the user in mind, so they are easy to use and explore. With this financial app, you can make your customers happier and have to help them less.

How Do Fintech Apps Make Money?
There are many different ways for fintech apps to make money. These models can be chosen based on the type of app and the group it is meant for. Some of the most important ones are:
Subscription Model
Users of fintech apps can pay a monthly or annual fee to get access to their best features or services.
Freemium Model
You can give people free access to basic parts of your product or service, but you can charge for more advanced parts.
Transaction Fees
It can charge users fees for every transaction they make through the app, such as a flat fee or a portion of the amount of the transaction.
Advertising
You can show the users focused ads, which can help the financial app make money.
Referral program
It can give users an incentive to tell their friends and family about the app. You can also give the fee and prizes to each new user who signs up.
Data Monetization
Collect and look at the user's information, such as how much money they spend and their financial past. It also sells this information to other companies in order to make money.
It's good to know that some financial apps can make money with these models. For example, a financial app may offer their most important service for free. Still, it could charge monthly fees for extra services and make money through a transaction fee or ads.
Examples of Top Fintech Apps to Develop
Fintech apps make it easier for people to manage their money and make financial services more available and cheap. The best app for you will depend on what you want and need in terms of money. Before choosing one, it is important to compare and study the different choices.
Here's more information about each of the financial technology apps I talked about:
MoneyLion
It is a personal banking app that offers a wide range of goods and services. The main benefits of the app are savings accounts, free bank accounts, investment accounts, and keeping an eye on your credit.
MoneyLion gives its users rewards and other benefits to help them save money and improve their credit scores. It also makes it easy for people to join programs that give them access to more features and perks.
Robinhood
Robinhood is also a well-known stock trading app that lets users buy and sell stocks, cryptocurrencies, and exchange-traded funds (ETFs) without paying transaction fees. This financial app is known for its easy-to-use interface and low entry barriers, which make it a good choice for people who are just starting out as investors. The Robinhood app also has paid subscriptions that give you access to more tools and study methods.
Chime
It is also a best mobile banking app that lets you save money, check your balance without paying a fee, get your direct payment early, and get cash back on purchases through a rewards program. Chime app also has important features like planning tools, daily amount alerts, and a program that saves money for you automatically. It is proud of the fact that its services are easy to use and don't cost as much as standard banks.
Nubank
Nubank is a Brazilian fintech company that offers a wider range of goods and services, such as personal loans. Accounts for saving money and credit cards. The main offering of the company is a credit card that doesn't charge a yearly fee and gives cashback benefits. It is known for its good customer service and easy-to-use app, and it has also expanded to other countries in Latin America.
Mint
Mint is an app for managing your personal finances that lets you make a budget, keep track of your spending, and check your credit score. This app may instantly put transactions into categories and give tips and insights based on how the user spends money. It gives ideas for how to spend your money and tells you to pay your bills and fees.
Revolut
Revolut is also a best mobile banking and finance app that lets you check your amount and do simple activities. This app also takes into account advanced features like virtual bank cards, monthly reports, insurance coverage, instant alerts, and planning tools. Revolut has advanced features and perks, such as Metal and Premium, which are paid services.
Coinbase
It is another site for exchanging cryptocurrencies like Bitcoin, Litecoin, and Ethereum. Users can buy, sell, and keep coins on this platform. This banking app is known for its well-designed UI/UX and strong security features. Coinbase also offers training resources and investing tools for people who want to invest in cryptocurrencies.
Key Features of Fintech App
When you want to create a fintech app, one critical concern is how well it will be received. You must ensure your app considers the following must-have features before releasing.
Let's check out these:-
Advanced Login/Sign-In
Users of a fintech app must log in or sign in to their account. Face identification and fingerprints are two examples of biometrics that can be used to improve security and the user experience.
Security
Fintech apps deal with sensitive financial information, so they need better security features like multi-factor login, scam detection, and encryption.
Account Management
It lets users take care of their accounts, like looking at their transaction records, seeing how much money they have in their accounts, and changing their account information.
Integration of Payments
Connect your financial apps to the payment systems so that users can move money, make payments, and change their account information.
Push Notification
Send push notifications to users to let them know about important things like low account amounts or deals that went well.
Transaction History
It gives users a full record of all their transactions so they can see and keep track of their money.
Machine Learning
Algorithms that use machine learning can look at how you act and give you specific financial advice.
Chatbots
Customers have found that chatbots are the best way to get a quick answer at any time. It can answer questions from users, help customers, and give them personalized banking solutions. It also helps cut costs and makes things better for users.
Dashboards
It might think about a display that lets users see an outline of their finances, such as their buying habits, the results of their investments, and their account balance.
Voice Integration
Add a voice helper to your financial app so that users can use voice prompts to make deals or handle their accounts.
Personalization
It can make financial suggestions based on what the user likes and how they act. So, it helps the person who uses it reach their cash goals.
In the next section, let's delve deeper into how to build a fintech app.
Steps to Develop A Fintech App
The fintech app development needs a set of designing skills, technical expertise, and also business acumen. Having explicit knowledge about the fintech app development procedure that a business should meticulously consider is significant. It helps to create a fintech app and to garner its results.
Let's explore how to make a fintech app in detail.
Requirement Gathering
In this step, knowing the business requirements and target audience for the fintech app is significant. You must also address the app's key features and prioritize them according to their significance. Researching the competition and handling the market gaps and opportunities is also a good idea.
App Designing
The next stage involves creating a wireframe and prototyping the app. A wireframe is a simple visual representation of the app's functionality and layouts. On the other side, prototyping is a working model of the app. It is significant to develop a user-friendly and visually appealing design for the app. And also acquire the branding and visual distinctiveness of the application.
Developing An MVP
You will require the application's minimum viable product (MVP) at this step. The MVP must consider only the significant features of the application and be functional and user-friendly. It permits you to launch the app promptly and get user feedback before investing in the added features. Hire an app development company, as it will aid in developing an MVP with compelling features.
Testing
Once developing an MVP, you must thoroughly conduct the test. This test includes functional testing, usability testing, and also performance testing. You must also complete the security vulnerability test and ensure it complies with feasible laws and regulations.
Deployment
After the testing, the app is ready to deploy on different app stores or the web. It must create an app store or hosting provider account and submit the app for review. Creating a promotional and marketing plan to reach the target audience would be best.
Support and Maintenance
The app finally offers ongoing support and maintenance after deploying the app. It considers adding new features, fixing bugs and glitches, and updating the app to ensure it is compatible with new devices and operating systems. It is significant to collect and use user feedback to enhance the application over time.

Cost to Build A Fintech App
What is the cost to build fintech app? Let's review the cost to develop fintech app based on its size to know it.
Small Project: Building a fintech app on a single platform requires between $30,000 and $50,000 as it requires basic capabilities and an intuitive layout.
Medium Project: A more complicated system with advanced features and the latest tech can cost you between $50,000 and $85,000.
Enterprise-based Project: A highly complicated fintech app development with a greater dimension will cost you about $85,000 or more.
Factors Affecting the Cost to Build A Fintech App
Be aware of different factors affecting the cost to build fintech app. Let's look at these factors in detail.
Fintech App Development Type and Complexities
The kind of fintech app you are developing and its complexity will affect the development cost. For instance, a mobile banking app can be highly complex compared to budgeting apps, which may influence development time and cost.
Fintech Design Requirement
The design requirement of fintech apps, like complexity and level of customization, will also affect the cost. A highly complex design will need more development resources and time.
Location of the App Development Company
It may influence the cost to develop fintech app. Companies based on higher labour costs may charge more service charges than those with lower labour costs in the location.
Tech Stack
The tech stack used for developing an app can also affect the cost. Higher advanced apps may need more resources and development time, increasing the cost.
The Expertise of the App Developers
The expertise of the app developer can affect the cost. Hiring best fintech app developers will need more resources and increase the price.
Number of Designers and Developers You Hire
This factor will also affect the cost to build fintech app. Hiring more designers and developers needs more resources and also increases the cost.
MVP Development
Developing a minimum viable product (MVP) can reduce fintech apps' development costs. An MVP may consider the app's significant features and can be used to test the market and invest in the added features.
App Testing
Testing the app thoroughly is significant to ensure it is functional, secure, and user-friendly. It can increase the cost to build fintech app.
App Support and Maintenance
Offering ongoing support and care for the app is significant for its success. It can lead to generating higher fintech app development costs.
The cost to develop fintech app can vary and highly relies on the above and other factors. It is significant to consult with a reputable fintech app development company as it clearly understands the project requirements and budget before starting the development.
Tech Stack Used To Develop A FinTech Apps
Fintech apps have recently increased as they provide financial management and transaction solutions. It uses a specific tech stack or programming languages and tools to deliver the services effectively.
Let's explore different tech stacks that best fintech app developers use to develop user-friendly and robust apps.
| | | |
| --- | --- | --- |
| Category | Tech Stack For Android FinTech Apps | Tech Stack For iOS FinTech Apps |
| Databases | PostgreSQL, MySQL, Cassandra, and MongoDB | PostgreSQL, MySQL, Cassandra, and MongoDB |
| Programming languages | Kotlin and Java | Objective-C and Swift |
| Payment gateways | Stripe, Braintree, and PayPal | Stripe, Braintree, and PayPal |
| Cloud platforms | Microsoft Azure, Google Cloud Platform, and Amazon Web Services (AWS) | Microsoft Azure, Google Cloud Platform, and Amazon Web Services (AWS) |
| Integrated Development Environment (IDE) | Eclipse, Android Studio | Xcode |
Conclusion
Building a fintech app can be a challenging task, but in the right way, it can be a sound experience. By using the above-discussed steps outlined in this guide, you can build a fintech app that meets the needs of your users.
It also ensures to create a scalable and secure fintech app. Remember to emphasize user experience throughout the development procedure, as it will aid you in building a successful fintech app.
FAQs
What is a fintech mobile app?
Fintech mobile applications can provide many financial services such as investment, lending, insurance, payment, etc. Building such fintech apps can utilize the capabilities of mobile systems to offer a convenient and seamless user experience. It also lets users manage accounts, check accounts and balances, and make payments.
What are the essential features of a fintech app?
A fintech app must-have features that permit the users to conduct financial communications or handle their finances. Certain essential features of fintech apps are money transfers, bill payments, account management, budgeting tools, and investment tracking. The app must have robust security features to protect transactions and user data.
What are the technologies considered to create a fintech app?
The technologies used to create a fintech app will rely on specific features and functionalities. Some familiar techs used in fintech app development consider the APIs (application programming interfaces), artificial intelligence, blockchain, machine learning, cloud computing, and mobile app development frameworks such as Flutter, Swift, and React Native.
How much cost do I require to build a fintech app?
The cost to build fintech app can differ as it relies on the app's complexities, development resources, and several features. A simple fintech app with basic features requires $30,000 and $50,000, while the advanced features cost $85,000 or more.
How long does it take to create a fintech app?
The timeline to build a fintech app can widely rely on the app's complexity and development resources. A simple fintech app with basic features can be developed in a few months, whereas a complex fintech app with advanced features can take a year or more to create a fintech app.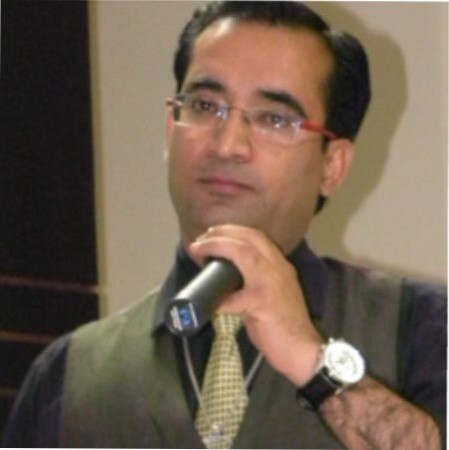 Naveen Khanna is the CEO of eBizneeds, a company renowned for its bespoke web and mobile app development. By delivering high-end modern solutions all over the globe, Naveen takes pleasure in sharing his rich experiences and views on emerging technological trends. He has worked in many domains, from education, entertainment, banking, manufacturing, healthcare, and real estate, sharing rich experience in delivering innovative solutions.