Last updated on September 8th, 2023 at 11:28 am
Curious about creating a FinTech app? Wondering about the costs involved? You're in the right place! In this comprehensive guide, we'll break down the fintech app development cost, giving you a clear understanding of what to expect.
Whether you're a startup or an established financial institution, knowing the expenses involved in bringing your fintech app idea to life is crucial. We'll explore all the factors that influence costs, from features and technology to hiring developers and ongoing maintenance.
By the end, you'll have a solid grasp of the financial landscape for your fintech app project. Let's get started!
What is Fintech App?
A FinTech app, short for Financial Technology app, is a software application designed to provide financial services and solutions through technology. These apps leverage cutting-edge technology to offer a wide range of financial services, including banking, investing, budgeting, payment processing, and more.
FinTech apps are often used by individuals, businesses, and financial institutions to streamline financial processes, improve efficiency, reduce costs, and enhance the overall user experience. They can offer services such as mobile banking, peer-to-peer lending, robo-advisors, digital wallets, and cryptocurrency trading, among others.
The goal of FinTech apps is to make financial services more accessible, convenient, and efficient, ultimately transforming the way people manage their finances and interact with the financial industry.
Why Develop Fintech App?
Developing a FinTech app can be a strategic and lucrative endeavor for various reasons:
Financial Inclusion
FinTech apps can extend financial services to individuals and businesses that are underserved or excluded by traditional banking systems. This helps promote financial inclusion by giving more people access to banking, payments, and investment opportunities.
Convenience
FinTech apps provide users with convenient access to a wide range of financial services from the comfort of their smartphones or computers. This convenience can attract and retain customers.
Cost Savings
Automating financial processes through technology can significantly reduce operational costs for businesses. This can lead to cost savings, which can be passed on to customers or increase profitability.
Efficiency
FinTech apps streamline financial transactions and processes, reducing the time and effort required for tasks such as payments, investments, and money management.
Innovation
FinTech is a hotbed of innovation, constantly introducing new and improved financial products and services. Developing a FinTech app allows you to be at the forefront of these innovations and potentially disrupt traditional financial markets.
Personalization
FinTech apps often leverage data analytics and AI to offer personalized financial recommendations and insights to users, improving the customer experience.
Scalability
A well-designed FinTech app can scale rapidly as user adoption grows, making it an attractive option for startups and businesses looking to expand quickly.
Global Reach
FinTech apps can operate on a global scale, allowing businesses to tap into international markets and serve customers worldwide.
Competitive Advantage
In many industries, having a FinTech app can provide a competitive advantage. Customers increasingly expect digital and mobile solutions for financial services.
Diversification
For traditional financial institutions, developing FinTech apps can diversify their service offerings and appeal to a broader customer base.
Benefits of Fintech App Development
Fintech has transformed the financial world by shifting operations and transactions online. Fintech app development permits you to offer your customers the best possible online payment experience.
Following are some benefits of developing a Fintech app development:
Improved Security
Fintech apps use cutting-edge encryption tech that is more secure, safer, quicker, and highly convenient than traditional online banking services to offer better safety for companies and their clients.
Enhanced Customer Experience
The user experience is a significant element for any company in current times. Companies can provide customers with new ways to buy products or services while they are on the go by creating Fintech mobile apps.
Users can also conduct different tasks through their smartphones using fintech apps, like making payments, evaluating their account balances, and completing transactions. It improves client satisfaction when providing value to companies.
Greater Convenience
Users get a FinTech app that is highly convenient when performing transactions. Users do not need to wait days for a product to be offered to their door or visit your company's location.
They can obtain all the data they need on their mobile devices due to fintech apps. By providing the finest user experience and ease, brands or companies may move forward in the competition.
Market Reach
Fintech iOS app development enables companies to access a larger audience across different platforms as a mobile-first solution. It also includes tablets, smartphones, and another mobile systems.
Mobile apps are highly convenient for customers who want to keep updated on the current news regarding their interested companies.
Operational Efficiency
Improving operational effectiveness is a further benefit of fintech android app development. No matter what companies you run, developing an efficient team that can complete all account abilities on time could be challenging.
By integrating software with finance solutions, you can simplify your operations.
Fintech software solutions support companies to reduce costs when increasing efficiency. Low cost and excellent customer value may eventually grow the revenue numbers.
Features of Developing FinTech Applications
Let's talk about some important features which mobile banking apps must have in 2023 if financial services companies want to retain customers: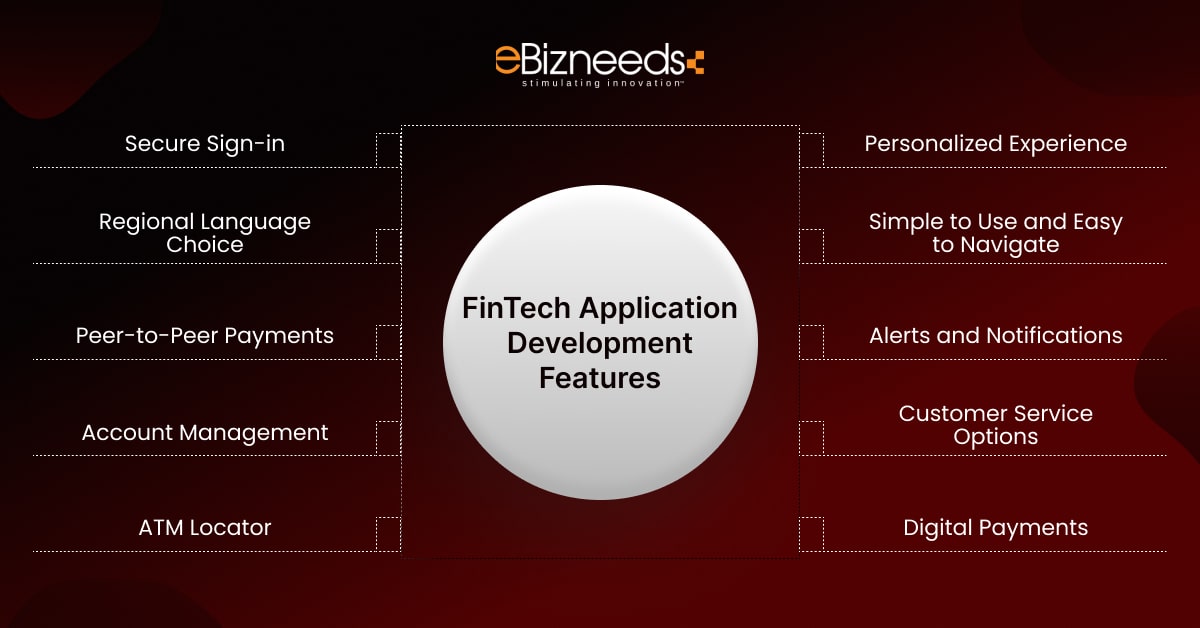 Personalized Experience
In current times, the significant element of a mobile app is the customized experience. This function could be supportive in influencing and retaining the youth customer demographics.
You can also add virtual assistants inside the app and personalized insights based on the user's cash flow or purchasing patterns. Such features aid you in influencing your audience's attention and have proven effective in current times.
The application's user interface is expected to be primarily simple and easy to use. Different apps give consumers a disorganized experience with a lack of navigational guidance, making them unrestrained.
The app should make navigating easier by considering an in-app search competency that permits consumers to implement a voice search or written demand. Along with this, intelligent shortcuts are primarily applied for app functionalities.
Alerts and Notifications
Alerts and notifications are important for staying in touch with clients and encouraging services that meet their requirements. Customers may get the warning annoyed when they are intrusive or frequent.
Users must be competent in choosing or developing what data they want to get, when, and how repeatedly. Customers will advantageous from these functions because they will not miss important alerts.
Moreover, the notification must have transparent calls to action with alternatives for making payments and managing all the bills.
Customer Service Options
The primary mobile banking apps offer better customer service and help via self-service, the phone, live chat, as well as other ways. Customers would be competent to contact the companies more quickly if they have any issues.
Whether the app provides a chatbot or other alternatives for consumers to communicate with customer care representatives, the application must make it visible how to get help if they get stuck.
Digital Payments
Another must-have feature is a digital payment that may be at the top of the list for most clients. Each mobile banking app must have prompt access to distinct digital payment choices, UPI, and mobile wallets for friction less transactions in this cashless time.
Customers can quickly pay their bills, develop regular payments, and handle their accounts. Even though users may neglect when they need to pay, it's going to be helpful to set up payment transactions that automatically take money from the user's historical experience.
Also, a fintech app with digital financing options lets users make purchases and check account information while they're on the click.
It also avoids the requirement to visit the bank to access their cash.
Secure Sign-in
Security is a significant element with increased data breaches, hackers, and cyber theft. Customers will want the assurance that their sensitive information is safe from risk.
In this case, safe sign-in options like fingerprint scanners, biometric data, codes, facial detection, and other technologies allow users to sign in. Users must be competent to have a safe mobile experience when mobile apps provide the greatest extent of security.
Regional Language Choice
As per the estimates, 72% of Indian consumers mentioned language as an obstacle to using digital apps and payments and inadequate security to access online resources.
As mobile banking extends to rural areas, it might be helpful to make an app that works in more than one language in order to let everyone use the technology platform.
If the app supports local languages, people from all over the world who don't speak English are going to be able to learn how to use UI. It could make more people want to download apps in broad sense.
For example, artificial intelligence may streamline localization services so that apps don't have to be translated by hand. Localized chatbots apply to improve their user interaction.
Peer-to-Peer Payments
Paper money is becoming less popular because of the pandemic, and less people are carrying cash. Peer-to-peer payments, also called P2P payments, let customers move money from one bank account to some other online or through a mobile app.
The mobile app implementation with P2P payment functionality assurances helps to deposit money securely and quickly, offering high convenience to consumers.
P2P payments via mobile banking apps are free of charge and more reliable and safer, contrasting third-party suppliers.
ATM Locator
Though it appears to have a simple function, the ATM finder is a powerful technique many consumer's demand. Moreover, it depicts customer care that can be created as highly entertaining with the purpose of virtual reality techs.
It can also inform the clients to conduct a fast search within the app instead of seeking anywhere. According to the information, when this component was used by a bank, 90% of customers upgraded their applications to take advantage of it, and about 25,000 new downloads occurred because of it.
You can attract new clients, keep one step ahead of the competition, and provide your consumers with an excellent experience by creating a well-designed mobile banking app with mentioned key characteristics.
Day one helps clients and lenders use the power of mobile technology by giving them easy-to-use features that put everything at their fingertips.
Account Management
To make the user experience distinct for each client, it is essential that you provide a personalized approach. So, financial institutions can give customers a page for managing their own accounts that they can change or personalize to their liking.
Users can check their account balance, see what they've spent or done, and send and receive small amounts of money. With this ability, users are able to utilize the platform without having to use the internet app.

A Step-by-Step Guide to FinTech App Development
The following steps and methods are used to make a mobile finance app:
Define Your App
It would help if you understood what your app is for and how it can help your customers. Your team should do a lot of market research to find out what people want, what stakeholders and users expect, how risky the technology is, and how much the app solution could make back in investments and profit.
Then, make the first version of your fintech app by using all the available data and analytics.
Create a Team or Hire A Technical Partner
Find the information you need to build your fintech app. You can hire people to be on your team, or you can choose to outsource. A fintech app development company will assist you in selecting the explicit technology stack, tools, and solutions for your project.
If you move forward with outsourcing, consider the company's portfolio and the expertise of its staff members, and review the earlier clients to make the correct decision for your fintech application development.
Choose the Technology Stack
You can build fintech app in some languages. You can hire mobile app developers that will help to choose the right one. Here, it's essential to know your customer base and which operating systems they use so you can make your app work better for them.
Develop a Sleek and User-friendly Design
The app should be simple to use and attract your customer base. Ensure that a dashboard has all the necessary features and that it's easy to find important information in the app.
Develop MVP
When making a fintech app, you need a minimum viable product (MVP) because it will help you run multiple tests before launching the app. Then, ask your customers to try it out and give you their honest opinion.
Your customers will be better at telling you where the app falls short. After a series of tests, their feedback will determine what else needs to add to your application.
Fintech App Development Cost – An Overview
Fintech app development cost is a critical consideration for businesses entering the digital finance space. Understanding the factors that influence expenses, from feature complexity to security measures, is essential.
In this overview, we break down the key elements impacting fintech app development costs, helping you navigate budgeting and planning effectively. Stay informed and make informed decisions as you embark on your journey to create a successful fintech app
Types of FinTech Applications With Their Cost
The fintech app development cost also differs according to the type of app you want to develop. Following are finTech app development cost that estimates the popular app types such as banking apps, insurance apps, lending apps, and personal finance apps.
| | |
| --- | --- |
| Types of Apps | Development Cost (Approx.) |
| Lending Apps | $50k and $15k |
| Insurance Apps | $45k and $200k |
| Investment Apps | $60k and $120k |
| Personal Finance Apps | $50k and $300k |
| Banking Apps | $30k and $300k |
Lending Apps
The P2P lending sector is overgrowing at present. Companies are shaping alliances to permit customers to apply for loans through digital platforms. Despite the significant risk, it links to the lending process.
This industry uses tech to provide customers with a financial solution via prompt and more exact procedures. A smart system that authenticates and verifies the credentials to use machine learning and artificial intelligence to develop error-free outcomes.
Estimating the income, analysing the borrower's history, evaluating the collateral value, and assessing the changes while the tech stack is used in loan processes are easy. Hence, a FinTech Loan app development costs are between $50K and $150K.
Insurance Apps
Insurance-related FinTech businesses are presently making efforts to digitize their current fintech app development services. FinTech can offer more affordable coverage policies through apps at a variable rate.
An insurance carrier can develop an app for agents and clients.
The end-user can access the policies across different lines with an already-downloaded insurance app. It makes communication more straightforward and quicker.
It gives the user quicker claims processing, resulting in immediate deal closure. The expected cost to build an insurance FinTech app comes between $45k to $200k.
Investment Apps
This app facilitates an opportunity to use for investing in different fintech app development services. Different businesses, such as mutual funds, can have this kind of investment software for their target users.
Trading apps and cryptocurrency exchanges are other instances of such investing solutions. The cost to build an investment FinTech app comes between $60k to $120k.
Moreover, other FinTech app classes, such as e-portals, digital wallets, and more also growing. Apps for one-stop purchasing, such as Amazon pay, are becoming highly common.
It is significant to comprehend that getting these applications created can increase your whole budget, focusing on the execution of features such as real-time credit score tracking, data analytics, and EMI calculators.
Personal Finance Apps
Customers can handle their finances seamlessly due to personal finance applications. Individuals who keep track of their outlays and earnings develop a budget and ensure they stick to it.
These apps act as individual journals to keep track of all financial transactions. The estimated cost to build personal FinTech app comes between $50K to $300k.
Banking Apps
All financial solutions are provided online by the internet or digital banking apps. You can consider everything online, from developing an account to implementing a loan. Users are no longer required to visit the branch for each issue due to handling FinTech banking apps.
For example, for one of our clients, a European-based international bank, we created an AI-based mobile app solution that declined manual procedures by 35% and enhanced customer retention by 20%.
Our client is now competent in dealing with over 50% of customer service requests by a chatbot.
The cost of the FinTech banking app relied on the complexity level that can range between $30k to $300k.
Now that you have a clear idea of how much it costs to build fintech app, you rely on different app kinds. It is time to look into the benefits of FinTech app development.
What Are the Key Factors that Influence A Fintech App Development Cost?
It's not easy to figure out how much it costs to build fintech app. Many things and situations have a significant effect on the budget as a whole. Some of factors that affects the fintech app development cost are discussed below:
Advanced Technologies
Blockchain
Blockchain is a crucial part that can change how much it costs to make a FinTech app. It demands critical attention when it comes to developing finance apps. Adding Blockchain to FinTech apps could make it easier for people to pay each other.
By putting it in the app, consumers will know everything about it and be able to finish transactions quickly.
Everyone can save money and time with a FinTech app that Blockchain powers. Also, the system can make sharing data between different platforms easy by using an interface similar to what banks and other financial institutions use.
Artificial Intelligence
Artificial intelligence is another type of tech that affects how much it costs to build fintech app. Most financial applications require a lot of time and work to process. Most FinTech apps support AI in different ways.
For example, AI makes it possible for FinTech applications to have chatbots that are easy to use, complex financial planning, the ability to spot fraud, and transactions that are quick, reliable, and safe.
For one of our clients, Mudra, we made an application for managing budgets that use AI. The app uses a chatbot to keep track of a user's spending and alert them when things are out of control with their budget.
For millennial customers who often become bored, all this is done on the platform while making the process entertaining and participatory.
Digital Analytics
Digital analytics is one of the most valuable parts of a FinTech app. Now more than ever, looking at consumer financial data and giving the right insights is essential. This feature makes it easy for users of a FinTech app to access and keep track of their finances.
An end user can find out what they've purchased, how much money they've saved, and what investments they've made. Users may create transactional messages, monitor reports, and reach savings objectives more quickly with data analytics.
The more complex the digital analytics, the more the development cost to build a FinTech app would be.
Tools and Languages
The technological stack also strongly influences the cost of making a FinTech app. Choose the programming language and tools you want to use to get a good idea of your FinTech app development project's cost.
In general, there are three types of apps, each needing a different set of technologies and costing an additional amount.
Cross-Platform Applications
Apps on cross-mobile platforms are made with Native, C#, and Flutter.
Hybrid Applications
Web apps are supplied via an internet browser, whereas native mobile apps are created for a specific platform, such as iOS for the iPhone. The tech stacks PhoneGap and HTML 5 are used to make hybrid apps.
Native Applications
Native FinTech apps are only made for one platform, like iOS or Android.
Native iOS apps are made with Apple Xcode, SWIFT, Objective C, and the iOS Software Development Kit (SDK). Native Android apps often use Android Studio, Java, Kotlin, and the Android SDK.
Developers enjoy making use of the Solidity language to make decentralised applications.
Affective Features of FinTech App Development Cost
How much it costs to build a FinTech app also depends a lot on how many features it has and how complicated they are. Some of the features that usually come with a FinTech app are:
Product Requirements
The first thing that affects the cost of making a FinTech app is what it needs to do. There are two parts to an app's requirements:
The Level of Product Complexity
On the other hand, project complexity refers to how hard it is to understand the idea behind a software product. Building, testing, and releasing a product is more challenging if it has complex logic and arguments.
The Scope of Work 
This part is pretty easy to figure out. The scope of work is the list of features the financial application must have or the amount of work needed to build these features. The project scope affects how big it is and how many hours it takes to finish.
Non-functional requirements are also essential. They include scalability, security, usability, dependability, performance, etc., describing how the program works. They are important because they affect how happy the customer is.
Location of the Development Partner
Another significant element that impacts the cost is the region of the business you are collaborating with to create your FinTech app. The price is determined by the hourly rate of a team of 4–7 specialists and the time it requires to create an app in a certain nation.
For example, a specialist in FinTech app development in the US usually charges more than a specialist in India.
| | |
| --- | --- |
| Location | Hourly Rates of Developers (Approx.) |
| Europe | $35 – $65 |
| Latin America | $25 – $35 |
| North America | $25 – $35 |
| Africa | $25 – $30 |
| India | $20 – $25 |
Interactive UI/UX
It is worth trying to make a financial app with an easy-to-use interface. The user experience is better because the app is easy to use. An app must be put together right, from choosing the right fonts to using simple words and enough white space.
A good app makes it easy for users to find the information they need quickly. It is also a must if you want your app to be a hit. So, you can never go wrong by putting money into making your app easy to use.
App Maintenance
The cost of maintenance needs to be incorporated into the cost of developing a FinTech app. The process of making custom financial apps is an ongoing one. After an app is deployed, its maintenance concerning regular care becomes a top priority.
Aside from that, an app's features and functions should also be updated regularly to keep the business growing. All of this, though, adds to the cost of the application as a whole.
Time Required for FinTech Mobile App Development
Lastly, remember that time is critical. The cost to create a FinTech app would be greatly impacted by the delivery time. For rapid prototyping and development, people will need to work together more.
Because of this, the team working on the project with the shorter delivery time will have to pay more.
The time it takes to build a financial app also depends on what app is being made. Based on the five types of FinTech apps we talked about above, here is a time estimate:
| | |
| --- | --- |
| App Type | Development Time (Approx.) |
| Personal Finance | 1,500-2,500 hours |
| Banking | 2,000-3,500 hours |
| Investment | 1,500-2,500 hours |
| Insurance | 2,000-3,000 hours |
| Lending | 2,000-2,500 hours |
Top Technologies Used in Fintech Application Development
Finding the right technology to stick to the base technology needed for an app development project. Each programming language often performs certain things effectively than the others.
So, it's essential to know what the programming project is about to choose the correct language.
It would be beneficial if you choose the finest technology stacks for your financial app project. Let us guide you through this.
Backend Stack for Fintech Projects
Fintech web projects must choose the right backend stack so that page's load faster, security is strong, and transactions and interactions are effortless.
Below are a few of the most widely used backend programming languages.
Python
Python is regarded as the most popular programming language for most FinTech apps because of its simple coding methodology, a large selection of open-source libraries packed with reusable fintech elements, and clear and simple syntactic that produces less errors and bugs and strong community assistance.
So, it makes perfect sense that Python is now used by most of the best financial technology apps, such as Zappa, Robinhood, Figo, and so many mobile banking as well as e-wallet apps.
C++
Another well-known programming language frequently employed to create financial applications is C++. Since it is adept at handling quantitative finance and data analysis, C++ is particularly well-liked.
C# is an improved form of C++. Using Microsoft technology, it is an object-oriented programming language that could create very dynamic finance programmes. The speech was primarily made for Microsoft. NET framework.
A large community of developers and an extensive collection of tools ensure it is secure and easy to use.
Ruby
Programming languages like Ruby are often used in banking software app development. Ruby is frequently employed in fintech applications because it is easy to use for things like managing assets, making dashboards, making e-wallets and mobile wallets, and other fintech solutions.
Frontend Stack for Fintech Apps
Selecting the right frontend tech stack will allow you to attract users because the frontend handles the aspects for the appearance, feel, user experience, as well as user interactions.
The following are some of the main frontend technologies utilised in fintech app development.
Cascading Style Sheets (CSS)
Web projects may incorporate many aspects that fit the appearance and feel using Cascading Style Sheets (CSS), such as font size, font style, colour, layout, as well as other visual features.
Hypertext Markup Language (HTML)
HTML is primarily used to make the content on web pages simple to read and utilise. For many years, HTML has been the most dependable language for displaying text on online sites. The dynamic capabilities added to HTML5's most recent version improve upon its already excellent characteristics.
TypeScript
TypeScript is a new programming language many web developers use. The language has several advantages and disadvantages and is as flexible as JavaScript.
JavaScript
Popular frontend frameworks like jQuery, AngularJS, ReactJS, Vue.JS, and many others utilize JavaScript in online applications. JavaScript frameworks enable it even simpler for developers to comprehend and utilize the code by using the JSON format.
Database Solutions for Fintech Projects
A web app project's technology stack includes the front-end and back-end development and the database. The selection of database systems is now essential for a smooth app's functionality as well as strong, uncompromised app safety in regards to fintech applications.
Following are some of the most popular database technologies in fintech app projects.
SQL Database
A relational database called SQL uses the SQL language for information requests. SQL is a better choice for fintech app projects because it employs a highly organised style that makes finding and organising data simpler.
PostgreSQL: Most fintech apps use this database technology more than any other. People like it because it answers questions very quickly. On top of that, this database technology has many other features and functions that improve security, such as data manipulation, transparent decryption, and a few additional techniques.
NoSQL Database: NoSQL is a non-relational dataset, which unlike SQL database, it doesn't save information in a structured or present form. Examples of this sort of data storage include visible data encryption, data manipulation, and a few more. But the absence of structure in this database technology has allowed it to hold more data, including clear data security, data manipulation, and a few more.
Fintech apps like MEAN, MERN, and MEVN can be built using several full-stack development options. MEAN stack that supports two-way data binding is very beneficial for financial app development projects.
To find out more about the advantages and disadvantages, read our comprehensive tutorial on MEAN stack developers.
Conclusion
Most businesses are slowly moving in the direction of using financial applications. Because of this, it has given FinTech companies, especially in USA, an even better chance to grow. By looking at what FinTech apps need during development, you can know how much they will cost.
It is possible to determine the cost of developing a FinTech app in or outside of India by looking at the desired features.
However, it is critical to realize that development costs for FinTech apps vary according to the needs.
Apps that do many things need features that do many things, too. On the other hand, simple applications won't have to pay extra fees like complex ones would. So, you can hire dedicated developers with confidence to make a FinTech app that fits the app's needs.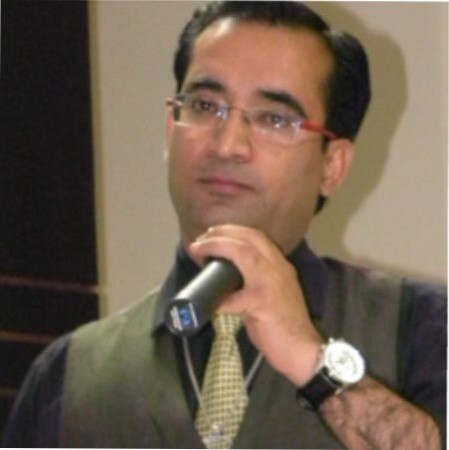 Naveen Khanna is the CEO of eBizneeds, a company renowned for its bespoke web and mobile app development. By delivering high-end modern solutions all over the globe, Naveen takes pleasure in sharing his rich experiences and views on emerging technological trends. He has worked in many domains, from education, entertainment, banking, manufacturing, healthcare, and real estate, sharing rich experience in delivering innovative solutions.