Last updated on August 7th, 2023 at 06:48 am
Travel apps have become an increasingly recognized way for people to plan and book their trips and access critical data while on the go. If you are considering travel app development, you must take significant steps to ensure its success.
This guide will walk you through developing your travel app, from defining your target audience and addressing key features to selecting the development platform and launching your app.
We will provide tips on marketing your app and updating it to ensure it remains valuable and relevant to your specified users. By using this guide, you will be able to create a travel app that meets the requirements of your targeted audience and helps them plan and book their trip easily. So, let's get started now!
What is A Travel App?
A travel app is a software app intended mainly for use by travellers to help them plan, book, and manage their travel experience. Travel apps can be considered to search and book flights, rental cars, hotels, and other travel options.
They can offer data about the restaurants and activities, local attractions, and tips and insights from other travellers. Travel apps can be used on tablets, smartphones, and other devices, mainly providing a range of features to support the travellers before, during, and after the trip.
Statistics About The Travel App Industry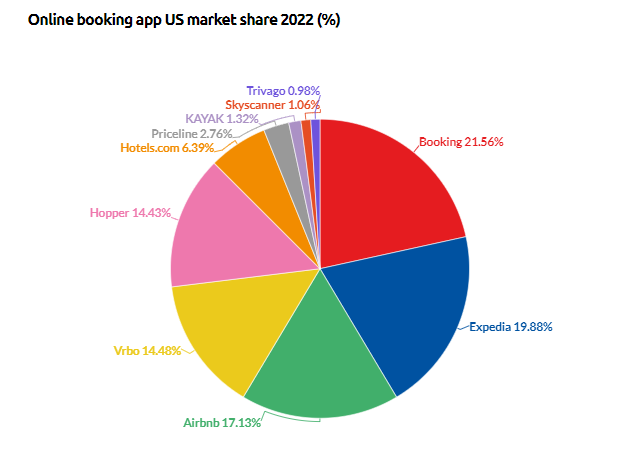 Sources: Business of Apps
Booking and Expedia have a higher market share in the USA than Airbnb.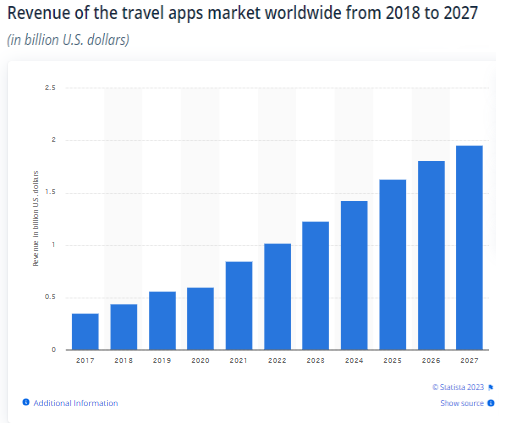 Source: Statista
In 2022, the total income is anticipated to reach $1.02 billion USD.
A predicted annual growth rate for the revenue (CAGR 2022-2027) of 12.34% would lead to a market size of US$1.96 billion by 2027.
In 2022, it is predicted that in-app purchase income in the travel industry would rise by US$88.05 million.
In the tourism sector, paid-app income will rise by US$99.61m in 2022.
Ad revenue in the travel sector is anticipated to rise by US$833.40m in 2022.
In 2022, 2.31 billion downloads are anticipated in the tourism industry.
In 2022, it is predicted that the average income per download would be US$833.40m.
Based on comparisons with other countries, the majority of the income made in the US in 2022 will be US$443.10m.
Why Develop a Travel App?
Developing a travel app can be a smart investment for businesses that seek to enhance a customer's travel experience and increase the market's competitive edge. Travel apps can develop a loyal user base by providing a range of convenient features and personalized recommendations and lead to business growth.
Those all are significant reasons to develop a travel app. Here is a bit more detail about each one.
Easy Booking
With travel apps, users can easily and rapidly book flights, rental cars, hotels, and other travel options. Many travelling apps provide discounts, promotions and further offer benefits to users to book through the apps.
A One-Stop-Shop For Everyone
Travel apps facilitate a centralized location for travellers to book, search, and manage travel plans. It can save time and effort and make the travelling procedure highly streamlined and convenient.
Ease Payment Methods
A large number of travel apps provide a variety of payment techniques like mobile wallets, credit cards, and even cryptocurrency. It can make the payment highly convenient and also accessible for the users.
Insight to Travel Destinations
Travel apps can offer insight to users about the travel destinations, like local recommendations to access restaurants, activities, and attractions. It lets the users make most of their trips and develop a customized and pleasant working experience.
Effective Marketing Tools
The travel app is an effective marketing tool for businesses to drive customer loyalty and increase brand awareness. By providing a convenient and customized travel experience, companies can differentiate themselves from the rivalry and develop more vital liaisons with the customers.
24*7 Availability
Travel apps are available 24*7, allowing users to search and book travel options anytime from anywhere. It can specifically sound for global users and may require booking travel outside consistent business hours.
Brand Awareness
Creating a travel app can support businesses to build their brand awareness. Bu developing an engaging and helpful app, companies can enhance their visibility and reputation in the market.
Helps Better Plan Trip
Travel apps can support users in making better plans for trips by providing tools related to itinerary management, navigation, and weather forecasts. It can help the users to feel more organized and prepared for the journey, reducing stress and increasing enjoyment.
How to Make Money From your Travel App?
There are different ways to monetize a travel app, but your chosen strategy and model will rely on your targeted audience and goals. Travelling apps can create revenue and develop a sustainable business model by providing valuable content , features and partnering with relevant brands and providers.
Following are some common monetization strategies:
Advertising
Travel apps can display the ads to the users, developing revenue from impressions and ad clicks. Advertisers are interested in reaching travel enthusiasts. Consequently, travel apps can provide the expected ad opportunities.
Commission
By partnering with the travel providers like hotels, airlines, and rental car companies, travel apps can earn a commission on bookings made by the app.
In-App Purchases
Travelling apps allow users to make in-app purchases like premium content or added features. For instance, a travel app can provide subscription premium features wherein you need to access exclusive travel features and content.
Premium Version
A travel app can provide a premium version that may consider added features or content a user can access for a one-time fee.
Subscription
Travelling apps can enable users to subscribe to content or features regularly, like monthly or yearly subscriptions.
Partnerships and Sponsorships
You can create revenue from travel apps by partnering with travel brands or influencers. For instance, a travel app can partner with a hotel chain to offer special discounts to its users.
Affiliated Marketing
Earn commission by endorsing the products and services using affiliated marketing. For instance, a travel app may support a travel gear store and earn a commission on sales made through the application.
Don't miss out on the opportunity to build an effective travel app. Please explore our complete guide now!
How to Create A Travel App?
Developing a travelling app can be a challenging procedure. Still, by considering such steps and working with a team of specialized professionals, you can create an app that meets your targeted audience's needs and offers a distinctive travel experience.
Let's explore some steps that must be considered to create a travel app. Here is a more detailed explanation of the breakdown of each step.
Define Your Target Audience and Goals
To develop a successful travel application, it is significant to comprehend your target audience and their requirements. Consider factors like age, gender, travel preferences, and budget. Your goals must be specific, measurable, achievable, relevant, and time-bound (SMART). It must be aligned with the requirements of your targeted audience.
Market Research
To differentiate your travel app from the competition, you must comprehend the market and address gaps your travel apps can fill. Study your competitor's features, pricing, and marketing strategies, and also conduct surveys or focus groups to collect insights from possible users.
Formulate A Strategy
According to your research, develop a transparent strategy for your travel apps. It must consider a list of features you will feel and a value proposition that sets your application apart from the competition. In this step, it would be best to make a marketing plan targeting your ideal audience.
Choose A Development Platform
Several platforms are available to develop a travel app, such as native Android and iOS apps, web apps, and hybrid apps. You must include budget, development time, and targeted audience while selecting a platform. Hire mobile app developers to choose the best development platform for your travel apps.
Design and Build Your App
Work with a team of developers and designers to create a user-friendly design and integrate the features you have addressed in your strategy. Emphasize developing a seamless user experience and considers the features that make travel planning convenient and easy bookings.
Launch and Promote Your App
Once your travel app is ready, launch it on the application store and promote it to your targeted audience. Email marketing, social media, and other marketing channels are used to develop buzz and attract users. Focus on providing incentives for users to download and use your apps, like discounts on travel bookings.
Monetize Your App
Evaluate how you will generate your revenue from your application. Common monetization strategies for travelling apps consider subscriptions, in-app purchases, and advertising. Considering which approach aligns with your targeted audience and goals would be best.
Measure and Assess Your App's Performance
Use analytics tools to track user behaviour and measure your travel app's success. Look for patterns in user behaviour, like which features are highly recognized and underutilized. Use this data to create data-driven decisions and enhance your app over time.
Update and Maintain Your App
Regular app updates with new features and bug fixes aid in engaging the users and enhancing their experience. Assess user feedback and reviews to assess the areas for enhancement. Travel apps must be responsive to the user's needs and recommendations. You can develop a loyal customer base by continuously updating and enhancing your apps and moving forward in the competition.
Travel App Development Features
Travel apps are intended to give users a robust and convenient travel experience, from planning and booking to exploring and navigating. By providing a range of tools and features, travel apps can support users to save time, money, and stress, along with making the most of their travel experience.
Basic Features
Travel app development features can vary depending on your app's specific needs. But here are some basic features that you must consider in developing travel apps:
User Registration and Sign In
Users must be able to create an account and sign in to the app to access its features. It can also enable customized content and suggestions.
Search Engines with the Filters
Users must be able to search for the listing according to their preferences, like dates, destinations, amenities, and price range.
Databases with All the Listings
The travel app must have a database for all the listings like rental cars, flights, and hotels. It must also contain relevant data about the photos, descriptions, and reviews.
Booking System with the Payment Gateways
Users must be competent to book their flights, accommodations, and other travel arrangements using the app because it provides secure payment gateways in the transaction process.
Push Notification
The travel app can send users push notifications to remind them about upcoming flights, delays, bookings, and other significant updates.
Settings
You must be able to customize the app setting, like app language, notification preferences, and also currency.
Onboarding
The travel app must have a user-friendly onboarding procedure for introducing the users to its features and offers guidance regarding how to use them.
Advance Features
Travel apps enable users with various tools and features that help them plan, book, and navigate their travel experience. Here are details about the advanced features of travelling apps:
Search and Discovery
Users can search for flights, rental cars, flights, and other travel choices using the filters like destination, dates, and price range. Particular apps also use machine learning and artificial intelligence to offer customized recommendations according to user preferences and past behaviour.
Booking
Once users find the travel choices they want, they can book them directly through the app. Many apps provide secure payment gateways and the ability to save payment data for future bookings.
Itinerary Management
Some travel apps permit users to manage and create travel itineraries, like hotel reservations, flights, and activities. Users can also get reminders and notifications regarding potential bookings and other significant data.
Language Translation
Use travel navigation and map apps to let the users communicate with the locals in a foreign language. It can consider the text, voice translation, and access to the local languages.
Travel apps must consider the maps and navigation features to support the users' access to the city or nation. It can consider the public transportation data, suggestions, and driving and walking directions for close restaurants and attractions.
Reviews and Recommendations
It would be best if you focused on allowing users to read reviews because suggestions from other travellers support finding the best attractions, restaurants, and experiences.
Social Features
Some travelling apps consider social features like connecting with other travellers, joining local activities and events, and sharing photos and experiences.
Voice Search
It lets the users search for their flights, hotels, and other travelling options through their voice compared to typing. It can sound specifically when users are on the go or in a hurry. Voice search enhances accessibility for users with disabilities.
Weather Forecasts
This feature can enable users to plan their travel itinerary and packing lists. By offering local weather data, travelling apps can aid users in preparing for the conditions they will address at their destination.
Offline Access
Several travellers may not have reliable internet or want to conserve data usage while travelling. By providing online access, travel apps can ensure that users can access significant data like maps, itineraries, and local suggestions even when not linked to the internet.
Customized Notifications
It can support the users to stay organized and informed during their trip. For instance, users can get notifications regarding gate changes, flight delays, or potential reservations. By customizing the reports about the user-specific preferences and itinerary, the travelling app can streamline and customize experiences.
Overall, travelling apps have helpful and convenient features that enable you to access a broader range of data and services to improve the travel experience.
Best Travel Apps
There are different travel apps, so choosing the best one that meets your needs and preferences is significant. Let's explore some of the best travel apps.
Google Travel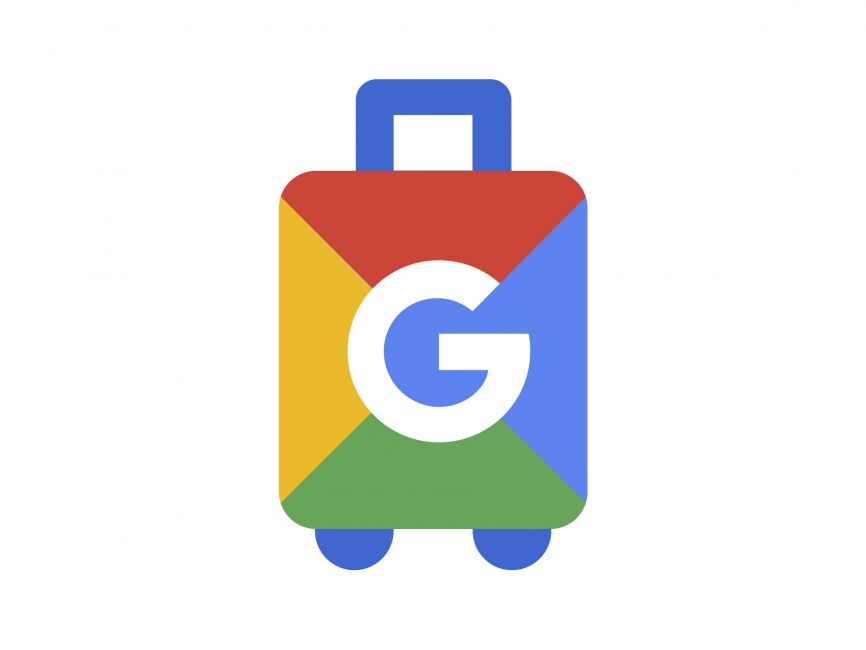 It facilitates an inclusive travel planning experience, including search and booking competencies for flights, rental cars, and hotels. This app also considers itinerary management and suggestions for things to do at your destination.
Culture Trip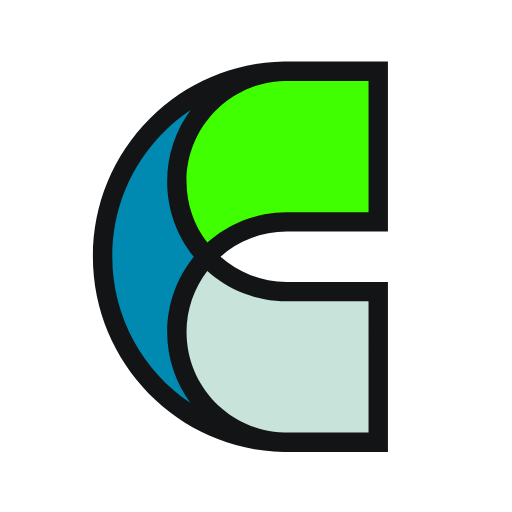 It is one the best travel apps that provides customized travel suggestions according to their interest and preferences. The application facilitates guidelines for the local neighbourhoods and attractions. It also organizes travel content like articles and videos.
Booking.com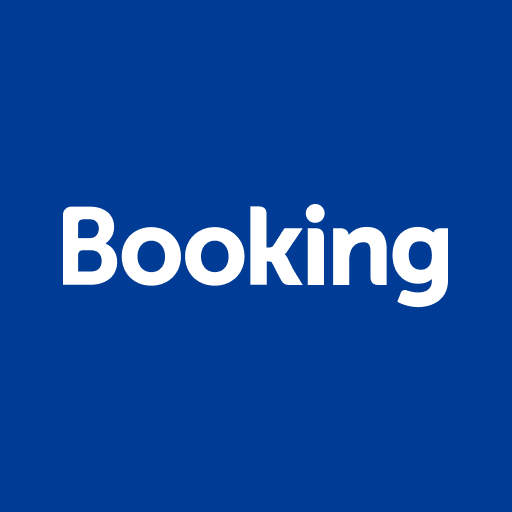 Booking.com is a recognized app that lets users book accommodations like vacation rental, restaurants, apartments, and hotels. This app facilitates more comprehensive options and features like price matching and free consultation.
TripAdvisor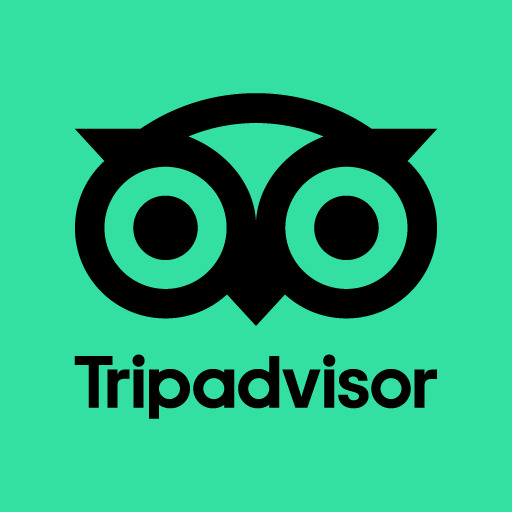 This travel app facilitates restaurant, attraction, and hotel reviews and ratings. It also considers the booking features and the competency to create and save the trip route.
Airbnb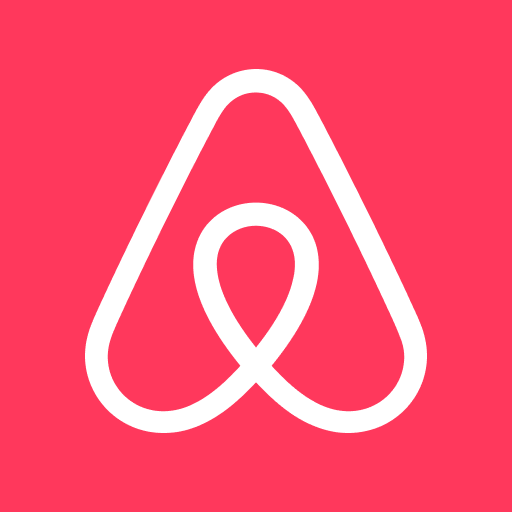 Airbnb is one of the best travel apps that allows users to book unique accommodations like houses, villas, and apartments. This app considers experiences and also activities hosted by locals.
Hopper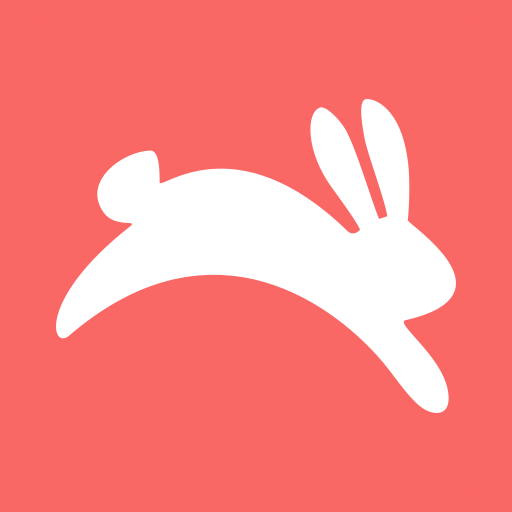 This travel app uses data to predict the best times to book flights and hotels. The app considers booking features and the competencies to track the prices and receive notifications when price drop.
Skyscanner
It is another best travel app that allows users to find and book hotels, flights, and rental cars. Skyscanner includes a range of features like price alerts and an elastic search option for those with flexible travel dates.
Want to know the cost of creating a travel app? Check out our complete guide to know it!
How Much Does it Cost to Build a Travel Booking App?
The cost of developing a travel booking app can vary highly depending on different factors like features and complexity of the app, the platform it will be created for (iOS, Android, or both), the tech stack used, the location of the development team, and different other factors. Developing a travel booking app can cost around $10,000 for a basic app with essential features and functionalities. But, for an advanced app, the cost can range from $50,000 to $150,000 or more as it includes complex features such as payment integration, user profile, real-time updates, and booking management.
It is significant to find that these figures are just estimates, and the actual cost can vary highly depending on the project requirements. For accurate estimates, it is best to consult the leading travel app development company that can offer you a depth quote according to particular needs and budget.
Let's take a short snapshot of the cost of building a travel app!
| | | |
| --- | --- | --- |
| Type of App | Total Cost | Timeline |
| Basic app | $10,000- $50,000 | 3-5 months |
| Moderate advance app | $50,000- $150,000 | 4-9 months |
| Highly advance app | $150,000+ | 9 months+ |
Factors Affecting Travel App Development Cost
The cost of travel app development will rely on different factors, such as the size and complexity of the app, the app development platforms, the integrated techs, the development team, and ongoing maintenance and support costs. By cautiously considering such factors and working with experienced development companies, businesses can create higher-quality travel apps that meet your budget and needs.
Several factors may affect the travel app development cost. Let's discuss a bit more detail about each aspect.
Scope and Complexity of the App
You may require more time and resources to include more features and functionality in your travel app development. It may lead to generating more costs to build a travel app. App complexities may consist of the number of user roles, needs for machine learning or artificial intelligence, and integration with third-party services.
Travel Booking App Design and Development
The design and development of the app can affect the cost. A highly customized plan and complex development needs may increase the travel app development cost.
App Platform
The platforms on which the app will be developed may affect the cost of building a travel app. Developing an app for both iOS and Android platforms will cost more than designing for a single platform. Hybrid app development can be cost-effective as it uses a single codebase for multiple platforms.
Technology Integration
Incorporating advanced technology like virtual reality, augmented reality, or machine learning may increase travel app development costs.
Development Team
The size and experience of the development team may affect the cost. More experienced developers will command higher rates, and a larger team will need a higher budget.
Location of the Agency
The location of the development agency may affect the cost as rates can vary and highly rely on the site. An agency in a low-cost region may offer highly competitive rates.
Back-End Architecture Choices
The choice of back-end architecture may affect the cost of development. A cloud-based architecture can be highly-effective as compared to traditional server-based architecture.
Ongoing Maintenance and Support
Ongoing maintenance and support may affect the cost of the travel app. It can consider the expenses like bug fixes, server hosting, and updates to ensure the app stays up-to-date and relevant.
Tech Stacks Use to Create A Travel App
Regarding the tech stacks used in travel app development, different techs and frameworks can be used on particular project requirements. Let's check out the commonly used components in travel app development:
Front-End Development:
| | |
| --- | --- |
| Components | Tech Stacks |
| Programming Languages | TypeScript and JavaScript |
| Frameworks | Vue.js, React, and Angular |
| UI Libraries | Material-UI and Bootstrap |
| Mobile App Development | Flutter and React Native |
Back-End Development:
| | |
| --- | --- |
| Components | Tech Stacks |
| Programming Languages | Java, Node.js, Python, and Ruby |
| Frameworks | Django, Express.js, Spring Boot, and Ruby on Rails |
| Database | MongoDB, PostgreSQL, and MySQL |
| API Development | GraphQL and RESTful APIs |
Mobile App Development:
| | |
| --- | --- |
| Components | Tech Stacks |
| iOS Development | CocoaTouch, Swift, and Xcode |
| Android Development | Android Studio, Kotlin, and Java |
Cloud Services and Infrastructure:
| | |
| --- | --- |
| Components | Tech Stacks |
| Cloud Platforms | Microsoft Azure, Amazon Web Services (AWS), and Google Cloud Platform (GCP), |
| Serverless Computing | Google Cloud Functions and AWS Lambda |
| Storage | Google Cloud Storage and Amazon S3 |
| Database Management | MongoDB Atlas and Amazon RDS |
Location and Mapping:
| | |
| --- | --- |
| Components | Tech Stacks |
| Map APIs | Mapbox API and Google Maps API |
| Geocoding | Mapbox Geocoding API and Google Geocoding API |
Payment Integration:
| | |
| --- | --- |
| Components | Tech Stacks |
| Payment Gateways | Braintree, Stripe, and PayPal |
| Mobile Wallet Integration | Google Pay and Apple Pay |
Analytics and Tracking:
| | |
| --- | --- |
| Components | Tech Stacks |
| Analytics Platforms | Firebase Analytics, Google Analytics, and Mixpanel |
| Performance Monitoring | Datadog and New Relic |
| Crash Reporting | Sentry and Crashlytics |
Additional Technologies:
| | |
| --- | --- |
| Components | Tech Stacks |
| Push Notifications | Apple Push Notification Service (APNS) and Firebase Cloud Messaging (FCM) |
| Social Media Integration | Google Sign-In and Facebook Login |
| Messaging and Chat | Socket.io and Firebase Real-time Database |
 It is significant to note that the selection of tech stack may vary depending on factors like scalability requirements, app complexities, development team expertise, and specific project constraints.
Conclusion
Developing a travel app can be a challenging and complex process. But using the right approach and precise knowledge of your target audience and key features can be an enriching experience. By using the travel app development steps outlined in this guide, you can develop an app that facilitates the real-value to the users and also supports them to plan and book their trips easily.
Remember to emphasize developing a user-friendly interface and incorporating features like real-time updates, booking management, and payment integration.
Ensure you are available on multiple platforms to reach the broadest targeted audience. Moreover, don't forget to market your app significantly and update it on its features and functionality. It ensures to remain valuable and relevant for the users over time.
Using the right strategy and approach, you can develop a travel app that may be competitive in the crowded market. It also helps travellers plan a global tour and book their dreams quickly and conveniently.
FAQs
How do I select the right development platform for my travel app?
Selecting the right development platform will rely on factors such as targeted audience, features and functionalities you want to consider, and your budget. Native app development for iOS and Android is a prevalent approach. However, you can include cross-platform development tools or hybrid app development.
What essential features must be included in developing a travel app?
Some essential features that must be included in a travel app are booking management, real-time updates, payment integration, customized recommendations, interactive maps, and user reviews and ratings.
How do I ensure my travel app is user-friendly?
To ensure your app is user-friendly, you must focus on developing an intuitive UI/UX design that is easy to navigate and comprehend. Use transparent and inclusive language, avoid clutter, and ensure that app is highly optimized for mobile devices.
How much does it cost to create a travel app?
The cost of developing a travel app can rely on multiple factors such as features and functionalities, app complexities, app platforms, development team, etc. As a rough estimation, developing a basic travel app can range from about $10,000 to $50,000. But a complex app with highly advanced features requires $100,000 or more.
Why choose eBizneeds to create my travel app?
If you want a code-free travel app development solution that is fast, easy, and cost-effective, then eBizneeds has the best travel app developers for you. It has been intended to develop an innovative app and make it sound for all.
Anyone can create a travel app with rich features and functionalities without using a single line of code. Manage everything from idea generation to app deployment in less time and cost. Create your app for free and upgrade to launch on the Apple App Store and Google Play Store.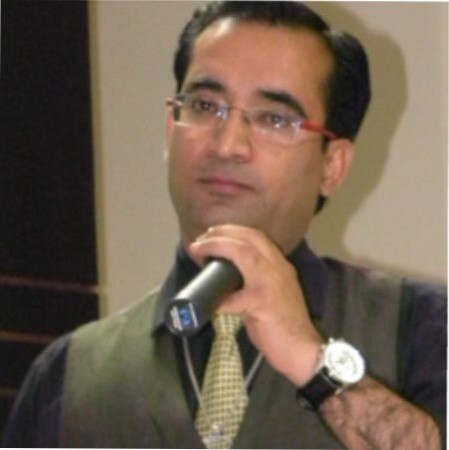 Naveen Khanna is the CEO of eBizneeds, a company renowned for its bespoke web and mobile app development. By delivering high-end modern solutions all over the globe, Naveen takes pleasure in sharing his rich experiences and views on emerging technological trends. He has worked in many domains, from education, entertainment, banking, manufacturing, healthcare, and real estate, sharing rich experience in delivering innovative solutions.