We are rapidly approaching a cashless world. The reliance that we once had on cash has now moved from contactless money transfers to payment apps.
As technology is evolving in the fintech field, there is a need to build an app like cash app has become a significant payment choice for different consumers. People can use the Cash App on their mobile devices to quickly get and transfer money to others.
If you want to learn more about cash app development, you can also read our blog on how to build an app like cash. Before jumping down to the next section, let's take a closer look at what is cash app.
What Exactly is the Cash App?
Cash App is illustrated as a mobile app focused on money-swapping services. You can send and get the funds promptly and directly, such as using Venmo or PayPal. However, the Cash app considers a few other functions too.
Apart from swapping money, the Cash app would offer you a bank account and debit card that you can consider at any ATM. You can also invest in Bitcoin and stocks through such apps.
Some of these services are free, while others are not. The service reported 70 million transacting users and 1.8 billion dollars in gross profit in September 2021.
Cash App has been around since 2013. It was initially known as Square Cash, concerning Square Inc. which is the parent company of Cash App. It was founded by Twitter's Jack Dorsey.
Cash App Key Statistics 
As discussed by Business Wire, the worth of contactless payment transactions is predicted to arrive at $10 trillion by the end year of 2027. In addition, the international fintech market is also predicted to arrive at $211.64 billion by the end year of 2027.
These statistics demonstrate an upsurge in the utilization of financial tech, and money transfer apps, as well as, how it is changing the way to manage our finances.
Below, we will discuss about some eye-opener key statistics of cash apps:
Initially based on Bitcoin trading, the Cash app has generated over $12.3 billion in revenue by 2021.
Cash app has more than 44 million active users on monthly basis and over 100 million have downloaded the app.
There are also more than 13 million application users who use the debit card related to the Cash app.
Cash app has developed a profit of approximately $2 billion by 2021.
Let's now look at how the Cash app works.
How Does Mobile App Work Like a Cash App?
To comprehend the working process of the Cash app, it acts just like any other money-transferring app. However, it comes with certain extra functionalities.
To add money on the Cash app, you need to tap the banking tab in the app as well as, input the number of Cash users that you want to add via their linked bank account.
Let's dig a little deeper into the following points:
Installing Cash App and Linking to Bank Account
It is an ideal time for users to install the Cash app on their phones, and then it is time to sign up, where users can create their account and the Cash app is linked with at least one bank account.
This bank account can be used to send money to other users of the Cash app and even swap money via the Cash app account into the bank account of users.
The procedure is similar to other services such as Venmo and PayPal which makes it competent to its users for linking a bank account to send money and keeping the received amount in the Cash app until it is withdrawn.
Add Money
To receive and send money using the Cash app, a user must first consider an external bank account through which money can be easily added to the Cash app account, as well as a platform through which money can be withdrawn from the Cash app.
Sending the Amount
For sending the amount, the user is essential to start the Cash app and enter the sum amount they had likely to send and then click on the Pay button.
Afterward, you need to enter your email address, phone number, and also another username in the Cash app as well as, need to mention the reason for transferring the amount, and then click on pay. And then, your payment is made.
Received Payment Details
Click on the activity option to view the received payment details, and money deposited in the Cash app account will be displayed in the "My Cash" option, which will constantly run the total hold amounts.A slip can also be used to receive the paycheck deposit directly into an account of the Cash app.
Must-Have Features of Developing An App Like Cash App
A certain set of functionalities should be included when creating a money app like Cash. However, initially, we need to focus on must-have features to build an app like Cash app. So, let's dive right into it.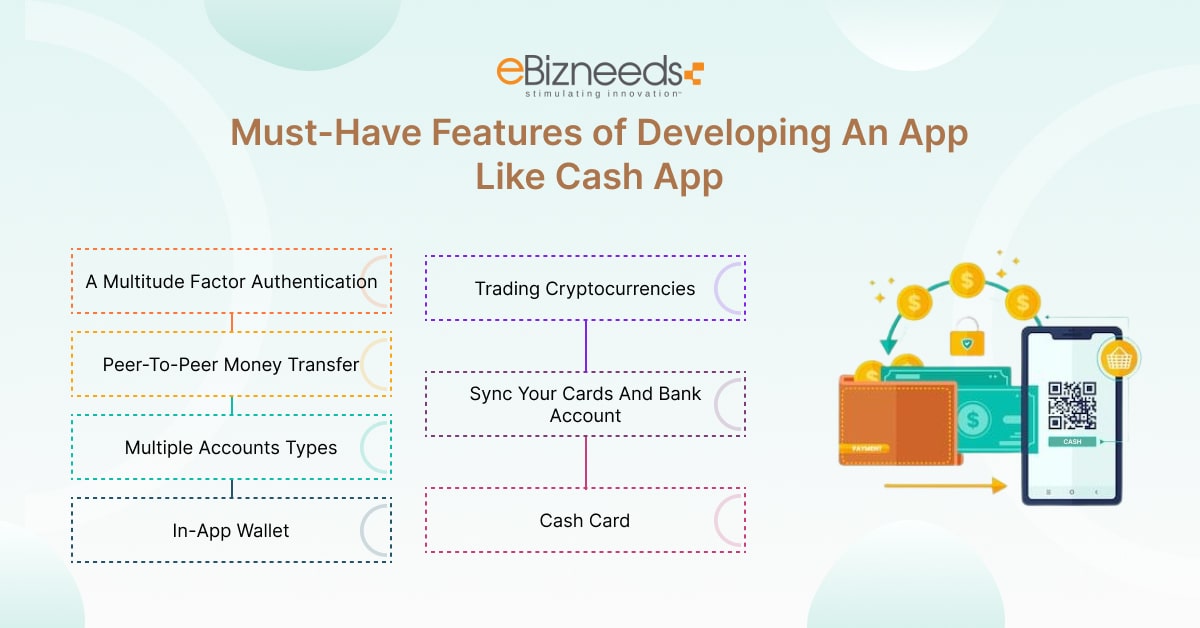 A Multitude Factor Authentication
Money applications, like Cash App, retain security at the forefront of the mobile app development process, just like any other online app.
As a result, you should make it possible for app users to log in using several methods, including OTP, email, as well as strong authentication.
Peer-to-peer Money Transfer
It is the fundamental tenet of fintech app development that relies on payments. The software must allow users to send real money to contacts listed in their written documents.
You should also take the alternative into account so that people may make payments using QR codes and contactless technology.
Multiple Accounts Types
Apps like Cash App can provide the potential to assist both people and companies. It takes into account a variety of variables and adjusts user profiles according to user segmentation and acquisition rate.
This helps to keep users using payment applications like Cash App longer.
In-app Wallet
You must include the in-app wallet's capability to make transactions real and practical. The wallet should also provide the option to create QR-based payments and transfer money to every bank account or friend.
Trading Cryptocurrencies
The cryptocurrency market is another function that is quickly becoming a must to design an app like Cash App. To design their applications in a future-proof manner, young entrepreneurs might now explore building a money transfer application while planning to add an in-app wallet option.
Sync Your Cards and Bank Account
Users may connect their bank accounts and credit cards to the eBizneeds app in a welcoming, secure environment. Users are allowed to connect their bank accounts and cards with the app by the app's creators in a welcoming, secure environment.
People who use applications like Cash app have the opportunity to consider different cards and bank accounts inside the app.
Cash Card
The Cash card functions similarly to a Visa debit card and may be used to make purchases both online and offline using the funds stored in the Cash App.
While it is not now a must-have feature, the notion is being developed as one of the prospective features that app development services need to provide because of the increasing need for Cash cards and Apple cards.
While these are some must-have features of the Cash app that make it truly unique, there are certain advanced features as well.
Advanced Features to Create A Mobile App Like Cash App
Indeed, companies are expecting more from such apps day by day. Hence, if you choose to build your app include the below-advanced features along with the must-have features.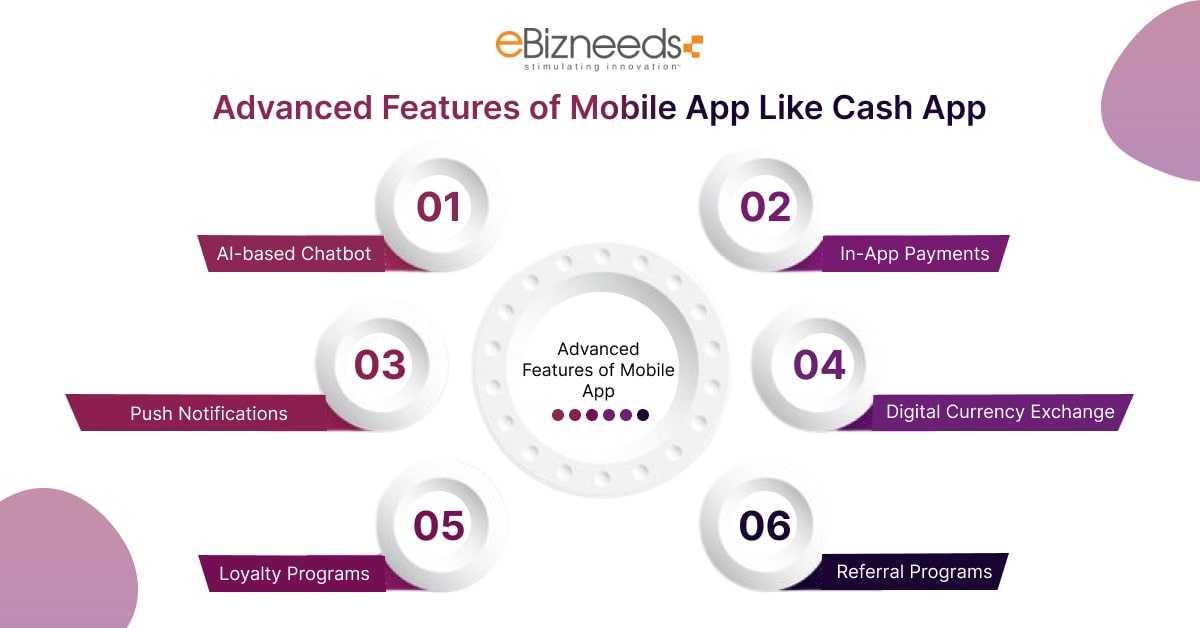 AI-Based Chatbot
To offer 24*7 hours support to your users, you can combine an AI-based chatbot into your app. It would not only aid you to save on customer support expenses but will also enhance the overall user experience related to your app.
Push Notifications
It is an effective method for maintaining your users informed regarding special offers, new features, as well as, other updates. It is valuable to make sure that your users stay engaged with your application.
Loyalty Programs
Firms can apply for loyalty programs to reward loyal users and motivate them for continuing using their apps. It is a significant mode to enhance customer retention and enhance your bottom line.
In-app Payments
By using a such feature, your users can do payments for goods and services directly from the app. It will create the payment procedure easier for your users.
Digital Currency Exchange
By using such features, users can purchase and sell digital currencies directly through the app. It will develop your app more eye-catching for interested users in investing in digital currencies.
Referral Programs
It is a great method for acquiring new users and increasing app engagement. You can provide rewards to users to refer your app to their families and friends.
These are certain advanced features you can include to make your app highly competitive. But, it is significant to focus that the development cost with such features would be greater than a basic money-transferring app.
But what is highly significant to point out here is that, regardless of which feature development you end up using, your app like cask app development process must be developed on security first approach. Particularly, while you have the following statistics such as this app all across the Cash app.

How Does a Mobile App Like Cash Ensure the Application's Security? 
The payment apps like Cash app considers different security components that are intended to avoid hacks and fraud.
A security lock is based on Touch Id and PIN
Real-time notification related to activity
Two-factor verification
Rapid freezing of card spending when the users miss a card.
Above, we have discussed different app development aspects, now let's go on with the monetization model to build an app like Cash app.
The Monetization Model to Build An App like Cash App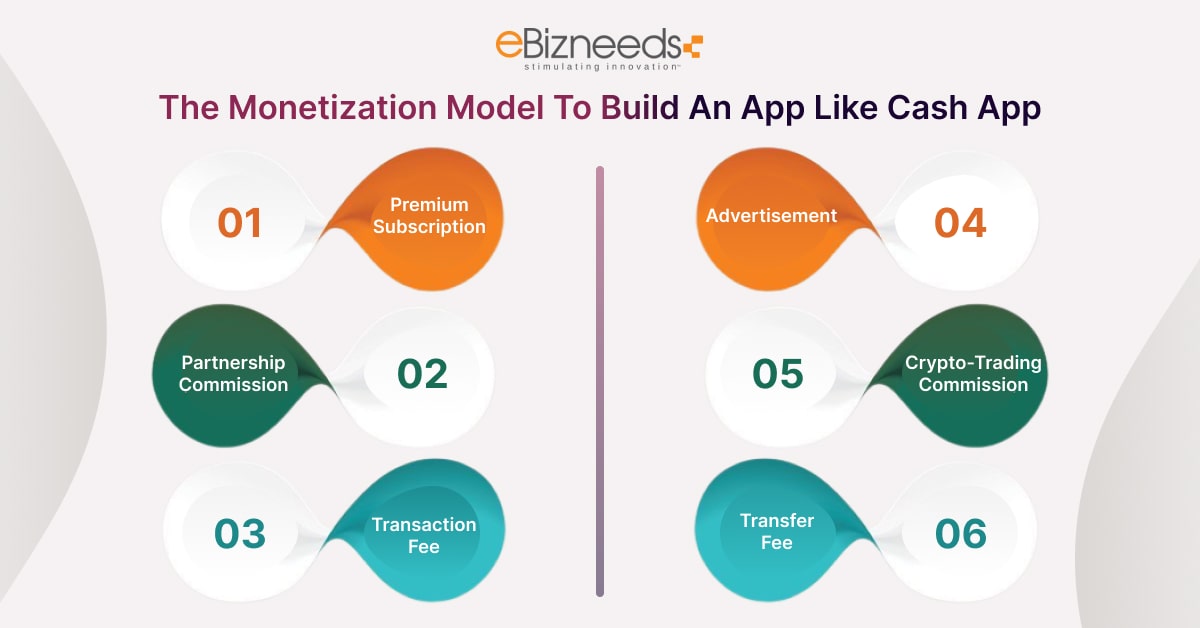 Why do you hire android app developers and invest an amount to develop an app like cash? Hence, it can aid your business in growing while producing a higher amount of revenue.
Emphasizing the next part, how does the eWallet platform produce money? The response is that there are different ways.
Cash app is illustrated as a market-leading platform that has over one revenue stream. You can consider the same or come up with your creative ones. However, these are discussed below:
Premium Subscription
Different platforms need a user for subscribing to access the premium app version.  While it is not too renowned in fintech app development, it is a good monetization approach that has supported a large number of people to produce great revenue.  Let's look at the next monetization technique.
Partnership Commission
It is one of the key monetization approaches applied in online payment apps. There are different business that depends on such platforms. This is a feasible method that can produce higher revenue when acted appropriately. Hence, it is something in which you must be specifically involved.
Transaction fee
Cash app is a fintech platform that often charges a transaction fee from customers on each money transfer they make.
It is not highly beneficial but is multitude by different users, it makes millions of platforms. In the context of this, the platform will charge 2.75% per card-based transaction as well as, 3.5% + $0.15 for every no-card deal.
Advertisement
It was going to demonstrate on the list earlier or later.
Well, each platform uses advertisements in some way or another. Moreover, it is safe to state, this is one of the recognized monetization approaches. Hence, get in touch with your on-demand app developers to consider the same in your strategy.
Crypto-Trading Commission
Apart from the e-wallet app, the Cash app can double as a crypto-trading app. Since cryptocurrencies are emerging and several people are trading them every day, hence charging a commission on each purchase is a top monetization technique. As such, the commission is about 1.76%.
Transfer Fee
If you wish to consider money from your bank account to the in-app wallet of the platform, you have to compensate a small fee. This fee is approximately 1.5%. Being identical via a platform, it becomes one of the main streams of revenue.
Hence, it is something that you must inclusively consider doing.
These are the different monetization techniques of the Cash app that you can consider in your solution. In the next section. We will discuss the cost to develop an app like Cash app.
Factors Affecting the Cost to Develop An App like Cash App
With companies waking up to the prospective mobile applications, there is increasing demand for fintech app development services. Hence, the cost to develop an app has increased in current times.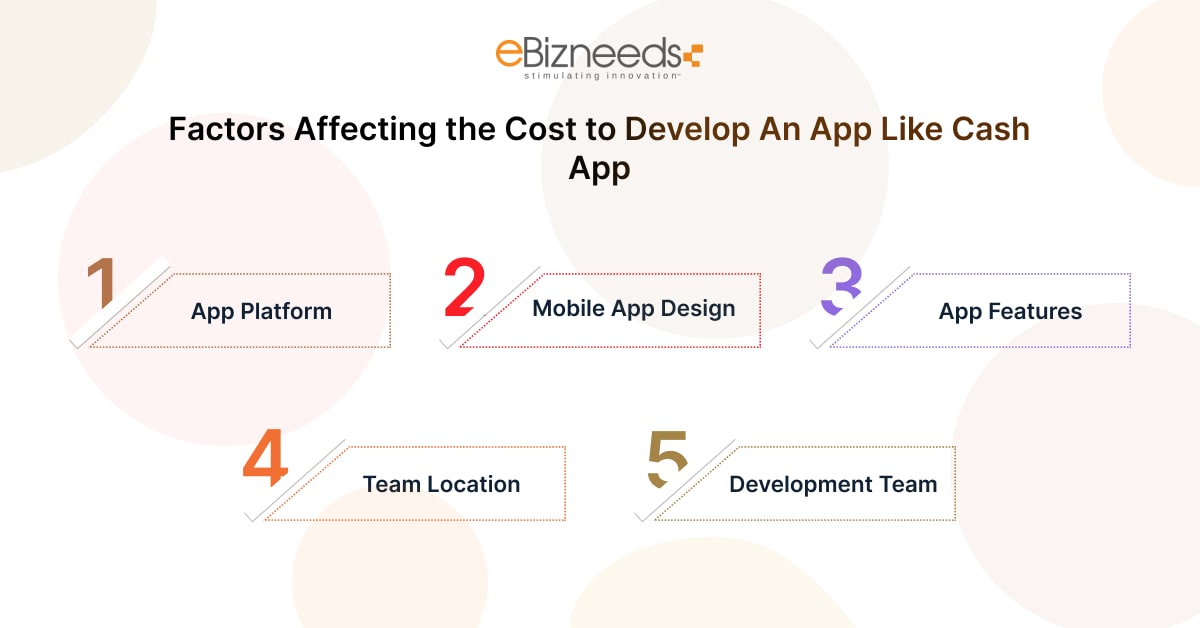 However, the average cost to build an app like Cash app ranges between $100,000 to $150,000. It has relied on several factors mentioned below:
App Platform
Another significant factor that will influence the cost to develop a Cash app is the platform that you select to build your app. If you need to build a native app for iOS, you will require to work with different developers as compared to if you were to develop a web app or a hybrid app.
It tends to be extremely expensive to build but provides a better experience to users. In contrast to this, web apps and hybrid apps are less costly to build but may not provide the same extent of user experience as a native app.
| | |
| --- | --- |
| Type of App | Average Cost |
| Hybrid apps | $10,000 to $150,000 |
| Cross-platform apps | $25,000 to $40,000+ |
| Web apps | $15,000 to $50,000 |
| Native apps (Android & iOS) | $50,000 to $100,000 |
Mobile App Design
Certainly, the design is one of the significant aspects of any mobile app. A well-designed app would not only be effective but will be easy to navigate and use.
In the context of a fintech app, the design should be simple and clean hence, users can easily comprehend and use its different features.
The Cash app development cost will rely on the complexity related to design and the number of screens that require to be developed.
App Features
When seeking the cost to build an app like Cash app, different key features will affect the overall price tag. For instance, a feature such as real-time currency conversation will need access to live exchange rates that may come at additional expenses.
Other features such as international transfer or peer-to-peer payment will also affect the development costs.
If the features and functionalities of the app will be complex, the development cost will be higher. But, by working with an experienced eBizneeds on-demand app development company, it is possible to receive a money transfer app within the budget.
Team location
The location of the development team can affect the cost of developing the Cash app. If you want to work with a team located in North America or Australia, you can be supposed to pay higher rates as compared to if you were to work with a team located in South America.
The cause for this is that teams located in North America and Europe need higher overhead costs.
| | |
| --- | --- |
| Team location | Average Cost |
| Australia | $90 per hour |
| UK | $70 per hour |
| South America | $45 per hour |
| Central Europe | $40 per hour |
| North America | $150 per hour |
Development team
The cost to develop the Cash app will also rely on the team of developers that you act with. If you select to outsource a recognized Cash app development company, they would be competent to offer you a well-built app within the budget.
But, if you want to perform with a less experienced development team or freelancer, then there may be a probability to occur high cost as compared to expected.
| | |
| --- | --- |
| Team Type | Development Cost |
| Freelancers | $30,000 |
| Multi-skilled agency | $50,000 |
| In-house | $80,000 |
These are certain factors that would influence the cost to build a Cash app. When incorporating the budget, it is significant to focus on the development costs which is a minimal portion of the whole cost.
You will also require to consider some other factors in cost such as app maintenance, marketing and promotion, and customer support.
When we talk particularly to build an app like Cash app, considering must-haves and additional features will increase the development cost. Hence, what we recommend is to develop an MVP.
In such a manner, you can test the market before developing a full-fledged app.
The mobile app development company can aid you with this and provide you with an estimation of the development cost for your MVP. After validating the marketing concept, you can then proceed to build a full-fledged mobile app with all the features that you choose.
Moving on, let's look at the points that need to be considered while building an app like Cash app.
Points That Need To Be Considered While Developing Cash App
To build an app like Cash app, you should consider the feasible process hence, you can enable the users to the feasible functionality that any online payment app can offer.
Let's delve a bit more regarding the essential things that you should consider when building an app like Cash app.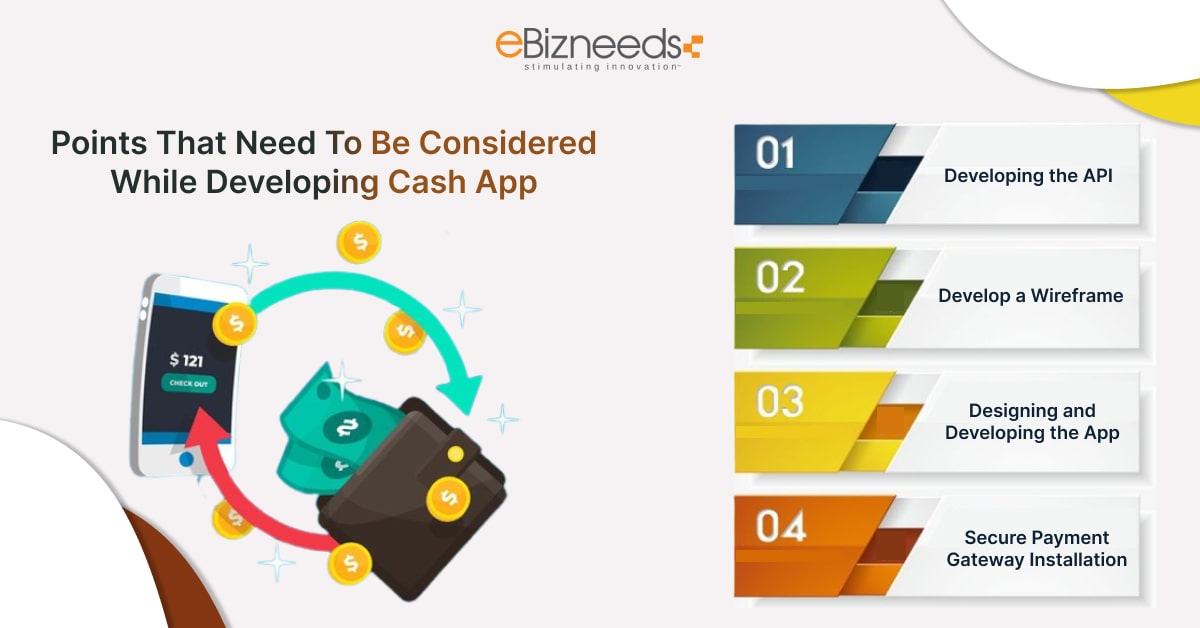 Developing the API
API development demonstrates a significant role in the mobile app development procedure. It is a third-party setting that should be integrated to obtain prompt access.
The API interface connects the service provider and the mobile user. It will enable the user an advanced interface through which, they can develop payments rapidly without any issues.
Develop a Wireframe
It is an initial step where you need to develop a blueprint related to your idea and develop a layout that aids the developer team to understand exactly your idea. Afterward, they will initiate their work as a result.
Designing and Developing the App
It is a good time to build an app like Cash app. It is noteworthy that developing a Cash clone app eye-catching and accessible will enable you different benefits and also users like to choose your app instead of others.
In addition, easy to use interface will aid the user to implement your app on regular basis. Therefore, you should keep in mind the plan of an app with a robust API user interface and integrity.
Secure Payment Gateway Installation
Developing an app like Cash app needs a vigorous and secure payment gateway because payment service acts a significant role in an e-commerce business.
While you install a payment gateway, make sure that the gateway is secured and considers the security process that provides a robust user experience.
Steps to Build An App like Cash App
Well, mobile app development is not precisely rocket science but it is not all that simple also. Do you know it is a complex process that goes through different processes?
Now, if you choose to develop a recognized eWallet app that aids you to produce amazing revenue, you should comprehend the procedure. Moreover, to assist you to perform like that, we shall be going through the whole eWallet app development procedure. So, let's dive right into it.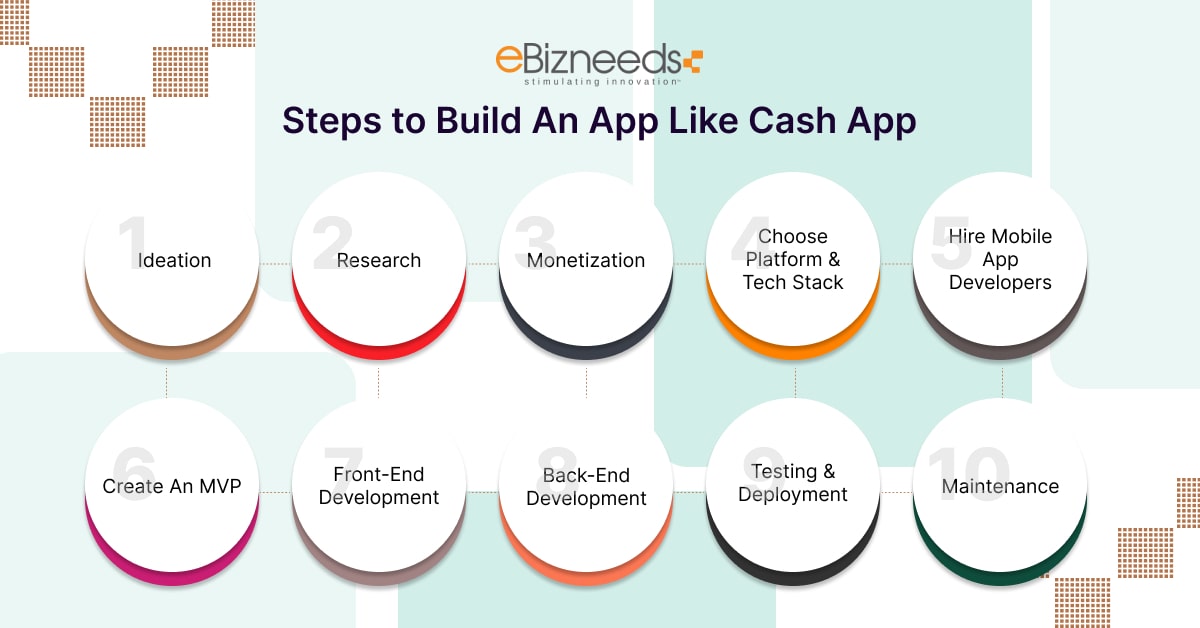 1) Ideation
The initial thing you need to consider is to have an idea. Because if you don't have an idea about how you are going to build an app and what solution you want to be, then you are just wasting your amount.
Hence, the initial thing is about ideation. But, making an idea can be a bit challenging. You can get motivation through available ideas, address a problem that people are facing and solve it by utilizing market data. However, once you have completed the ideation process, it is time for moving toward the next step.
2) Research
Research permits the business to gather data about the market they are about to penetrate. It also lets them have an insight into the market and what to estimate.
Furthermore, they can formulate consequently and assess whether or not it is valuable. Hence, there is no doubt to say that it is one of the significant procedures of the entire development procedure.
3) Monetization
After conducting the research, you need to monetize the app. Since we have already elaborated on it in detail prior, there is no need to go too deep into it. After addressing the monetization technique, need to move on next phase.
4) Choose Platform & Tech Stack
If you want to build an app like Cash app, there is a need to select a platform. As you know, there are two main choices when we are talking about the selection of platforms such as Android and iPhone app development services.
Both of them are feasible in their own right and the outcome highly relies on your platform specifications. If you wish, you can also select the cross-platform alternative.
After that, you need to select a feasible tech stack. For those who are not aware of the tech stack term, it means the set of technologies used in mobile app development.
5) Hire Mobile App Developers
It's time to hire Cash app developers. Now, there are different ways you can consider it but irrespective of the technique you select, there is something that you must always consider.
For example, you must always assess their team size, past project performance, credibility, and past work.
Once it is completed, we can come to the next level.
6) Create An MVP
It is time to make an MVP when you hire dedicated developers.
The phrase "minimum viable product" relates to a stripped-down version of the program with just the most fundamental front-end functionalities.
This gives you information about the product you would be creating.
7) Front-End Development
After completing all the above processes, the design process may begin. Front-end development is the initial issue you must address.
Here, the developer's team would provide UI/UX design that draws clients, as the title suggests. Secondly, we will discuss back-end development mostly in the section next following.
8) Back-End Development
Cash app development starts to happen since Development teams create the application's code base.
Undoubtedly, this step takes the longest amount of time. It is thus strongly advised that you keep in close contact with the development side all through the phase.
9) Testing & Deployment
The app must be tested when it has been produced in its final form.
To check for defects and problems, the QA team uses a variety of tools and methods. The app gets deployed when this is finished. Now, the procedure will vary a bit depending on whether you hire on-demand app developers. You need to consider this.
10) Maintenance
After completing all the processes, it's indeed time to begin your app's maintenance services. For an app like Cash, the whole development process looks like this. Moving on, we'll talk about the associated charges.

What Tech Stack Is Required To Develop Cash App Like Cash
The two platforms that are used to create applications are Android and iOS:
iOS
Tools- Apple XCode and lntellij Appcode
Language- Swift or Obj C
Android
Tools- Eclipse and Android Studio
Language- Java
Closing thoughts
A variety of variables, such as the size and scope of the app, the geography of the design team, as well as the particular characteristics and functions needed, will affect the price to design a financial transactions app like Cash App.
However, you may make a profitable payment app at a fair price by working with the proper development team and meticulously arranging your app's features and budget.
FAQs
Q1. How can I create an app like Cash?
Collaborating with a reputable app development business is the simplest approach to creating an app like Cash app. They would be equipped with the knowledge and skills required to create an effective money transfer app. However, the following are the procedures to construct an app similar to the Cash app:
Create a distinct value proposition by researching the competitors and defining the app's needs and scope.
Pick the best development team
Establish a thorough project schedule with deadlines and checkpoints
Create and examine the app
Build and test the app
Launch the app and begin making money with it.
Q2. How much does it cost to make an app like Cash?
A variety of variables, including the size and scope of the app, the geography of the design team, and the particular characteristics and functions needed, will affect how much it will cost to create an app similar to Cash. A money transfer App like Cash App, meanwhile, is said to cost around $100,000 and $150,000 to design.
Q3. How long does it take to build a mobile app like Cash App?
Developing an MVP version for a funds transfer app like Cash usually takes 4-6 months. However, the precise timeframe may change based on the size and variability of the app.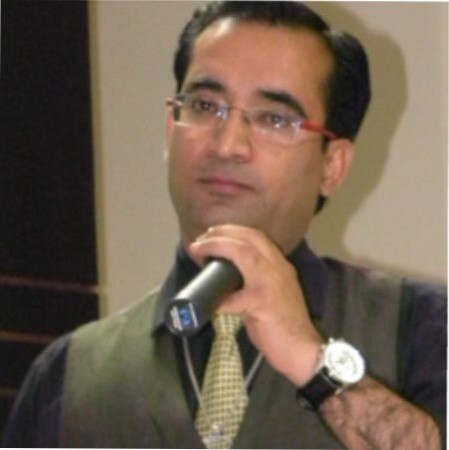 Naveen Khanna is the CEO of eBizneeds, a company renowned for its bespoke web and mobile app development. By delivering high-end modern solutions all over the globe, Naveen takes pleasure in sharing his rich experiences and views on emerging technological trends. He has worked in many domains, from education, entertainment, banking, manufacturing, healthcare, and real estate, sharing rich experience in delivering innovative solutions.