Last updated on January 2nd, 2023 at 11:51 am
Do you want to know how much does it cost to develop an android app?
With growing popularity, everyone wants to build an android app.
In fact, the number of android users has increased to 2.8 billion active android users. This Means Android has a significant share of the global market at 75 percent. About 49% of app users go to Google Play Store several times every day.
Although the majority of android applications, up to 97%, are accessible to all users, they have helped businesses generate millions and billions of dollars at times.
On average people spend around 4 hours a day with an upper limit going up to 8 hours. And 88% of this time is spent on apps.
This is the reason why everyone wants to develop their own android and thus, wants to know the cost to build an android app.
If this is what you want to know, Read this blog till the end. We shall be discussing everything related to the android app development cost.
Therefore, with this being said, let's get right into it:
How Much Does It Cost To Develop An Android App?
Creating an app for your business can increase revenue and help your business grow. There are a number of firms that develop mobile applications, and finding one isn't a difficult task.
The most challenging part is deciding on the cost of an Android app. The reason it is so challenging is that the process of developing an app can be an incredibly complex interaction.
Numerous factors are involved in this, and each will likely affect the overall development cost.
Therefore, it is unwise to know the exact price without understanding the project specifications, preferences of the business, requirements, and the like.
You can expect the android app development cost to range from $30,000 to $150,000.
This is the standard cost to create an android application. For a more precise cost estimate, you will need to write down the project's specifications and speak with an experienced mobile app development company that is likely to ask you an insight on the same.
In light of this, let's look at the different costs that affect the development of Android apps.

Factors that Influence the Cost of Android App Development
The development of android mobile apps is found to be highly complex. With complexity comes various factors that affect the price of developing the app. And this can highly cost of custom android app development.
To help you understand the same better, we'll review a number of the most critical factors that will affect the cost to develop an android app.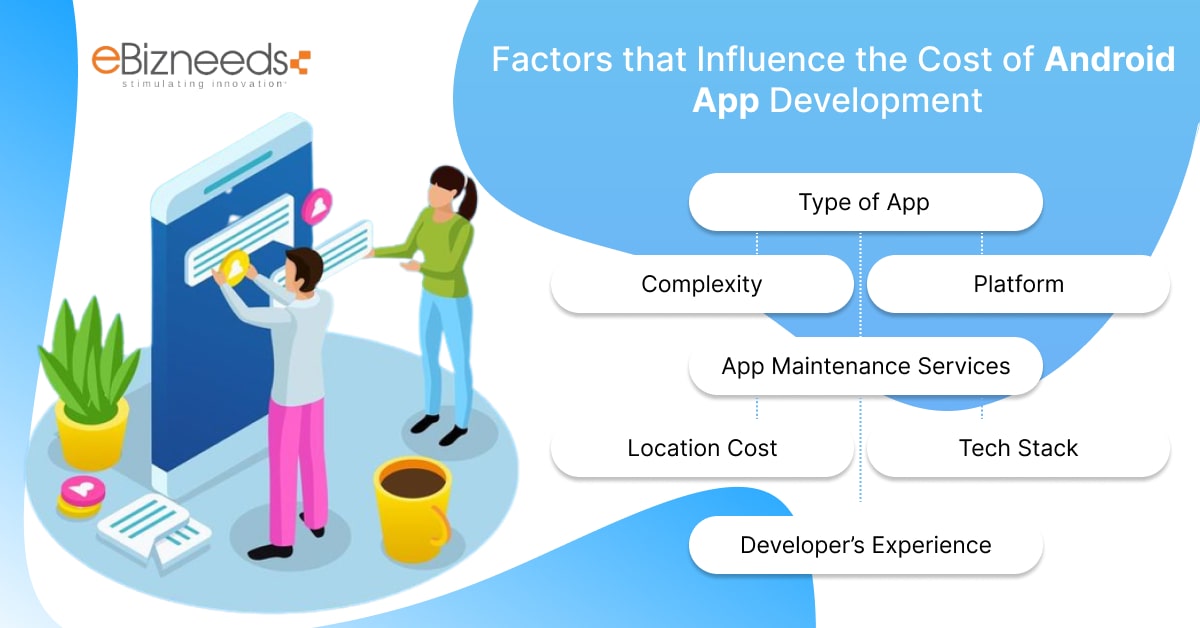 Type of App
Android is an operating system. If you're creating an application, you'll need to also select a specialization. For instance, would you be making a fintech application or one for food delivery?
An average on demand app development company offers a range of different solutions. You can choose from the same depending on which best fit's your business needs.
As one might expect, different forms on android apps have different costs associated with them. Therefore, the cost to develop an android app in 2022 also highly depends on the type of app you are developing.
Tech Stack
One of the most important elements that affect the price of developing an Android application can be the operating system. In addition, we're talking about the android apps currently being developed for us, we must consider the platform.
The second element to consider refers to the technology stack. This includes programming languages used by developers, frameworks, tool kits, and so on.
There are several technology stacks available with plenty of options. Similarity plays a huge role in the functionality and performance of the Android app.
Complexity
There are a variety of elements that contribute to the complexity of an app. It is a combination of the elements such as plan, back-end integrations, the type of app, the size of it, and more.
In the present, complexity can affect a variety of things however, the most significant are the development costs and the time. If you're interested in how this works it's simple.
The more complicated an application takes, the longer it takes to create and distribute. However, simpler apps are much simpler to handle. This kind of thing greatly influences the development of android apps.
Form the costing point of view, you would love to read following details.
Cost of App Development Basic of $40,000 to $60,000
The average app development cost is between $60,000 and $150,000.
Cost of Complex App Development Starting at $300,000
Platform
The platform is one of the biggest factors that can affect mobile app development costs. Now, you can choose between Android and iphone app development services, these being the two major platforms.
Nevertheless, as the title of this blog displays, we are talking about android app development. And as the things stand, android is on the more expensive side when compared to iOS or hybrid app development due to fragmentation.
Anyhow, you should choose the platform that best fits your business needs and helps your business grow, both of which are covered by android.
App Maintenance Services
The development of a mobile application isn't enough in the event that you're looking for success. There are many apps available on Google's Play Store, and only one or two of them will ever be well-known enough to generate significant earnings.
The reason for this is that they're not uniform. Numerous companies design apps but don't go completely. They aren't keeping up to date with it, so it doesn't adapt to evolving needs of the business.
If you plan to create a successful app, you must consider app maintenance. This assistance isn't free of charge.
The total cost is likely to be significantly affected based on the type of maintenance service you're using. This is why maintenance for apps is a crucial aspect that you should always be aware of when calculating the total cost of developing an Android app.
Developer's Experience
The cost of app and website development is dependent on various elements like innovation. However, there are a couple of factors that affect the android app development cost.
One of the factors is the developer's Experience. It's a fact that in any that you are considering that you are in, experience is important. If you hire android app developers with a lot of expertise, it's likely to be more expensive than hiring normal ones.
Senior Programmer Hourly Rate of $30 to $40 per hour
Center programming developer Hourly Rate $42 to $48 for each hour
Programming Developers, Hourly Rate $49 -$65 per hour
Read Also: Android App Developers Cost
Location Cost
Android app development costs also depend on the location of the developers, for example, offshore developers. When you hire Android app developers, you need to take this into consideration.
The cost of developing an Android app in North America ranges from $80,000 to $150,000
South America can spend $50,000 to $100,000 on Android app development
In Europe, the cost of Android app development can range from $55,000 to $95,000
Africa can pay between $40,000 and $60000 for an Android app developer
The cost of developing an Android app can range from $35,000 to $75,000 in Asia
This is the average price of Android app development across different regions around the world. This being said cost, let's examine the cost of hiring developers for android apps by way of various methods.
One of the primary steps to creating a market-driven android application is to employ an app developer for mobile devices. In this part of our blog, we'll look at the different methods to employ app developers for Android and the price they charge.
Method to Hire Android App Developers
The cost to develop an android app also highly depends on the way you hire the developers. As such, there are different ways to hire android app developers for your next project. Here, we shall be discussing just that along with the cost associated with the same.
Freelancers $30-$80/hr
Android App Development Company, $25-$55/hr
in-House Team $50,000 – $120,000/Compensation
Local Development Agency $30-$65/hr
These are the different methods to hire dedicated developers for your next mobile app development project. And with this, we are at the end of this section. Now, we shall be moving on to the next section, where we shall be discussing the average android app development time.


How Long Does It Take to Develop An Android App?
If you want to know the development time estimation of android app development services, it is quite similar to the development cost in the sense it can highly differ based on various factors.
Nevertheless, you can expect anything between 2,700 – 4,000 hours.
Again, for better cost and development time estimation, you can consult an app development company with a lot of experience.
Conclusion
Android is one of the most popular mobile app development platforms. And if you are someone who wants to know the cost to develop an android app, this blog discussed everything related to the same.
Now, if you want to hire mobile app developers to convert your app idea into reality, it is highly recommended that you consult a well-established android app development company that can help you with the same.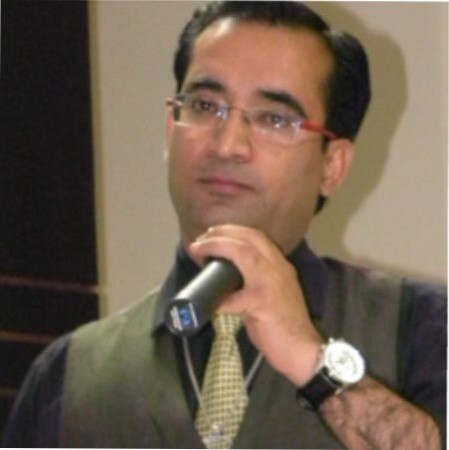 Naveen Khanna is the CEO of eBizneeds, a company renowned for its bespoke web and mobile app development. By delivering high-end modern solutions all over the globe, Naveen takes pleasure in sharing his rich experiences and views on emerging technological trends. He has worked in many domains, from education, entertainment, banking, manufacturing, healthcare, and real estate, sharing rich experience in delivering innovative solutions.