Last updated on February 2nd, 2023 at 12:11 pm
Growing your business requires several considerations. Where the cost of mobile app maintenance is one of the most significant aspects, a well-maintained mobile app can help you to achieve your business goals.
This blog is all about finding out that to maintain a mobile app and how mobile app maintenance cost takes place, and crucial information related to it.
So, let's check out what it says.
Why Mobile App Maintenance Cost?
Mobile apps are an essential part of our life now, from ordering food to booking an appointment with a doctor. There are approx 4 billion smartphone owners around the world. And they use at least 5-10 apps for some specific purpose.
On the other hand, business owners leverage this trend to reach potential customers. But sometimes, the mobile app requires maintenance and support due to some upgrades or updates. Then often, this question comes in mind of any business owner that-
"How much does it cost of mobile app maintenance?"
This question is crucial if you are serious about your mobile app. The reason is that a mobile app is a great tool to engage customers and generate revenue. Here we have created a blog to help you calculate the mobile app maintenance cost.
When you develop a mobile app, you'll want to ensure it stays up and running. One way to do that is to manage the budget for updates and app maintenance. Here are some tips on calculating the cost of mobile app maintenance.
If you are thinking about developing or managing a mobile app, you will need to calculate the cost of app maintenance. It includes things like app security, bug fixes, and updates.
The cost of app maintenance can vary depending on the size and complexity of your app, as well as the type of technology you are using. However, generally speaking, the cost of app maintenance can range from a few dollars per month to several thousand.
The Relationship Between the Cost of App Development and Maintenance
App development can be expensive, but it's essential to understand the actual cost before jumping in. Many mobile app developers offer upfront pricing that doesn't include any costs associated with developing the app, such as marketing or design costs.
It can lead to unexpected expenses down the road. It's also important to remember that mobile app development takes time and effort and is not a one-time project. Over time, you'll likely need to spend more money on updates and enhancements.
There are a few things to keep in mind when budgeting for an app, which are:-
The initial development cost is only the beginning. Ongoing costs, such as updates and support, will likely increase over time.
It's important to factor in the cost of user acquisition or getting new users to use your app. It includes everything from advertising to paid downloads.
Make sure you know how much your app will cost to market and sell. This includes direct costs, like hiring a marketing team, and indirect costs, like creating a promotional campaign.
The cost of mobile app development depends on factors such as-
The first is the platform you choose to develop your app.
The second factor is the size and complexity of your app. A more complex app will take more time to develop and be more expensive.
The third factor is whether you need a custom design or not. A custom design will be more expensive than using a template.
Finally, the maintenance cost should be considered when budgeting for your app development project.
The relevance to mentioning the cost of mobile app development is that maintenance is closely related to it and is counted as one of the crucial activities to remain the app alive for a seamless experience.
It's no secret that mobile app development can be expensive. But what's often overlooked is the cost of maintaining an app once it's built. Whether you're looking to hire a custom iPhone app development company or android app development services, understanding the cost of mobile app maintenance is critical to ensuring your project is successful.
Here are a few things to consider when calculating the mobile app maintenance cost:
How long will you need your new mobile application?
What features do you want in the app?
Will updates need to be made, and for how long?
So, now you are clear about the relation between the cost of mobile app maintenance and its development. Let's proceed to the different sections of this blog to have an ultimate revelation about the cost valuation of mobile app maintenance.
Read Also: Android App Development Cost in 2022
What Costs Are Involved In Mobile App Maintenance?
There are a few different costs associated with mobile app maintenance. First, you need to consider the cost of hiring developers. Suppose you're looking to hire node JS developers or react native app developers. In that case, you can expect to pay anywhere from $50-$100 per hour.
Additionally, you need to factor in the cost of hosting and any other third-party services that your app uses. Finally, don't forget to budget for regular updates and bug fixes. All these factors combined will give you a good idea of the monthly cost of mobile app maintenance.
For example, it costs $50 an hour to hire react native app developers. You'll have 20 hours of developer time each month (10 hours each week). That would be about $1,000 a month just for the developers' salaries!
To make matters worse, if they take on another project during their allotted 10 hours, they may charge more than $50 an hour. Add this cost to all the others, and suddenly you're paying upwards of $2,500 per month.
Additionally, some experts recommend having two developers so that one can always work on your project even if the other is working on something else. That doubles the cost of maintaining your mobile app!  But if you want your company's mobile app fine, then mobile app maintenance is necessary.
Usually, the data mentioned above is just an example. Most mobile app development companies charge 20-25% of the overall project cost annually for mobile app maintenance. If you want to get it every month, it may cost you around $300-$500, and the rest of the things will depend on your requirements.
Some Crucial Info About Mobile App Maintenance
A successful app has three key components: it needs to function as expected, function well enough for users, and function consistently. Once users get tired of repeatedly doing the same thing or can no longer use your application properly because bugs keep popping up every time they try to use it, your app will fail regardless of how much money you put into advertising.
A successful mobile app has four important aspects: functionality, performance, stability, and security. These four aspects should be considered when creating a strategy for managing mobile apps.
The strategy should include determining which features require higher levels of attention and monitoring, what tools are needed to achieve those levels of attention, and how often the app will need to be updated.
It's best not to wait until a problem arises before deciding what type of monitoring tools are needed. When choosing tools, it's essential to choose ones that offer live reporting capabilities to resolve issues quickly.
Of course, regularly updating your app will help prevent glitches and provide improved features; however, this also comes at a cost since many updates come with price tags attached!

Influential Factors For Calculating The Cost of Mobile App Maintenance
The cost of mobile app maintenance is a crucial factor in determining the success of your app. It is essential to understand the factors that influence this cost to make an informed decision when choosing a partner for your mobile app maintenance needs.
Developing, maintaining, and updating a mobile app can be time-consuming. However, there are many factors to consider regarding the cost of your app. For example, does your app have many features? Does it need to be updated often?
Would you like analytics incorporated into the app? These are some of the factors that should be taken into account when determining how much maintenance costs will
So, let's check out the factors influencing the mobile app maintenance cost.
The App's Complexity
No matter what app it is, its features decide the complexity. If any app has more features and functionalities, then there are more chances of high complexity. It directly leads to more maintenance costs.
Additionally, complexity and app maintenance costs are also related to the app's platform, such as iOS and Android. For example, if you have a presence on both platforms with your app, then it means you have taken care of maintenance accordingly.
The App's Design
Designing is one of the essential components of any app, and it has equal importance as the backend. So, app maintenance also covers the designing part. Suppose, while developing the app, if designers have made some mistake and you launched the app, it will later cost you more mobile app maintenance cost.
The better idea to save the maintenance cost of designing is to hire experienced web designers.
Also Read: How Much Does UX UI Design Cost in 2022?
The App's Maintenance Team
The maintenance cost is related to the designing, development, app platform, and others. But where you have hired the maintenance team also affects the cost of mobile app maintenance. The options are remote developers for app maintenance, a local company, or a whole team. These options come with their own cost.
Key Things To Remember While Opting For Mobile App Maintenance Costs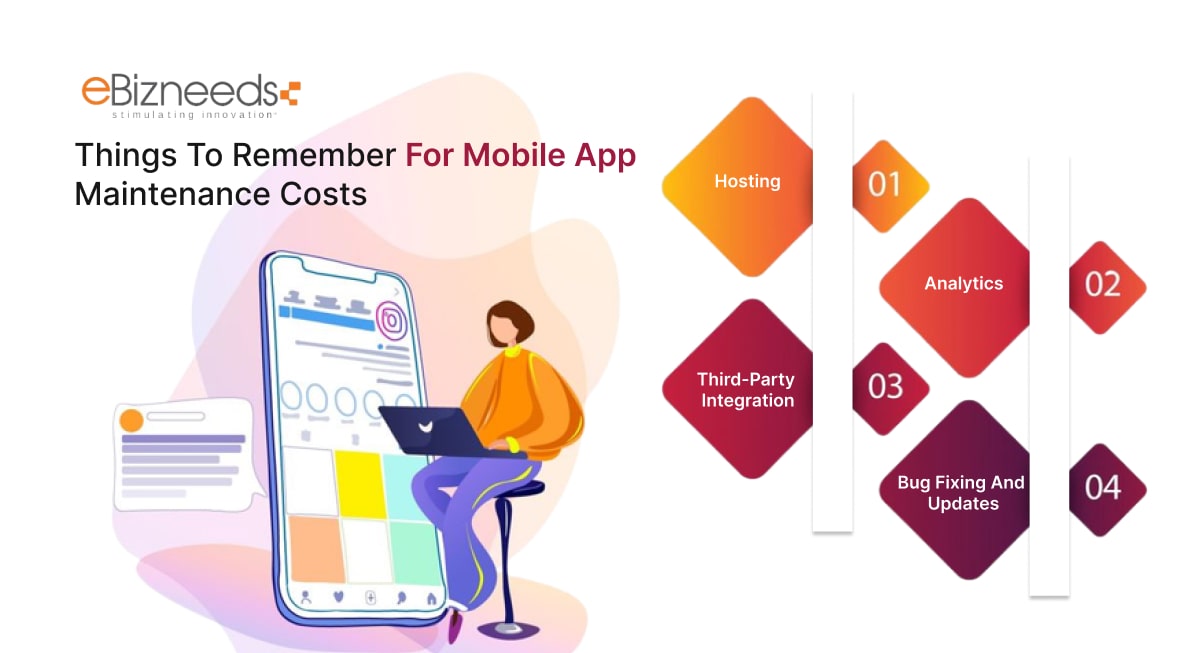 Mobile app maintenance costs are not just about the cost of the app. It's also about the cost of maintaining it, which is much higher. The cost of maintaining an app includes upgrading to new versions, fixing bugs, and adding new features.
Here are some key points you need to consider while considering the cost of mobile app maintenance.
#1. Hosting
For seamless execution of the app, an appropriate server is required. If any maintenance is required, it will depend on what kind of server you have. The app hosting cost has a strong relationship with maintenance.
If you host your apps on a platform that offers free updates and bug fixes for one year after purchase, the cost of mobile app maintenance can be reduced. This way, you will only have to update your app every year instead of every month or week.
#2. Analytics
One of the many challenges in mobile app development is updating and maintaining the app. It can be costly as it requires much time, resources, and money. During the execution of the mobile apps, bugs often appear, app crashes sometimes, and more.
So, these need to be monitored on time. Analytics can help you to manage all of these.
#3. Third-Party Integration
The cost of maintaining a mobile app depends on its number of third-party integrations. Too many third-party integrations can make the app difficult to maintain and update. It is because more dependencies increase the risk of bugs, crashes, and other issues in the app.
#4. Bug Fixing And Updates
How often you need updates or bug fixes in your mobile application is directly related to mobile app maintenance cost. The maintenance cost of an application with regular bugs or new features will be higher than one with minor changes every six months.
Your maintenance costs will be higher if you launch an application with frequent bugs or new features, for example than if you only need to make minor changes every six months.
Smart Tips On How to Cut Down App Maintenance Costs
Research is key – know what you need and what you don't.
Prioritize features – think about what's most important to your users.
Use open source libraries – they can be a great resource for code that's already been tested and debugged.
Simplify your design – the simpler the design, the easier it is to maintain.
Automate where possible – this can help with things like testing and deployments.
Keep an eye on your logs – monitoring your app's performance can help you identify issues early on.
Invest in a good hosting provider – a quality host can make a big difference in terms of uptime and support.
Don't reinvent the wheel – if there are parts of your app that can be done more efficiently by using third-party services, use them!
Get feedback from customers and community members – let them tell you how they use your app so you can better anticipate their needs.
Make sure data is backed up frequently – try to do it daily or at least weekly, as backups will save your life when something goes wrong!
Monitor how much time developers spend on each project – you might want to hire a few people who specialize in certain areas, so they're not doing all the work themselves.
The Final Thoughts On Maintenance Cost of Mobile App
Mobile app maintenance cost is an essential factor to consider when budgeting for your app development project. A few key things will affect the cost of maintaining your app, including the size and complexity of the app, the number of users, and the frequency of updates.
The more complex your app is, the more difficult it will be to maintain, so you can expect costs to increase accordingly.
Additionally, suppose you update your mobile app often with new features or content updates (more than once per quarter). In that case, you'll need even more funds set aside for future changes. Many popular apps release anywhere from two-to-four major updates each year.
This type of frequent updating leads to higher overall mobile app maintenance costs. For a better idea, you can take the help of an experienced mobile app development company that could understand all your requirements.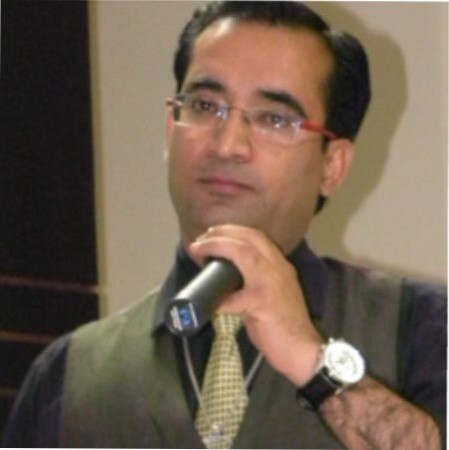 Naveen Khanna is the CEO of eBizneeds, a company renowned for its bespoke web and mobile app development. By delivering high-end modern solutions all over the globe, Naveen takes pleasure in sharing his rich experiences and views on emerging technological trends. He has worked in many domains, from education, entertainment, banking, manufacturing, healthcare, and real estate, sharing rich experience in delivering innovative solutions.