Last updated on October 12th, 2023 at 05:54 am
Today, Artificial intelligence technology is on the boom and the world is growing fast with it, making significant changes to the way we live. For every entrepreneur, AI is certainly a boon as it boosts productivity, saves time and effort, and reduces errors, performing the tasks accurately and perfectly. In this article, we will discuss how it is transforming the world, the way we live, we work, and our home life.

What is Artificial Intelligence?
Perhaps you are unclear on AI, what this technology is all about. Artificial intelligence is a part of computer science that is basically about the intelligent behavior of machines. It is a cleverly imitated capability of a machine to copy human behavior and response patterns smartly. A machine simulates human behavior and response patterns using some specific algorithms enabling the AI to work in a defined scope of actions meaning AI will function as per the given algorithm code. Now, what you can do with AI is depends on the programmed machine technology. You can perform your day-to-day work effectively using this technology.
Artificial intelligence technology is increasingly growing and widely used among the general public and businesses to boost user experiences. According to a research report from Gartner, Artificial Intelligence is expected to build a business value of $2.9 trillion by 2022. It is greatly helping entrepreneurs grow their businesses by offering various benefits. Artificial Intelligence Solutions are transforming our life, ways we do things, live, and realize.
How Artificial Intelligence transforms work life
The impact of Artificial intelligence on various industries, professions, and the workforce is considered fortunate by some and ruinous by others. AI has the power to perform a large amount of skilled work automatically; however, this affects human resources involved in the same skilled job. AI can perform singular tasks, one task at a time automatically, whereas a variety of sectors demand multiple tasks. AI is not capable of multitasking as of now.
Education
When it comes to education, there are a variety of tasks that need to be performed including the instructor, educator, analyst, counselor, mentor, and more. These functions cannot be performed by any computer or robot; however, AI has the capability to perform those tasks automatically.
Using AI technology, a variety of tasks like specifying individual study plans, analyzing the test results, grading can be performed automatically. Furthermore, it can perform a comparative analysis of a student's attendance and academic history by using algorithm code to figure out the gaps in knowledge and learning disabilities. It helps minimizes the burden on both teacher and student and enhances teaching and learning environments.
Law
AI helps legal firms to process a big amount of legal data automatically, for instance, J.P. Morgan reviews documents and previous cases in minutes that manually takes somewhere around 360,000 hours using an AI-enabled program dubbed COIN. Similar to teachers, it cannot be replaced with lawyers, but it makes lawyers work easily and fast greatly. It can help to speed the process of the court.
Skilled and manual labor
AI helping various organizations in performing a variety of tasks automatically which speeds up the task and simplifies the process as well. Mechanization is increasingly growing in different industries to perform a variety of functions and tasks, replacing the trained workers. There are many factories and mining which already have driverless trucks working in mining pits of Australia,.
Health
AI is playing a significant role in our everyday health and well-being. The technology is already allowing faster diagnosis of patients. Further, it is also helping with preventing illness in advance by predicting the possible health issues one may have, it predicts the health problems on the basis of age, genetic history, and socio-economic status, etc.
AI also helps study the various cases, analyze cross-reference symptoms, it facilitates faster diagnoses of diseases, speedy treatment, and minimizing the time a patient spends in the health system. Nowadays, health care provider using AI algorithms to detect tumors in radiology scans more perfectly and accurately.
Transport
Another sector is our transport industries which is also using Artificial Intelligence technology. It is assumed that within the next decade, most of our shipping and rail networks will be controlled and monitored automatically.
Rolls Royce and Google have come together to develop and introduce the world's first self-driving ship. China is also testing and trying to launch driver-less public buses. Google's self-driving car replaces one driver.
How Artificial Intelligence affects home life
AI and Machine learning is helping to make the way we communicate and live our daily lives better and effective. There are some intelligent advancements done in mind-reading technology, for example, the AlterEgo headset helps control the appliances around the house by responding to our brainwaves.
The automation of our domestic lives can be seen in a variety of tasks such as the dimming of lights, closing of blinds, locking of doors and more can be done all at your command. Amazon's Echo and Alexa have the ability to control the voice activation of your smart-home.
Apart from it, AI enables fridges to be connected to the internet. You can see inside your fridge and check the required food available when you are at work. In the very close future, it is expected to turn your home into a smart home by the automation of most of the aspects of your home. Artificial Intelligence Development Company can help you automate the required task-specific to your needs.

How Artificial Intelligence transforms the way entrepreneurs do business
If you want to power your organization with Artificial Intelligence, you probably need everyone's participation and cooperation. Whether it is about individuals or organizations, transformation takes time. They say that crises reveal real character, as we are all aware that the Covid-19 pandemic is a tremendous humanitarian crisis that has realized and raised the importance of technology. AI played a very important role in every stage from recovery to the economic situation. By adopting AI technology, organizations transforming the way they run, optimizing processes, and developing business models.
Helps build better marketing strategies
Using AI, entrepreneurs can easily analyze the data to boost sales, leads, and conversions. AI algorithms use big data for users' patterns and trends, providing effective marketing and designing a powerful content strategy. For example, as per a recent research report on Harvard, the Success of marketing campaigns correlated with words and phrases of screening chats.
Helps to understand your customers better
Perhaps entrepreneurs and marketers already know that how Artificial Intelligence transforms their working ways. For instance, knowing the users' search habits and finding the demographics to build the strategies is a fundamental requirement of any marketing campaign and this is something that cannot be replaced with anything, it applies the same for everyone and each industry.
AI helps you study your market effectively by using your data to determine the different ways your business can offer them precisely what they need. And it is not on the basis of assumptions or also you are not guessing your target users' behaviors but it is entirely on the basis of the research study. So, AI can help you with data drive optimizations, increasing the conversion rate; analyze your target audience's buying patterns, providing an excellent user experience.
AI as a competitive tool on social media
When you make your future business plan, it becomes essential to know that what your competitors are doing. AI allows you to track your competitors' products, activities, processes, strategies and review their business plans. Artificial Intelligence also allows you to get your target audience on social media.
Increases efficiency
Running your business efficiently is important to increase your resources, minimize time and efforts in the long run. AI helps you boost operational efficiency. For instance, you can develop a speech recognition app for helping doctors of your medical practice take notes aloud. Moreover, you can use AI-powered voice assistants to boost speed in the office and get help with scheduling meetings. It can help you with setting up reminders and saving points you need to share in a team meeting.
Enhances productivity
AI offers great results to improve your business's performance and achieve great results in your efforts. You can boost your organizations' productivity, lets' take an example, you can develop an app to track inventory for your warehouse speedily, or provide you the required data quickly by assessing and managing it.
Increase automation
You can save a lot of time and resources if you automate your manual tasks using AI technology, and can spend this time doing important work to grow your business instead. With AI-powered apps, businesses can do a variety of tasks and processes automatically. You can build an app to automate various processes and tasks, minimizing the manual labor of doing repetitively.
Enhance customer experience.
Providing the best experiences to your customers means you need to be available for your customers as and when they need you. An instant response to your customer's needs certainly makes you the best support provider. Providing round-the-clock support with your team can be pretty expensive for you, especially if you are a startup. However, you can improve customer experience by using chatbots.  AI-powered chatbots can help you answer your customer's queries and handle tasks when human resources cannot.
Helps reduce the probability of errors
Errors can cost you much for any business operation. However, you can minimize the chances of human error with the power of AI. AI-powered apps can perform work such as data review and input and other administrative tasks with zero error and accuracy. For an AI-powered solution, you can get in touch with the right artificial intelligence software development company.

Conclusion
Over the years, Artificial Intelligence is rising up and shining bright in various sectors including big organizations, security platforms, energy and natural resource management, governments, etc.
AI has progressed well and it is no longer a science-fiction dream. It has become a critical part of our everyday lives. Some of its advanced developments are yet to arrive, for example fully autonomous cars and a super medicine that can cure specific diseases.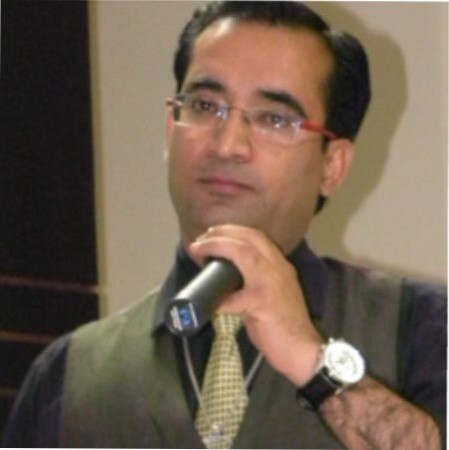 Naveen Khanna is the CEO of eBizneeds, a company renowned for its bespoke web and mobile app development. By delivering high-end modern solutions all over the globe, Naveen takes pleasure in sharing his rich experiences and views on emerging technological trends. He has worked in many domains, from education, entertainment, banking, manufacturing, healthcare, and real estate, sharing rich experience in delivering innovative solutions.