Last updated on October 12th, 2023 at 05:55 am
Do you run a business and face difficulties to be updated with the latest trends, market conditions and respond quickly to change or having trouble in optimizing internal business processes, driving decisions, getting important business reports, or perhaps you find it somewhat challenging to convert raw data into actionable insights?
If yes, then you must go on reading. Actually, it is pretty tough to work with large data using Excel; it truly creates obstructions for data-driven enterprises.
So, how you can make an informed decision with the use of huge data?
Nowadays businesses run entirely on data, if you have your own business and want to make a change; working with a great data analysis tool such as Power BI can be a huge boon. It will help you make sense of your data and make smarter business decisions, providing your business an edge.
Power BI (business intelligence), introduced by Microsoft, is an interactive data visualization and analytics tool. Using Power BI, you can collect data from a wide range of systems and create dashboards that help you track the market and make profitable decisions.
Power BI Development helps a variety of different businesses to get better data visualization and decision-making processes that ultimately lead to profitability. In this article, we will share what is Microsoft Power BI and how it can help you make smarter business decisions and grow your business.
What is Power BI?
Power BI is a cloud-based business analytics tool that helps you visualize and analyze data with greater speed, accuracy, and high understanding.
Furthermore, Power BI is an interactive data visualization tool that helps you share data across the organization easily and bring precious insights to make quick and informed business decisions. It turns raw and unprocessed big data into meaningful insights to understand the market better. It allows you to access the customized reports and interactive dashboards, providing you a complete 360-degree view of the business.
There are many top-notch brands that are using Power BI Development Services already to grow their business including Dell, Wipro, Metro Bank PLC, Edsby, Oraylis, and many more.
Who can use Power BI?
Business Analysts, you can use Power BI if you are a Business Analysts or IT personnel to build interactive data visualization from multiple data sources and provide real-time insights across the organization.
Enterprises can use it to simplify the management processes, generate accurate and reliable reports, identify anomalies and streamline the workflow.
Developers can use Power BI REST API to automate the lifecycle of an app, create stunning visuals in apps, portals, websites, and so on.
Now, the question is how Professionals can make use of it, well, there are three different ways to access Power BI:
1) Power BI Desktop: This allows you to connect with the data through multiple data sources, merge them into a data model and build compelling visuals.
2) Power BI Service: It is a cloud-based service for association with teams and businesses. The reports generated in the Power BI desktop can be shared in the Power BI service, allowing you to modify them. You can also create dashboards based on your reports in the Power BI service.
3) Power BI Mobile Apps: Power BI has mobile apps for multiple platforms including iOS, Android, and Windows 10 mobile devices. It allows you to view, interact and access reports, dashboards, and other data safely.
To put it simply, the desktop is for generating the data; the Service is for sharing the data; the mobile apps are for easy access,  getting insights anywhere on any device. However, to understand in a more clear way, you first need to understand the Power BI architecture. But before that, let's know the components of Power BI. ASP.NET Development Company can help you build a great Power BI enabled app for your business.
Power BI Components
Power BI is made up of several components where each component plays a crucial role in the Power BI solution. It allows users to create and share data reports. The different Power BI components are:
Power Query: It helps data search speedily and merge data from multiple data sources. Using Power Query, collecting, transforming, and analyzing different data from multiple data sources is a simple task.
Power Pivot: It allows greatly compressed data storage and very fast aggregation and calculation. Power Pivot is a data modeling tool that uses the Data Analysis Expression (DAX) language to build simple and complex data models. It helps you perform numerical computation and set up relationships between different data sources.
Power View: It is an interactive visualization tool that can drag-and-drop interface to the users. Power View can be added on SQL Server or SpreadShare to generate graphs, maps, charts, and other visuals with easy drag-n-drop tools. Power View can hook up and sort out various data sources to create a report on a single device.
Power Map: It is a 3D geospatial data visualization tool. Power Map allows designing a number of rows of data on Bing Maps in the form of 3D visualizations. Bing Maps displays the exact geospatial visuals of the complex business data on the basis of the country, longitude, and latitude. This is very helpful especially when you need to view the sales insights from some specific locations.
Power Q&A: It is a natural language question and answering engine. Once you have set up Power BI, you can explore your data. You can write or give voice commands in your language and get visual responses.
Data Management Gateway: It helps you get periodic data refreshers and data feeds.
Data Catalogue: It allows you to discover and reuse queries easily. Metadata can be used for search functionality.
Power BI Desktop: Power BI Desktop is a free application; you can set up it and have everything on a single platform including Power Pivot, Power Query, and Power View. You can install it on your computer or laptop to generate dashboards and reports.
Power BI Desktop's free version allows data storage up to 10 GB and limits 1 GB to upload at a time. It also provides access to all the tools and functions of Power BI visualization templates and libraries. You can generate and export reports in Excel and publish them on the Internet.
However, it does not allow sharing these reports with your peers and can only refresh up to 8 times a day. You have to get the Pro or Premium version for live reports.
Power BI Service: Power BI services are hosted on Microsoft Azure Development, and let you publish reports on the cloud and share them with other members. Using it, you can generate live reports and connect them with the Power BI dashboards known as Power BI Workspace.
Power BI Service allows you to connect Power Pivot, Power View, Power Q&A, Power BI Report Server, and other components with the Power BI Workspace. It allows you to access data from anywhere and anytime.
Power BI Architecture
Microsoft Power BI architecture allows users to understand the insights quickly and easily without the need to learn about the system. It uses charts and graphs which help users to understand the current state of the business in a glance and the required actions to improve it.
Let's have an overview of the Power BI architecture
Connecting Data
There are a variety of data sources with which Power BI can connect the data. The two main data sources are:
Importing the data to Power BI
Using the Direct Query
The first option – importing a file to Power BI can be used when the file size is 1 GB or less, however, if the size is bigger, then you can use Direct Query.
Transforming the Data
Now when you have connected the data, you have a variety of choices to transform your data. You can transform it as per your specific requirements. It allows you to change the columns or tables name, the text to numbers, get rid of rows, adjusting rows, headers, and much more.
Reporting and Publishing
It generates reports, representing and converting the huge data into actionable insights, in the form of graphs, pie charts, etc. After generating a report, you can publish them to Power BI services.
Creating a Dashboard
A Power BI dashboard is made up of a single page, usually called canvas that tells a story using visualizations. You can pin the individual element or live report page to build a dashboard. Since you can create a one-page dashboard, a nicely-created dashboard includes only the overview.

Power BI: How it Helps Enterprises?
Collects Data from Various Data Sources
Power BI allows accessing data easily from cloud services including Microsoft Dynamics, Salesforce, Google Analytics, Zen desk, Facebook, and more. Power BI helps you make changes in your data from a variety of sources. It allows you to generate visual reports and share them with others.
Dashboards Help Make Informed Decisions
Power BI enables you to make personalized dashboards with which you can monitor all your business requirements in real-time. It offers a holistic view of the business with which you can instantly fix any problem that may have to occur and allow businesses to make informed decisions quickly.
Ask Questions- Get Answers In Real-Time
How does it feel to ask queries in your language and get solutions in eye-catching interactive visualization? Exciting! Right? Well, using Power BI, you can inquire about anything that is in your mind and get an answer presented in the form of a chart and graph. It also includes search functionality that can help you find hidden insights quickly.
Tell Stories with Interactive Reports
Power BI has a timeline storyteller which transmits information and details that vary over time. It is a custom visual that presents data in the form of circles, grids, spirals, or any custom shapes. It also includes layouts; various scale representations such as logarithmic and relative, controls for filtering, highlighting, and annotation. You have the choice to determine the data representation and design as per your choice in your timeline.
Make Business Decisions from Anywhere
Power BI provides its mobile apps for different platforms including Android, iOS, and Windows, facilitating secure and easy access from anywhere and anytime. You can access the reports and view live Power BI dashboards on any device. You can easily and quickly access on-premises data stored in an SQL server or data in the cloud from wherever you go.
Other Benefits of Power BI
You can use Power BI without any technical expertise. You need a little assistance to implement Power BI.
It is introduced by Microsoft and has strong integration with its other business tools as well like Office 365, Microsoft Excel, Azure, and SQL Server.
It seamlessly integrates with your existing business environment.
It allows you to set up automatic data refresh.
You can post the visual reports on social media posts and emails and anyone can access them accessible as per the needs.
Since Power BI can be connected with the software such as Spark, Hadoop, etc, data becomes more accessible and combine the data into a centralized dashboard.
It offers frequent updates with new features and functions
Downsides of Power BI
There is no denying that Power BI offers a wide variety of advantages, however, it has another side also, let's have a look.
You can share the dashboards and reports only with the users who have the same email domains or email domains listed with your Office 365 tenant.
Power BI components list is very extensive and this is why, sometimes it becomes tough to understand which component is needed.
Microsoft Power BI doesn't let you create scheduled reports, personalized user notifications, views, and security.
Despite the few disadvantages, Power BI has great tools and functionalities which help you make smart business decisions. ASP.NET Web Development can help provide more power to your app's functionalities and enhances its capabilities.
How Power BI is Different from Other BI Tools?
Power BI is one of the best data analysis tools. Enterprise Software Development always helps you grow your business better in a variety of ways. To understand it better, let's have the comparison of Power BI with other leading tools such as Tableau and QlikView.
In terms of cost, Tableau doesn't have a free version, the cost of Tableau's Personal version is approx $420 and the Professional version will cost you $840 annually. On the other hand, the PRO version of Power BI will cost you only $120 and its free version is quite comprehensive and covers a lot more than Tableau.
QlikView doesn't include Predictive Analytics tools which make it hard to make data-based decisions while Power BI allows you to build predictive models and visualize the predictive results.
The Future of Power BI
Power BI provides flexible, innovative, and cost-effective solutions; also you can integrate it with other solutions seamlessly. You can configure it easily and access it from anywhere and anytime. And Power BI includes all the features and functionalities that collectively help you make quick business decisions. Therefore, the future of Power BI seems bright and long-lasting.

Conclusion
Power BI offers numerous powerful tools and services that help analyze big data and get deeper business insights, making business analytics a pretty simple task. It is a simple-to-use tool and even beginners can use it to perform complex analysis, create interactive dashboards and generate live reports to visualize needed information. Since Microsoft is an industry leader; Power BI helps you to integrate with other services seamlessly and get real-time analysis.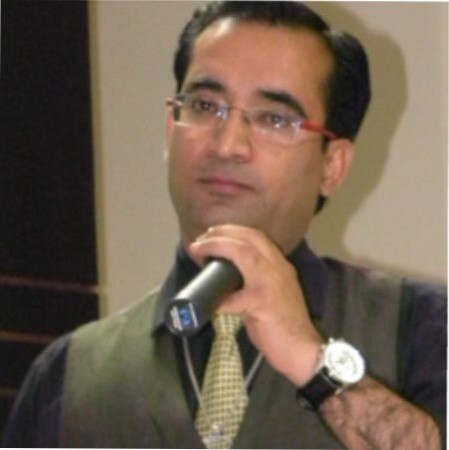 Naveen Khanna is the CEO of eBizneeds, a company renowned for its bespoke web and mobile app development. By delivering high-end modern solutions all over the globe, Naveen takes pleasure in sharing his rich experiences and views on emerging technological trends. He has worked in many domains, from education, entertainment, banking, manufacturing, healthcare, and real estate, sharing rich experience in delivering innovative solutions.