Last updated on January 18th, 2023 at 10:53 am
In the last few years, the educational sector has seen rapid growth as more and more resources are made available to make it prosperous. Among these resources, online learning or eLearning app development for adults is considered the most valuable.
eLearning apps were introduced to the market about 4-5 years ago, forever changing how education is delivered. The basic formula followed by the eLearning app is to make all the content they study in their books or classrooms available on their smartphones or tablets so that they can study from the comfort of their homes.
Various options are available for students to choose from according to their preferred learning method.
This article will discuss the key points, benefits, and significant steps to follow while developing eLearning applications for adults.
This guide will help you make a strong, full-featured eLearning app that will help you find new business opportunities.
eLearning App Statistics
Let's take a closer look, starting with the most recent data.
• The total number of scholars presently studying fully online is 3 million.
• Virtual vs. traditional learning statistics indicate that 22 out of the 25 best universities provide free e-learning courses.
• Approximately 50% of elementary school students share that using technology is their favorite technique of e-learning.
• Up to 73% of scholars are unaware of MOOCs (massive open online courses).
• eLearning recalls five times more knowledge than traditional learning.
• For 86% of graduates, the eLearning cost was worth it in terms of the value offered.
• Online learning statistics indicate 72% of businesses confirm they have the edge over their rivals due to eLearning.
• eLearning is a rapidly growing education sector that has increased by 900% since 2000.
• As per the report, revenue increased by 42% for firms that invested in eLearning.
• Each dollar spent on eLearning for employees enhances productivity by $30.
eLearning Industry Trends 2023
At the global level, many people are highly engaged in eLearning, and as a result, eLearning practices have changed. Consequently, effective technological changes are happening in the sector. It indicates the things that will develop and evolve in the eLearning industry.
Let us help you understand what the eLearning industry will look like in 2023.
Adaptive and Assistive Technology
With the support of assistive technology, disabled students can learn better. It can help achieve the goal of universal presence while also allowing students to stay enrolled in the traditional educational system.
It is one of the critical methods that eLearning has developed to assess the requirements of students with various disabilities.
Since they can study at their own place and leisure while still enjoying the advantages of proper support tailored to their requirements.
Micro Learning to Enhance Student Engagement
It is a modern e-learning method that emphasizes breaking down enormous amounts of information into digestible chunks. Attention spans are getting shorter and shorter in the digital world. As a result, it is also advantageous.
The information is filtered so that the quantity of material is essentially reduced. Moreover, one of the most important strategies is to help students enhance their conceptual knowledge. As a result, students will also benefit from the data's clarity.
Artificial Intelligence
Artificial intelligence (AI) has advanced significantly in several previous generations, from machine translation to computerized customer support. To boost machine learning, AI is utilized to predict the participant's learning opportunities and potential hurdles.
Due to remote working and globalization, algorithms may help businesses to manage their eLearning programs to meet the individual needs of different learners.
The necessary talents may be found via algorithms. If they provide personalized experiences and suggestions based on user input, it also establishes a link to closing the skill gap.
Game-Based Learning
A gamified learning setting is another development to watch out for in 2023. The program has already established itself as a practical option for raising class participation. Also, it is increasing in popularity for different causes.
Using game-like aspects enables teachers to meet students' educational needs in a stimulating learning environment. Additionally, it has a crucial fun component to maintain the learners' attention.
Mobile Applications
In 2023, eLearning applications will be among the leading platforms, according to Statista estimates. Mobile app demand significantly rise during the epidemic.
Mobile phone users can now access high-quality instructional information through mobile apps. Today is the easiest time ever, historically speaking.
Experts anticipate that eLearning applications will be a massive trend in 2023. It enables individuals to study at their own pace in a setting that is specifically tailored to their needs.
Online learning environments with these kinds of exceptional features will undoubtedly impact people. Apps permit adults to immerse themselves in the learning procedure.
Augmented Reality and Virtual Reality
The ability of AR and VR to immerse students in various worlds while also changing how they study is cutting-edge and revolutionary. The principles can be used by people taking practical online courses that focus on virtual items and low-risk counterfeiting.
Virtual reality (VR) makes it possible to employ avatar-creation tools and set up virtual classrooms where students may connect with teachers in real-time from any location.
AR in corporate training permits the learner's flexibility by offering better access to essential data. It enables students to interact in real-time with other teachers and students.
Why You Should Invest in eLearning App Development
Multiple EdTech start-ups are raising funds to invest in eLearning application development, and recently Illumus raised around $100,000 through seed funding. Apart from this, an eLearning app development company based in Amsterdam also raised around 3 million euros.
With a CAGR of 19.5%, this steady growth of eLearning applications means that the eLearning market will be worth about $56.5 billion by 2024.
eLearning App Development Benefits
Mobile apps are called "eLearning apps" in the education industry. It has grown at an exponential rate over the last two decades. While many mobile education apps offer paid services, others are free.
They mostly thrive on the advertisements displayed between them.
Adults benefit from and value mobile educational applications in innumerable ways. They enhance the education system and make it easier for adults to learn new things and remember them for an extended period.
Here are some of the most significant advantages of using eLearning apps:
Complete Utilization of Time
Adults typically waste a lot of time on activities that have nothing to do with learning. eLearning assists scholars in using their downtime for educational purposes.
Instead of watching TV or surfing the internet, adults can learn by reading e-books, watching videos, completing their online homework tasks, and listening to verified lectures.
It assists adults in effectively managing their time or learning when and where they want to. They believe 10 minutes of focused learning is better than spending an hour on a distracted lecture. Mobile apps do that effectively in the education sector.
Quality Interaction 
Research shows that e-learning enables adults to become more interested and interactive. They would be more engaged among adults since they are now studying through live classes and videos.
They also assist adults who get distracted easily. In addition, a mobile app's handy nature is an add-on for adults, as they do not have to go through the extra effort of opening the book.
It is also stated that eLearning and mobile apps can offer more data than textbooks.
24/7 Availability 
Teachers cannot be available to students 24 hours a day, seven days a week. Hence, it makes it difficult for students to achieve their full potential. For example, when a student can focus best at night or has certain doubts while learning a specific subject at home, they can't go to the lecturer to solve their queries at any time.
But it is possible with e-learning apps, as students can access the lectures 24 hours a day and clear their doubts anytime. In addition, students can access the lecture content as often as they want. In such a manner, an adult who is slow to learn can quickly learn the subject without any external assistance.
Sustainability 
Using e-learning apps for classes is a more sustainable method than traditional ones. These applications can assist you in getting additional help from teachers, reference notes, and much more without using pens, pencils, and paper.
This contributes to less tree cutting and creates a highly sustainable learning technique. It has a broader scope in the educational sector.
Improve students' tech skills
Tech skills are required for almost all jobs in the digital age. eLearning apps can teach you relevant technical skills. Many students can benefit from such e-learning apps because they help them navigate the technological world while working for the company. Students can even learn the coding underneath the game's appearance, supporting them in developing a foundation for potential IT jobs.
Better Parent-Teacher Communication
eLearning provides a common platform for both parents and teachers to interact with each other without any obstacles. Parents can arrange virtual meetings, seek to understand their adult's performance, and ask for regular feedback simultaneously.
Categories of eLearning Applications
Usually, there are three main categories of eLearning applications, which we will discuss in detail below.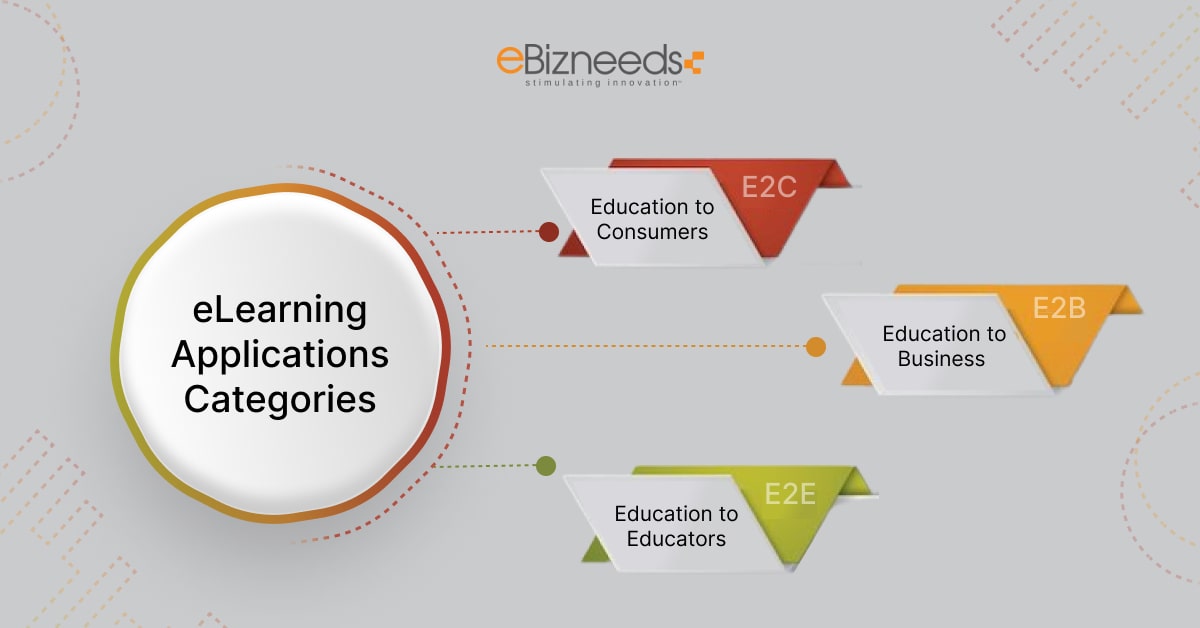 E2C: Education to Consumers eLearning Applications
Students from various institutions or schools looking to gain knowledge have shown an interest in pursuing their studies through eLearning mobile applications, including these types of eLearning apps for adults.
This rapid growth of eLearning applications has opened up a world of business opportunities, but this is no cakewalk. Below are some exciting options for generating revenues through eLearning applications.
Online education courses

Course catalogue, forums, and blogs

Audio and video lectures

Mobile Version Availability

Integrated Payment Systems
E2B: Education to Business or Corporate Training eLearning Applications
Business organizations or companies planning to incorporate training programs can use this eLearning model to save time from monotonous face-to-face classroom learning.
The priorities for businesses are efficiency and growth, and to maintain these, businesses are turning towards eLearning to save money, time, and resources. Below are some of the significant benefits offered by eLearning applications for businesses:
Cost Effective

Convenient and flexible

Boost conversion rates and productivity.

Easy access to information and data

high retention capacity

Constructive Feedback
E2E eLearning Applications: Education to Educators
eLearning applications not only benefit students but also consider teachers. There is no doubt that eLearning applications have been proven beneficial, but they are also helping teachers grow by leaps and bounds. Below are some of the significant benefits offered by eLearning applications to teachers:
Assign tasks to students and keep a real-time report of their work progress.

Scheduling a class at any date or time

You can get information at any time.

Send notifications about essential activities.
Types of eLearning Applications
When calculating the cost of application development, one significant aspect that affects the eLearning app development cost is the type of application you are planning to build. Below are some of the most common types of eLearning apps:
Smart Connect
This software was created while considering the importance of projecting study material and content for teaching and training. These types of eLearning apps are primarily used in smart classrooms.
Course-Based Applications
The applications that offer or are customized to run learning courses online are termed "course-based applications." The study material and content in this eLearning app are integrated with audio and video lectures.
Examination Application

s
Generally, these applications are integrated with various tests and aptitude series that students can access for a particular subject. These applications allow the students to give tests to improve their knowledge and learning skills.
Vocabulary Applications
These applications help students or teachers improve their vocabulary for better communication and teaching skills.
Monetization Techniques for eLearning Applications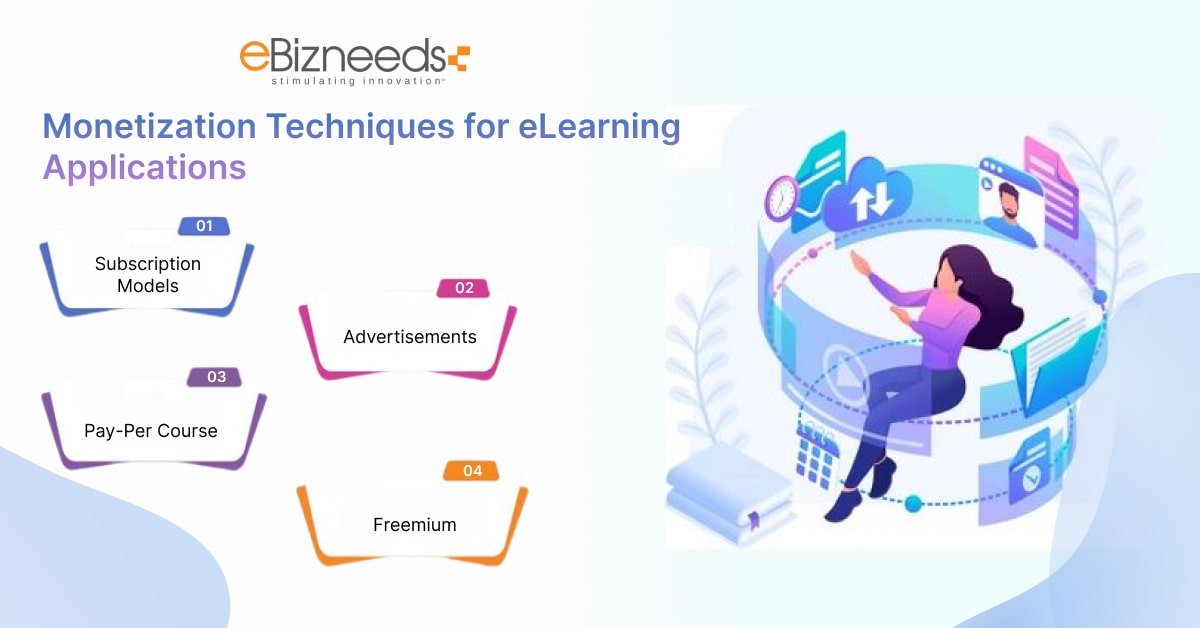 No matter how responsive or excellent your application is, it is of no use to your business if it does not generate ROI or revenue. You need to implement a suitable monetization method, as not every method will work for your eLearning app.
Sometimes a perfect mixture of various monetization models is best for your eLearning app. So here are a few monetization methods you can use to generate revenue for your business.
Subscription Models
With the subscription model, the user needs to pay a small convenience fee to access the learning or study material from the application.
The subscription can be accessed for a lifetime or a limited time, per the pricing terms and conditions. If your eLearning app offers multiple courses, you can offer a fixed number of courses with the subscription model.
Advertisements
If your eLearning app has a solid and huge user base and offers a wide range of educational content, then advertisements can be considered a considerable monetization opportunity. Either you can choose Google AdSense to run ads, or you can manage it yourself.
Pay-Per Course
It is considered one of the most straightforward approaches to monetizing your eLearning platform. Although the students or users have to pay to access the courses, you can offer free webinars or workshops to attract customers.
You can offer courses as per the current average price in the market, or you can play with the price fluctuations to make your course look premium. However, you must ensure that your pricing follows the course strategy.
Freemium
This monetization model is usually integrated with other monetization models, such as advertising, subscriptions, and third-party services.
With the freemium model, the users can learn from your eLearning app for free, but they have to pay to get certificates for that particular course.
Mostly, the students back off at the payment option as they believe that the value lies in gaining knowledge, not in the degree. But if your certificate has excellent value in the market, then only your freemium model will work.
Basic Features of the eLearning Application
As there will be more than two panels in the eLearning application, the feature set will vary per each panel's requirements. Also, some of the features will be different as per the type of application. The different panels and their respective features are as follows:
Student App
Quickly Login or Register

Splendid Content for Courses and Assignments

Mobile Payment Gateways

Optional Filet and Search

Live video conferencing and chat

Review and rate

Mock Tests and Practice Sets

Manage subscriptions and purchases
Parent/Mentor App
Login or sign up for social media

Monitor student progress and performance.

Manage package subscriptions

Access student attendance

Push Notifications

Interact with tutors and teachers.
Teacher/Tutor App
Simple Registration or Login

Content Monument and Uploading

Create Profile

Manage Notifications

Class Scheduling

Interact with students.

Seamless Registration
Admin App
User Management

Profile Management

Communication Management

Subscription Package Management

Content Management

Statistics and Reports
Advanced Features of the eLearning App
For complex eLearning applications, the features below are also important. You can also integrate these features into your eLearning application to make it more flexible and easy for your users.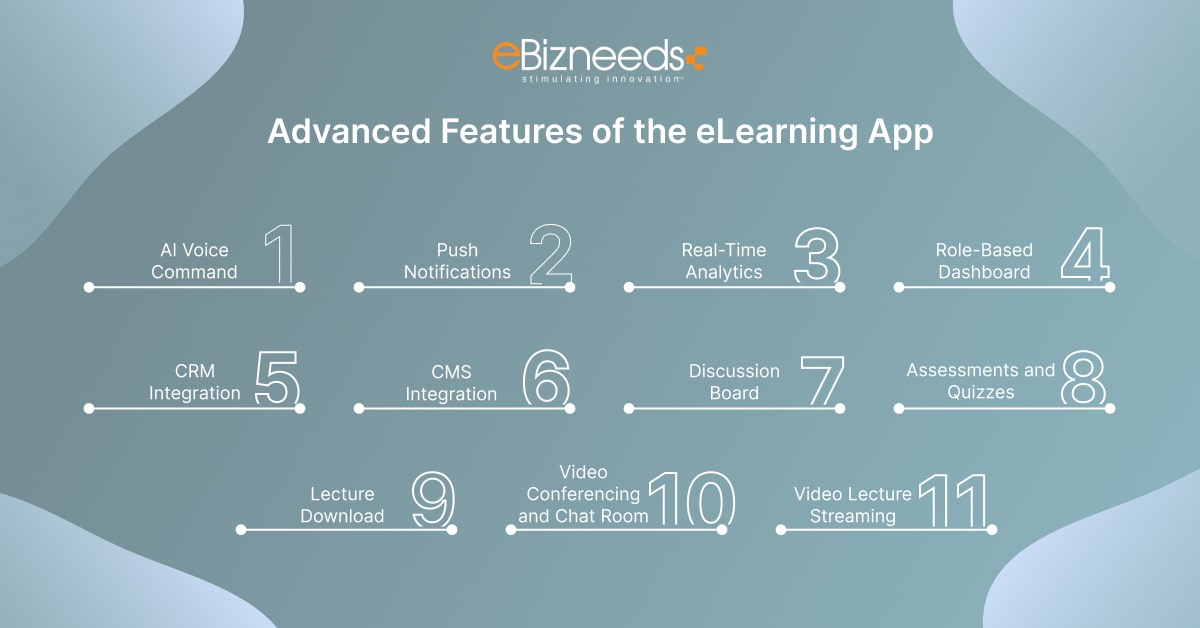 AI Voice Command
Incorporating artificial intelligence into voice commands can make it easier for visually impaired students to use eLearning applications. AI helps them search for and select the desired course through voice commands installed in the system.
Push Notifications
Students can be updated or notified about upcoming lectures, the availability of new videos or study material, and many other things through push notifications.
Real-Time Analytics
This feature enables the admin to track the application's performance and user behaviour through the admin panel. The students can also track course completion, learning progress, assessment scores, and learning assignments.
Role-Based Dashboard
The dashboard helps in monitoring the overall status and performance of the application. This overview helps enhance the application's performance and improve user engagement and ROI.
CRM Integration
Client Relationship Management is an essential feature of the mobile e-learning application because it allows it to be highly compatible with its clients, who are learners and students.
CMS Integration
CMS, or content management system, deals with and manages all the available application content. It has a vital role in the application as it keeps consistent tabs on the content of the application.
Discussion Board
This feature in the application helps expand the collaboration among the application clients. With the assistance of discussion forums, the application's clients can easily create a new topic or add a comment under an existing subject.
Assessments and quizzes
Making and presenting these tests for students daily is quite exciting and allows the students to monitor their performance. These online tests can be training tests on a specific topic or be introduced to the students as a part of their educational activities.
Lecture Download
Students may be unable to attend the online lecture sometimes, but missing a class can cause problems understanding a topic. To help the students with this problem, the e-learning applications offer an alternative called "exercise download," through which the students can download a live online class to watch it later.
Video Conferencing and Chat Room
This option allows the students to ask their doubts about a particular topic through text messages, even in the middle of the lecture. The teacher can stop focusing on the understudy's doubt and can continue after giving the student the answer to his concern.
Video lecture streaming
E-learning applications are fundamentally taken into account because they provide free video lectures on topics of interest to students.
Through the e-learning applications, the students can stream a live video lecture to gain knowledge on the subject they are planning to master.
How do I build an eLearning app?
Developing an e-learning platform is a lengthy procedure with different phases. And when you are an individual who doesn't know anything about technology or coding, it would be difficult for you to develop an online education platform.
Hence, to develop an eLearning platform, you must follow the eLearning app development process that is included below:
Understand your audience
The primary thing you want to do is illustrate your idea and your target customers. Relying on your idea and niche, you should be sure about the audience you plan on targeting, as it could be for everyone.
After selecting your target audience, you should have in-depth knowledge about the audience. What are they, what kind of content will they be looking for, what are their needs, and how much data will they expect from your eLearning mobile application?
You should meet your user's needs as much as possible, unless it is impossible. Consequently, they may switch to another alternative eLearning mobile app. The tasks become easier to complete once you have researched your target audience.
Establish your mission
Before developing your eLearning app for adults, you should clearly illustrate your mission.
It would help if you had insights about why you are creating this e-learning app for adults.
To whom will this application be addressed?
Is it going to be an e-learning application for adults?
People who wish to learn a variety of foreign languages
Each eLearning mobile app is designed with a specific goal, and your application is no exception. Once you know what your goal is, you need to focus on the technical requirements and specifications that will be part of the eLearning application.
Develop an active, intuitive, engaging, and meaningful eLearning app
A mobile eLearning application must be created to endorse active learning. Adults are not required to perform the writing and listening procedures; instead, they can engage in tasks, discussions, and other activities.
For instance, practice sessions, problem-solving activities, debates, and discussions are different methods that could be implemented to make an active eLearning app.
The next thing to be considered is intuitive design because it is a significant component of the eLearning educational process.
Developing the eLearning app to engage and not distract simultaneously is significant. The eLearning app must have a comprehensive user interface and be user-friendly, as adults would expect.
Because the eLearning app for kids can have non-interactive and challenging functionalities, users can be interested in the application while uninstalling it.
You must put a lot of effort into developing the app because the scholars must thoroughly understand the subject and the topic. It should understand the cause of their learning. Creating a clear goal can help you increase productivity. It also focuses on offering different benefits to the users.
Therefore, learning must be methodically intended and associated with previously learned subjects. It is stuffed with app instances and provides a clear picture of the gradation method.
Come up with a marketing strategy
It would take various efforts to promote the eLearning app for kids and create a buzz about it in the market. In this context, you will need a well-planned marketing approach.
Furthermore, hiring a top SEO marketing firm specializing in eCommerce marketing is preferable if you do not have a team of skilled marketing experts.
In some cases, paid ads for PR promotion will be required, as will social media marketing. But it's important to reach the right people and convince them that your eLearning mobile app will be helpful and interesting.
Create a Technical Specification
Before starting the app development, the project needs to consider technical provisions. In this context, you must develop a comprehensive document demonstrating all the technical needs and functionalities that must be incorporated into the eLearning application.
You can hire an eLearning app development company if you cannot create a report. It will help you make a report and also assist in building an e-learning app for you.
Choose your set of developers
It is a significant step in the app development procedure. A set of promising app developers may eventually break the project or make it successful. Hence, how will you select your top mobile app development firm?
Initially, you must ensure that the eLearning app development company has a convincing track record and tremendous experience in app development. Furthermore, you must choose a group of developers who speak English fluently and are located in the region and time zone most convenient for you.
Lastly, select an eLearning app development company with transparent and comprehensive cooperation terms. And also, you should be more comfortable working with them.
You don't feel relieved that your job is coming to an end after signing the agreement. Moreover, you have to consider the constant updating. And it would help if you had to track the app development procedure until the success and release of your eLearning mobile application.
After the launch, test the app
After the eLearning app is released to the market, it is critical to conduct extensive testing with real users. And after testing the eLearning app, you can offer their response. It will provide information on where to look for errors and suggest improvements.

The Best eLearning Apps in the United States
Various well-known eLearning mobile apps provide the knowledge they require during an epidemic. When you expect to rely on an eLearning app development company for your project, you have to consider the features that allow such applications to earn the trust of many individuals in North America.
Google Play Books

The initial mobile app on this list is Google Play Books. It is a highly significant e-learning app for young adults. Google play books is more about a digital library that works on Android and iOS systems. It must have a database containing books of many sorts.
Application  now has an equal number of eLearning books as storybooks, but previously you had difficulty answering yes. In contrast, anyone could download and use the application for free. Users have to pay to access the books they are interested in.
Edx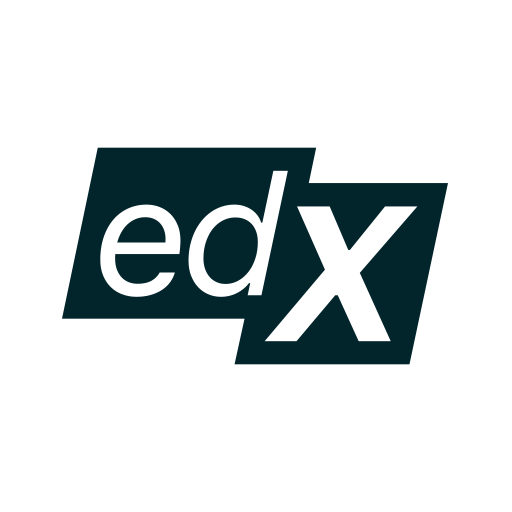 Here is another free-to-try eLearning mobile app that catches your attention when you are going to hire a top-rated eLearning app development company for your project. It is one of the best apps that enables its users to access courses from globally recognized educational institutes.
These are MIT, Harvard, IBM, and Berkeley, which do not charge a single penny for their services. Users can learn everything online by streamlining the classes through a video platform. They can also download the classes to use them offline in the long term.
Quizlet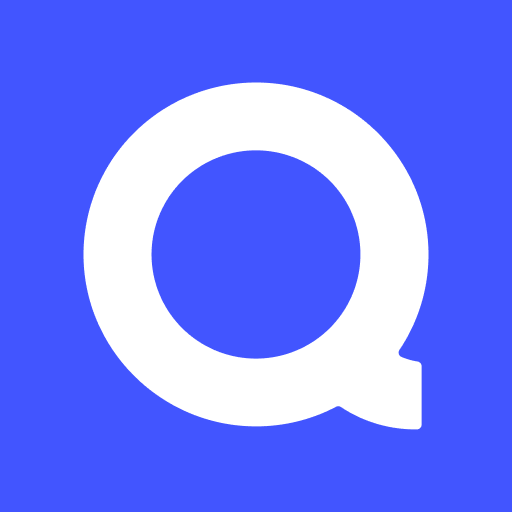 There should be no age limitation when it comes to eLearning. Similar to Google Play Books, Quizlet is suitable for adults. It is one of the most important e-learning platforms for learning new languages. It provides in-depth data on the other subjects. And also, it has satisfied millions of individuals via flashcards.
The mobile app of Quizlet has different modes of teaching. Hence, learners can select the one they want. Users can also play quiz games, develop flashcards, and distribute them digitally among their team members and friends. Quizlet is an effective channel to enhance the vocabulary and grammar of English.
MyScript Calculator 2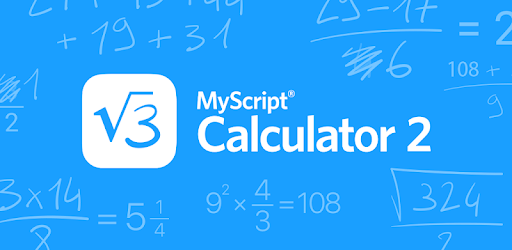 In the context of eLearning app development, MyScript Calculator 2 is the best of the latest technology. This platform will undoubtedly appeal to those looking to improve their mathematical knowledge. It is one of the significant eLearning apps that can provide you with gesture typing.
In a nutshell, your tablet or smartphone will act as a piece of paper on which you can write using the signs while performing the calculations in real-time. This application will save the calculations in the device's memory for the user to review.
Compared to the most basic calculations, this platform lets the user work with trigonometry, logarithms, and inverse trigonometry.
SoloLearn
This mobile app catches the attention of each individual who wants to learn the code. It is full of educational data that could prepare you for writing code on platforms such as C++, Python, SQL, and Java.
The best part of this app is that users do not need to spend money to access high-quality materials. It has approximately 15000 questions and approximately 2000 quizzes to help the user test their understanding after finishing a specific chapter or subject.
Whether the user has an Android or iOS system, they can use this app to write the code on their phone or tablet.
Technology Stack for eLearning Application Development
| | |
| --- | --- |
| Back-end development | Laravel, Python, and Node.js |
| Mobile App Development | Swift, Swift UI, Java, Kotlin, React |
| Front-End Development | CSS, HTML, Ajax, Bootstrap, JavaScript |
| Cloud Environment | AWS, Google Cloud, Linode, Firebase |
| Database | MongoDB, MySQL, SQL, NoSQL, SQLite, PostgreSQL |
| Push Notifications | Firebase, Apple, and One Signal |
| SMS Gateway | Twilio, Sinch |
| Payment Processing | Stripe, PayPal, Braintree, In-App Purchase, 2Checkout |
Cost of Developing an E-Learning Application
Figuring out the exact eLearning application development cost is impossible as different elements influence the cost. But it is possible to figure out the exact cost of developing an app by making a model of the app idea.
Some of the elements that influence the eLearning app development cost are:
Development Platform
If the application is being developed for a single platform, either Android or iOS, the costs will differ according to the features you plan to add. Usually, an application designed for iOS costs a little more than an application created for Android.
However, if you want your application to run on multiple platforms, you can choose cross-platform application development.
Application Size
Size is perhaps the primary determinant of eLearning app development costs. The general cost is low because of the small program size, smaller number of pages, and moderately fewer integrated features.
Also, if somebody plans to integrate some extra features into the application, they need more space. The larger and more complex the application, the higher the cost.
App Design
The main focus here is on UI/UX components, as the application's design needs to be simple but attractive. The UX and UI designers are in charge of the graphics and make the application's theme and design interactive.
Development Location
This is also an essential factor that affects the cost of eLearning application development. Since developer costs vary per geographic location, this will also affect the development cost of the eLearning app.
Development Cost for the MOOC App: $20,000 to $80,000
Self-Learning App Development Cost : $25,000 to $50,000
Cost for Exam Preparation App Development: $10,000 to $30,000
K-12 Education App Development Cost: $20,000 to $45,000
Conclusion
The COVID-19 pandemic has completely changed how the world used to work. The government has set new rules across the globe focusing on social distancing. It makes eLearning a hot prospect for current and future occasions. eLearning has effectively become popular.
However, during this pandemic, it has become the only option for offering classes and schooling. If you plan to create a website or application for the eLearning industry, now is the best time to kick-start your own.
And you can hire a renowned eLearning app development company to get help developing a feature-rich and robust eLearning application with the latest tools and technologies.
FAQs
Q1. How long does creating your own LMS (learning management system) take?
The time essential for developing an eLearning app depends on the complexity of the idea, design complexity, functionality amount, selected technical stack, and team level. Usually, to develop your own LWS, you will need 5–6 months.
Q2. What is required of an e-learning platform?
Following are some key features essential for virtual learning while you develop your own LMS. These are pointed out below:
A simple and intuitive cognitive interface

Making use of responsive design

a distinct set of instructional resources

merging the range of instructional techniques
Q3: What steps should you take to build your own LMS?
To develop your own LMS, you must follow the steps below:
Choose a product idea.

Exploring the niche in depth

Select a feasible business model.

Select the development strategy.

Test your product ideas with the users.

Use feedback to improve your product.
If you are seeking a reliable team to assist you in developing the e-learning app for adults, please get in touch with us. Our team only has skilled experts who can create eLearning apps.
Q4. What are the main benefits of e-learning applications?
There are different advantages to studying online. Following are some examples related to the benefits of eLearning apps:
Higher retention rates

Higher flexibility

Learning at an individual speed

Control over exploration

Time-efficiency
There are advantages to virtual teaching platforms and apps, and the demand for them is growing. It ensures the creation of curiosity among enterprises and entrepreneurs.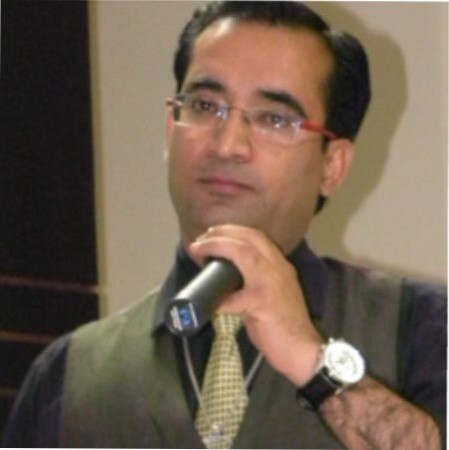 Naveen Khanna is the CEO of eBizneeds, a company renowned for its bespoke web and mobile app development. By delivering high-end modern solutions all over the globe, Naveen takes pleasure in sharing his rich experiences and views on emerging technological trends. He has worked in many domains, from education, entertainment, banking, manufacturing, healthcare, and real estate, sharing rich experience in delivering innovative solutions.