Last updated on October 12th, 2023 at 04:43 am
Everyone wants entertainment in their life; some find it in books, some find it in music, and some find it via watching movies, web series, etc. Most people prefer to go to the cinema to watch movies, but the trends have changed due to OTT app development.
Due to the evolution of OTT apps, you can watch your favorite content at home with cinematic feeling and Dolby digital sound. However, it would help if you had devices like home theater and soundbars.
But wait, it is the only option. No, you can enjoy the same on your mobile screen and anywhere, even while traveling from one destination to another.
The decade of OTT apps is where new advancements occur daily in the entertainment industry. The OTT apps connect the content creators with the audience and vice versa. From the business point of view, it is advantageous to launch an OTT app.
So, if you plan to launch your own OTT app, this blog might be a great help. Here you will read about OTT app development cost estimation and features that will assist you in making decisions about your app.
OTT app development costs can vary depending on the size and complexity of the project. Generally, it includes the cost of software licenses, development resources, and any additional fees associated with specific platforms or technologies.
Additional charges may include the cost of user interface design and development, marketing and advertising, and other associated expenses.
Let's explore this blog more, which is all about the cost and features of OTT app development.

OTT App Development Key Stats
In addition to the OTT app development cost and features, here are some key stats you would love to read. It will give you insight into the latest trends in the OTT market.
Due to the continuous evolution of OTT platforms, the revenue is expected to cross $467 billion(CAGR 2022-2027, 11.60%) by 2027. In 2022, it is expected to reach $275.03 billion.
Video Advertising revenue is expected to reach $318 billion by 2027.
By 2027, the number of OTT app users will be 3,508.0 million.
In the USA, the OTT video segment is projected to reach $119.10 billion in 2022.
The USA is at the top in the OTT segment, and revenue generated $119,100.00 million in 2022.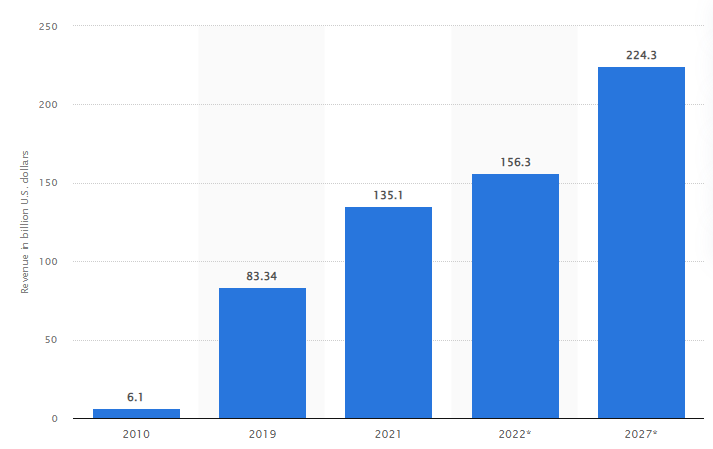 Source: https://www.statista.com/statistics/260179/over-the-top-revenue-worldwide/
These statistics indicate multiple possibilities for growth in the OTT app development segment.
Let's proceed to the next section of this blog, which is about essential information.
What is An OTT App?
An OTT app is a mobile application that allows users to access content on demand. Users can enjoy movies, shows, web series, documentaries, and many more. These apps are becoming increasingly popular and offer a variety of benefits not available through traditional cable or satellite services.
Some popular providers include Netflix, Hulu, Amazon Prime Video, and YouTube TV. These applications allow users to watch shows and movies without subscribing to a traditional cable or satellite service.
In addition, many OTT apps offer additional features, such as listening to music offline and accessing exclusive content not available through the provider's regular website or app.
The popularity of OTT apps is likely due partly to their ability to provide a more immersive experience than traditional mobile applications.
What Are the Key Features of An OTT App?
While planning for OTT app and want to optimize OTT app development cost, it is crucial to focus on features. OTT apps are known for their wide range of features, but what are the key features that make them so popular?
In this blog post, we'll take a look at some of the most important features of an OTT app. Some key features of an OTT app include the ability to stream content, access a library of on-demand content, and the ability to download content for offline viewing.
Let's check out the list of features that you can consider including in your next OTT app. The better idea to implement these features in your app is to hire OTT app developers. These experts will develop the functionalities and features based on your specific requirements.
#A. Features For Users
Signup
User registration is always significant for verification and validation. The users can register themselves with the help of their email ID and phone number. You can also allow users to signup with the help of social media. It will provide them with ease.
Subscription
This feature allows users to purchase their favorite subscription plan. They can choose a weekly, monthly, or annual payment cycle. You can offer users saving plans to engage them in the best way.
Profile Management
The profile management feature allows users to manage or modify their profiles. They can add or remove details like name, address, email ID, phone number, and alternate contact details.
Multiple Payment Mode
Multiple payment modes facilitate users to pay as per their preference. It works fine with a debit card, credit card, internet banking, and mobile wallet. Including the payment, users can apply promo codes for discounts.
Content Preference
Users can choose content to watch and set their preferences as per available categories on the app. They can find the categories like action, adventure, thriller, mystery, and more.
Search & Filters
It is one of the top-notch features of an entertainment app that you must include to build an OTT platform. It works like whenever a user needs to find a movie or show; they can apply filters to search for their desired content.
Watch List & Favorites
Most of the OTT app users like this feature. They can make their watch list and add shows or movies. They add or modify the list anytime with a single click.
Video Quality Management
Users can watch their favorite shows in the desired resolution. The OTT app's player can also automatically adjust video quality.

#B. Features For Admin
Reporting & Analytics
It is one of the best and most essential features of the OTT App admin panel. The admin can use it for making strategies and sharing insights with investors or stakeholders.
Dashboard
The dashboard helps users to handle tasks with ease. With the dashboard, the admin can keep an eye on all segments. It makes their work very easy.
User Management
An admin can manage all users. They can add or remove a user's profile, change an account or profile password, and many more.
Price Control
If there is any change in the subscription plan or price, then the admin can modify it instantly and inform the users immediately.
Push Notification
Push notification is also a high-priority feature in building the OTT platform. It facilitates the admin to send users updates about any price change, policy, and content. They can also inform the users about launching upcoming shows and movies.
These are some key features from the user's and admin's perspective. They have equal contribution in cost to build an OTT platform as other components have.
The next section of this blog is dedicated to the OTT app development cost.
In this section, we will see—What does it cost to develop an OTT platform? So, let's proceed.
How Much Does it Cost to Develop An OTT App?
There is no definitive answer to how much OTT app development costs. Costs will vary depending on the size and complexity of the project, as well as the specific platforms or technologies used.
Additionally, app development costs may include the cost of user interface design and development, marketing and advertising, and other associated expenses, such as hiring a video streaming app development company to develop the app.
However, it typically costs between $20,000 and $50,000 to develop an OTT app with basic features for a single platform. The cost of an advanced OTT can go more than it. Let's look at the cost-affecting factors of developing an OTT mobile app.
Number of features
App's complexity(low, mid-level, and high)
Size of an OTT app
The geographic location of on-demand app developers
Database integration
Number of platforms on which you want to launch your app
App hosting
Technology stack
Size of the development team

Here is also a cost breakdown to develop a basic OTT app.
Components
Development Cost
UI/UX designing
$5000-$7000
Backend Development
$8000-$10,000
App Hosting
$70-$320/ Month
App Launch
$100-$150
App Security

$100-$500/ Month (small size app)

$400- $2000/ Month (large size app)
What Are Some Ways To Reduce The Cost Of Developing An OTT App?
Some ways to reduce the cost of developing an OTT app include using open-source code, using a development platform, and outsourcing some development processes.
The best idea to reduce the cost is to take the help of cross-platform app development services. You can launch your cross-platform app on multiple platforms using a single codebase.
Here are some tips that you can follow to reduce the cost-
Be firm on your idea and clearly understand what you want to implement.
Choose a mobile app development company that is trusted and genuine.
Research your competitors and market.
Have a clear understanding of the features you want to implement.
Ask for the quotations from the mobile app development companies you have shortlisted to decide on a final one. It will help you find an affordable option.
Hire experienced mobile app developers as they do not charge any hidden costs.
The Conclusion
Developing an app can be a costly endeavor. Still, there are ways to reduce OTT app development cost by using open-source code, a development platform, and outsourcing some development processes.
If you are a startup and want to start an OTT platform or app, then thinking about the cost of building an OTT app is crucial for you.
The best idea is to consult with the experts; they will help regarding what it will take to develop an OTT mobile application and about various aspects of mobile app development.
Another important thing that you need to focus on is the features of the OTT app for success of the app. The experts will also help you to implement all these in your app. It would be best to hire OTT app developers to create the best user experience,
There are some well-known mobile app development companies that you can consider as your technical partner for developing and deploying the app.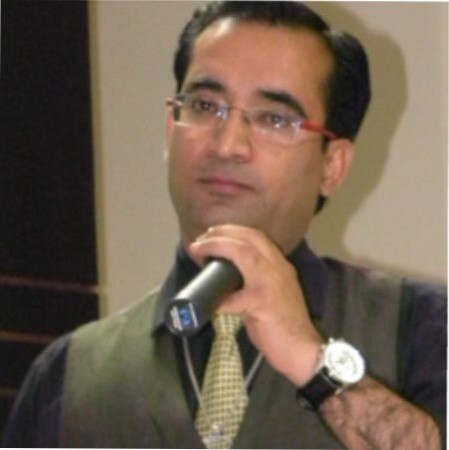 Naveen Khanna is the CEO of eBizneeds, a company renowned for its bespoke web and mobile app development. By delivering high-end modern solutions all over the globe, Naveen takes pleasure in sharing his rich experiences and views on emerging technological trends. He has worked in many domains, from education, entertainment, banking, manufacturing, healthcare, and real estate, sharing rich experience in delivering innovative solutions.