Last updated on January 12th, 2023 at 05:33 am
What do you do when you get home from work, only to realize that your favorite sweater smells like sour milk because your kid spilled milk all over it? If you're like most parents, you probably send it out to the cleaners or wash it yourself.
Due to their busy schedules, most people prefer laundry services. On-Demand Laundry App Development has made many things easier for all types of laundry requirements.
It works like when you book laundry services with the help of the app. The laundry staff or representative will come and pick up your dirty clothes at any time and return them clean and fresh after just an hour or two.
As an added bonus, some services will even handle dry cleaning as well. That makes laundry apps beneficial for end customers. On the other side, laundry businesses are also leveraging it for having a good business.
Sending your laundry to be cleaned is a huge waste of time, but letting it pile up can also get pretty smelly (not to mention unsightly). Fortunately, there's a simple and affordable solution that lets you send your laundry out to a laundromat without ever leaving home – the on-demand laundry app.
Learn more about what this new development can do, how much it costs, and where you can get one near you.
Suppose you are a laundry business owner and want to establish your own On-Demand Laundry App. In that case, it's essential to find out the most suitable cost to develop a laundry app without spending too much on it.
It would help if you determined the costs involved in designing and developing the app so that you can make an informed decision before moving ahead with the app development process. You also need to focus on features while thinking about the laundry app.
The development of a laundry app can be a difficult task. There are many considerations, and the laundry app development cost is usually the biggest concern.
For this reason, it is important to understand what factors will increase or decrease the price of a custom laundry app development project. Hiring dedicated developers is an excellent way to ensure your project meets your needs as well as stay within budget.
Developers who specialize in certain areas, like mobile apps or website design, often work for lower rates than generalist developers. Some dedicated developers charge per hour, while others offer fixed prices for projects with specific milestones.
Make sure you ask how they charge, so you know how much to plan on spending before starting a custom laundry app development project!
We have created this blog with the intention of providing all the answers related to the cost and features of on-demand laundry app development.
So, let's start the blog!
What is an On-Demand Laundry App?
An On-Demand Laundry App is a mobile application that allows you to book laundry services for your clothes and linens. Enter the type of service, time frame, and location where you need it performed.
The app will then calculate the cost of the service and provide you with a list of providers based on their proximity to your location. Once you select the provider, they'll take care of all the dirty work, delivering clean clothes back to your door at an agreed-upon time!
What Are The Types Of Laundry Apps Available In The Market?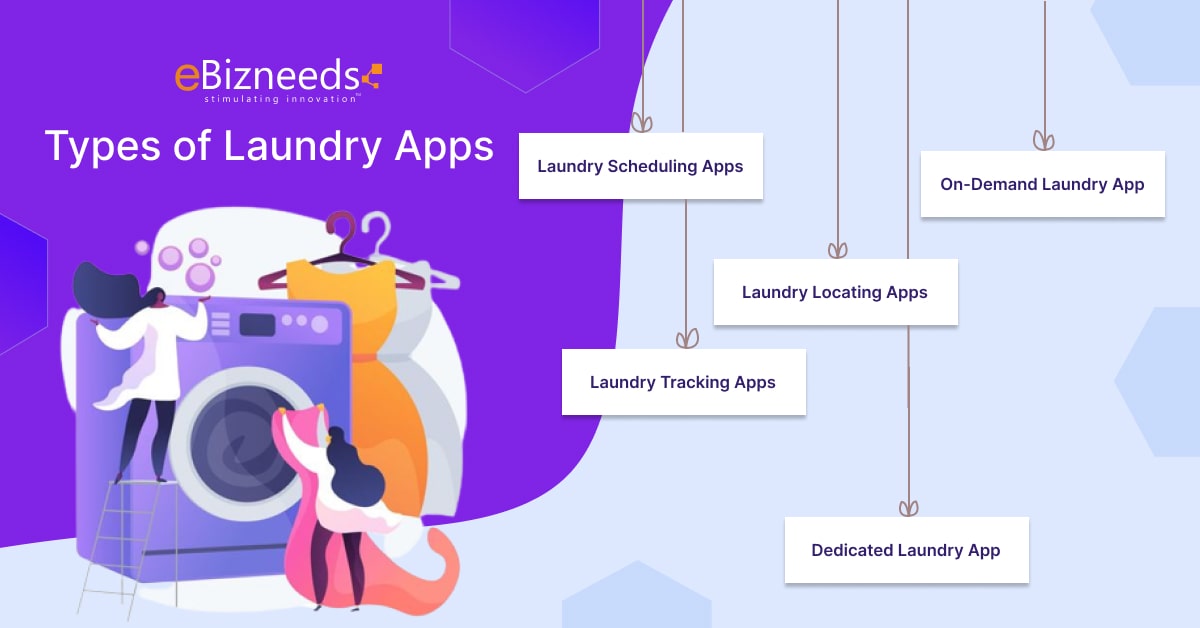 Laundry apps are becoming increasingly popular as people look for ways to make their lives more convenient. A variety of laundry apps are available on the market, each with its unique features.
Here is a look at some of the different types of laundry apps that are available:
1.   Laundry Scheduling Apps
There are a number of different laundry scheduling apps that you can use to help you keep track of when you need to do your laundry. These apps can be helpful if you have a busy lifestyle and need to ensure you remember to do your laundry.
They can also be helpful if you live in an apartment complex with multiple washers and dryers and need to schedule your laundry around the availability of machines.
2.   Laundry Tracking Apps
Laundry tracking apps are designed to help you keep track of your laundry. These apps can be helpful if you need to keep track of how often you do your laundry, what types of laundry you have, or if you need to keep track of your laundry budget.
3.   Laundry Locating Apps
Laundry-locating apps are designed to help you find a laundromat near you. These apps can be helpful if you are travelling; laundry locating apps are designed to help you find a laundromat near you. These apps can be helpful if you are travelling or if you need to find a laundromat in a hurry.
4.   Dedicated Laundry App
Dedicated laundry apps work for individual laundry business owners. They can serve their existing customers with it, and it will also help them to onboard new customers. Dedicated laundry app development is beneficial for brand promotion in an effective way. Traditional laundry businesses can leverage it in a real sense.
5.   On-Demand Laundry App
Have you heard about the Uber-like app model? If not, then you would be surprised to know that this model is trending in the market due to its suitability for various businesses.
In terms of custom laundry app development, it will work like you can add the features you want.
The on-demand laundry app business model works like you need to arrange the resources like space for laundry and staff. Here you need to on-board the laundry service providers and connect them with the customers. The earnings will be from commissions.
Advantages of On-Demand Laundry Apps
On-demand laundry apps are a new and convenient way to have your clothes cleaned without having to deal with the hassle of going to the laundromat. The advantages of using on-demand laundry apps include the following:
Laundry is delivered to your home, and you can decide when you want it to be done
The prices of on-demand laundry apps are usually lower than going to the laundromat
You can have a variety of services that includes dry cleaning, laundry, and more., all at once.
Some laundry apps have features such as a reminder service that sends out reminders when clothes are ready for pickup or delivery and location tracking.
From the business point of view, there are several advantages of on-demand laundry app development. The laundry app development cost is an investment in your business. You'll be able to offer clients a service that provides convenience, efficiency and peace of mind.
What are the Key Features of an On-Demand Laundry App?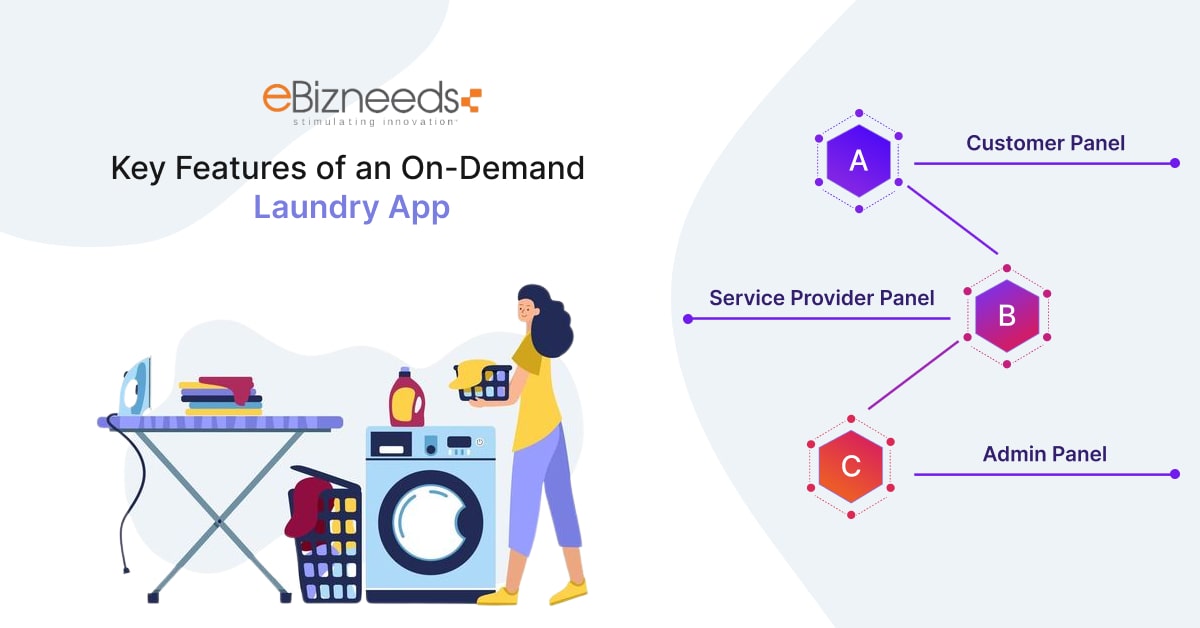 On-demand laundry apps are a recent trend in the laundry industry. It provides convenience to the customer by delivering their clothes without any effort. The app also solves the problem of waiting for days for your clothes to be delivered.
The key features of an on-demand laundry app are as follows:
Convenient
The on-demand laundry app makes it easy for customers to order and get their clothes delivered. They can order from anywhere, anytime and get their clothes delivered wherever they want them to be delivered, without any effort.
Fast Process
On-demand laundry apps are fast because they use technology to make the process easy and quick, so that customers can get their clothes back within hours.
Affordable Price
An on demand service is usually cheaper than a traditional service because it doesn't have many overheads like warehouses or stores which would increase costs, so it can pass these savings onto customers by charging lower prices for the same quality of service.
If your question is that- What are the potential features of the laundry app?
Then you need to understand that there are three segments in an app- Customer Panel, Service Provider Panel, and Admin Panel. So, the features are accordingly.
Let's start the list of on-demand laundry app development features to have a better understanding!
#1. Customer Panel
The customer panel stands for the section that contains all features that a user goes through throughout using the app.
Login/signup: users signup or login with the help of a username and password via creating them.
Search for services: on the app search panel, users can search for the laundry services in proximity.
Service order: via providing their address and paying online, service will be booked.
Status: users can view service status with ease.
Multi-payment: users can choose payment options such as credit card, debit card or net banking payment.
Scheduling: as per convenience, users can schedule the laundry services at a such desired time.
#2. Service Provider Panel
The service provider panel stands for the laundry services owners who have on boarded the app for business.
Login/signup: users signup or login with the help of a username and password via creating them.
Profile: add your information and also add your business information, including all the details such as business hours, contact numbers, address and others.
Laundry Charges: business owners can modify laundry charges as per their needs.
Order Request: laundry owners can accept or reject the order request based on their availability and need.
Status Toggle: at any time, laundry business owners can toggle their availability status from available to not available or vice-versa as per their need.
#3. Admin Panel
The admin panel allows on-demand laundry app owners to employees by assigning them tasks and seeing their progress at any given time. It also gives us a way to contact customers with updates or promotions and provides them customer support.
User Management: user management is critical for the laundry business. Without it, businesses would have no way of knowing who their customers are, what they like, or how to reach them. User management also helps businesses keep track of their inventory and customers' orders.
Earn Tracking: on-demand laundry app owners can track their earnings via the admin panel. It showcases earnings based on week or month. Even they can track per day basis.
Admin Dashboard: it works as a panel that allows the app admin to control all the app and activities. App owners can keep track of all operations activities via the admin panel.
Coupons/Offers: for attracting more customers and serving existing customers, on-demand laundry app users admin can generate coupons and offers.
How Much Does it Cost to Develop an On-Demand Laundry App?
It takes a lot of work to predict laundry app development cost. There are several influencing factors to the development cost, such as features, platform, tech stack and others.
One of the most influencing factors in developing a laundry app is the location of developers. The list of cost-affecting factors is like this:
Laundry app's complexity
List of features
Functionality components
App's segments
Platforms such as Android, iOS or PWA
Team size
Location of developers
But yes, there is always a window to predict the average cost of on-demand laundry app development. With basic features, the total cost to develop a laundry app ranges between $15,000-$30,000.
If you need an advanced laundry app, the cost may rise to $50,000 or more. The better idea to have an exact cost estimation is to discuss with a trusted mobile app development company with experience developing high-quality laundry apps for business.
In addition to these factors, the location of developers is the most influencing, so it is best to know their hiring cost. Here we have created a table that depicts the hourly cost of developers from different locations.
| | | |
| --- | --- | --- |
| S.no | Country | Hourly Hiring Cost |
| 1 | USA | $250 or + |
| 2 | UK | $200 or + |
| 3 | Europe | $150 or + |
| 4 | Germany | $130 or + |
| 5 | Russia | $130 or + |
| 6 | India | $25+ |
From the cost to build a laundry app, platform vice development cost is also different. There is no need to say that there are two major platforms for mobile app development, i.e., Android and iOS. Although the development process for both platforms is nearly the same, the cost is different.
The average cost to develop an Android app for laundry is $20,000, but for iOS, it will be $35,000 approx. If you want to target customers of both platforms, then cross-platform app development is the best option.

The Points You Need To Consider For Your Laundry Business With App
An on-demand laundry app is a handy tool that can help you keep your laundry business running smoothly. With this app, you can schedule pickups, track order status, and manage payment all in one place.
While an on-demand laundry app can be a helpful tool for managing your business, there are some potential drawbacks to consider as well.
For example, if you're not careful, you could end up over-scheduling yourself and your workers, which can lead to burnout. In addition, if you're not pricing your services correctly, you could end up losing money on each order.
It's important to do your research and plan before launching your on-demand laundry business to avoid these pitfalls. In this article, we'll explore some of the key things to keep in mind when using an on-demand laundry app to run your business.
Plan ahead to avoid over-scheduling
Make sure you're pricing your services correctly
Keep track of your orders and payments
Be prepared for last-minute cancellations
Have a backup plan in case of technical difficulties
By following these tips, you can set your on-demand laundry business up for success.
Conclusion
It's important to consider the cost of your laundry app development and what features you want in order to gauge the quality of the app. For creating the best user experience it is always best to hire dedicated developers.
They remain suitable for creating professional class mobile apps. You can also consult the laundry app development company for more details.
There are many great resources online for finding an app development company for developing custom android apps or iOS apps at affordable prices.
When trying to choose from all the companies available, look for reliable professionals who can give you an accurate estimate based on industry standards.
Check reviews from previous customers and don't be afraid to ask questions or request more information if needed before hiring someone.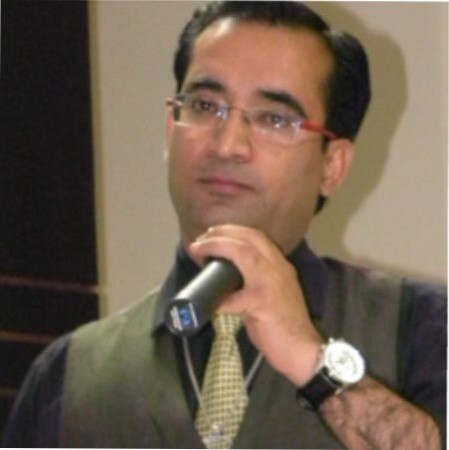 Naveen Khanna is the CEO of Ebizneeds, a company renowned for its bespoke mobile app development and web development in eCommerce app development and AI App development. Delivering high-end modern solutions all over the globe, Naveen takes pleasure in sharing his experiences and views on the latest technological trends.