Last updated on January 12th, 2023 at 06:49 am
In the modern era, the sports sector is thriving due to the increased influence of football, cricket, basketball, and polo. There is tough competition in the sports sector across the globe as this sector will surely grow into a multi billion-dollar zone.
At a rapid pace, the fantasy app development sector is growing and continues to expand at a wider level. Moreover, the fantasy sports app dominion is highly attention-grabbing and captivating for users because of the degree of fun, excitement, eagerness, and rewards.
Because of this huge change, businesses are focusing on investing in something new to build fantasy sports apps.
This blog will take you in depth about the cost and features involved while developing a fantasy sports app.
What is Fantasy Sports App?
A fantasy sports app is a platform in which online sports are played between virtual team players and real players who are available at the destination point. With the help of a fantasy sports app, users can put together online teams made up of stadium players.
Before proceeding to the next section of the blog, it would be a great idea to look into some statistics about fantasy sports apps.
Statistics Highlighting the Rise of Fantasy Sports Apps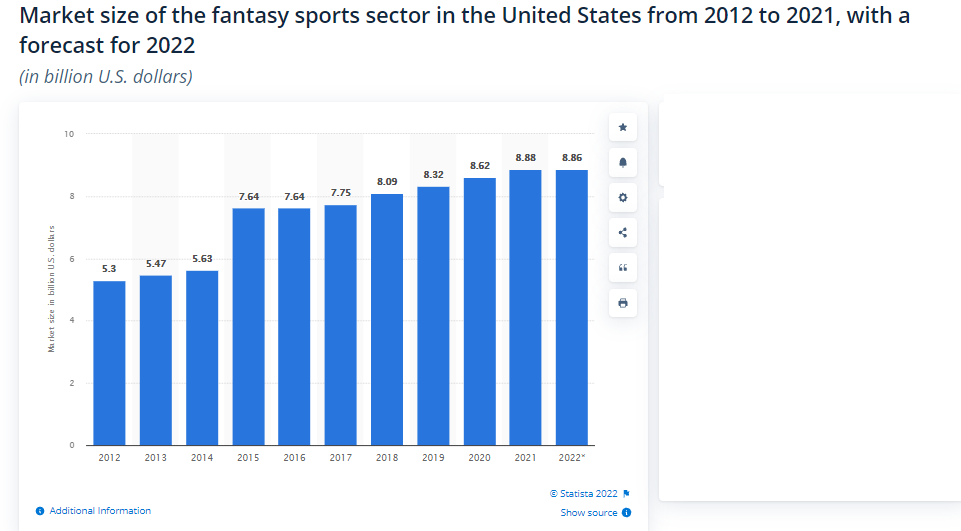 Source: Statista, 2022
In the USA, the market size of the fantasy sports service sector touched 8.88 billion US dollars at the end of 2021. It reflects the growth over the past year. By 2022, it was thought that the market would shrink slightly, to a total of 8.86 billion.
The fantasy sports market was valued at 21.39 billion at the end of 2021 and is forecasted to arrive at USD 44.07 billion with an estimated CAGR of 12.92% during the estimated period from 2022 to 2027.
Some factors that drive market growth in the sports sector, such as the emergence of sports leagues, the launch of fantasy sports applications, the increasing attractiveness of players, and gaining investment in internet and digital infrastructure.
How Do Fantasy Sports Apps Work?
The fans opt to select real players via an online section procedure, a general alias draft, and bring together a fantasy team. After that, the real game facts of players are hoarded and equivalents are drawn to measure whose fantasy team has achieved the preeminent.
The payers are also competent to track their respective fantasy teams, such as what they are operating through different mobile applications and websites. Few players join leagues with their friends and participate only against known people.
Some players want to join public leagues that are introduced by websites and contend against unfamiliar people.
Popular Fantasy Sports Application
Fantasy Football in the NFL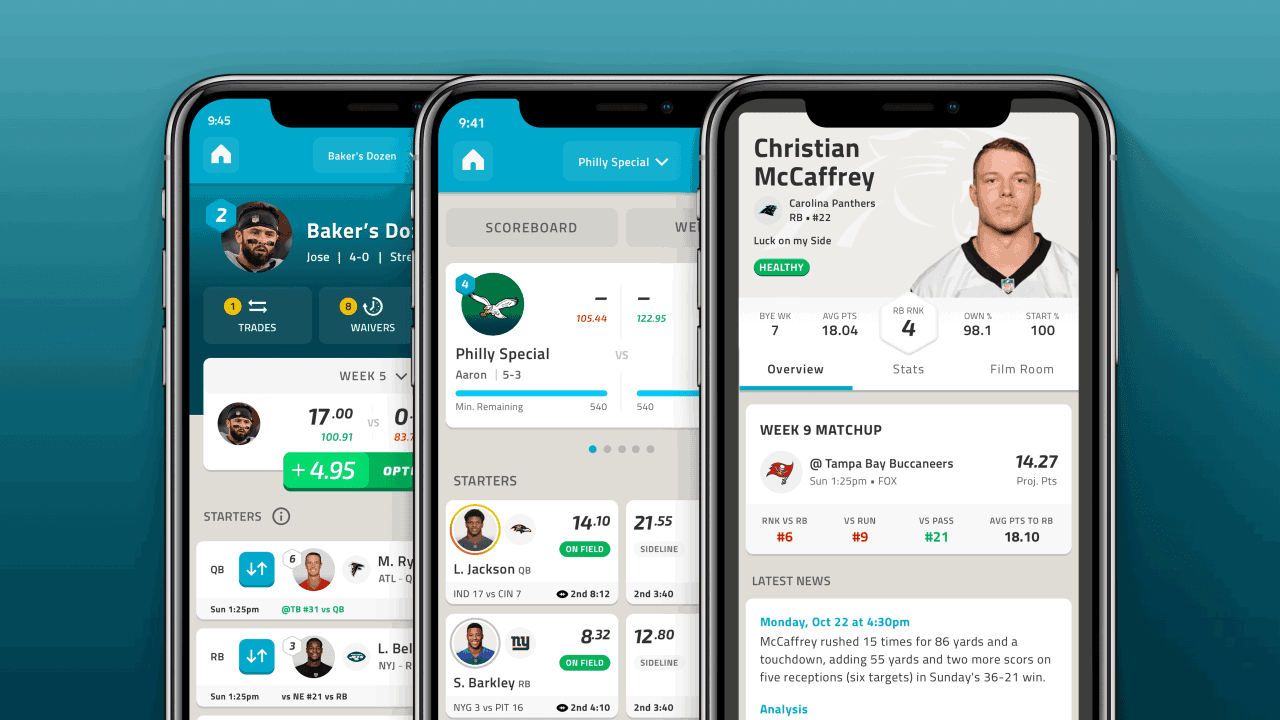 Source: NFL, 2022
Technical specifications
There are 16 teams in one group.
Live broadcast from the NFL
Capability to run live local and primetime games in the app
People love to get the news directly from the sources, and that's what the NFL Fantasy app offers. Because it is the certified app of the NFL, users will get the most recent player facts and figures, news circling regarding the leagues, and injury reports.
But even though the news is great, the analysis is not as good as that of many of its competitors.
Fantasy Football on Yahoo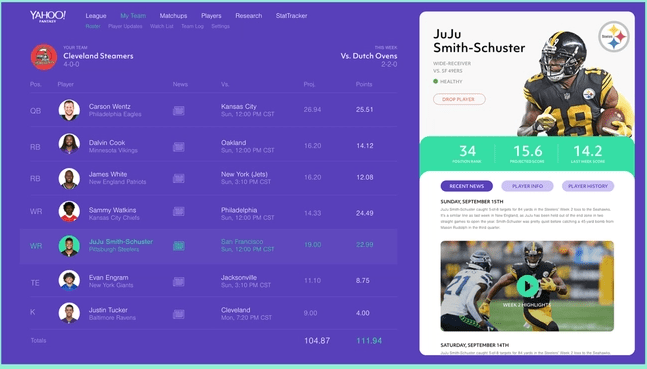 Source: Dribbble, 2022
Technical specifications
It consists of up to 16 teams in a league.
Reward leagues are present.
personalized fantasy league news posts
Similar to the NFL Fantasy app, Yahoo Fantasy Football started a long time ago. You can use this app to obtain information about the other leagues. While it is not extremely glitzy, the interface is easy to direct, and access to data is stress-free as compared to other apps.
DraftKings
Source: variety.com, 2022
Draftkings  app can be implied to get you colossal wins that you have never gotten in your day-to-day fantasy groups. This app can also be used for fun, even if you have quit your job. It aids in a set of sports such as soccer, Nascar, MMA, CFL, basketball, baseball, hockey, and football.
It could be quite a hustle for users, however, since it considers both free and paid versions of the game that can be played. Users can choose the free leagues because paid leagues are like throwing away money. Along with this, there should be some fun mess here for most.
Fantasy Sports on ESPN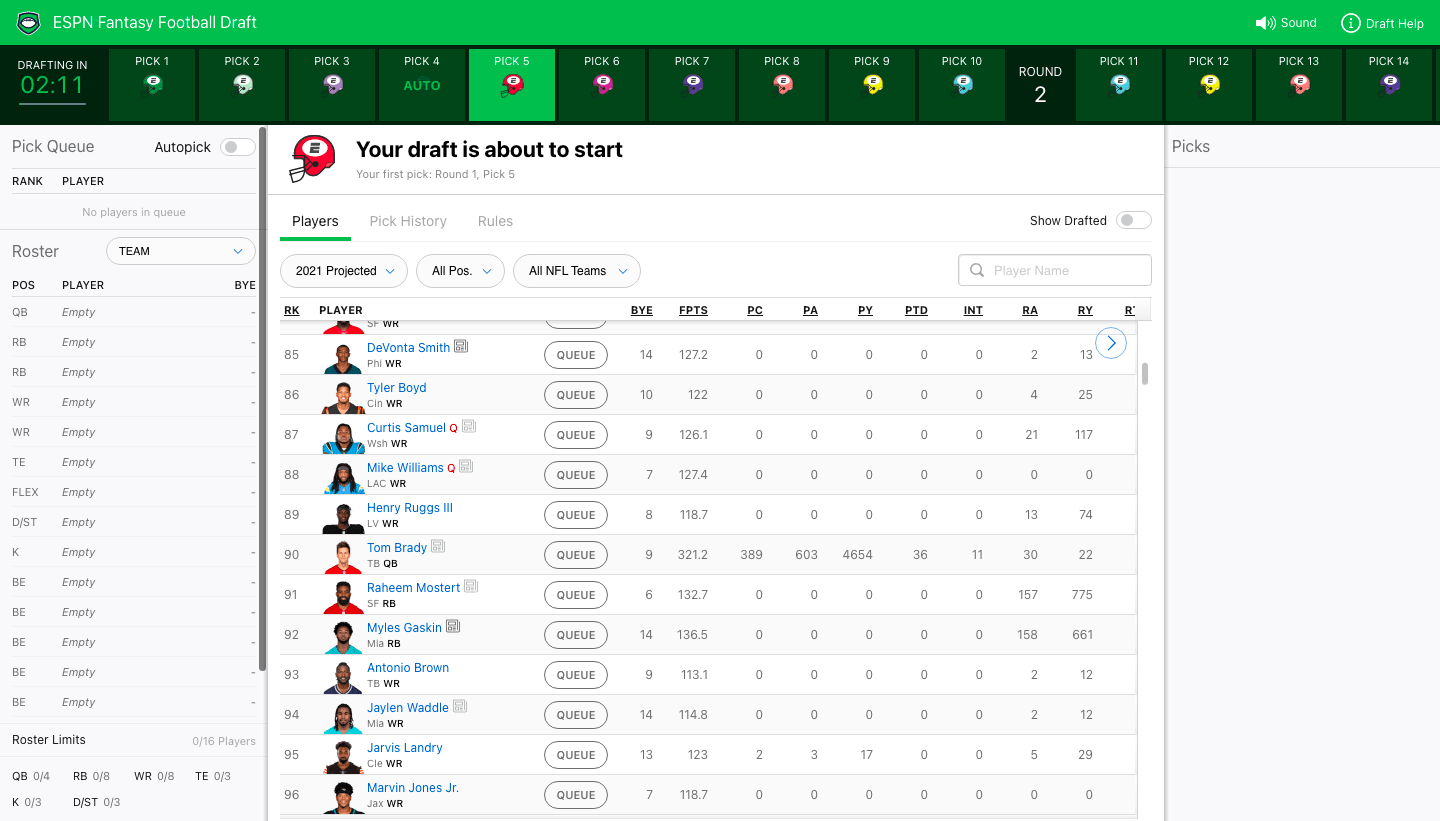 Source: Wolf sports, 2022
It is a renowned fantasy sports app in the USA, which considers the core sports activities. It also takes into consideration fantasy football, basketball, baseball, and hockey. You can develop your own private leagues and also join public leagues.
It also contains mock drafts, projections, material design, player rankings, and so on. You can also check emails on a weekly basis to measure your performance.
Although there are certain challenges in the Fantasy Sports app, there is nothing more serious for users. They have currently migrated their current cash game or streak into this app.
FanDuel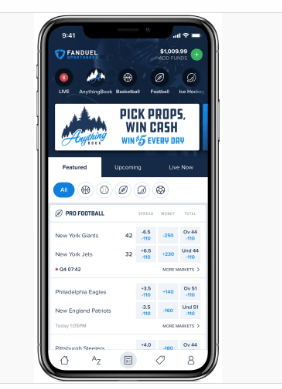 Source: Business wire, 2022
Fanduel is similar to DraftKing, which focuses on real money. Users can compete with anyone else on a fantasy team. The winners can get cash rewards. Although it does not consider any reliable free options, it has suitable cheap options.
You can also create a league with your friends wherein they can pool the cash and provide it to the winners. In this case, it can be more fun for users, but you need to spend a lot of cash. You can also focus on brackets for events like March Madness.
What are the Benefits of Developing a Fantasy Sports App?
This is a great time to consider fantasy sports app. because there are certain benefits to initiating a fantasy sports business. Some of them are discussed below.
Less Competition
Although there is rising demand for fantasy sports app, you will have somewhat less rivalry as compared to other sectors. The fantasy sports market was at an earlier stage and also ensured less competition and maximum growth.
It is legal
Another advantageous thing is that the fantasy sports sector is legal in different nations. Hence, you can select a fantasy sports channel for your business. It can help sports fans earn and watch their favourite sports.

In association with well-known brands
The users love to try fantasy sports to make them fun, eager, and mostly persuasive. Sports fantasy sports apps are suitable for developing sports brand value. There are different opportunities in the fantasy sports business sector.
Low Investments and Huge Returns
The fantasy sports website is a significant app in which you can make low investments and get higher returns. However, you should give yourself some time to obtain higher revenue.
Fantasy Sports App Features to Include
Participants' Must-Have Features
User Registration
One thing that is common in practically all applications is a registration facility for users. What is required in this phase is that you only ask for highly requisite data. To build a fantasy app, some details are required, such as an email ID, a personal number, and a distinct username.
Landing Page
It is a portion of the app wherein users land after the completion of login. The users come from sports that are being played. Here, a filter option is provided to users to search for the elements as per their choice.
These filter options are tournament, type of matches, and date of sports. Moreover, iPhone app development services can be effective for creating a landing page.
Contest 
The users are competent to access the content details that they are considering in the sports fantasy app. In the context of this part, different details can be filed, such as entry fee range, winning range, winning amount, contest size, contest, winners count, and many more.
Join the Contest
This feature of fantasy app development allows users to participate in the contest. Along with this, there is a need to pay required-entry fees to be involved in the fantasy sports game.
Profile Settings
It is a significant element in developing custom fantasy apps. The users here are competent to personalize via functionality. Moreover, with the functionality of informing their profile, users can also assess their account details, reward points, bonus, referrals, and transaction history.
Must-Have Features for the Admin
Dashboard
It is a place wherein the admin can check multiple statistical facts and figures around the number of played matches and data associated with the total number of players. It also demonstrates the total amount of earnings generated by users within the app.
Account Manager for Users
The functionality gives users the ability to manage their entire accounts. Through such a feature, users can be competent in editing, initiating, deleting, and deactivating their accounts. You can focus on your dashboard to manage user accounts.
Manage Contests
The functionality is applied to manage and coordinate the distinct enduring contests. The admin can simply be able to organize the contest additions, deletions, categories, editions, and deactivations regarding the contest if needed.
Mobile app development companies can aid in managing contests in developing an app.
View Earnings
The essential element of a fantasy sports app is the rewards and earnings that a person gets. With this feature, admins can see all of a person's earnings.
Report Management
This functionality allows administrators to access all of the various report types, such as earnings reports and player ranking reports. It also aids in determining the set of features that you wish to include in your partnered fantasy sports app development business.
It is also important to comprehend the design system that should be considered while developing another form of fantasy cricket sports app.
How to Design an Effective Fantasy Sports App?
The one thing that works well in the context of sports apps is the one that is pretty tough in app design. This designates the intricacies of sports app development with other app classifications.
There are different elements that users communicate with exclusively through fantasy sports apps. Hence, you must have informed knowledge about the above list of features.
Easy Onboarding
The initial design element that must be involved while designing a fantasy sports app is related to its onboarding. The main grievance that gamers have with some giant industries is that they are not paying attention to onboarding apps.
Apart from different onboarding best practices, there must be a regulatory element in the application that takes the users across different application parts. You can hire mobile app developers to ease this process of developing apps.
Real Estate Defined
If you have ever worked on a fantasy sports app, you will know how massive the data set is. There are different things that a user can do inside the app, such as creating leagues, finding real-time scores, joining one, viewing their team management, making payments, accessing the dashboard, and so on. Hence, you can hire dedicated developers to develop real estate.
It doesn't matter how multiple datasets work or what comes at the core of a fantasy app, but what matters for a fantasy sports app designer is to wireframe the display of real estate. They should also address an effective way to demonstrate all the multiple datasets that a user requires.
Minimum Text Usage
An essential thing that the user would need while dealing with the app in a high-adrenaline state is the existence of a distinct type of text. Until and unless it does not contain textual content, you should avoid using apps on the screens that users are supposed to deal with at the time of gaming.
While the set of features that you just accessed would assist you to understand your expected knowledge about on-demand app development companies, it is essential to comprehend how your determinations can be monetized. So, let's just get right into it in detail.

How to Make Money with a Fantasy App?
When it comes to generating a profit from this fantasy sports app, you need to explore more monetization models available for companies that deal with fantasy sports applications. Here are some tips that fantasy app developers should emphasize.
Advertisement
It is a commonly used form of monetization framework that fantasy sports apps should heavily rely on. You can allocate an area in your app for brands to advertise their business within the app subscription.
Participation fees
Certain fantasy sports channels manage participants and offer users the chance to win an NFL-sized pay-out in exchange for participation fees. They give a massive numeric value to the number of these cash-prize contests.
Different User Engagement Models
Immense players like DraftKings and FanDuel provide and make competent users capable of performing multiple contests every week. It also increases the fee collection through leagues, entwining the contests not only for single content but also for the whole season.
Cost of Developing a Fantasy Sports App
It is challenging to estimate the actual cost of developing a significant fantasy sports app. The cost of developing a fantasy sports app is determined by several factors, including:
Features and functionalities of the application
platform to be considered
The Complexity of Application
Advance Technologies
The location of a development company
monetization framework
Schedule a call with professionals if you need a comprehensive description of fantasy sports app development.
Factors that Affect the Cost of Developing a Fantasy Sports App
The following factors affect the fantasy sports app development cost:
Difficulties in app development
A platform for app development, such as Android or iOS
Third-party APIs must be considered when designing app features
The size of an app development group
Elements of user experience and user interface
Time required to create an app
Geographic location for app development
Several of the above factors would have a direct effect on the cost of making fantasy sports apps.
Technologies Required for Developing a Fantasy Sports App
In current digital world, may technologies are used for developing apps. But some of the technology is highly applied to build mobile application. Followings are certain technologies required to build fantasy sports app:
Flutter
Angular JS
Node JS
Bootstrap
MongoDB
Laravel
MySQL
Kotlin
Java
Swift
Above technologies are completely applied for developing fantasy sports app. Hence, you can get feasible product results.
Conclusion 
There are several reasons to build a fantasy sports app. But, in this blog, we have elaborated on the cost and features that you should consider in developing fantasy sports apps.
Moving on, when you are forecasting a closer assessment of the cost of creating a market-leading fantasy sports app, all you need to consult with a recognized fantasy sports app development company.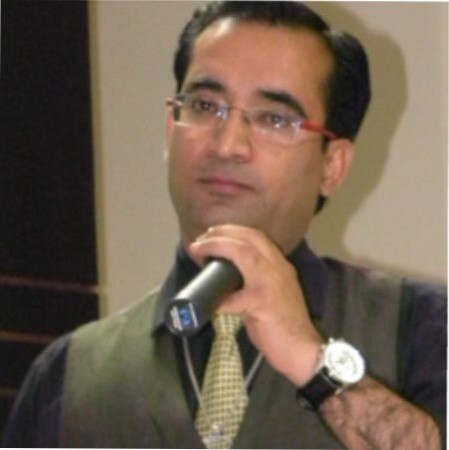 Naveen Khanna is the CEO of eBizneeds, a company renowned for its bespoke web and mobile app development. By delivering high-end modern solutions all over the globe, Naveen takes pleasure in sharing his rich experiences and views on emerging technological trends. He has worked in many domains, from education, entertainment, banking, manufacturing, healthcare, and real estate, sharing rich experience in delivering innovative solutions.