Last updated on July 28th, 2023 at 05:30 am
As more people choose TV shows and films to pass the time while staying at home or being socially isolated, video streaming has increased. According to a recent study by streaming media analytics company Conviva, the number of video streaming providers globally climbed by 20% in March.
There has been a 26% rise in the number of users signing in to video streaming services just in the USA. You may also want to know how to build an app like Netflix after considering the data. Let us start by figuring out why OTT platforms exist.
OTT Platform Like Netflix and Amazon Prime, it has attracted viewers from all over the globe. What is the secret of its success? The solution is having access to countless web services, films, and service plans that could suit any taste.
The moment is right if you also intend to create one of these applications. Maybe if you make something comparable to that app and add more features to it, you can stop the Netflix craze.
In this post, we've told you everything you need to know to understand how to build an app like Netflix.
What is An OTT Platform?
Video delivery via the internet has accelerated due to OTT streaming. The media industry has been significantly impacted by the rapid changes that OTT services are bringing about.
"The OTT is claimed to be the appropriate technique to satisfy consumers," says the report, "as the OTT income is set to nearly hit 167 billion dollars by the year 2025 around the globe."
The OTT channels are deliberately segmented for progressive streaming according to the types of content delivery and revenue mechanisms. Based on their preferred content, OTT services are categorized as:-
E-Learning
Gaming
Sports
News
Music
Entertainment
Movie
And over 82% of American adults believe that watching movies, TV shows, and other material online is more captivating than watching cable TV. Unexpectedly, less than 66% of American adults who are of legal drinking age are cable TV users.
Key Benefits of Building An OTT App like Netflix
By developing a distinctive brand experience, content producers may connect with their audience and engage them through OTT platforms. With access to material, viewers become acquainted with and aware of your brand.
With the flexibility of smartphones today, people are getting used to watching movies whenever and wherever they want.
Increasing Brand Awareness
Brand awareness, attention, as well as perception, are effectively increased by the OTT videos. Seventy percent of viewers watch videos for three hours per day on average. More customer loyalty would result from a chain of factors, including brand awareness and user behavior.
Greater Scalability
With the aid of contemporary technology, businesses can build their own OTT platforms and enhance consumer engagement, as well as use platform measurement to boost business revenues and return on investment.
Monetization
The main reason OTT service providers build their own OTT platforms is to make money off of their video or audio streaming by giving customers different ways to do business.
Decreasing Cost and Duration
Developing your online video network with the aid of a white-list video streaming service would be a more affordable option because it expedites the procedure and incorporates all of the solution provider's technological developments.
Data Transparency and Micro-Targeting
The main component of creating your greatest online video platforms is keeping data encryption and creative content in sight. Securely guarantee that videos are published to create geo-locational restrictions and work to persuade your audience to view them via the use of a micro-targeting plan.
Convenience
When deciding how to launch your OTT platform, it is imperative to pick the appropriate niche that appears to be in demand. Outside of entertainment, other popular categories to look into in the OTT streaming industry are sports, eLearning, spirituality, fitness, etc.

Things to Consider Before Developing An App Like Netflix?
There are several OTT services available, each with its own set of features; therefore, it is crucial to recognize the essential components for thorough streaming. Before choosing an OTT platform, consider the technological developments related to streaming.
The important things to watch out for while developing your own OTT App are outlined below.
Choose a Well-known Business Streaming Type Whenever Possible
When building your own OTT app platform for displaying content, on-demand videos, activities, and movies to meet the demands of the audience, choose an appropriate genre.
Develop a Strategy Based On Your Services and Resources
Create your own OTT App based on the kind of content distribution that would appeal to your audience. To give your customers a better viewing experience, make sure that resources are planned properly.
Compatibility in Audience Targeting
By using strategic content delivery, you can make sure that your audio or video content can be streamed on all kinds of devices and platforms.
Decide Whether to Use Websites or Branded OTT Apps
OTT content can be made available to users via an app or by building a website. The best OTT platform development should include custom templates that website builders or app developers can use to quickly create and deploy websites and apps.
Pay Attention for a Better Viewing Experience
Focus on providing a captivating viewing experience while offering original material. Now that there are many OTT providers, you should focus most on streaming valuable content to a large number of people.
Boost ROIs Using the Proper Monetization Business Models
Live streaming and video-on-demand are both included in OTT video services. Select the monetization strategy that best fits your company's requirements to generate revenue more quickly by increasing viewing via advertising.
As OTT streaming service providers, you have plenty of room to grow your lucrative revenue streams.
Track Your Users' Activity
Delivering a range of material to fit your audience as well as establishing the mind-set of the particular demography using analytical tools like real-time traffic updates, current viewing status, user business applications, and revenue statements is crucial when your intended audience is broad and dynamic.
Make sure you include payment services and in-app purchases. Integrate secure online payments within your OTT stream to give your users a hassle-free option to send money inside the app. This will ensure that in-app purchases run smoothly.
Progressive Technologies Involved in Building An App Like Netflix
For producing higher ROIs from your streaming content, you should encompass the application of particular techniques and stellar technologies for enhancing business growth with their elevated functions. It makes them innovative and unique for viewers and content creators.
Competent Servers
To deal with a high number of coexisting links, you should make use of the Nginx server. The application of an edge server is certainly feasible because it holds the static files and easily streams the content in HD quality.
High-Performance and Reliable Cloud Hosting
A large number of OTT service providers consider AWS cloud services for their cloud storage element. Experts in business can use cloud-based strategies to build their own over-the-top (OTT) platforms to help their businesses grow and make more money.
Necessary Streaming Protocol
The two significant streaming protocols to use in OTT streaming are live streaming, HTTP, and RTMP. With the application of the real-time messaging protocol, you can get experience with low-latency interaction as well as the transmission of maximum information.
Robust Security
Security systems are required for OTT streaming. AES and DRM encryption are significant security systems to protect the content from unauthorized access or copyright concerns.
Superior (CDN) Content Delivery Network
CDN providers are considered an essential aspect of getting down the greater traffic inside the core network and ultimately increasing the low latency. The superior CDN makes sure of an enlightened performance.
IT Infrastructure for Seamless Distribution
In the context of the seamless distribution of content, smooth functionality across different platforms is required. The feasible video streaming would cut down on different other IT resources as well as make it highly cost-effective.
Multi-device Access and Support
The resilience of accessibility across the different platforms is an appropriate mode to make sure the provision of video content at a wider range of systems like the web, smart TV, mobile, and tablets. It can be a fundamental aspect that provides the maximum scope for business notions.
Types of Video Streaming Applications
The first thing we should do is take a look at some of the types of video streaming services available on the market before diving into what is required to build a streaming platform.
On-demand Video Streaming
In current times, almost every home has a mobile system with on-demand movie streaming applications. Apple TV, Amazon Prime, Netflix, and Hulu are the key competitors in the streaming space.
Besides SVOD, some apps for streaming video on demand are now also providing live TV. For example, Hulu provides over five live stations, including local ones.
Live Video Streaming
The number of gaming-focused streaming services is growing. There are several players in a niche market. Netflix is considered one of the recognized brands that are pioneers of live video streaming facilities. You can also develop an app like Netflix to take your business to new heights.
Streaming Apps from TV Networks
Individual networks and TV service providers offer video streaming applications. The streaming choices for these will be ShowTime or HBO NOW. You can now increase the access to each premium channel individually instead of paying for paid channels as an element of the cable bundle, as was the situation in the past.
Fascinating Live Streaming Data
There are about 70% of consumers who give preference to watching videos over listening and reading, making them a highly popular form of content.
600 million people in China will be watching live streaming in 2020.
At the end of the 2nd quarter of 2021, there were about 8.99 billion hours of live streaming material watched across all streaming services.
Businesses that consider the benefits of video features increase their income 49% more rapidly as compared to non-video users.
As per 80% of US customers, live videos are chosen over blog posts.
There are about 30% of Gen Generations who have shown an interest in live streaming, specifically on social media.
The live-streaming market expanded by 99% from mid-April 2019 to mid-2020.
Live streams are considered 10–20 times more frequent in comparison to on-demand videos.
How Does Netflix Make Money?
The significant source of revenue for Netflix is a subscription. Users can select one of the following monthly plans:
The basic plan begins at $7.99 per month. This plan doesn't consider high-definition viewing as well, and users can watch video during screen time.
The standard plan begins at $10.99 per month. This plan permits a user to watch videos on two synchronized extensions.
The premium plan's cost starts at $13.9 per month. After contributing the subscription fees, users can access 4K videos on four screens.
In terms of target audience, Netflix has different business segments as follows:
International streaming: Monthly membership fees are commonly created by subscribers who are outside of the USA.
Domestic streaming: The platform's revenue generally originates from the monthly fees that are paid by US subscribers.
Domestic DVD: Revenue produced by US subscribers who pay DVD by mail on monthly subscription fees
Now, let's take a look at how to build an app like Netflix and the estimated cost of building such a video streaming application.
Steps to Create Netflix Like App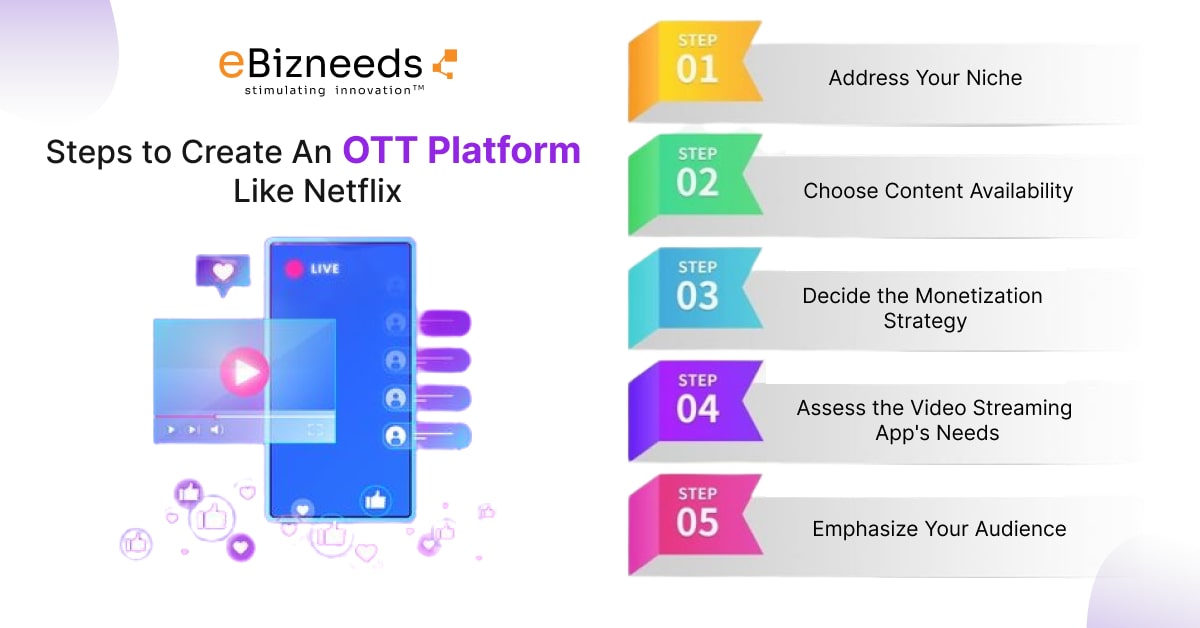 Building a streaming service app such as Netflix might appear to be an easy task, but it is not. To develop an engaging, highly interactive, and responsive streaming service app, you have to consider the following OTT platform development steps.
Let's get started how to create Netflix like app!
Step 1: Address Your Niche
The first thing to consider is what content your application will stream to users.
Here are some perspectives:
Entertainment: Like Netflix and HBO, you can provide your customers with entertainment streaming services. The audience is huge, so you can surely think about becoming an innovative streaming provider.
Education: people sitting at home are increasingly looking for videos instead of reading lectures and guidelines.
Fitness: Fitness is a significant niche for VOD services. Fitness fans who are locked up will gladly pay for a subscription that lets them watch fitness-related videos whenever they want.
Step 2: Choose content availability
Since the content is the foundation of the service, select what sort of content will be:
Would you consider purchasing videos through other distributors?
Or would you develop your video content?
If you wish to cooperate with video distributors, you need to consider a license.
Below are two ways to cope with that:
To make contact with the copyright holder
to rent a movie through an authorized distributor with a license.
Step 3: Decide the monetization strategy
Below are different monetization models available for on-demand video services:
Subscription: As you know, Netflix considers this monetization approach. Moreover, the subscription model is significantly used by professional broadcasters. Moreover, subscribers pay a monthly fee to get access to the content library. You can apply this monetization tool when you regularly release new content on your channel.
Pay-per-View: It is a highly straightforward pricing model that indicates the user pays for each video he or she watches. When you build a platform that streams sports events, trade shows, conferences, boxing, and MMA, this model works well.
Advertising: You can charge companies to run their video ads on your platform. But this monetization approach will only work when your platform becomes renowned among users.
Step 4: Assess the video streaming app's needs
To perform well in the video, you should balance the below features:
Internet Speed
Internet speed can impact the platform's competency to stream highly requested videos. The minimum internet speed for streaming standard-quality movies is more than 2 MB/second. However, your internet speed should be much higher to broadcast HD, 3D, or 4K.
Cloud Hosting and Computing Architecture
To keep video content, we recommend using cloud hosting platforms due to the following advantages:
The cloud platform permits rapid access to video content.
The cloud hosting channel permits prompt access to video content.
Cloud hosting platforms are inexpensive compared to hard drives.
Cloud hosting platforms are elastic and also increase the available space spontaneously.
Step 5: Emphasize Your Audience
Following are some ways to find an audience for an OTT platform like Netflix:
Social Media: Renowned social networks such as Instagram, Twitter, and Facebook You can share videos on such networks to endorse your services and address a feasible target audience.
Arrange Newsletters: You can send your prospective customers a letter with a detailed description of your service; however, ensure you build an attractive and presentable letter.
Use YouTube: This service is highly influential for brand promotion; therefore, it is good to use it to develop a reliable attitude toward products.
After discussing how to make a app like Netflix, we will move onto the features of OTT Platform Like Netflix.
Important Features to Add When Creating An OTT Platform Like Netflix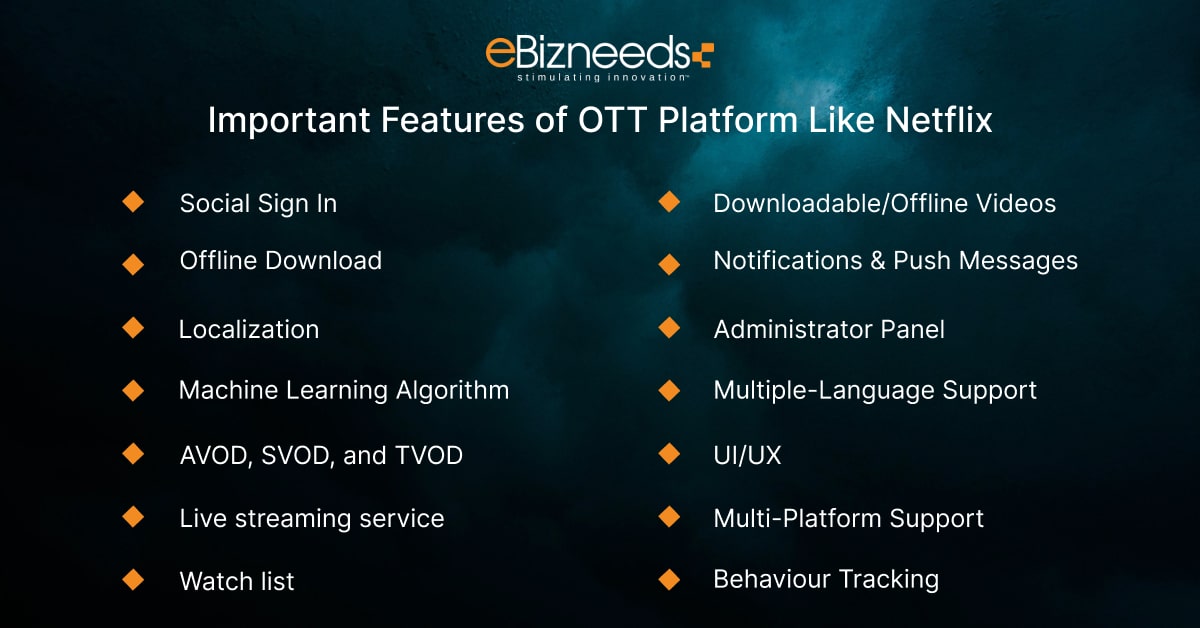 You can consider the features listed below to add some customization to another user interface in addition to the required elements that generally remain there for communication.
Social Sign In
In current times, people are heavily using social media channels in their daily practices. Providing them the ease of linking their social media account to their video streaming account would offer them greater elasticity. It will permit them to easily sign up using their social network account with a single touch and also save them from having to complete time-consuming procedures.
Offline Download
Without a reliable internet connection, computer service operators and tourists cannot run their activities; hence, local storage is incredibly effective for downloading companies. Yes, developing a mobile video streaming app considers more than unbiased video streaming.
Localization
You should keep in mind that your audience for the app would be global when you intend to make something similar to Hulu or Netflix. As a consequence, it is important to consider a localization system for captions and the user interface. Multilingual assistance should be considered primarily. This activity will enhance the usability of your website and draw the attention of users all across the globe. Hence, when building a live streaming app such as HBO or Netflix, you should vigilantly assist as many languages as you can.
Machine learning algorithm
Other than the fundamental competency to feed content, another significant element of video streaming software is possibly AI. You should offer the highly relevant material that is most likely to grab their attention when you want them to return to your app frequently.
To create a virtual map of user preferences, each user interface can be automatically considered and assessed. In this context, a machine-learning algorithm can be an appropriate strategy.
AVOD, SVOD, and TVOD
For your video streaming site, you might take into account various payment options and their associated contents. On a site like AVOD, you have to take into account some free material with advertisements. Additionally, video on demand with ads would bring in little money but help your company establish an identity with consumers.
More money is made by using SVOD (subscription video on demand) and TVOD (transaction video on demand) content. Users who have purchased platform subscriptions are the only ones who can access the content of SVOD payments. On the other hand, the TVOD model lets any audience make a one-time purchase for certain content and try it out.
Live streaming service
Sports, entertainment, and events are still often streamed live. It is fairly unusual for users to buy subscriptions only for the live streaming option. So, if you're creating an online video streaming platform, make sure it supports live content streaming to satisfy actual demand.
Watch list
From a user's standpoint, it is a really useful feature. This function would cut down on browsing time before viewing. Users may also explore the full collection, choose their favourite movies to add to their watch list, and create a playlist just for them.
Downloadable/Offline Videos
Users want to see videos on the go, particularly when interacting. But the lack of a reliable internet connection can be an issue. This is why different popular OTT video streaming services offer the option of downloading videos for offline viewing.
It will let people download the video when their internet connection is strong and stable, then watch it later no matter how good their internet connection is.
Notifications and Push Messages
Push notifications mainly assist the users to get messages or notifications when their subscription is related to expiration, when it has been renewed, or when there is a choice to upgrade or cancel the subscription. And most significantly, it is a classic when a new episode is developed live.
Administrator Panel
When you seek to develop an OTT platform like Netflix, one fact can make it all clear. You can control the whole admin panel. From the back end, you can add, update, delete, or track artists, and you can quickly change the different configuration files.
Multiple-Language Support
At the time of broadcasting, you have the option of delivering media resources with multilingual assistance to an international audience. You can also translate and stream live videos that have closed captions and audio in different languages.
UI/UX
You should ensure your app is worthy of your platform's users. It is essential to keep them hooked by offering them everything they are seeking. Some research shows that about 77% of users address the challenges while selecting the content that they must be watching.
Multi-Platform Support
Some of the most effective ways to engage and reach your target demographics include multi-platform viewing assistance. You should connect them using various sets of streaming devices at any time.
Behaviour Tracking
It considers a large number of real-time statistics, like user activity in content viewed, searches conducted, page visits, and purchases. It is designed to meet the creative video needs of an audience that has viewing habits and understands the situation of developing an OTT platform such as Netflix.

How Much Does It Cost to Build An OTT Platform Like Netflix?
OTT platform development Cost depends on different factors, ranging from the amount and difficulty of app features to the location and experience level of developers.
The cost of basic Netflix like app development ranges from approximately $15,000–$30,000. However, the final cost depends on your requirements.
The cost will reach up to $50,000 if you wish to consider elevated features such as multi-screen, complex UI/UX design, multi-language assistance, and other things. As you want to develop a video-on-demand platform, it needs heavy backend infrastructure and constant data streaming assistance for the best user capability.
Let's talk in detail about all the things that affect how much it costs to create Netflix like app.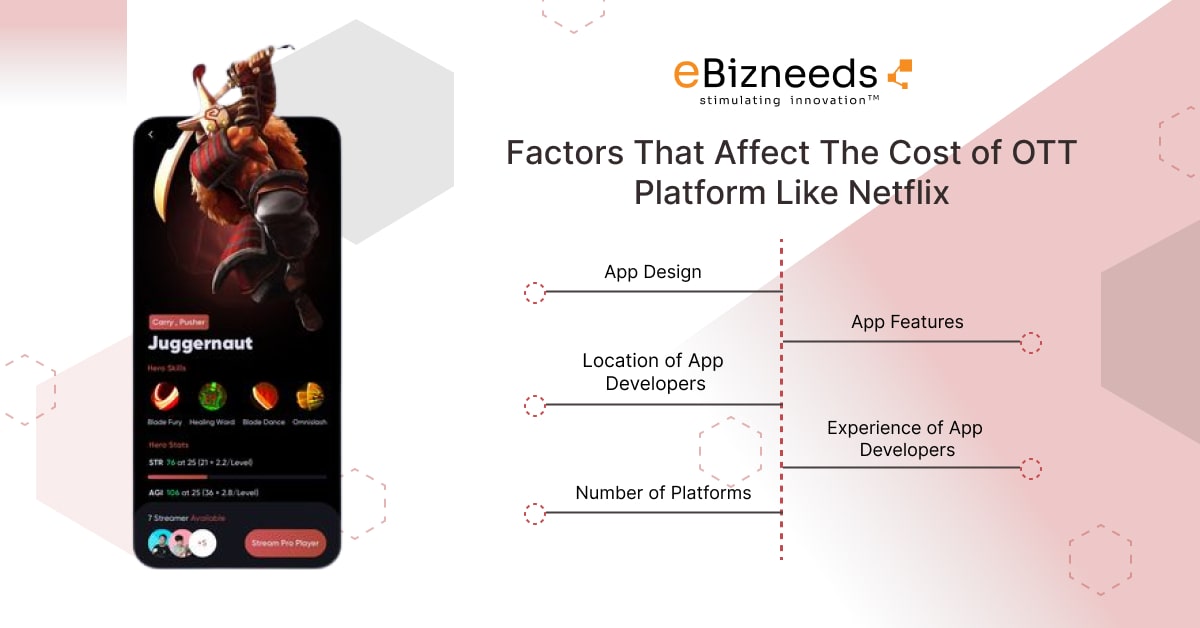 App Design
It is an age of practice where the users need a minimal design that is tempting and relaxing to their eyes. The intuitive and simple UI design of the video streaming app costs around $5000.
Due to the longer development period and the need for more advanced tech experts, rich visuals and classic animations increase complexity, but the cost rises to $10,000.
App Features
Maintaining the bare minimum of features in the first version of an application is the best approach, as it does not make sense to invest in a set of futures while you are testing the liquids.
The basic feature cost of a video streaming app is around $12,000–$25,000, and that cost increases as you consider elevated features like multilingual assistance, multi-screen compatibility, and more. Along with this, video streaming app development costs will increase accordingly.
Location of App Developers
The hourly developer rate varies as per the location where they are working. When an app development company is from western Europe or the US, they will charge 3–4 times more than an Indian mobile app development company while you are building your streaming app.
Experience of App Developers
The developers performing at the same location, even working in the same office, have diverse hourly rates as they have relied on their experience and skills in niche technologies. You can consult with an OTT app development company to hire experienced app developers.
Generally, there are different categories, such as junior-level, mid-level, and senior-level developers. A junior-level developer charges $20 per hour, a mid-level developer charges $40 per hour, and a senior-level developer charges about $60 per hour.
An app with a comprehensive and complex tech stack increases the need for experts. For example, Netflix like app development needs specialists like Python developers who have rich experience in the same domain.
Number of Platforms
Android has grown in the market with a higher user share as compared to iOS, but the device configuration, fragmentation, and resolution issues make the development of a video streaming website such as Netflix an expensive matter.
The video streaming app development cost for iOS and Android is between $15,000 and $30,000,
By knowing these factors, you can obtain a perfect estimate of what it will cost to develop a streaming app.
Conclusion
As a large number of businesses are venturing into OTT sharing, it becomes a colossal task to choose the right solution provider to develop your streaming platforms.
Explore the rich feature attributes of VPlayed to develop a globalized OTT platform. It has futuristic technological features that boost your revenue and elevate business growth.
FAQs
Q: What are the essential features required to create an app like Netflix?
To create an app like Netflix, you'll need core features such as user registration and authentication, a content library, personalized recommendations, streaming capabilities, user profiles, and payment integration.
You can implement robust security measures like encryption for content transmission, DRM (Digital Rights Management) to protect the media files, and secure authentication mechanisms to prevent unauthorized access.
Q: What technologies and programming languages are commonly used to build a video streaming app like Netflix?
Commonly used technologies include React Native or Flutter for cross-platform development, Node.js or Python for the backend, and a combination of AWS or Azure for cloud hosting, storage, and content delivery.
Q: How can I handle high user traffic and ensure smooth video streaming on my app?
To handle high user traffic, you can use content delivery networks (CDNs) for efficient media delivery, scalable server infrastructure, and adaptive bitrate streaming to adjust video quality based on users' internet connections.
Q: How do I build a recommendation system similar to Netflix's that suggests content to users based on their preferences?
Building a recommendation system involves using machine learning algorithms like collaborative filtering, content-based filtering, or hybrid approaches. You'll need to gather user data, analyze their viewing history, and use techniques like matrix factorization or deep learning to make personalized content suggestions.
Q: How can I manage payments and subscriptions on my app?
You can integrate payment gateways like PayPal, Stripe, or other popular ones to handle user subscriptions and payments securely. Ensure that the payment process is user-friendly and complies with relevant regulations.
Q: What steps should I take to license content for my streaming app?
Licensing content involves negotiating with content providers or studios. You'll need to understand the terms and conditions of the licensing agreements, including territorial rights, duration, and cost. Hiring a legal professional experienced in media licensing is advisable.
You can include social features like user profiles, followers, reviews, and ratings to enhance user engagement. Additionally, integrating social media logins and sharing options can further promote your app's content.
Q: What measures should I take to optimize the app for different devices and screen sizes?
Adopt a responsive design approach to ensure that your app adjusts its layout and content based on the user's device and screen size. Extensive testing on various devices will help identify and resolve any compatibility issues.
Q: How can I handle user feedback and improve the app based on their suggestions?
Implement a feedback mechanism within the app, such as an in-app support feature or user surveys. Regularly monitor user feedback, analyze their suggestions, and prioritize improvements based on their needs and preferences.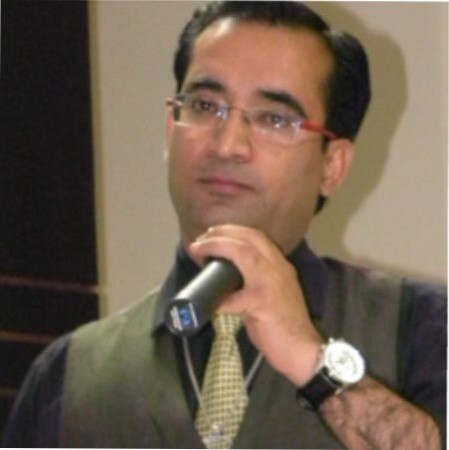 Naveen Khanna is the CEO of eBizneeds, a company renowned for its bespoke web and mobile app development. By delivering high-end modern solutions all over the globe, Naveen takes pleasure in sharing his rich experiences and views on emerging technological trends. He has worked in many domains, from education, entertainment, banking, manufacturing, healthcare, and real estate, sharing rich experience in delivering innovative solutions.