Last updated on July 1st, 2022 at 09:39 am
eCommerce apps or websites totally replaced traditional business tactics. Amazon, Flipkart, eBay, Alibaba, and other eCommerce websites and apps are the best of the best example of eCommerce website development.
For creating a web eCommerce store, there are several technologies available such as Magento, Woocommerce, WordPress, Wix, etc. You can prefer as per your requirement. For example, suppose you want to know how to create an Ccommerce website using WordPress? In that case, you can consult about it from experienced eCommerce developers. 
Magento vs. Woocommerce, which is the better eCommerce development platform? It is one of the hottest topics of debate now these days. 
As per statista.com, the global market value of eCommerce is more than 4.9 trillion USD. Furthermore, the market projection expectation is to cross 7 trillion USD by 2025.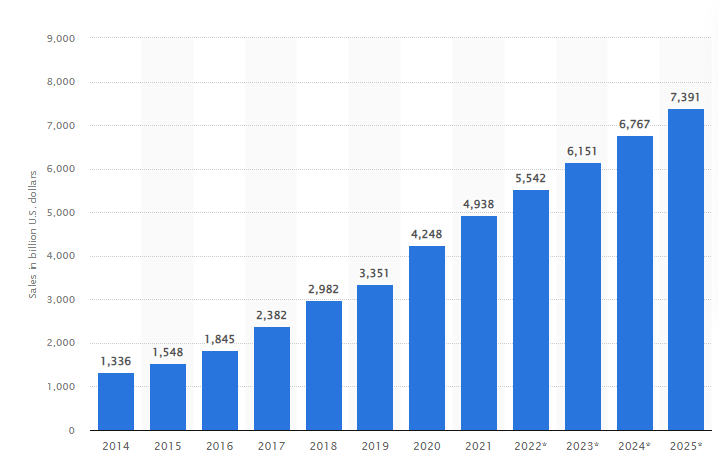 The e-commerce market is huge. But suppose you want to enter this trillion-dollar industry and generate billions of dollars in revenue. In that case, you need to develop a robust solution. For this, you need to choose the right e-commerce development platform.
Sounds complicated, right? We are here to help you. This blog discusses the various areas of Magento vs. Woocommerce to find out which one is the best for you. With this said, let's get right into it:
Some Surprising Facts About eCommerce Market  
The following facts have been included in this blog to showcase some interesting facts about the eCommerce market. You can refer to these facts while deciding on your next eCommerce mobile app development. 
WoocCommerce holds a 23.51% market share as one of the leading eCommerce software platforms. 

The eCommerce software application market will grow by $6.3 billion by 2023. 

Around 60% of online shoppers prefer e-commerce marketplaces like Amazon or eBay    

76% of shoppers' first preference is free shipping instead of fast shipping. 

The annual e-commerce spend of the USA is $561 billion. 
Magento Vs. WooCommerce: Everything You Need to Know
While Magento and Woocommerce are popular and widely used e-commerce development platforms, they differ. We shall be looking at this and everything else in this blog. However, to understand it, first, you need to know what these platforms are. So, let's get started with:
What Does a Magento Development Company do?
Magento has been the platform of choice for thousands of people for e-commerce development. One of the main reasons behind it is that since its launch in 2007, it has been receiving good support and updates.
Today, this platform has given rise to more than 185,000 e-commerce websites and serviced 790,000 clients across the globe.
It clearly shows the great potential and wide use of Magento. And various strong points make the client go for a Magento development company over the other options. The various feature and the benefits of Magento will be discussed later in the blog. Still, as of now, this is what the Magento platform is.
Top Features of Magento Development
Being one of the best e-commerce development platforms, Magento has many good features. It is a key point to look at in Magento vs. Woocommerce debate. This blog section is dedicated to the features of Magento that you would definitely like to read. 
Ecommerce Store Set-Up
Setting up an e-commerce store is one of the first things you need to do while creating an online store on platforms like this one.
Thankfully, Magento provides access to a lot of highly powerful administration tools. Setting up an online store is as easy as it gets through these back-office tools.
It also allows the clients to create multiple user accounts with highly regulated activity with the platform.
This is one of the top features of this e-commerce website development platform.
Inventory Management
It goes without saying that inventory management is one of the basic and most crucial features that any e-commerce platform should have.
It allows the clients to add, remove, edit information, update pricing, and change names, among many other things. This is the soul of an e-commerce store.
And again, Magento rises to the occasion. The inventory management feature allows you to do all of this. For instance, the platforms enable inventory management across various areas, including warehouses. One of the highlighting functionality is that it allows you to dropship, a new and quite prominent e-commerce concept these days.
Orders Management
One cannot speak of e-commerce without mentioning order and shipping management. Because this is the primary reason why people are exploring and using your store in the first place. That's why Magento provides you with enough features to do the same.
The platform also provides personalized ordering and shipping, working hand in hand with the inventory management feature. In addition, you can offer different types of delivery, i.e., normal, rushed, one-day delivery, and so on, just like many other top platforms do.
This feature is a big reason why most clients consider Magento solutions in the first place.
Multiple Payment Options And Easy Checkout
Being the top e-commerce platform, Magento provides a simple and quiet checkout process with multiple methods to pay for the purchase.
For instance, a customer can create a customer account, apply promo or discount codes, get an estimated cost, look at the different shipping options, etc. All these functionalities we can create with ease while using the Magento platform. 
And since Magento is a modern platform, it is compatible with different devices. So, businesses can leverage it to have a fantastic eCommerce store. 
Client Management and Marketing
The customer is the king, right? So that's why you need to manage them effectively and fulfill all of their demands.
With Magento, you get a feature to create customer accounts, combine customers into a group, and conduct monitoring activities.
Furthermore, you get enough capacities to market your store and attract clients through subscription functionality, SEO capacities, shopping tools, and multiple plugin integrations.
These were some of the many reasons to hire Magento developers to develop an e-commerce store of your own. With this being said, let's look at the other half of the ongoing debate of Magento vs. Woocommerce development.

What is WooCommerce Development?
Just like Magento, WooCommerce has been around for some time now. Since its launch in 2011, this open-sourced platform has enabled clients worldwide to develop and deploy highly innovative and performative e-commerce stores.
Compared to Magento, Woocommerce has considerably more active e-commerce websites, growing past 3.6 million.
While Magento is a great platform in the debate of Magento vs. Woocommerce, you can expect nothing less from this beast of an e-commerce platform, either. Here, we will be showing you multiple reasons to hire Woocommerce-based web development services.
With this being said, let's look at the various features of Woocommerce. 
Top Features of WooCommerce Development 
Services
An e-commerce platform is defined not by its look but by its feature and functionality to clients. And that's why we shall be discussing the main features of Woocommerce development services that may make you choose them.
With this being said, the top features of Woocommerce development services are, as mentioned below:
E-Store Themes
WooCommerce is an e-commerce platform primarily known for its mobile device-friendly themes. However, most people don't know that you can online choose a theme from WordPress' e-commerce theme store.
Moreover, these themes can be customized as per user preferences. This enables the client to change the look and feel of the e-commerce store as per their user base. Not only this, but it is also one to edit specific parts of the e-commerce platform.
Listings
Again, product listing, or inventory management, is the spirit that powers an e-commerce store. This platform allows you to create an item catalog, categories, tags for items, attributes, etc. The best part here is that one can add unlimited items to the inventory.
In addition to items, an unlimited number of images and their variation can be added to the platform. But, this isn't all; it also allows CSV file import and export while offering an auto sorting and filtering feature.
And this is a strong point of WooCommerce, so much so that people choose this e-commerce development service based on the same feature.
Secure Checkout and payment
Suppose your e-commerce development solution doesn't have secure payment gateway integration. In that case, it defeats the whole purpose of the platform and e-commerce itself.
Luckily, WooCommerce provides various payment methods during the checkout process. In addition, you can also add plugins for advanced payment methods like EMI and so on.
 As far as conventional means are concerned, it provides payment to all the different credit cards, cash on delivery, payment on delivery, debit card, eWallet, etc. For clarity, it also provides a cost breakdown, including delivery costs, taxes, etc. 
Shipping
As a way of Shipping, WooCommerce empowers you to provide several alternatives to your customers — consisting of pickup, community conveyance, or fashionable delivery. You can likewise confine those alternatives to mild of a client's area.
WooCommerce lets you set a stage transportation rate, represent express costs in mild of the object, and proposition unfastened delivery. Because of the transportation settings, you select, WooCommerce will compute turning-in charges and display the costs on your customers at Checkout.
Order Management & CRM
WooCommerce enables the business owner to manage orders and customers effectively. As far as orders and items are concerned, it allows you to control all active orders, reply to user queries, manage returns, etc.
This is one of the best features you get with WooCommerce-based Online Store Development Solutions. These five highlighted features make Woocommerce stand out from the competition. As you can see, it is a good platform that can deliver unmatched e-commerce stores.
Expand your audience with Multi-Country Advertising, a much-requested new feature in @Google Listings & Ads.

Reach more potential customers in as many countries as you like within a single campaign from your #WooCommerce dashboard. Let's get started! 👇https://t.co/chyukqyZmo pic.twitter.com/3mOI3WkV85

— WooCommerce (@WooCommerce) June 7, 2022
Which is Better- WooCommerce or Magento?
Previously in this blog, we saw how both of these platforms provide amazing capacities for e-commerce stores. However, it is too difficult at the time to decide which one we should choose, WooCommerce or Magento. 
To ease the confusion, we will be comparing some key areas of Magento vs. WooCommerce head-to-head to find out which is the better fit for your business. So, with this being said, let's get right into it:
Magento vs. WooCommerce Performance
The first thing we will be looking at is the performance in Magento vs. Woocommerce. Here, we mean real-life performance by performance rather than on paper stats.
It goes without saying that an e-commerce store should excel in certain performance areas. This includes load time, no lag, etc. Only through this can they reduce bounce rate and retain client traffic.
The performance can differ based on the functionality of the e-commerce store and its complexity and size. Moreover, we can say that the better one actually depends on your needs and project specification in terms of performance.
Meaning Woocommerce might be a better choice for one e-commerce store. At the same time, another one can benefit more from Magento development services. You should keep this in mind and discuss it with your custom website development company.
WooCommerce Vs. Magento Security
Security is yet another factor that can affect the overall performance of e-commerce. But again, just like we saw in the previous point, the WooCommerce and Magento platform is quite similar in security areas.
The main credit here goes to the number of plugins available for both platforms. While the security provided with the platform is good enough, if your store deals with sensitive data, you can add plugins and extensions.
Therefore, in areas of security, Magento vs. Woocommerce is a draw. However, with this said, let's look at another top area that every client wants to know about: 
Woocommerce vs. Magento Speed
Customers want to visit a fast e-commerce store, and you want to create a store that satisfies clients. This is why e-commerce website speed is such an important factor. So, Woocommerce vs. Magento speed, which is better?
As a WooCommerce or Magento 2 development company may tell you, these platforms offer almost equal speed. However, if you really go into detail, Magento is more on the faster side. Nevertheless, it depends on your project specification and stores complexity, functionality, and size at the end.
Conclusion
Woocommerce vs. Magento has been a debate for a long time now. However, both of these platforms are great in their own right. And at the end of the day, it depends on your project and personal preferences.
We recommend that you consult an experienced-commerce development company, as they can guide you better based on your project needs.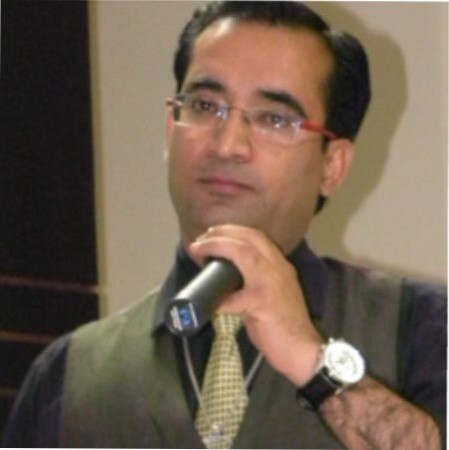 Naveen Khanna is the CEO of Ebizneeds, a company renowned for its bespoke mobile app development and web development in eCommerce app development and AI App development. Delivering high-end modern solutions all over the globe, Naveen takes pleasure in sharing his experiences and views on the latest technological trends.