Last updated on October 12th, 2023 at 05:53 am
In the fast-paced world, even car care is getting convenient. Car wash app development brings simplicity to your doorstep.
This article will look at the cost, features, and market growth of the car wash app industry and see why it has become so popular in recent years.
Developing a car wash app might seem expensive, but it's much more affordable than you think. Following these tips and strategies, you can develop your car wash app in no time.
With the right software and an experienced team, you'll be ready to market your new mobile application in no time!
Mobile car wash apps have taken the automotive world by storm. They offer a convenient, time-saving way for people to get their cars washed and detailed. The app will find the nearest mobile car wash and provide them with all the details they need to make an appointment.
From the business point of view, a car wash app can promise several advantages. Both options are fine for android app development or developing an iPhone car wash app to leverage the advantages.
Some Exciting Facts On Car Wash App
More than 70% of car owners preferred to take car washing services instead of washing their homes.
The car wash revenue is estimated to touch the figure of 1930.4 million by 2024 only in California.
US car wash & auto detailing industry's market size is more than $14.7 billion, and the forecast is to reach $20.74 billion.
There are more than 60k car wash establishments in the US.
American car dealers with wash facilities generate $27,735 annually.
Most car washing service providers offer six types of services: self-service bay, detailing services, in-bay automatic wash, hand washing services, exterior only clean and full service clean.

The Need

of

Car Wash App Development
In today's bustling world, where time is precious and convenience is paramount, the emergence of car wash app development has become essential. Traditional car wash routines often consume valuable hours, requiring you to physically visit a car wash center and wait in line.
However, with the rapid advancement of technology, a more efficient solution has emerged.
Effortless Convenience
Car wash app development addresses the need for streamlined car maintenance. By enabling users to schedule car wash services through their smartphones, this innovation eliminates the hassle of travel and waiting times.
Time Optimization
Time is a valuable commodity. With a car wash app, users can effortlessly book a car wash at their preferred time, fitting seamlessly into their busy schedules. This not only optimizes their time but also offers the freedom to multitask without disruptions.
Enhanced User Experience
Traditional car wash experiences can often be tedious. Car wash app development places the user in control, allowing them to customize their service, choose from various packages, and even select additional treatments—all from the comfort of their device.
Cashless Transactions
The integration of secure payment gateways within car wash apps ensures a hassle-free payment experience. Users no longer need to carry cash, as transactions are seamless and digital.
Real-time Updates
Stay informed about your car's wash status. Car wash apps provide real-time updates, allowing users to track their service's progress and estimated completion time.
Environmentally Conscious
Digital solutions contribute to environmental preservation. By minimizing travel and optimizing service routes, car wash app development aids in reducing carbon footprints associated with traditional methods.
Future-forward Approach
Car wash app development aligns with the evolving tech-savvy lifestyle. Embracing such innovations not only simplifies tasks but also reflects a modern approach to everyday challenges.
The Minimum Requirements of a Good Car wash App
This blog is about car wash app development's cost, features, and market growth. But it is not recommended to proceed directly on these points. The reason for this is that this blog was created to educate about the overall viewpoint.
So, let's look at the minimum requirements to develop a good car wash app.
Company Name and Logo
The name and logo should be included on the app so that customers can identify your business. The logo should be prominently displayed as well.
Simple User Interface
The app's interface should be designed to be easy for users to navigate. All of the features and options should be easily accessible.
Scheduling
Customers should be able to schedule their car wash appointments directly through the app.
Payment Options
The app should offer various payment options so that customers can choose the one that is most convenient for them.
GPS Tracking
GPS tracking should be included in the app so that customers can see where their car is at all times during the wash process.
Camera Functionality
It would be best to include a camera function in the app so that clients can take pictures of any damage or scratches on their vehicle before they leave. It also allows customers to see what has been done to their car after it's washed.
Location Services
Location services are essential for any car wash app because they ensure customers know which location is nearest to them and how long it will take to get there. What services each location offers (e.g., detail service)?
Complaint Management
Many businesses have customer complaints about their products or services; this makes complaint management an important feature for any car wash app.
Creating a user-friendly and efficient car wash app involves several key steps that ensure a seamless experience for both users and service providers.

Here's an overview of the car wash app development process
1. Ideation and Planning
Define the app's purpose, target audience, and core features. Plan the app's flow, including user registration, service selection, scheduling, payment, and feedback.
2. Market Research
Analyze the competition and identify unique selling points for your app. Understand user preferences, pain points, and trends in the car wash industry.
3. Design and User Experience
Create an intuitive user interface (UI) design that aligns with your app's branding. Focus on easy navigation, clear visuals, and a smooth user experience (UX).
4. Development
Choose the right technology stack (front-end and back-end) for your app. Develop features such as user registration, car selection, service customization, scheduling, payment integration, and real-time tracking.
5. Payment Integration
Integrate secure payment gateways to facilitate cashless transactions. Ensure user data security and compliance with payment regulations.
6. Scheduling and Notifications
Implement a scheduling system that allows users to choose convenient appointment slots. Send real-time notifications to users regarding booking confirmation, service updates, and reminders.
7. Admin Dashboard
Develop an admin panel for car wash service providers to manage appointments, view schedules, assign staff, and monitor customer feedback.
8. GPS Integration
Integrate GPS to enable users to locate nearby car wash centers, track service providers, and receive accurate arrival times.
9. Feedback and Ratings
Incorporate a feature for users to provide feedback and ratings based on their experience. This can help improve services and build trust.
10. Testing
Thoroughly test the app across different devices and platforms to identify and fix any bugs, glitches, or compatibility issues.
11. Launch
Deploy the app on app stores (iOS and Android) after ensuring it meets all requirements and guidelines. Promote the app through various channels.
12. Continuous Improvement
Gather user feedback post-launch and implement updates to enhance the app's functionality and address any issues.
13. Marketing and Growth
Utilize digital marketing strategies to attract users and increase app downloads. Continuously analyze app performance and user engagement to drive growth.
Developing a successful car wash app requires meticulous planning, technical expertise, and a deep understanding of user needs. By following this structured development process, you can create an app that revolutionizes the car wash experience for both customers and service providers

The Types of Car Washing App
It is also necessary to know the types of car wash apps so you can decide accordingly. These apps are a way to earn money; for example, if you follow the aggregator model, you can earn money through commissions with this concept.
The other way is, if you have a car washing facility for customers, you can offer them online booking with the help of a dedicated app. Let's check out what are these apps type.
#1. Aggregator App
The aggregator app works based on the Uber model, where service providers meet customers. Here, app owners do not need to arrange the resources. They need to promote their app in two ways – for the customers and another is for service providers.
The app owner will earn a commission on each service after paying the car washing service provider. The app contains three segments, i.e., admin panel, customer panel, and service provider. While using the app, users can choose any service provider based on reviews and ratings. 
#2. Dedicated App
These apps are especially for service center owners or car detailing service providers. It directly connects the service providers with the customers and offers a fantastic way for brand promotion.
Instead of dialing the numbers of your service center, customers can directly book any car washing service and pay online with ease. For targeting all your customers and on-boarding new users here, you can leverage cross-platform app development. 
The

Features That You Can Consider For Your Upcoming Car Washing App
Features are the soul of any app, so the same is with the car wash app. The app contains three segments – washer or detailer panel, user panel, and admin panel.
This blog section is dedicated to the features you can consider for car wash app development. Here you need to hire dedicated developers with the right expertise to develop an app.
Let's start with the user panel features first.
#1. User Panel
Login & Sign Up
It is a crucial feature that stands for user registration. Here, users will create their account with the help of an e-mail id, phone number, or social media id.
Car Details
It is a required option for a user to fill in the car details before opting for the services.It will also help the service providers decide whether to accept the request or not.
Service Booking
With this option, users can book their desired services. They can choose car washing, detailing, servicing, or anything else. 
Calendar
It helps users choose the desired date and time for car washing and detailing services. They can also enquire about the availability of the services.
Share Location
The location sharing feature will help if, in any case, pickup is required. The users can share the vehicle's exact location, and pickup staff can navigate to it.
In-app communication
In need of communication, a user and service provider can chat or make a voice call or video call. The best part is it also works fine with low bandwidth, so the contact is easy.
Service History
Users can view their previous bookings and service history with some particular service provider. It showcases all the details.
Offers & Coupons
Everybody looks for a great deal, and this section is for that. Here users can see upcoming deals and offers.
Rating & Review
Once the service is done, the users can leave their feedback. On the other hand, detailers can use it for service improvement.
#2. Washer/ Detailers Panel
The Washer Profile
The washers can create their own profiles on the app, including details like name, contact, address, and email ID.
Live service status
Detailers can share live service status with the users. It helps in generating trust and improving the relationship with the clients.
Wash Requests
This section showcases all the requests that have yet to be fulfilled. It provides a list of the clients with their details. The list is updated as soon as a request is completed.
Push Notifications
The washer or detailer can directly send the messages to the user and let them know about the changes in service or timings or any offers.
Request Approval
The washers can approve or reject the request based on their availability. They can also message the customers about their availability.
Earnings Tracker
The washers or detailers can track their earnings. This option displays the earnings of each service.
#3. Admin Panel
User Management
One of the prime features of the car wash app's admin panel is user management. The admin can add or remove the users or their profiles.
Dashboard
The dashboard works as complete control and command center for app admin. With the help of the dashboard, the admin can look over all app activities.
Service Time Management
App admin or car washing garage owners can change or modify the service timings.
Service Request

Approval
The admin can approve or reject the request of customers. They can also assign the service request to the available washer.
Payment Approval
Once the service is done and the client sends the approval, the admin can release the payment instantly with the payment approval feature.
Analytics
One of the most important features of the admin panel is analytics, which allows users to generate data and reports for strategic purposes.
The Cost Involved In Developing A Car Washing App
The cost of developing a car wash app is relatively low and depends on the features that need to be included in the app.
Many factors contribute to the cost of developing a car wash app. These include the number of features that need to be included in the app, the complexity of design, and whether or not you want to integrate with other services like Google Maps or social media platforms.
A basic app with just a few features could cost around $5,000, while a more complex app with multiple features could cost upwards of $50,000. Of course, the final cost will depend on the car wash app development company you choose to work with.

Any business development project comes with a certain cost. When it comes to developing a car washing app, there are several cost factors involved which must be considered.
The first is the App Development Company you choose to partner with. Selecting a reputable company with experience in developing similar apps is crucial to the success of your project.
The second cost factor is the features you include in your app. Adding too many features can increase the development cost, so it's important to prioritize which features are most important to your customers.
Finally, you'll need to consider the market growth for Car Washing apps. Researching this ahead of time can help you determine if there is a demand for your app and if it is likely to be successful.
Additionally, researching Car Wash App Development Companies and Car Wash App Features before you start will save money on future revisions or features that may not work well with your desired demographic.
Suppose you want to hire off-shore app developers to develop a car washing app. You will find the following information interesting. The following table depicts the hourly cost at you can hire app developers.
| | |
| --- | --- |
| Developer's Location | Cost Per Hour |
| USA | $150 – $250+ |
| Europe | $120-$150+ |
| UK | $100-$130+ |
| Ukrain | $100-$120+ |
| India | $25-$100+ |
The Market Growth of Car Wash Services
The global car wash market is in the upward direction, and according to experts, it was valued at USD 29.3 billion in 2021. Per the expectations, the annual growth rate is 3.1% from 2022 to 2030.
On one side, there is a huge demand for quality car washing services; on the other hand, service providers are finding new routes for using eco-friendly automobile washing products to cope with environmental compliances.
It is creating opportunities for all, including the customers. In terms of future perspective, the revenue forecast for 2030 is 38.61 billion dollars. The month of august will end very soon, and by the end of this concurrent year, 2022, the market size value will be around $30.85 billion.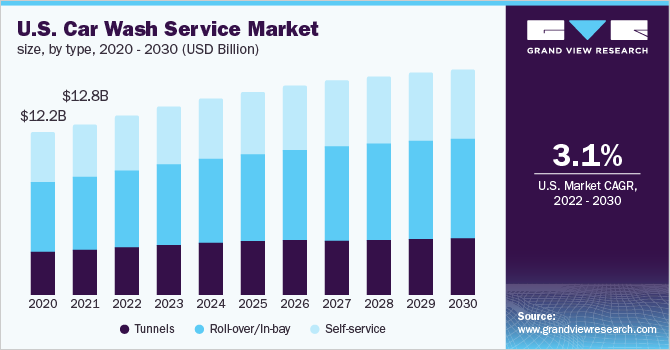 The Final Thoughts
The car wash app development is such a fantastic idea for the business. But for the app's success, you must focus on some crucial points such as cost, features, and market growth.
Research and choose a reputable Car Wash App Development Company if you want a car wash app for your business. The features of your app should be carefully thought out and planned to provide the best user experience possible.
The development cost will vary depending on your chosen company but should be within your budget. With the right planning and execution, a car wash app can help you take your business to the next level!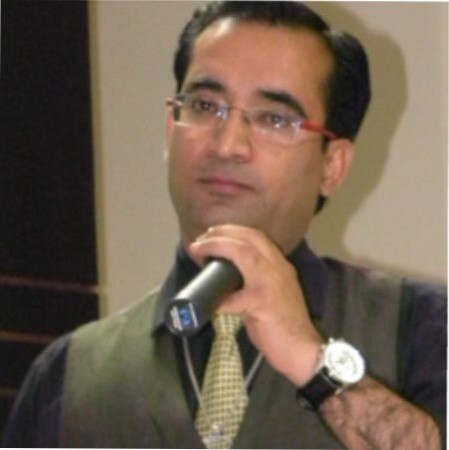 Naveen Khanna is the CEO of eBizneeds, a company renowned for its bespoke web and mobile app development. By delivering high-end modern solutions all over the globe, Naveen takes pleasure in sharing his rich experiences and views on emerging technological trends. He has worked in many domains, from education, entertainment, banking, manufacturing, healthcare, and real estate, sharing rich experience in delivering innovative solutions.