Last updated on October 11th, 2023 at 11:26 am
Artificial intelligence is getting more popular and successful these days, and every year new applications are developed that use AI. AI-based chatbot apps like Replika are becoming more popular in the market, just as any other type of mobile software.
People who don't have anyone to talk to and want a friend will find these kinds of apps helpful.
We all know that working professionals don't have enough time to get together and talk about their problems in today's busy and modern age. It is among the main reasons why artificial intelligence development has become so ubiquitous, and more companies are planning to make AI apps.
Do you have the same strategic plan? This blog could help you. It explains everything about how the AI chatbot app was made, what features it has, what its benefits are, and much more.
A Market Overview of Chatbots
By 2023, the profit generated from using chatbots will be more than $112 billion.
The chatbot market is expected to be worth $4,600 million in 2023. It is also expected to grow at a compound annual growth rate (CAGR) of 20.6% between 2023 and 2028, when it will be worth $14,130 million.
However, almost 90% of people who use chatbots think they are a good way to get help or direction.
According to a study conducted by Gartner, 70% of white-collar workers will be using chatbots to communicate in 2022.
What is An AI Chatbot?
Chatbots are programming languages that are using artificial intelligence (AI) to act like people speaking to each other. They can be used in websites, messaging apps, on smart phones, or over the phone.
Most AI chatbots are software programmes that do certain tasks automatically. More particularly, it is an interactive user interface that has access to different data sources via an API to offer data and services.

How Does Replika Make Money?
Replika has two ways of making money. These include subscriptions and in-app purchases.
Replika is a private company, even though they don't share their financial information, so it's not clear how much money the mobile app development company makes from such sources.
Subscriptions
Replika is free to use, but users can upgrade to Replika Pro because of this company's subscription plan to get access to more features. For instance, subscribers can do more initiatives, talk about more things, make voice calls, customise their application, start changing their Replika's avatar, and much more.
Subscribers can also obtain access to more privacy settings, like the capability of their lovely team or mentor to create Replikas. People who pay for Replika can also communicate with them privately.
If a subscriber chooses the mentor mode, their Replika can serve as a coach. Replika Pro provides them with access to coaching through things such as tests, practise conversations, social skills suggestions, building healthy habits, and assisting in calming their views.
A membership to Replika costs $4.99 per month. A membership can be paid monthly or for the duration of its existence.
It's not clear how many people pay for the app.
In-App Purchases
Replika lets users buy add-ons or virtual goods right within the app. In its shop, the business offers things like clothes and accessories, as well as physical traits that individuals may purchase for their replica. They also sell the ability to buy unique characteristics or interests for their replicas.
Customers buy coins and gems, which serve as the app's currency. Then, they use them to buy something in the app's shop. Users can also talk to their replikas to earn coins and gems. It isn't clear how much money Replika makes from such sales.
Top Features to Develop an AI-based Application Like Replika
Here is a summary of the common traits that are needed to make an AI-based chatbot app like Replika that works well. Let's take a look at them: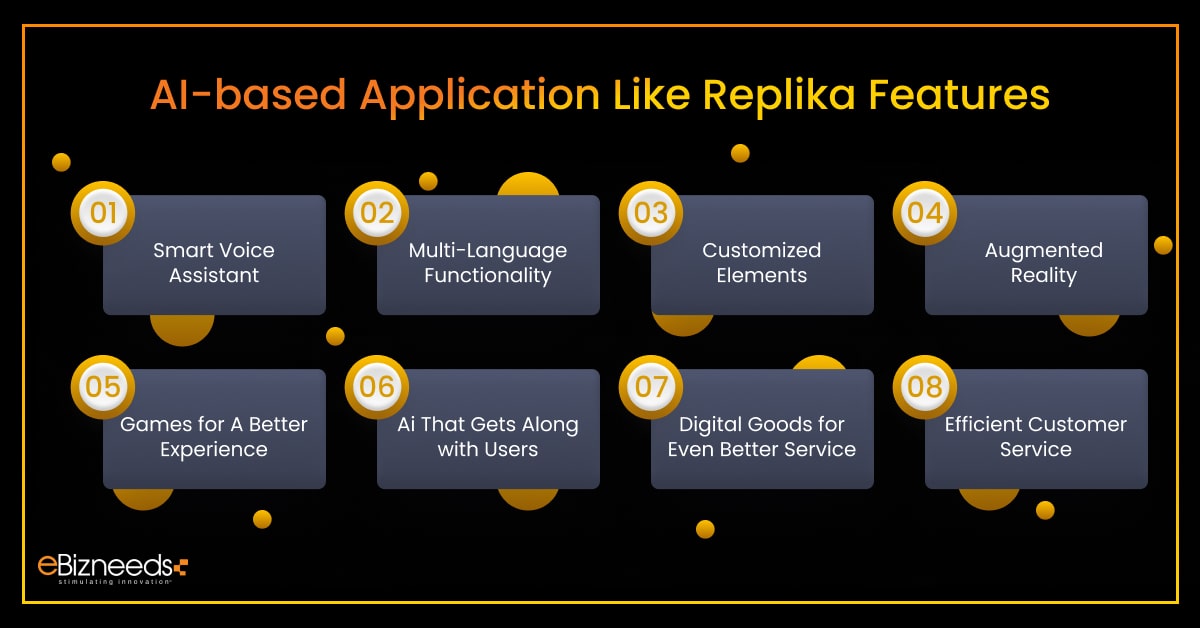 Smart Voice Assistant
No longer do you have to type everything, including your questions or doubts. Now is the time to offer your audience complete customization, and smart assistants are the perfect example of this.
When we think of smart assistants, Alexa and Siri are the first ones that come to mind. This is best shown by these two smart assistants. But putting this feature into place isn't as simple as eating a pie. But a talented group of software engineers can make it happen with their skills.
Smart assistants are a great perk for people who use AI-chatbot apps and want to talk to them. So, if adding a smart assistant to your chatbot app means going through a long and complicated process, it's still worth trying.
Multi-Language Functionality
The more people you want to reach, the more care you will need to take with your language. You need to make sure that your app can understand different languages so that it can be used by people who speak different languages.
You don't have to speak every language, because that would be a waste of time. All you have to do is set up your apps to use the languages that most of your target audience speaks. You can find out which languages are most commonly spoken by your audience based on where they live.
Customized Elements
Artificial intelligence is better than traditional ways of finding out what users like and don't like because it can work with many great features that can make your app stand out.
Since we're here to talk about a chat app like Replika and what it does, it shouldn't come as a surprise that these chatbot apps get different kinds of messages. AI can help you respond to those messages automatically once it understands what they want.
Augmented Reality
When it comes to giving a great user experience, augmented reality is another way to add a personal touch. It gives the custom characters that users choose a more natural look so that the game feels more real.
When it comes to AI chatbot applications, the most crucial thing is for users to be able to have unique experiences. With augmented reality, it is indeed easy to get user engagement because combining AI with AR creates the most realistic experience, which is exactly what our users want.
Games for a Better Experience
We think you're wondering what games have to do with applications that use AI chatbots.
Like augmented reality, in-app games are a big reason why users are more interested in apps. Let's take the most common example of a simple game that you might have seen on Google Chrome when you didn't have access to the internet.
When you realise you don't have an internet connection, you play the game by pressing the space bar and arrow keys.
Well, even though the Google Chrome browser has nothing to do with games, it has given you this simple game that will help you get rid of your boredom.
Remember where we started? Let's talk about how we guessed that games with AI chatbot apps were important. If we were right, we hope you can now see what we were getting at.
So, the lesson is that making in-app games isn't really required, but it's a great way to keep users interested and improve their experience.
AI That Gets Along with Users
Since AI is now just like a human, it must act like a human. Like in human relationships, they know what the other likes, so why shouldn't AI in chatbot applications act just like humans?
We've already shown you how artificial intelligence can help you give your users an added benefit or a more personalised service. For this kind of customization to work in artificial intelligence, you should talk to the development team about adding these features to the chatbot application.
Putting this into your app gives users access to a high level of customization. This is because AI not only makes things easier for users but also understands their needs and helps them find good solutions.
Digital Goods for Even Better Service
Every app these days has a "premium" version for users who want more than the best services the app has to offer. As a digital good, you can provide features that are highly personalised for the customer.
These features will not only make your app stand out from the rest, but they will also help you make money from wealthy users who only want the best and most expensive apps.
Efficient Customer Service
There's no doubt that you're doing your best to give your audience an experience they'll never forget, but there's no way they won't get confused at some point while using your app. That's just the cold, hard truth!
Even though you built everything by putting yourself in your users' shoes, you still need to be there for them when they need help.
Having good customer service is a big part of making a good name for your app in the market, so make sure you never fail to answer their questions or clear up their doubts.
These are the most important features that will help you make an app like Replika. Let's get to the most important part of this article, which is a detailed guide to making a chatbot app that uses AI.
Pros and Cons of Building An AI-based Chatbot App Like Replika
Advantages of Creating an AI-based Chatbot App Like Replika
The Cons of Building an AI-based Chatbot App Like Replika

Chatbots are available 24 hours a day, seven days a week.
Chatbots converse with website users
Data collection about your audience

Maintaining the privacy of your personal information is your responsibility.
Inadequate Emotional Awareness
Advantages of Using AI Chatbots
Availability
Chatbots are always on and can respond right away to your customers. This means that whenever they send you a message, for whatever reason, they will get a reply right away. Because of this, they'll be happy with your brand, and you'll be able to move them further along your sales funnel.
More Engagement
Chatbots talk to people who visit your website or follow you on social media in real time. This is very different from the way most of your brand's other content is usually received. This kind of interaction can keep people on your site longer, which can help you make more sales and improve your SEO.
Data Collection
Chatbots are a great way to find out more about your audience. They can talk to your audience and find out details like names, email addresses, and more. When you connect the chatbot to your CRM, you can easily get to these details.
Also, you can use chatbots to ask customers about their preferences and then change your services to better meet their needs.
Disadvantages of Using AI Chatbots
Data Security
When you get information about your audience, it's your job to keep it safe. The information needs to be sent securely from the chatbot to your CRM. It should also be kept in a safe place, and you should only ask your audience for useful information.
Inability to Understand Emotions
Chatbots are made of codes, so it's hard for them to figure out how the user feels. So, they might not be able to tell if the person they are chatting with is happy, angry, or sad. This could make the chatbot seem like it doesn't care about how people feel, which could hurt the reputation of your brand.
To make this less likely to happen, you might want to use chatbots that let customer service reps take over the conversation.
How to Develop An AI-based Chatbot App Like Replika
It's hard to make an AI companion app like Replika that works well. So, if you don't know how to make an AI-based chatbot like Replika, the mobile app development process below will help you.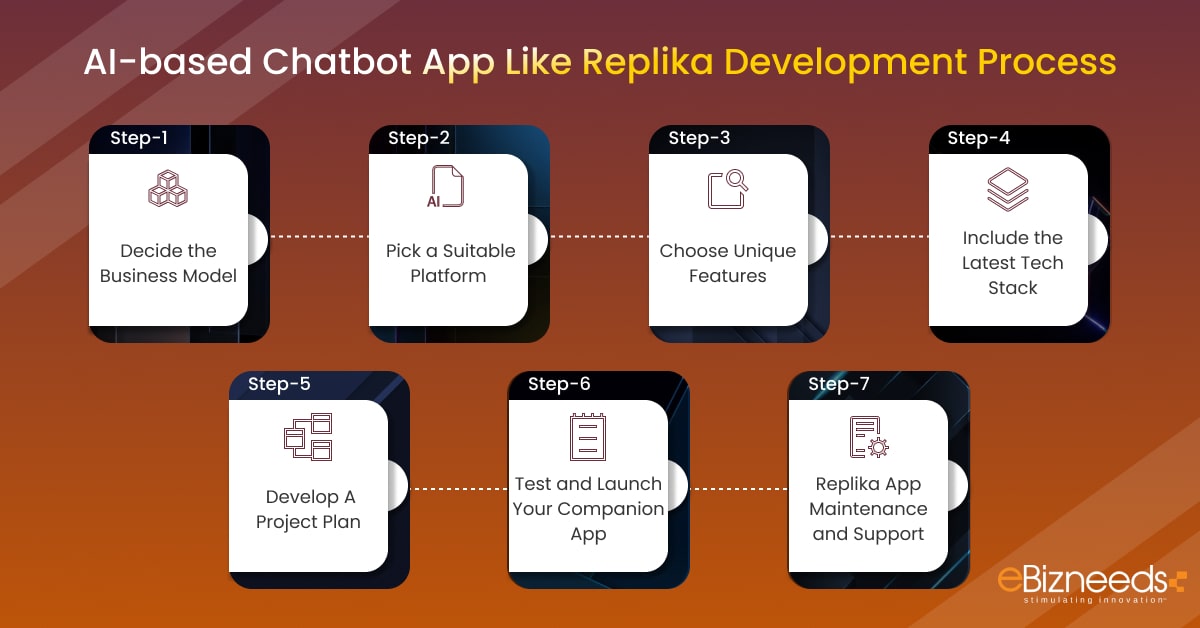 Step 1: Decide the Business Model
When planning for chatbot app development, the first thing a business should do is choose a good business model. Think about how your app will do on the market and what its features, functions, etc. should be.
Overall, choose the way you want to make an AI companion app like Replika, and then start making the app. You can also hire professionals to help you with AI development, which will help you choose a good business model.
Step 2: Pick a Suitable Platform
Once you know what kind of Replika app you want to make, you can choose a platform that will work better and be more stable. The cost of making an AI companion app will depend on the platform you choose.
Want to know which platform is best for other apps like Replika? Here are a few good platforms.
The Bot Platform
Botsify
Flow XO
Chatfuel
Beep Boop
Step 3: Choose Unique Features
Unique features are an important part of making a successful AI companion that works well. So, think of something different to add to your Replika-like app besides the basic features and functions.
It will keep the users interested and raise the profile of your brand and application. You can look at the features that were talked about in the blog above.
Step 4: Include the Latest Tech Stack
In addition to choosing unique features for your AI companion app, you also need to add a tech stack that is up-to-date. You will need the right tech stack as you build a companion app for your chatbot. Making an app with artificial intelligence will cost you money as well.
If you're still unsure about which tech stack to use, talk to mobile app development services experts who work with experienced professionals.
Step 5: Start the Development Process
Now that you have decided on everything you need to make an AI-enabled chatbot application, start the process. With all this information, it will be easier for you to make an app like Replika that works well.
If you don't have the right team and skills, it's best to get help from a leading AI app development company. The experts will put together an AI-based companion app that fits the needs of your business.
Step 6: Test and Launch Your Companion App
Lastly, when making the AI companion app, you should test it thoroughly to get rid of all errors and bugs before users find them. It will help you make your Replika-like app run smoothly, which will make more people want to use your business app.
It will help your business in the long run, but not in a direct way. So, if you use AI development services, ask the experts to test the app carefully before putting it on the market.
Step 7: Replika App Maintenance and Support
It's not just the development process that goes into making apps like Replika. It's more than just development. Yes, you did read it correctly! Support and maintenance for mobile apps are also important if you want the app to work for years to come.
Don't forget that developing the Replika app and getting maintenance services will cost you extra money, so plan your budget accordingly.
Making a perfect AI companion chatbot app isn't easy, but businesses will be able to make perfect apps like Replika if they follow the seven steps above. You can start making it right away now that you know how to do it step by step.

Cost to Develop An AI-Based Chatbot App Like Replika
After understanding all the advantages of AI chatbots, it is time to address the cost of developing a chatbot app for your business. The estimated cost to develop a chatbot with minimum functionalities is about $20k to $80k.
The estimated cost will depend on the app's platform (such as Windows, iOS, and Android), the app's features, its user interface, the location of mobile app developers, and the size of the development team you choose.
Factors that Determine the Cost of Chatbot App Development
Each AI chatbot is unique and also developed as per the particular demands and needs of buyers, which is one of the key reasons there is no fixed cost.
Moreover, developing an AI chatbot is an inclusive and lengthy procedure with different steps that affect the cost. Now, if you want to hire adedicated developer, you should address several AI chatbot cases and acknowledge how some factors vary.
Let's discuss the essential factors that highly leverage the budget related to the chatbot app. We'll go over it in more detail here.
Business Goals
Attaining business objectives is the most important factor influencing the cost of AI chatbot development. As per the uses and goals of AI chatbots, you will require a chatbot feature that, in turn, considers the difficulty and development scope of AI chatbots.
One of the key AI chatbots is a messenger chatbot that could be applied as a lead generation chatbot, FAQ chatbot, appointment booking chatbot, marketing chatbot, data collection chatbot, and customer support chatbot. It could be of any kind; however, the prices will differ for each one of them.
Custom Development
A custom chatbot's development will eventually influence the pricing, whether you hire a third-party firm or choose to develop it independently by yourself.
Doing it yourself will be less expensive compared to a custom process. However, it highly relies on what you require out of an AI-based chatbot app like Replika.
Type of Integration
Another essential cost factor for an AI-based chatbot app like Replika will be email, integrated analytics, websites, and apps.
For instance, if you want the chatbot to be integrated into your company's or website's customer service, the cost will differ.
Supported Platform
There are a number of supported platforms that affect the cost of an AI-based chatbot app like Replika. The number of platforms requires more developers, and for this, you need a higher cost.
You can also select Messenger, i.e., another factor of an AI-based chatbot app like Replika, but for this, the cost will depend on email, integrating analytics, apps, and websites.
The Complexity of Data Analysis
With the support of AI-powered tools such as machine learning, predictive analytics, AI chatbots, and data analysis algorithms, machines can communicate like humans and also handle any complexity of problem. But developing such a tool is time-consuming and complex and will also influence the cost.
Internal Processes
In current times, businesses are now understanding the trends and statistics of AI-based chatbot apps like Replika. These chatbots automate routine tasks and maintain customer databases.
And the cost of a chatbot app like Replika will be determined by the internal processes and complexities that a company wants AI-based chatbots like Replika to run.
Technology of An AI-based Chatbot App like Replica
The development of technologies that can enable chatbots is also accelerating. Due to new tools that are making bots more useful, a growing number of brands would then begin to provide chatbot-based alternatives to their users.
Below are four of them and how they are changing to make chatbots even more effective. Let's discuss some of the technology behind AI-based chatbot apps like Replica.
Artificial Intelligence (AI)
Chatbots rely on pre-set and Q&A scripts, wherein a user responds by choosing buttons rather than typing themselves.
AI technologies such as ML and NLP (natural language processing) for developing a virtual AI like Replika These chatbots are intelligent and can also learn over time to respond like humans would to free-form user input.
The initial kind of chatbot is simple to execute and can still create a major impact on a business or other AI development company. They are simpler to develop and would be consistent while interacting with users.
They can also help the brand save time and money, increase revenue, and improve customer satisfaction.This technology will enable the application to comprehend user input and respond logically, offering an interactive experience that is unique and engaging.
Voice Activation Technology
Voice-activated chatbots interact with users through pre-recorded audio responses as opposed to written text. Amazon Echo and Google Home are two well-known examples.Ownership of smart speakers like these increased by 40% in the US last year alone due to the technology that powers them continuously improving.
While voice-activated chatbots could be applied to businesses, they are not suitable for each type because:
They could be expensive to develop. There are platforms that let you develop text-based chatbots for free. In order to develop a quality voice-based chatbot, it will commonly run up a considerable bill.
They often exist on a separate device. In certain cases, voice-based AI chatbots can live on smartphones and computers. But commonly, they require the users to purchase a separate device, like a smart speaker.
But both of these challenges will be overcome over time. Voice chatbots are becoming increasingly popular, and the technology that powers them is keeping up.
Chatbot Platforms
A chatbot platform such as Wit.ai or Dialogflow can be used to create communicational interfaces within an application such as Replika.It enables the system to comprehend the typed queries from users and also respond accordingly with automated actions and helpful answers like scheduling reminders.
Database Management Systems
A database management system will need to be implemented to store data regarding communications among the app's users. Hence, they do not have to start over each time they open up the app again. It would be helpful to offer continuity during sessions with their online AI friend.
The Technology Stack Needed to Build a Chatbot
Let's discuss some key frameworks required to build a chatbot.
Front End (Website and Mobile Apps)
React JS, iOS, Android, HTML 5, CSS3, Flutter, and Angular JS
Backend (website and mobile apps)
MongoDB, PostgreSQL, Node.js, PHP, MySQL, and.NET Core are just a few examples.

Conclusion
AI-based chatbot apps like Replica has a highly user-friendly layout with simple navigation. The AI chatbots initiate a discussion with you by posing a few easy questions. By asking questions about your life, you can get to know yourself better.
Despite the intensity swings in the dialogue, it also shows that she is speaking to a human rather than a robot.
In some cases, the app's queries may be repeated or come off as rude. Some individuals will find its imitation technology useful, while others may find it unsettling. In contrast to this, Replika can be a significant virtual friend for you on the days when you are alone.
Frequently Asked Questions
How Many Companies Will be Using Chatbots in 2023?
About 80% of firms internationally are using chatbots as of right now. It is applied for multiple purposes. However, this is mostly used to manage consumer exchanges without interacting with live agents.
Are Chatbots the Future of AI?
Chatbots make it possible to customise survey questions as per the participant's responses to past queries. They can also send an inspiring message to make sure that participants complete the survey.
How Much Does It Cost to Build An App like Replika?
Replika, an AI-based chatbot application, has a slightly higher development cost than a standard application. Different factors affect the cost, such as design complexity, features, functionalities, and app platforms, as well as the nation where the development team is located.
Contact us with your requirements to get the exact cost and time.
Is the Chat Room on Replika Secure?
As per the Replika official website, communications are confidential and not shared with any services or businesses.
Replika: Is It a Real AI?
Replika is a free-speaking virtual friend or mentor who improves as you progress. It is a deep learning AI that is developed in part on a recurrent neural network that continuously picks up new data.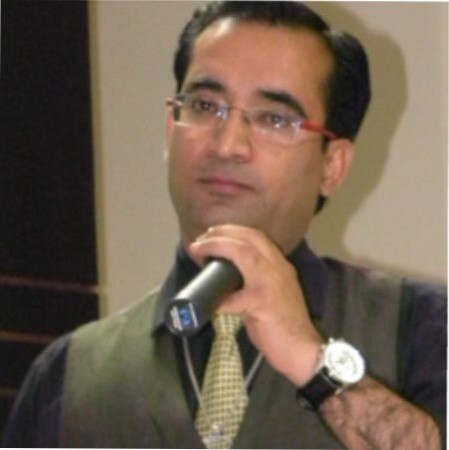 Naveen Khanna is the CEO of eBizneeds, a company renowned for its bespoke web and mobile app development. By delivering high-end modern solutions all over the globe, Naveen takes pleasure in sharing his rich experiences and views on emerging technological trends. He has worked in many domains, from education, entertainment, banking, manufacturing, healthcare, and real estate, sharing rich experience in delivering innovative solutions.