Last updated on October 12th, 2023 at 04:25 am
How much does it cost to build custom CRM software? That's the question we are trying to answer in this article, and it can be quite difficult if you don't have the right information in front of you.
Whenever it comes to developing a CRM then our mind immediately jump onto the names of software like HubSpot, Zoho, and Salesforce. These are some legendary brands and provide all the options that you need to maintain the data of customers and maintain a good relationship with them.
On the other hand, one question is also, "Can't we do better? And the answer to that question is- "Yes". The best way to leverage a CRM's power is to customize it. We will walk you through all of the CRM information and development costs here.
From the costing point of view, the cost to build a custom CRM system can vary depending on the size and complexity of the project. A small CRM system may only require a few hundred dollars in software licenses, while a more complex system may require tens of thousands of dollars.
The following are some factors that will affect the cost to build a custom CRM:
The type and number of software licenses required for the project.
The complexity and size of the database required for the project.
The number of users and their associated needs.
The amount of customization and development required for the project.
The number of dedicated developers for hire required for the project.
The geographic location of the project development team.
We'll show you all the details in this article so you can make an informed decision about your business needs and spending. Remember that there are no hard and fast rules when it comes to estimating.
Let's start with its basic definition-
What is CRM Software?
A CRM software is the single most effective platform for managing sales and customer management. allowing organizations to connect directly with customers. CRM stands for customer relationship management and is used to manage customer communication.
It was created to help businesses to properly manage their customers and prevent losing them. Now it has become a very popular tool in the marketing industry.
It is an important tool that every organization can use in order to retain and attract new customers. Many companies offer this type of software, varying in cost and features.
CRM system allows you to track customer's behavior on your website and store. It enables you to identify their needs or problems and understand what drives them to success.
There are several advantages of using it for businesses, such as—Sending newsletters can assist your potential customer to better understand their needs and prevent loss of clients to competition due to poor service.
The prime objective of any kind of CRM software is to track customer relationships and interactions over time, contact history and activities. The system contains information regarding new clients, customers and sales history.
With the help of dedicated software developer, you can also develop a customized CRM software.
Types of CRM Software Available In The Market
While considering developing a customized CRM and its cost, it is reasonable to know about its type. Then it can be broadly classified into three categories-
1) Customer Relationship Management Software (CRM)
2) Customer Data Management Software (CDMS)
3) Customer Experience Management Software (CEM).
Some of more CRM software types are also available, which are:-
Operational CRM System
There are many types of CRM software available in the market. The most common type is operational system CRM software, usually used by small businesses and startups. to manage the day-to-day operations like customer service, marketing, and sales.
Administrative system CRM software is used in larger organizations to manage their customers. In contrast, large enterprises often use strategic system CRM software to manage a wider range of matters like customer strategy, sales, and marketing.
Collaborative CRM System
The term "collaborative system" is most commonly used in reference to customer relationship management or business intelligence systems. These applications allow individuals sharing the same system to work together on various projects.
Such software are designed with various benefits such as faster decision-making, better coordination, and increased productivity. The main challenge when designing a collaborative system.
Analytical CRM System
Analytical Systems are systems that are used to collect, store, and analyze data. They are often used to track customer behavior. It tracks customer data, such as their contact information and interests, in order to show relevant marketing information for them. It includes these features:-
Automated scheduling of analytics and reports,
Integrated communication tools like email, text messages, webinars, and social media.
Ability to track performance metrics like revenue generation and customer satisfaction levels through surveys and reports It can be helpful for businesses in many ways.
Strategic CRM System
The strategic CRM software system is another type of CRM system that focuses on the goals and objectives of the company, as well as its customers. A strategic CRM software system will typically have an in-depth analysis of all the company's data, including its sales funnel, marketing campaigns, and customer feedback.
This type of CRM software is used to develop strategies for interacting with customers in order to increase sales and improve customer satisfaction.
There are several benefits of developing a customized CRM with the help of an experience CRM software development company. Its key advantages are :-
Reduced administration costs
Improved customer engagement
Better data management
Increased efficiency
If you want to know more about it continue the reading and proceed to the next section of this blog.

The Benefits To Develop A Custom CRM Software
 Custom CRM software can offer several benefits to businesses, including:
#1. Increased Efficiency And Productivity: With a custom CRM software, businesses can track and manage their customers and sales more effectively, leading to increased efficiency and productivity. It can help businesses to manage their customer relationships more efficiently, leading to increased sales and profits.
#2. Improved Customer Retention: A custom CRM software can help businesses better understand their customers and their needs, leading to better customer retention and loyalty.
#3. Increased Marketing And Sales Effectiveness: A custom CRM software can help businesses track and manage their marketing and sales efforts more effectively, leading to increased marketing and sales effectiveness.
#4. Improved Customer Loyalty: By tracking customer data and interactions in a custom CRM system, businesses can better understand their customers and create tailored marketing and sales strategies to keep them loyal.
#5. More Accurate Sales Tracking: Custom CRM software can help businesses to more accurately track sales and inventory levels, which can help them to make more informed decisions about their business operations.
What Makes Custom CRM Software Different?
In a nutshell, custom CRM software will be built specifically for specific needs. What this means is that there are no pre-made templates available. There are also no off-the-shelf products you can buy—it all has to be built from scratch by a dedicated team of software developers.
As such, the cost of developing CRM software will vary greatly depending on the size and complexity of what you're looking for. You'll need to hire dedicated developers who will work with you closely to understand your needs and develop a solution accordingly.
You'll also need an experienced CRM software development company that has completed other successful projects in the past and knows what it takes to get your idea up and running quickly with minimal fuss.
Many businesses choose to use an out-of-the-box solution. This is great if you require a simple CRM tool, or you are simply not ready for in-depth customization and development. However, if customization is your goal, look for companies that offer custom CRM software with SaaS product development services.
These companies will make it possible for you to build software without requiring extensive coding knowledge. Plus, since there are no upfront fees for the design and development phase, you will know exactly how much it costs upfront without surprises or hidden fees that pop up later on down the line.
For example, most businesses don't want to commit significant time and resources until they're confident that their investment will have a positive return on investment.
A company who offers SaaS Product Development Services would be able to take over many of these responsibilities so all the burden does not fall solely on your shoulders.
If this sounds like what your business needs, then please contact us! We'd love to speak with you more about your specific needs.
What Goes Into Creating A Custom CRM System?
Creating a custom CRM system requires more than buying and installing a software product on your company's servers. In order to create the best system, you need to hire dedicated developers specializing in software development for CRMs.
It can be done by using a SaaS product development service that also offers this type of service. Not only does it take time, but it also takes money.
The cost of building a custom CRM application is going to depend on how robust the system is, what features are included, how many users will be accessing the system, and how much data needs to be imported into the system from existing sources.
The Cost to Build A Custom CRM Software
How much does it cost to develop a CRM software? The answer to this question depends on the complexity and size of your business. Generally speaking, larger enterprises will have more in-house IT staff and can likely get more value out of a custom-built CRM.
On the other hand, smaller organizations will find that a one-size-fits all off-the-shelf product is sufficient for their needs. Below are some factors that will affect the cost for developing a CRM software.
The cost to develop a CRM software is directly related to the platform you choose, how many users are needed, how many customization and integrations you need.
With so many variations, it can be hard for an entrepreneur with limited capital, who needs something small and basic, from building from scratch.
Fortunately, plenty of software developers on the market offer custom solutions for entrepreneurs just like you who need a reliable CRM at a price point that will work. In order to find the right solution for your needs, however, there are some questions you should ask:
-What is your budget?
-How many users do you need?
-How much customization will you require?
-What features do you have in mind?
-What type of data structure do you want?
-Do you want to use Google Analytics or Salesforce analytics?
If this feels overwhelming, then consider getting help from a professional. A business development consultant can help guide you through the process and answer all your questions about cost to build a CRM software.
The most important factor deciding the cost of developing a customized CRM is its versions. Suppose you need a basic CRM, which may initially cost you around $20,000-$30,000. But if you are a large enterprise needing an advanced version, the cost might be more than $50,000.
What Features You Can Include While Developing A Customized CRM?
Custom CRM software development is a process that allows businesses to create their own customer relationship management (CRM) software.
This type of software can be customized to meet the specific needs of your business, and it can help you manage your customers' relationships more effectively.
Here are some key features that should be included in any custom CRM system:
Customizable Interface
Your custom CRM should have a user-friendly interface that is easy to use for both you and your customers. You want the system to look and feel like an extension of your business, not like a complicated piece of software that only experts can use.
Make sense of all the data in your CRM in one place so you can see where your business is succeeding and where you need to focus your efforts.
Integrated Customer Data
Your CRM should include integrated customer data so you can track customer interactions and relationships in one place. This information can help you identify customer trends and track customer behavior.
Advanced Customer Management Features
Your CRM should include features that allow you to manage your customers' relationships more effectively. These features might include customer relationship management (CRM) software, customer service software, or marketing software.
Sales Analytics
Among all the prime features, sales analytics is one of them. It helps sales representatives to make a fail-proof strategy. They can see all sales-related data in a click to analyze it and for report generation.
Account & Lead Management
Good business practice involves account and lead management. Account management leads to better financial ability, and lead management helps to convert potential visitors into lifelong customers.
Real-time updates
Your CRM should keep track of your customers' relationships in real-time, so you can respond to customer needs quickly. Your CRM should keep track of your customers' relationships in real-time so you can respond to customer needs quickly.
Automated reminders: Get notified when your customers reach a certain point in their relationship with you, so you can keep them updated and motivated.
The Conclusion
Customer relationship management (CRM) software is the system that helps you to manage the relationships with your customers. It helps you to understand your customers and their needs and to provide them with the most relevant products and services for their needs.
The cost of building custom CRM software varies depending on the complexity, size, and number of features. In general, it can cost anywhere from $20,000-$50,000. One thing that you should keep in mind is the cost of hiring software developers.
If you're looking for a quick build with limited features and functionality, then you may be able to do it for less than $50,000.
However, if you want a fully-functional system with many features, then expect to pay upward then the cost will be more. In addition, there are costs outside of programming that need to be considered when developing your own custom CRM software.
For example, you will need an office space where employees can work. You'll also need desks, chairs, computers, projectors, phone lines, and other necessary equipment.
Software licenses are also necessary—both for the development team and any external contractors or vendors involved in the production stages of the process—as well as domain names and hosting services that allow your new system to connect with others online.
And don't forget about data storage costs; this includes cloud storage services or a server that stores all customer records securely offsite (which will require monthly fees).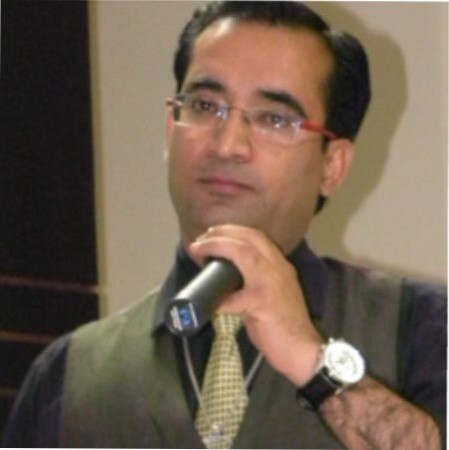 Naveen Khanna is the CEO of eBizneeds, a company renowned for its bespoke web and mobile app development. By delivering high-end modern solutions all over the globe, Naveen takes pleasure in sharing his rich experiences and views on emerging technological trends. He has worked in many domains, from education, entertainment, banking, manufacturing, healthcare, and real estate, sharing rich experience in delivering innovative solutions.