Last updated on October 11th, 2023 at 11:07 am
In the current times, a voice changer app solution can be entertaining. Because of digitalization, developing some innovations in entertainment way is a straightforward. When we focus on Google and the app store, different app solutions are accessible to users for entertainment purposes.
Due to technology evolution, we can get some best voice changer app in less cost. We have several app services for overcoming isolation that offer us high entertainment.
Let's discuss a voice changer app solution that could entertain users. This app solution is beneficial for those who like to play a prank with their friends or family, and also it is an essential source for overcoming boredom simply.
What Are Voice Changer Apps?
Voice changer apps are apps that let you to change your voice quickly. You can add different effects to your voice to fool someone or pass the time. With these apps, it's easy to make your voice sound like a man, a woman, a beast, a bird, a ghost, and more.
As your voice gets better, you'll be able to add exciting effects to it, like making it funny, scary, romantic, slow, or fast. With these apps, you can also change the age of your voice from young to old and from old to young boy or girl.
How to Develop A Voice Changer App?
To make your app that changes your voice a big hit, you must take a few essential steps. Essential phases you need to take are:
Do Market Research
Do some market research and look into what people want; how your app works will depend significantly on where you want to release it. If you don't do a preference study, you might not find out about this.
When you're making a voice changer app, it may help you to spot potential problems or give your ideas that will make your app stand out.
Select A Platform 
These are two of the most popular platforms for mobile devices worldwide. Even so, most businesses have limited funds, so sometimes you have to make a choice. In this case, you should think about the area where you want to start your project.
Design UI/UX
It's important to design user interfaces. Your users will be drawn to and stay on your site if it looks good, makes sense, and is up-to-date. You can't say enough about how important it is to hire qualified UI/UX designers from a Voice Changer App Development Company.
Create A Team
To build an app, you need experts from different fields. The interface needs to be made, and the server, design, project management, testing, and marketing need to be taken care of by someone else. You need people who can help turn your idea into a reality.
You'll need these people in your team:
UI/UX designers
Project managers
QA testers
Front-end developers
Back-end developers
Business analysts
Android app developers
iOS app developers

Tech Stacks For Developing Voice Changer App
You require a more extensive set of techs based on the type of app that you want to develop. Let's discuss some technologies for developing Voice Changer App.
You can notice that a voice chat must have booming high-quality audio. Hence, it would be best if you implemented WebRTC. This open-source project has good APIs that would create possible seamless communication.
You will have to be a strong back-end assistant for the server side. It makes sure that there is uninterrupted communication among users. When you target a global audience, it is suggested that your app developer uses Ruby, Elixir, C++, and .NET.
But when your user base is smaller and local, the back-end specialists can perform with Node.js, which is simpler and cheaper.
You must evaluate what platforms your target audience would be used for the client's side. You can use Kotlin or Java to develop voice changer app for android. If the app is used for iOS, you may use Objective C and Swift.
You can get in touch with the mobile app development company for developing app on different platforms.
Lastly, it is significant to identify the issue of data security and encryption at an initial level. Personal and sensitive data could be easily leaked. Hence, you must use end-to-end encryption with TLS for text-based communication to eliminate angry users.
You can use DTLS voice chats over an internet browser and also XSalsa20 for voice chats over a desktop app.
Features of Developing A Voice Changer App
Here are some Voice Changer App Features that you may consider. So, take a look!
VoiceOver
Users can use this Voice Changer App Feature to record their voice using the microphone for a demo or appearance. Then, use their recorded audio to make a high-quality voice with no background noise.
With this feature, you don't need expensive recording equipment, a studio, or a quiet room to make audio that sounds like it came from a professional studio.
Filters
This part of the app lets users to build and use speech filters and share all of their recordings. It also has many filters, such as monotone voice, helium voice, Lord voice, and many more. Users can also slow down or even turn around the speed at which they speak.
Prank Call
Voice changer apps have a great "Prank Call" Voice Changer App Features that lets people to play funny and practical jokes with their friends. This feature lets users dial unlimited free practical jokes with funny voice effects.
Due to this, users can select different pranks to play with their friends. If you want your voice-changing app to do well, you must immediately add this great feature.
Transcribe Voice
The voice changer app lets users to turn their recorded audio into a script they can change. Users can also enter into a single hand. Users can add or remove pauses, eliminate unnecessary words, and change the order of the sequences, just like they can with a Word document.
Offline Mode
Even when users aren't online, they must be able to use your platform across your app. You can let them download filters while online, so they can use their favourite filters even if their internet connection is slow.
Remove Words   
Randomly recorded voice audio often has filler words and sounds that people always say and make. They could, however, make it hard for anyone to make the best presentation or demonstration.
With this Voice Changer App Features, users can find and get rid of filler words, transitional phrases, etc., in their voiceover after the voice-changing app has turned it into text. It is done before making a new voiceover.
The High Pitch Effect raises the pitch of the voice undoubtedly. With this effect, a woman's voice can change into that of a little girl, and a man's voice can change into that of a woman.
The voices in your clip sound deeper because of the low-pitch effect. With this impact, a woman's voice can be changed to sound like a man's, and a little girl's voice can be changed to sound like a woman's.
Login
People can sign up for your app that changes their voice by using Facebook or email. Whether or not to include the signup facility will come down to your business plan. The app also has a freemium business model, which means that you have to sign up before you can use it.
More importantly, you can try out the content for free before buying a subscription.
Users of the app will be able to find out about things like new app updates and other things through this feature. With this Voice Changer App Features, the app can let users know about something interesting.
It keeps the user up to date on changes to the app store. If the subscription package is changed in any way, the user will be told through a notification.
Mute/Trim/Delete
With this Voice Changer App Features, users can either take the voice out of the audio or turn it off for part of the script. It is beneficial if they say a few more words and want to delete or silence them. With this feature, you can also mute or cut any voice or text from a single word to a whole paragraph.
Compatibility
Make sure your voice-changing app works with various devices, such as smartphones, tablets, and computers. You can also focus on iOS and Android users to get more people to use your app. For this, you need to hire mobile app developers for developing app on different platforms.
Now that you've seen the most critical parts of the voice changer app talk about how it can make money.

How Voice-Changing Apps Can Make Money? 
When making voice-changing apps, you can use different ways to make money.
In the next part, we'll talk about a few of them. So, take a look!
Freemium Model
With this model, you don't have to charge your users anything for the ads. You make money instead by running ads. People who want to use your app must watch ads.
Ads 
With this type of business plan, you can start by giving away filters for free and then charge more for filters that no one else has. Use this model to get to know the first people who use your app.
Subscription Model
With this model, you can charge your app's users a set fee to access different content. Your pricing strategy for your app should reflect the benefits users will get from it.
So far, we've discussed the overview, features, and ways that voice-changing apps make money. Let's move on to the real point of this blog—the Voice Changer App Development tech stack.
5 Best Voice-Changing Apps to Use in 2023
You can also select for real-time voice charger or the alternative kind you need to record your voice before modifying it.
Now, let's delve a bit more about it.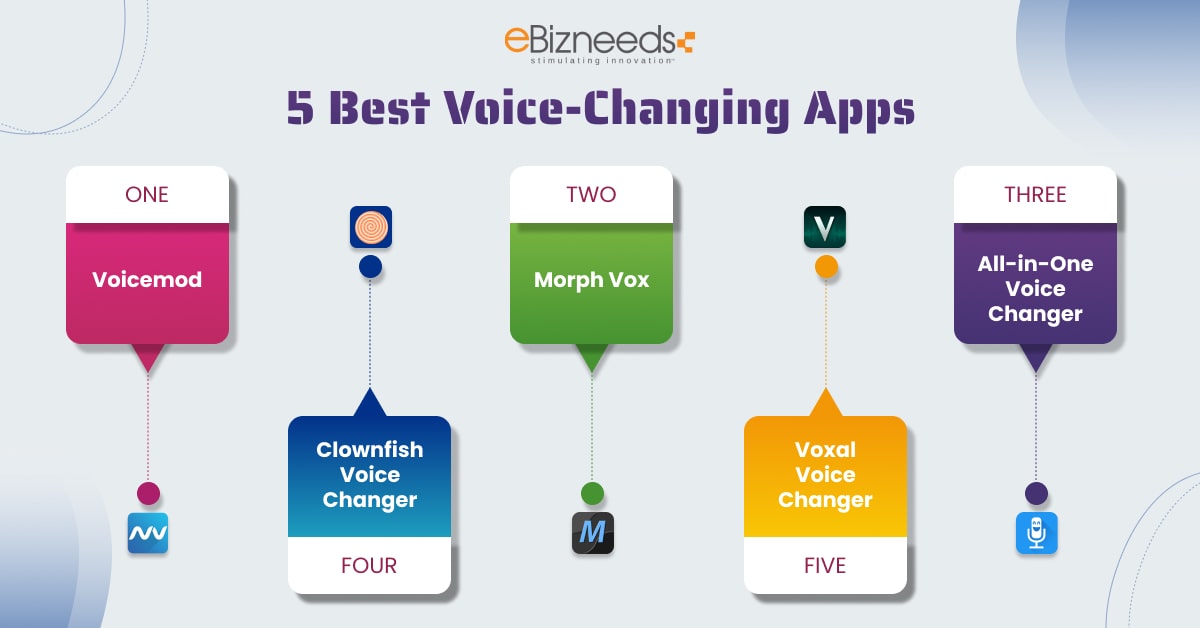 Voicemod
VoiceMod is software for Windows that lets you change your voice. It lets you change your voice online and works with many online games, including PUBG, Minecraft, and Fortnite. It is an effective manner to watch the videos and virtual chat.
Voice Mod works with programs like Discord, Twitch, VRChat, Skype, and Stream Deck for chatting and streaming.
Update: The program is now considered harmful because the android app developer has recently pushed updates. You shouldn't download this program. Instead, you should try one of the other options listed below. It aids you to change the voice in real time and also has a best set of effects and options.
There are many different voice types, from a chipmunk to baby to Android, alien to police. Even a crazy voice is there. You can get Voice Mod for free.
Morph Vox
Morph Vox is a well-known piece of software that have many Voice Changer App Features. It comes in two forms: MorphVox Junior, i.e. free, and MorphVox Pro, i.e. paid. On the other hand, the free version may not be the best choice because it has several restrictions.
For example, there are only three voice options such as single female, male, and child. Hence, if you want the great experience, I would suggest to use the paid version.
It will transform voices in a real time, which makes it suitable for online chats and games. There are two ways to use MorphVox. Skinned mode lets you quickly choose the voice you want from the ones already there.
By adding few effects, you can make your app more better than other. There is studio mode that aids you to go a bit deeper. Now, you need to modify the pitch and tone of your voice.
This app is easy to use for games and virtual chat. It has a background noise filters that is particularly beneficial if you imply the microphone that came into effects with your computer.
Another best Voice Changer App Features is that you can easily make a real-life scene from your computer by adding background noise. MorphVox also lets you change the WAV files that you have recorded. Only Windows users can use this software.
All-in-One Voice Changer
It is another newer version of Skype voice changer. The application acts in same manner, however you can link it to other instant messaging techniques such as QQ International and Yahoo Messenger. In addition, it is an online chatting app that can change your voice.
It is excellent software for calling your friends and family to play jokes on them. Even during a conversation, you can transform the voice type for making things entertaining.
All-in-One Voice Changer makes it easy to change your voice in many ways. You can change the pitch of your voice by moving a slide bar to the left or right. Until you find a change you like best, you can examine each one before making it. The software can also transform a .wav file you recorded.
It provides a free trial but after sometimes, we need to pay amount for using this app. On the other side, if you upgrade, you'll get a Voice Changer App Features that lets you to change videos that none of the other software has. When you video chats, you can make the call more funnier by using this app.
Clownfish Voice Changer
Clownfish is an application that works on multiple platforms and can also change your voice in any computer program with a microphone. Skype, Viber, Discord, and TeamSpeak are the most well-known apps that can be used. It also changes your voice in Steam, so all your favourite games will work with it.
By default, Clownfish doesn't let you add voice effects, but it has guides that show you where to find and install them. The software is easy to install, and it doesn't use the computer's CPU too much.
There are many voice options, but Female tone, Male tone, Baby tone, Darth Vader, Robot, and Alien are the most interesting. Fans of Star Wars will be happy to hear the last one. You can only get Clownfish Voice Changer for Windows.
Voxal Voice Changer
It is a free software that can be used on both Mac and Windows computers. Almost every programme that requires a microphone, including all of your favourite games, allows you to change your voice using it. Moreover, a variety of voice kinds and effects are available.
You can choose whether the voice sounds like a man or a woman. Sure, there is a significant probability that your angelic-sounding online gaming partner is actually a man.
Voxal Voice changer not only allows you to alter the audio that has previously been recorded, but also allows you to alter your voice in real time. This software has an easy-to-use interface that makes it simple to change your voice.
It's also very light, so it doesn't slow down your system or other programs. Remember that you will have to buy this voice changer if you want to use it in a business. You can only use it for free at home.
How Much Does It Costs to Make A Voice Changer App
So, we've reached the most crucial part of our blog: how much it costs to make a voice-changing app.
The Voice Changer App Cost varies based on several things, just like the cost of any other custom mobile platform. For example, one of the things to think about is the features. A simple voice-changing app that only lets users change the pitch of their voice may be easy and cheap to make.
In contrast, a more complex app with multiple voice-changing options and extra features like the ability to record and share audio clips might be more costly to create.
The voice changer app development platform you would like to use is another vital thing to consider. If you want to reach people who use Android or iOS, you only need to make one app. It is cheaper than making a voice changer app for a cross-platform audience.
The Voice Changer App Cost is also affected by the size and experience of the team. A bigger team with more experienced developers might be capable of completing the task faster and better. However, it will probably also cost more.
On the other side, a smaller team or a single developer might be able to make a simple voice changer app for less money, but they might need more time, money, or skills to work on a more complicated project.
But if you choose our needs-based scaling assistance, you can quickly add or remove people from your app development team based on the needs of your project.
In brief, the Voice Changer App Cost can vary from a few thousand dollars for a simple app to thousands of dollars or more for a more complicated app with a broader variety of capabilities and support for various platforms.
Aside from those already mentioned, other things affect how much it costs to make a voice changer app. So, if you want a free estimate of your custom voice-changing app's cost, our consulting services are the best way to go.
You can schedule a free 30-minute consultation with one of our experts to talk about your ideas and get a free quote for your project with no fees attached.

Conclusion
In conclusion, we can say that creating a custom app that changes your voice could be an excellent way to make money. But if you think about how it was made and how to make money off of it, you can get much better results in the long run.
So, to get the most out of your work, you should follow the best app development practices.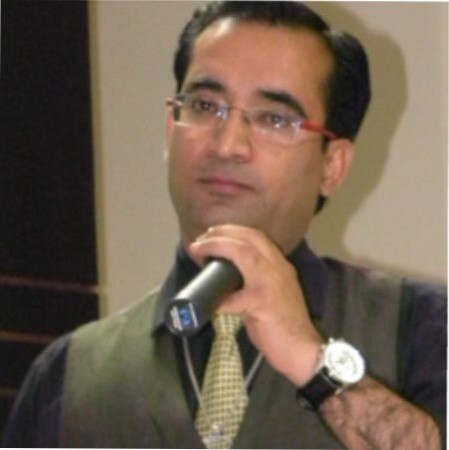 Naveen Khanna is the CEO of eBizneeds, a company renowned for its bespoke web and mobile app development. By delivering high-end modern solutions all over the globe, Naveen takes pleasure in sharing his rich experiences and views on emerging technological trends. He has worked in many domains, from education, entertainment, banking, manufacturing, healthcare, and real estate, sharing rich experience in delivering innovative solutions.