Last updated on April 18th, 2023 at 01:20 pm
With the rapid growth of mobile gaming in recent years, new gaming apps have been hitting the market daily. This can make it hard to figure out which ones are worth your time and money and which ones are just plain wrong.
To help you sort through the chaos, here are our picks for the 10 best gaming apps in 2023. It is based on our analysis of user data trends, app store rankings, social media popularity, and critical reviews.
When the mobile phone was invented, it was built delicately for communication only. Still, now you can do what you want with it. The app repositories like Google Play Store and App store are flooded with several apps based on different concepts or specific purposes.
One category that attracts millions of users is the best gaming apps available on these platforms. There is a massive craze for mobile gaming apps, and millions of users use these apps for entertainment purposes.

Mobile app development companies focus on improving the gaming experience by implementing technologies like AI, AR-VR, and more. It is a fantastic experience to play the game on a mobile device comfortably.
You can enjoy these games at any place or anywhere. You only need an internet-enabled device, which may be your smartphone or tablet.
Not only for entertainment purposes but also from a business point of view, these apps are the best way to generate revenue. If you are looking to develop a mobile gaming app, then a mobile app development company can help you.
The only condition is that they must have experience in developing the latest and best gaming apps in 2023.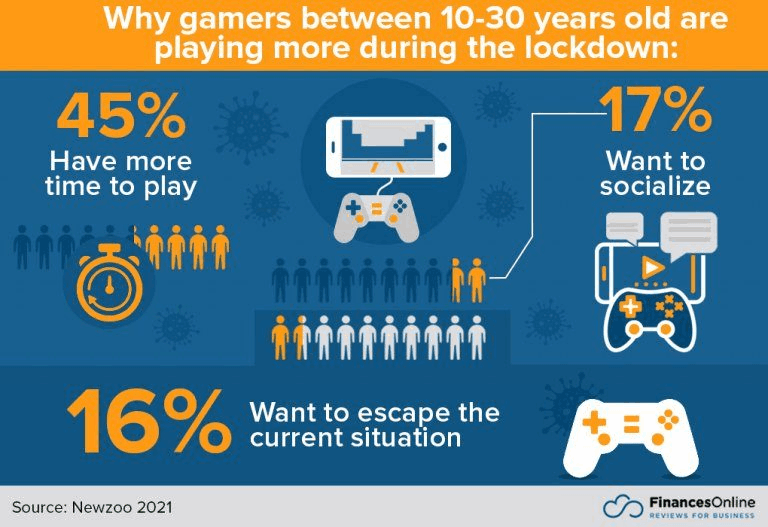 During the pandemic, millions of smartphone users accepted that they enjoyed the lockdown via playing games on their mobiles with their online mates. These apps helped them overcome their fear of COVID-19.
You will be surprised to know that the best gaming apps are divided into categories like
Action
Card
Strategy
RPG
Adventure
Puzzle
Simulation
Arcade
Racing
Sport
And more.
You can find all these games on the app stores of different platforms, such as Android and iOS. In the search bar, when you put- car racing game, it will show you all related games.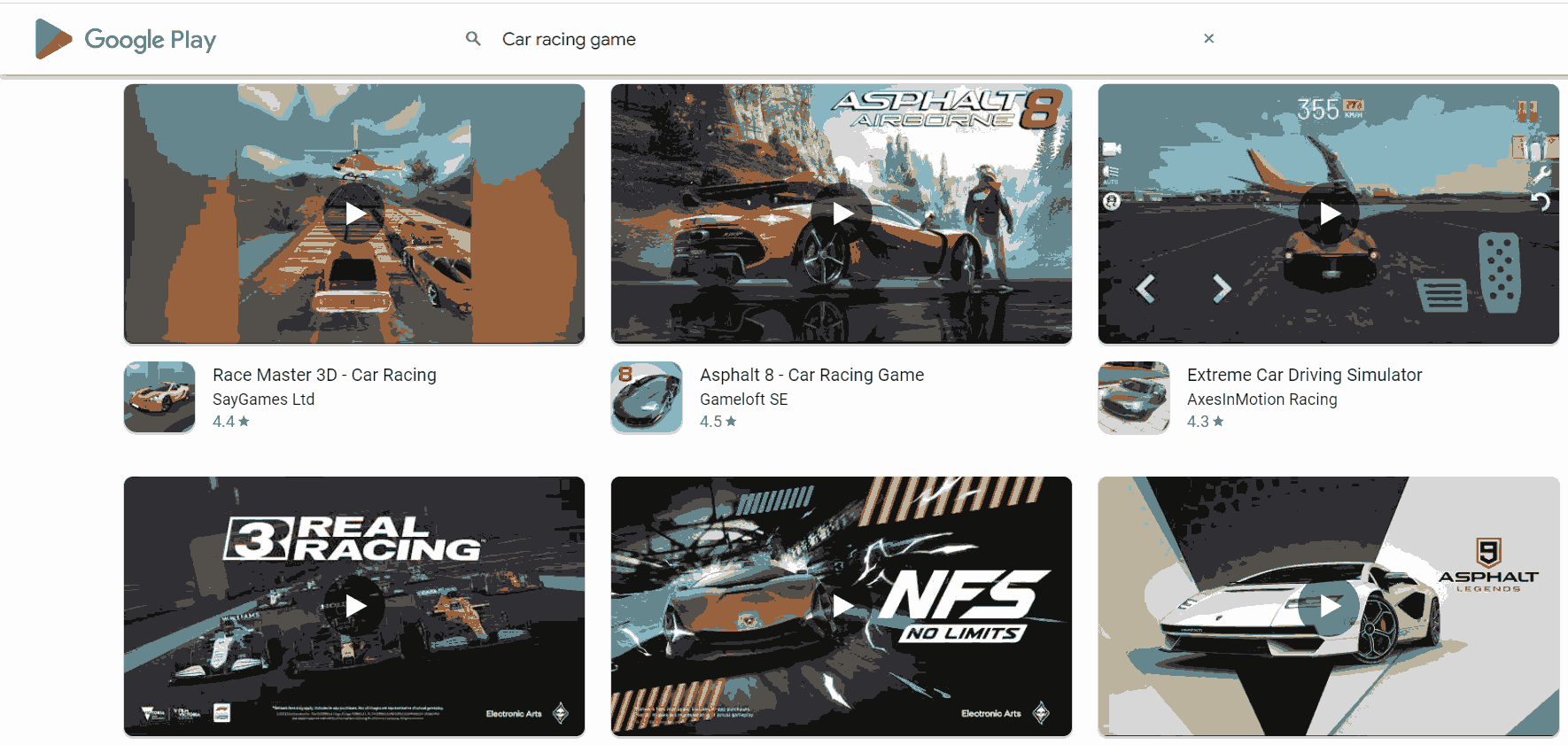 Source: https://play.google.com/store/search?q=Car%20racing%20game&c=apps&hl=en&gl=US
Over the internet,  when a user needs to find a game, they put their queries like the best gaming apps for Android or iPhone. Moreover, categories on internet gaming apps are also available free and paid, so a user can choose accordingly.
Let's continue this blog, including some key stats.
Key Stats of Games Apps
Before we start to read the stats, you will be amazed to know that average Android users spend at least 21 minutes playing games on their device. If we go gender-wise, female smartphone owners spend an average of 26 minutes per day on mobile games.
Undoubtedly, these apps are from the best gaming apps, such as Shadow, Fight 3, Hero Wars, and more.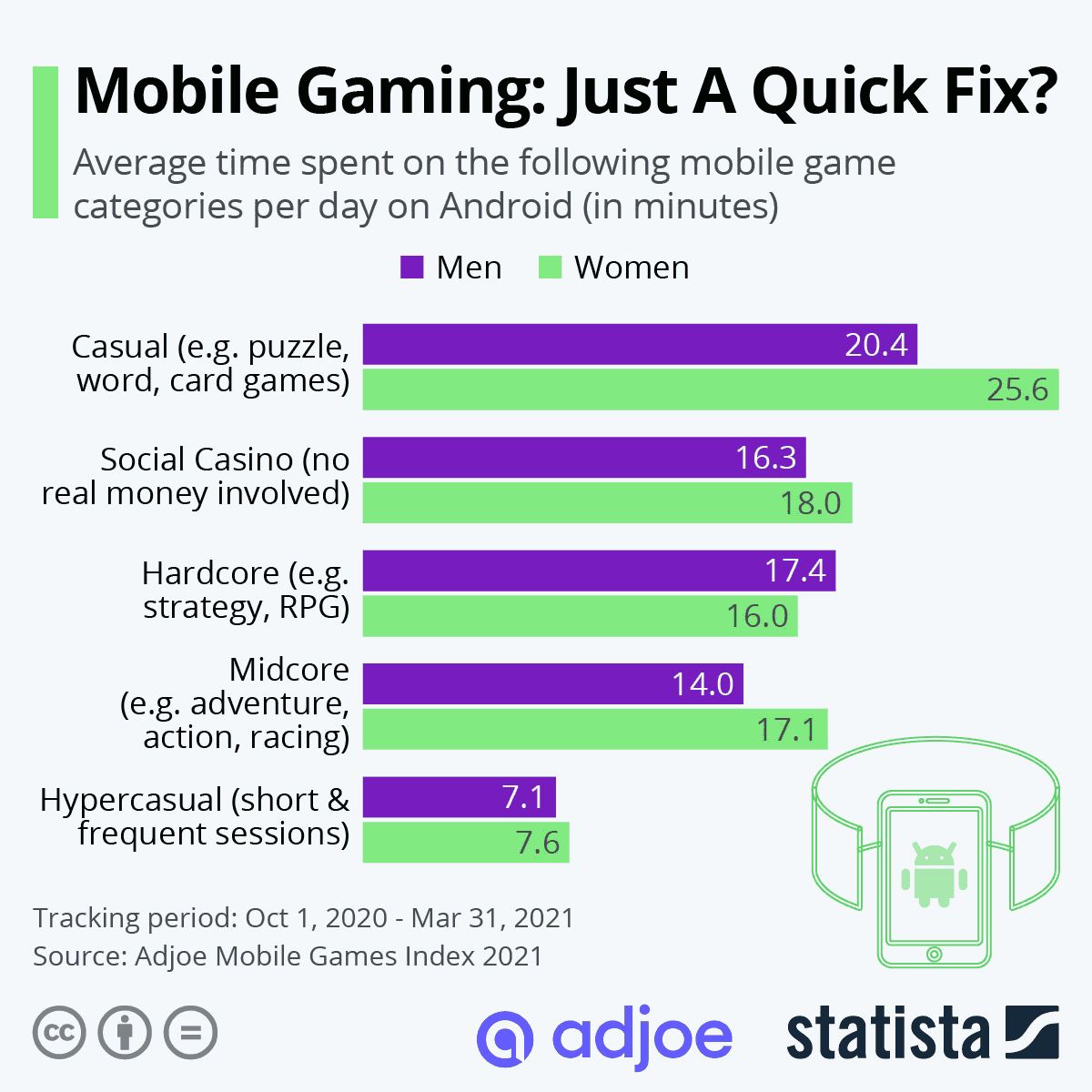 So, let's begin with other key stats about the best mobile gaming apps and their users.
There are three user categories: frequent gamers, occasional gamers, and gaming smartphones.
The index score of the USA for the quality of mobile gaming apps over cellular networks in 2020 was 73.3.
In 2020, the revenue generated via gaming apps was $77.2 billion.
In 2020, the users downloaded 218 billion mobile apps.
The highest percentage is people who play casual games, and that is 58.86%

In 2021, the average price of paid Android apps will be less than $1.
By January 21, the highest downloaded game was Among Us.
The top app publishers are recognized as Google. Facebook and Voodoo are in second and third place, respectively.
Now let's proceed to the next section of this blog which is all about the categories of best gaming apps.
The Categories of the Best Gaming Apps
How many hours have you spent on your phone playing mobile games? A lot, right? It's become an addictive pastime, and people spend more time playing their favorite mobile games on their smartphones and tablets.
But what will the best gaming apps be in 2023? Today we're going to look at the 10 best gaming app categories that will dominate the market by then.
1) Video Arcade Games
Arcade Games is one of the best gaming apps because it gives players a new perspective on classic games like Pac-Man and Tetris. Players race through cities to chase ghosts, rats, and other hazards while dodging traffic in the game.
This app is free on Android and iPhone platforms, making it great for people of all ages. Plus, this app can make you money! Players who use this app can also purchase the virtual currency they can earn by completing tasks such as watching videos or downloading other mobile games.
2) Scary Games
With more than ten million games on the Google Play Store, choosing which ones are worth your time is hard. If you're a fan of horror games, you'll love playing these titles at night with all the lights off and doors locked. Scary games provide a different type of thrill to the users.
If you go for gaming apps for Android devices, then you can find several scary games on the Google play store.
3) Pet Simulators
To create your virtual pet, consider downloading Pet Simulators for free. This game is available on iPhone and Android. It includes a selection of animal breeds for players to pick from, such as dogs, cats, horses and rabbits.
As the player's pet grows, they must complete an assortment of tasks that keep their pet happy. For example, if your dog is happy to see you after being away all day at work, it will wag its tail while jumping up and down in happiness.
4) Social Games
While these social games might be considered oldies, the apps have not been left behind with new releases and updates. Some popular gaming apps for free include: Criminal Case, Draw Something 2, and Cook or Be Cooked.
Online multiplayer games are also available on Facebook. Today's popular titles include Clash of Clans, Game of War-Fire Age, Candy Crush Saga, and Spider Solitaire Free Play.
5) Music Games
Anyone who has ever had a phone knows that it's hard to pass up playing some mobile games in their downtime. However, one genre of games that has been taking the app world by storm is gaming apps with music.
There are countless apps available to you if you're looking for something fun and new to get into. For example, Beat Saber is an app based on the classic game Guitar Hero, but now combined with elements of Dance Dance Revolution and Fruit Ninja, this game involves hitting various colored blocks as they make their way towards you to the beat of your favorite songs.
6) Word Games
There are plenty of fun word games out there, but here are the ones that will help you make some money. Word Crush is a lot like your standard scrabble game. Still, instead of seeing points deducted from your score for using letters from the opponent's rack, you're rewarded with points when you use letters from their rack.
You'll have to ensure you're competitive if you want to win, though – because someone can make up a word with one letter on their rack and still win. PickUpWords pays players for finding as many words as they can within six turns in a row without repeating a word already played. The higher stakes races become pretty addictive.
7) Racing Games
Speed is everything when it comes to the modern gamer, and racing games are perfect for people who want to feel a rush of adrenaline. Although casual racing games are readily available on any mobile device, racers looking for more advanced graphics should try out Need for Speed.
This app also features a comprehensive car-customization system that allows players to make their rides shine. For those interested in simulating the actual driving experience, Asphalt 8: Airborne is the way to go. There's no free version of this game, but it delivers high-octane thrills.
8) Puzzle Games
Crossword puzzles, word puzzles, and logic puzzles are examples of brain games. Trivia games like quiz bowl. Puzzles designed to engage the whole brain with each other such as Sudoku and chess, can also be considered puzzle games.
Games where you race against the clock or the computer are typically not puzzle games because they don't involve strategy; instead, they are mostly skill.
While puzzle games for android phones and iPhones will be about fun and entertainment for most people, others make money playing on their mobile phones or tablets with Bluetooth controllers. Some of these gaming apps for iPhone will even pay you for downloads!
9) First Person Shooting Game
First Person Shooters (FPS) are very popular and can be found on any app store. These games are easy to control and require skill and strategy to win. One of the most popular FPS games is Overwatch, first released in 2016.
Other notable FPS titles include PUBG and Fortnite Battle Royale. Some main advantages of playing FPS games include their addictive nature, fast-paced gameplay, free game costs, short game lengths, and replayability.
10) Sports Games
One of the best sports games for mobile is FIFA. It lets you play soccer, or what most people call football, with all the stars like Messi and Ronaldo on your phone!
This game is designed to be a bit more realistic than the Madden series by EA Games. Many apps will let you play sports games with friends against other people who have iPhone's or Android phones.

List of top-10 mobile Gaming Apps in 2023
The gaming world is changing, and the way people play is changing. With more and more people preferring to game on the go. Mobile gaming apps are the most popular form of entertainment. The following list includes the top 10 mobile gaming apps in 2023:
#1. GTA V
Grand Theft Auto V is an action-adventure game published by Rockstar Games and developed by Rockstar North. Its release date was 17 September 2013. The game is set within the fictional state of San Andreas, based in Southern California, where users play their role as the main character using different features.
| | | | | |
| --- | --- | --- | --- | --- |
| Platform | Category | Owned By | Ratings | Downloads |
| Android, iOS | Adventure | Rockstar Games | 3.8 | 10M+ |
Download the App from Google Play Store and App Store
#2. Raid: Shadow Legends
Raid: Shadow Legends is a mobile gaming app that Spacetime Studios have developed. The game is set in the world of Amalur and features a battle between two groups of heroes from different timelines.
Players can choose from four characters, each with their fighting style, weapon and abilities. The game offers three different modes for players to play through, including "story mode," "raid mode," and "battle mode."
| | | | | |
| --- | --- | --- | --- | --- |
| Platform | Category | Owned By | Ratings | Downloads |
| Android, iOS | Role Play | Plarium Global Ltd | 4.7 | 10M+ |
Download the App from Google Play Store and App Store
#3. Assassin's Creed: Rebellion
Assassin Creed is a popular video game series. The latest release in the series, Assassin Creed: Rebellion, is a mobile gaming app downloaded by over 10 million users. The app is available on the Apple App store and Google Play Store.
The game was released on December 4th, 2018, developed by Ubisoft Montreal and published by Ubisoft. It features an original storyline with new characters and locations.
The game takes place in the Viking era of history, where players can explore a large open world with dynamic weather conditions and complete missions to progress through the storyline.
| | | | | |
| --- | --- | --- | --- | --- |
| Platform | Category | Owned By | Ratings | Downloads |
| Android, iOS | RPG | Ubisoft | 4.1 | 10M+ |
Download the App from Google Play Store and App Store
#4. Mafia City
Mafia City is an app-based mobile game that was released in 2015. It is a strategy game with RPG elements and features various missions. The player takes on the role of an up-and-coming mobster and tries to rise through the ranks by completing various tasks, such as assassinations, robberies, and other criminal activities.
The game was developed by Yotta Games and published by Tencent Games. Mafia City has been downloaded more than 100 million times worldwide since its release in 2015, making it one of the most successful mobile games.
| | | | | |
| --- | --- | --- | --- | --- |
| Platform | Category | Owned By | Ratings | Downloads |
| Android, iOS | Strategy | Yotta Games | 4.5 | 100M+ |
Download the App from Google Play Store and App Store
#5. Epic Seven
Epic Seven is a mobile game developed by Epic Games and Tencent Games. It's the first game from Epic Games to be released on the Tencent Gaming Platform.
The gameplay is similar to traditional RPGs like Final Fantasy but with less complicated controls. The game has been praised for its graphics and exploration, with players having the option to take their time when playing through the story.
| | | | | |
| --- | --- | --- | --- | --- |
| Platform | Category | Owned By | Ratings | Downloads |
| Android, iOS | Strategy | Smilegate Megapost | 4.3 | 5M+ |
Download the App from Google Play Store and App Store
#6. Elvenar
Elvenar is a free-to-play mobile game available on Android and iOS devices. It combines RPG, city builder and strategy game with tower defense elements. InnoGames, a German gaming company, developed Elvenar.
The gameplay revolves around the player's kingdom, which they can build and manage by harvesting resources, building towers to defend their territory and researching new technologies. The player can also use their resources to train troops to conquer other kingdoms in the game world.
| | | | | |
| --- | --- | --- | --- | --- |
| Platform | Category | Owned By | Ratings | Downloads |
| Android, iOS | Strategy | Inno Games | 4.3 | 10M+ |
Download the App from Google Play Store and App Store
#7. Clash of Clans
Clash of Clans is a mobile strategy game initially released in 2012. Supercell is the publisher of this game. The game revolves around the player building their town and defending it from other players. It features a single-player campaign and multiplayer battles with players from all over the world.
The player starts with a small town hall and must move through four different stages of upgrades to reach the final stage and unlock more powerful units, buildings, and defenses. There are seven types of resources: gold, elixir, dark elixir, gems, dark gems, gold coins and dark gold coins.
Gold can be mined at mines or harvested from defeated enemy units; individual buildings produce elixir called wells; dark elixir is created at the laboratory.
| | | | | |
| --- | --- | --- | --- | --- |
| Platform | Category | Owned By | Ratings | Downloads |
| Android, iOS | Strategy | Supercell | 4.6 | 50M+ |
Download the App from Google Play Store and App store
#8. GRID Autosport
Grid Autosport is a mobile racing game available for Android and iPhone users. The player can race against other cars or teams of cars in many different types of motorsports events worldwide. The player can also create their team to race with other players' teams online.
There are such games that offer a unique experience to their players. Grid Autosport is one such game. It is best described as a racing simulator. This game requires an online connection on most phones which can affect the game's performance.
| | | | | |
| --- | --- | --- | --- | --- |
| Platform | Category | Owned By | Ratings | Downloads |
| Android, iOS | Racing | Feral Interactive | 4.3 | 1M+ |
Download the App from Google Play Store and App Store
#9. Gris
Gris is a mobile game that millions of players have downloaded. Players take on the role of a child who has lost their way in life and must find their way back home. The player must make choices that will affect the course of the story, including what to say to other characters and how they react to various situations.
The player can choose to be aggressive or kind and explore different areas of the game world as they progress through it. This game is an example of how AI can be used for storytelling in games.
| | | | | |
| --- | --- | --- | --- | --- |
| Platform | Category | Owned By | Ratings | Downloads |
| Android, iOS | Adventure | Devolver Digital | 4.2 | 10M+ |
Download the App from Google Play Store and App Store
#10. PUBG Mobile
PlayerUnknown's Battlegrounds is a survival game that pits 100 players against each other in a fight to the death. The game was released on March 23, 2018, and since then has been topping the charts of both the Apple App Store and the Google Play Store.
The game is free to play but contains in-app purchases for additional features. The app requires iOS 11 or later, Android 4.4+, or Windows 10/8+ and at least 2 GB of RAM.
| | | | | |
| --- | --- | --- | --- | --- |
| Platform | Category | Owned By | Ratings | Downloads |
| Android, iOS | Action | Tencent Mobile International | 4.1 | 5M+ |
Download the App from Google Play Store and App Store
The Final Thoughts
At the end of it all, the best gaming apps are free to play. You'll find that many games that you downloaded or bought at the store will have a free trial available for you to use to see if you like them. In addition to getting used to certain types of controls, it's also a great way to explore different types of games before you buy one.
These best gaming apps work as great inspiration for an individual who is considering starting a business with the help of mobile gaming applications. It would be the perfect move to take the help of a well-known mobile app development company to create the best experience,
eBizneeds is one of the leading game app development companies, and we have a team of dedicated game developers who can assist you in bringing your gaming app idea into real life. We have experience providing all types of mobile app development services to all industry vertices.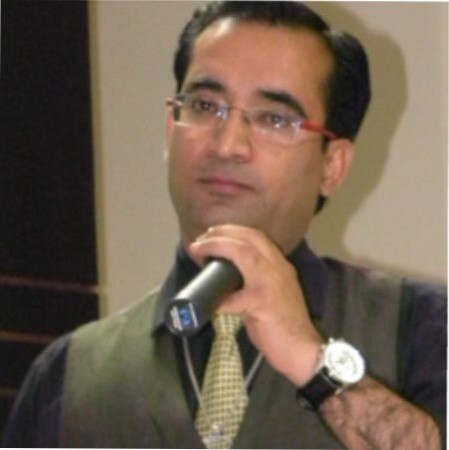 Naveen Khanna is the CEO of eBizneeds, a company renowned for its bespoke web and mobile app development. By delivering high-end modern solutions all over the globe, Naveen takes pleasure in sharing his rich experiences and views on emerging technological trends. He has worked in many domains, from education, entertainment, banking, manufacturing, healthcare, and real estate, sharing rich experience in delivering innovative solutions.