Last updated on October 11th, 2023 at 12:46 pm
The eCommerce sector has been rapidly growing at a fast and thriving pace. Customers are implementing their smartphones for visiting eCommerce sites and making their buys. But, the competition between the obligatory players is too high.
It needs them to develop innovative strategies for enhancing their outreach to their audience as it is one of the key methods to boost eCommerce business using an app.
Mobile commerce is becoming more popular. But, it would help if you remembered that a responsive eCommerce site could not be adequate to ensure a better user experience.
Hence, the audience prefers using mobile applications that are highly suitable for them. This blog will evaluate some of the advantages of boosting eCommerce businesses using mobile apps.
But before that, you can put attention on some eye-opener statistics related to eCommerce app development.
Statistics Related to Mobile eCommerce Apps
Let's examine some facts that show how mobile apps benefit the eCommerce industry.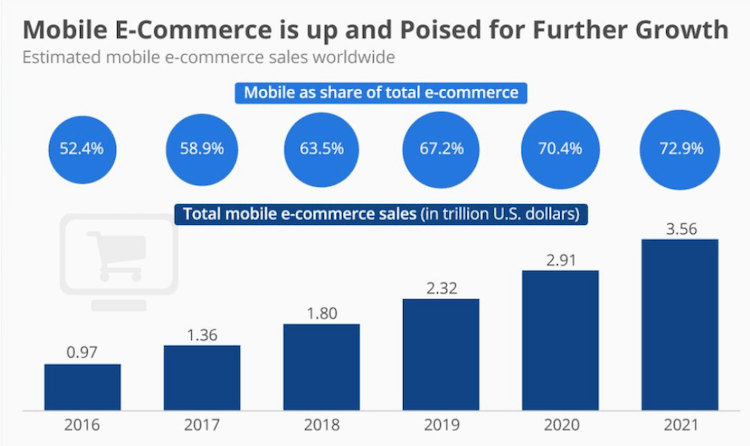 35% of US consumers use their mobile phones to make internet purchases.
Customers in the USA used their smartphones to compare prices, which is key evidence.
Around 72.9% of online sales in 2021 might potentially be generated by mobile apps.
78% of consumers prefer mobile applications over websites to visit the shop.
10% of an eCommerce store's consumers generate around 50% of its total income.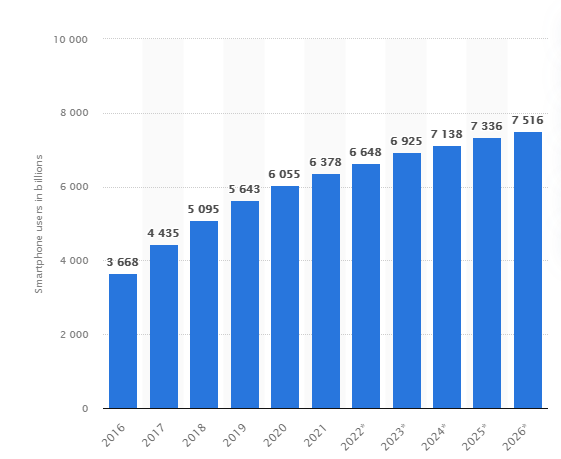 Source: Statista
The above chart shows that the number of smartphone users is increasing in 2021 compared to last year and is estimated to increase by 7.516 Billion in 2026. Thus, mobile apps are highly important for boosting the eCommerce business.
Importance of Mobile Apps for eCommerce
These days, mobile commerce is growing rapidly. The need to have a mobile eCommerce solution should be evident if you want to establish a successful eCommerce company and focus on influencing clients and generating revenues.
There are many current requirements for having a mobile option for your internet store.
We have highlighted the key advantages of an eCommerce app for your mobile app development company.
Improved Visitors Engagement
Let you know that you may use your customers' resources effectively. Additionally, your app may include phone-related functionality to make navigating easier and boost user engagement.
It enables an app to locate users' present situations. You may include a feature that indicates the customer's location to prevent physically for entering the shipping information.
Various websites allow consumers to take pictures of their purchases and post them via apps to retailers' social media pages. It allows you to physically exhibit the items, which may increase the likelihood of a successful sale.
Using this, you may allow users to express their search terms verbally, which can speed up the search process.
Higher Customer Loyalty
Even if a smartphone app replicates the existing site, it is nevertheless well-designed, optimized, and highly personalized. It successfully improves customer experience and aids in both client retention as well as client acquisition.
They access a practical online shop to browse the items and make a quick purchase without hassle.
The following are some key advantages of the mobile shopping app over the adaptive web:
Mobility. When utilizing an application anytime, anywhere, consumers feel more liberated.
Loading time. Because app pages load more quickly, that's why they attract more users. Managers must understand that time is of the essence in retail businesses. Whenever a page takes longer than three seconds to load, many visitors would quit the site and are more likely to visit a competitor.
Customized content. Past purchases and shopping patterns might be recorded in the program and used as the foundation for specialized services.
Offline access. The finest eCommerce software can provide users with basic functionality (to compare items to evaluate pricing) even offline while operating at full capacity for smart systems.
Therefore, eCommerce applications can create a strong and devoted customer base for your eCommerce website development company.
Comprehensive Analytics
The software makes it simple to gather and monitor data. Mobile capabilities allow you to evaluate the user's engagement and provide valuable data, like responsiveness to specific content and functionalities, session length, feedback, and audience arrangement.
It may assist in delivering updates and enhancements, developing customized content, creating an advanced marketing approach, and efficient advertising campaigns. You can make use of the mobile analytics.

Improved User Experience
eCommerce mobile application support companies to offer customized services as per their past behaviour on the platform. Since customers prefer to consider customized experiences while practicing the mobile application.
By applying advanced analytics, you can evaluate the user's path factually and present them with personalized offers.
You can imagine users considering a personalized experience on the application as it can discard any icons or buttons that do not provide any value. Consequently, the users are not distracted needlessly and can continue browsing for the required product.
Moreover, using basic filters and productive search bars highly improves purchasing propensity. A mobile application also requires less time to perform a task.
Since it conveys fewer data to the server than a website, the application can also partially store the data on the system itself. The user can also develop their preferences on the application and only load the content for which the user gives choices.
Specialized Technologies Can Lead to a Better Experience
You can practice the specialized features such as push notifications to inform customers about special discounts, upcoming events, and new collections.
Furthermore, tell them while you replenish your inventories. And use next-gen tools such as Virtual Reality to let customers consider the digital feel of the products before making their purchasing decision.
As a result, you can also take the services from the best eCommerce app development solutions provider for integrating the required features.
Use As a Marketing Tool
One of the key advantages to boost eCommerce business using app is that you can directly evaluate usage and communicate with the users. You can also determine when your customers visit the application and when they make the buying decision.
It also allows you to use multiple media to reach the target market. The result of a targeted marketing strategy makes sure enhanced conversion rates.
The targeted strategy can assist you in developing personalized offers solely according to their demographics and behaviour. Research also indicates that mobile applications have a maximum order value compared to websites.
Hence, it can assist in enhancing your revenues at a minimum acquisition cost.
Better Brand Recognition
The new generation is technology savvy and prefers to buy while they are on the move. Hence, it would be best if you got hold of the mobile eCommerce app development agency and made sure they could have a better user experience over the mobile application.
It will enhance the brand identity and make you highly customized compared to the competition. You can also amalgamate your social media profiles with the mobile application. It also allows users to visit such profiles through the application itself effortlessly.
Adults can spend hours on their mobiles. An interactive mobile application can persuade additional revenues also. An application's impressive features can improve the app's visibility and stimulate more downloads from a mobile application store.
Reduce Cart Abandonment
eCommerce companies are constantly facing challenges related to cart abandonment. It can be due to a challenging procedure or lack of availability of different payment techniques. But, the application can take note of the preferred payment technique and pre-populate the required areas.
Consequently, the checkout procedure is highly simple, and as the customers can get the sound product suggestion, the time taken for the checkout declines.
The utilization of an application can perform as a competitive benefit against those who do not consume one. You must have loyal customers because of increased eyeball share against the competition.
The customers who use your application have finalized their buying decision, leading to fewer card abandonment occurrences.
Using the Smartphone Features to Its Advantage
The application can also practice smartphone functionalities to its advantage. The GPS feature can permit the companies to pre-filling the shipping address to make the checkout procedure rapid. It can also assist users by leading them to convenient store locations.
The camera can let the customers take the product's snaps and upload them on their social media accounts via the application. It can also allow your customers to engage more with the application. The smartphone's microphone can assist in voice search also.
How to Build an eCommerce Mobile App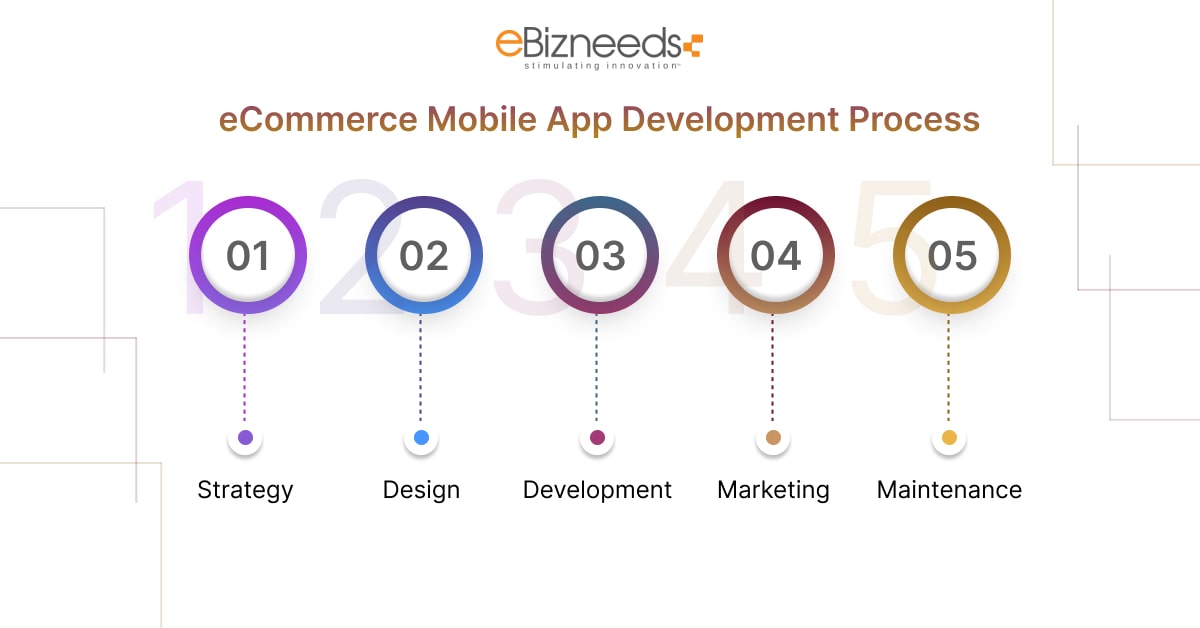 It might be difficult to design a native mobile solution for an eCommerce website development company. To accomplish the procedure properly, you must adhere to several specific stages and pay close attention to many aspects.
Here is some steps with the key components that you need to consider when developing eCommerce mobile apps.
#Step 1: Strategy
It would help if you had a plan before anything else. Define your objectives, the market that wants to serve, and the demographic you need to connect with. This will enable you to illustrate your future software, choose the tasks it should carry out, and communicate your notions to the project team.
#Step 2: Design
How can I build a mobile app to earn money and satisfy my users? You require a well-considered design that is both aesthetically beautiful and user-friendly.
When assessing anything, most individuals depend on their first perception. A person needs roughly 50 milliseconds to develop an idea about something and determine whether or not they like it.
Therefore, a mobile app's attractive layout design provides a great user experience, considerably boosting client loyalty, and accelerating revenue.
Here are some pointers for designing an attractive mobile app.
Make Available Accessibility
Accessible design is a good idea to develop eCommerce mobile app. Focusing just on the target market is insufficient nowadays; you also need to ensure that the product is accessible to all consumers.
Design accessibility refers to the lack of uncomfortable feelings while using the program. It is best to start again if specific groups of individuals cannot utilize your product.
Make sure the app is accessible to users with restricted skills. This is one of the key mobile app design guidelines. Millions of consumers have visual or hearing impairments today, and failing to cater to their requirements might be devastating to your mobile app development company.
Various tools and methods are available from Microsoft and other top IT network operators to help persons with disabilities overcome digital obstacles and access equal opportunities. Many emerging businesses adhere to the WAI (Web Accessibility Initiative) philosophy.
Compatibility with all potential devices is a further consideration. Your solution must function as effectively on Android, iOS, and other technologies and be optimized for various screen sizes and specifications to reach most of the market.
Use Customer Feedback to Update Testing
Users could remove the program even if there is a small issue. An application is probably to have become successful if the design is unclear or the font is difficult to understand.
Thus, a solution has to be continually evaluated. Because only users have their best interests in mind, it is preferable to be based your testing process on end-user input.
Maintain Simplicity
Users like to engage with specific and logical interface components since they do not wish to spend time figuring out problems to complete a task. Any complexity is the incorrect strategy for design.
Mobile app developers often aim to include as many functionalities as possible to boost eCommerce business using an app. This is especially problematic for groups when everyone contributes many ideas and is valued equally. The app would be greater if it would be shorter.
The software must only perform the functions required by the user. The flat word design denotes simplicity as well as, specific components may be used to describe it.
Carefully Select Visual Elements
The most practical UX/UI design advice focuses on visual components since they more effectively encourage user involvement than anything else. To design an attractive graphical interface, adhere to the advice below:
Select readable fonts that are suited to the concept of the app. Avoid developing an addiction to fancy typefaces because although they may be appealing when utilized on an application, they may utterly damage the user experience.
Colours should not be disregarded since they may either enhance or detract from the user experience while using an app.
Maintain a great client experience throughout time. You cannot significantly alter the interaction laws since design components should direct people in their activities rather than deceive them. Your app's pages must all adhere to the same design and concept.
Gain Knowledge from Others' Experience
Most popular apps have comparable design elements, including layout, icons, and gesture navigation. Therefore, it is unnecessary to recreate the wheel when building a new bespoke app.
You must examine your rivals' finest strategies and base your product creation on them. This does not imply a lack of originality or plagiarism. This means that you should draw from the successes as examples.
Users like simple interfaces and anticipate finding familiar elements in new solutions. While creating the interface, the developer must be attentive to their unique ideas and comprehend the user's demands.
Undoubtedly, emerging technology and industry trends might make it easier for new features to materialize. They might assist you in expanding your consumer base and establishing a stronger market presence if adopted gradually.
#Step 3: Development
Making source code and putting your thoughts into action is a difficult procedure. Modern trends dictate that mobile devices should work flawlessly with Android, iOS, and Windows. Consider creating cross-platform applications in this respect.
The majority of the time, intuitive UI achieves effective communication. You may utilize many design libraries to find the best icons and graphical elements. A well-known open-source resource for iOS features is Cocoa Controls. For Android developers, Android Arsenal offers a selection of UI designs.
To construct an eCommerce mobile app, a platform must be chosen once the user interface has been designed. For this, you can hire magento developer to get the best results. You ought to be able to get data from any web server using it.
Following are a few well-liked mobile eCommerce devices:
Over 28% of all online businesses are run on the top open-source eCommerce solution, WooCommerce. The most versatile tool for developing your web company is this one.
One of the best-known open-source systems is Magento. It is scalable, developed in PHP, and accessible to all enterprises.
Another solid open-source framework is PrestaShop. It provides many product characteristics for small, medium, and large eCommerce shops.
Small and medium retailers may use these frameworks. Indeed, there are many options on the list; it's up to you to select one.
Incorporating a payment gateway is the last stage in the custom eCommerce website development process since providing your clients with a safe and secure payment mechanism is crucial.
Banking data will be in risk without a gateway. The most widely used online payment methods are PayPal, Google Wallet, and Apple Pay.

#Step 4: Marketing
When your eCommerce company's mobile app is ready, you must consider marketing it. How this would be dispersed should have a solid plan. You may employ social media platforms, newsletters, emails, advertisements, and other techniques for widespread application adoption.
Additionally, you might deal with capable marketing experts who would also promote your software.
#Step 5: Maintenance
Security considerations are essential throughout the development phase and for eCommerce mobile applications since they are utilized for online transactions.
Verify if your developer offers a variety of security standards as well as full project maintenance and assistance after the launch. Clients will not download your app until they have confidence in your system.
How Much Does It Cost to Build a Mobile eCommerce App?
There are considerable costs involved in developing an eCommerce enterprise. It would be best if you considered them all when estimating the anticipated cost of your prospective solution.
You can also hire an eCommerce developer to reduce the expected cost of a Mobile eCommerce App.
Development Costs
Infrastructure
Salary  for project managers, developers, QA engineers, and designers
Social media integration
Web services
Additional Costs
Maintenance
Advertising
Marketing
Updates
The development environment also influences the cost:
Android projects are much more costly and take longer to complete than iOS projects since iOS applications can be produced more quickly.
The project's intricacy should also be taken into consideration. A basic iOS app can cost $1,000 to design, whereas more complex applications might cost $150,000.

Conclusion
We are all aware that not each eCommerce site will experience success, but you must take advantage of any chance that comes your way to further your company's objectives.
You may determine whether developing eCommerce mobile applications for your company is appropriate and the best action after considering all the factors above that support its necessity.
For a simple and hassle-free completion of your task, you could hire a reputable eCommerce website development company like eBizneeds.
At eBizneeds, we have a highly skilled and experienced developers to develop excellent mobile applications for boosting eCommerce business.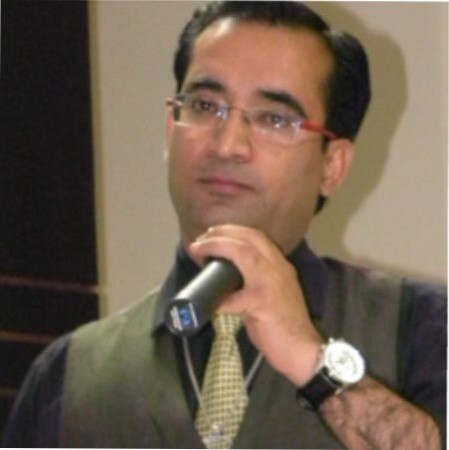 Naveen Khanna is the CEO of eBizneeds, a company renowned for its bespoke web and mobile app development. By delivering high-end modern solutions all over the globe, Naveen takes pleasure in sharing his rich experiences and views on emerging technological trends. He has worked in many domains, from education, entertainment, banking, manufacturing, healthcare, and real estate, sharing rich experience in delivering innovative solutions.