In the current era, the job market is becoming highly competitive; hence it is a complex task to find the right person for the right position. Companies are now shifting from newspaper advertisements to online job sites to post jobs.
These apps aid in connecting the job seeker with employers across the globe. They also help in search for a job by matching the employer's need with the job seeker's qualifications and skills.
However, job portal app development is a daunting task. This blog will discuss the cost of developing a job portal app. But before moving onto this section, we will closely examine what the job portal app is all about.
What is Job Portal App?
The job portal app is illustrated as a platform where you advertise the job and search for a CV/resume. It is an integral component of each hiring procedure, and using them to aids in transforming skilled candidates into low cost.
This app makes it competent for recruiters to find applicants using customized questions. It also aids in sourcing, tracking, on-boarding, and assessing new candidates.
Market Statistics
Here are some eye-opener statistics on the recruitment industry.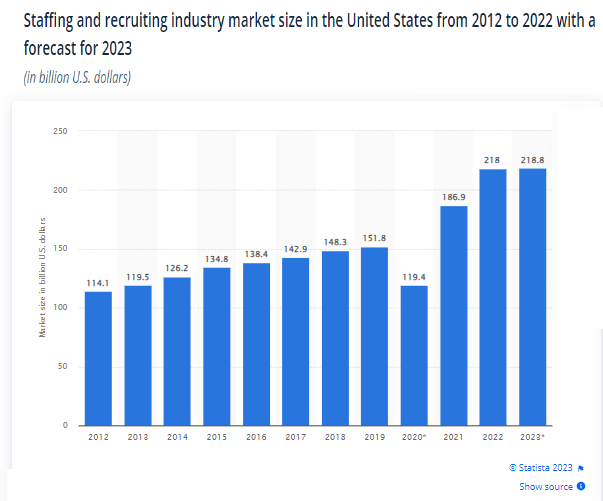 Source: Statista, 2023
The staffing sector has pivotally hit 2020 due to the Covid pandemic but bounced back strong, with a recorded market size of about 220 billion US dollars in 2022.
The survey indicates that 60% of applicants may view the company page from their mobile phones, and also 39% of them apply for the job vacancy.
It is addressed that 79% of job-seeker believe they will utilize social media to support them in finding work. This figure has risen to 86% among younger job seekers.
Although the average job search takes 5+ months, a Topresume study indicates that many job seekers can find the job they want in 3 months or less if they have a professionally-written resume.
It is identified that 68% of Americans own smartphones, and about 41% use them to find work.
These statistics indicate that recruitment and job search apps will be in higher demand over the next few years. There are wider opportunities for businesses to find candidates.
Job Portal App Features
Job portal app development is a multi-level procedure that aids in finding out the expertise and skilled recruits in a recruitment marketplace. To develop your job portal app, you must identify the application's basic needs.
You can select a job portal software development company to provide added value to the end-users. The job portal app must be highly secure and easy to use.
Let's delve a deep more about the job portal app features.
Job Seeker Panel Features
Here, we will discuss certain features of the Job seeker panel.
Social Sign-up and Login
It allows users to sign-up through social media accounts such as Facebook, Instagram, LinkedIn, and Google, as it is effective in easing on-boarding.
Resume Management
This feature enables job seekers to create their in-app resumes using the standard guidelines, format, and examples. Your app must include easily uploading the resume on the portal.
It must also let the candidates to send their resumes directly to the recruiter that suits their areas of expertise. It facilitates the applicants to search the other opportunities.
Job search and Filters
Your job portal app should let the candidates to search the job according to their requirements. It must also consider the option to search based on their skills, location, and desired salary. This filter aids in providing good opportunities to applicable users.
Job Bookmarking
It permits the users to bookmark the job they are highly interested in. And also, send the CV according to your needs or share the details regarding the job with their friends.
Notification Control
Are you fretting about getting the unnecessary notification? Hence, notification control features admit you to control unwanted emails, texts, and notifications you get about the job search, and you can select the option of how often you can get the job opening notifications. You can also turn off the notification option if you don't want to check in the future.
Video Profile Creation
It is a trending feature that lets users to make a video profile in an innovative introduction. It provides higher chances of getting selected by a job recruiter.
Recruiter Panel Features
Apart from the job candidate's features, the recruiter app feature enables you to excel in the market. These features are as follows:
Registration/ Sign-Up
This feature lets the recruiter to complete the registration procedure or fill in details such as email ID and phone number.
Job Posting
Once the profile is registered, you can post the job according to the number of vacancies and job description. Hence, it helps you to make shortlist the right candidates.
Job invites
It enables the recruiters to send the invitation to job seekers. They can also ask the users to schedule the interview via text message or phone so they can move forward.
Email Jobs
Several companies have limited job vacancies; hence, recruiters must email the job opening to the applicants.
Resume Download
Recruiters may download the resume, and once downloaded, recruiters can review it and schedule the interviews with the applicants.
Payment Plan
Recruiters can access the special features on the job portal. It considers the competency to download more resumes and list jobs. As a recruiter, you can choose from different payment options according to their budget and needs.
Admin Panel Features
Let's discuss some essential admin panel features of the Job portal app:
Bulk applicant's Import resume
Your job portal app development services allow you to import the bulk resume of candidates all at once from any database with a single click. This customized feature enables you to link with third-party databases directly.
Job Analytics
Job analytics enables you to assess the resume databases, job postings, and user profile and share it with the third-party partner to generate better results. It supports you in generating reports that give you an idea regarding the responses obtained from the job posting.
It also demonstrates the time taken to fill the role, the effectiveness of sourcing tools, and the cost per hour to make better management decisions.
Candidate Profile Management
This feature allows administrators to access user profiles and accept or reject candidates according to their guidelines. The portal enables you to export all the details of candidates, and you can permanently delete, add, or deactivate the candidate's profile from your portal.
Recruiter Management
The administrator has full access to manage the different recruiter profiles. You can filter the specific categories of multiple recruiter profiles as per the needs. This feature lets you to add, delete, or deactivate the employee's profile from your system.
Dashboard Analytics
You can get the earning reports by customizing the dashboard. It will offer real-time analytics reports that permit you to see how much you earn from the portal and where you get the applicants.
How to Generate Revenue From the Job Portal App?
When developing the job portal apps, the key point is to focus on how to make money through this. Well, businesses can use different monetization opportunities to generate profits.
Hence, here we will discuss some strategies that aid in generating revenue from the job portal app.
Subscription Plans
It is one of the significant ways to earn money from the websites. Companies can post offers and access premium profiles by purchasing one of such plans. A common instance of this is LinkedIn. You can also provide multiple paid courses to help candidates develop them and offer training.
Paid Job Posting
You can consider data regarding specific employees on your homepage, newsletter, and blog. You can charge the employer capital. Employers can select different featured news items to get a listing. Each item must have different payment alternatives. It can be advertised at the top of 5, ten, or 30 days.
Premium Offering
It is a sound way to earn money from a job portal app that can generate revenue. You can also charge subscription fees annually or monthly for such services by developing candidates.
Daily job posting
Access to your resume
Permits to access educational materials on recruitment
You can join a group wherein an employer can share tricks and tips to secure employment.
Sponsored Post
It may have more opportunities of being seen by job seekers; thus, employers are highly likely to address the right match for their vacancy. It is the key reason why most job portals charge extra for sponsored posts and it is one of the best ways to earn money.
Third-Party Advertising
Several mobile apps highly rely on third-party advertising revenue. Here, third-party companies related to the job portal will pay you a specific amount for an ad space upfront. Your revenue will depend on how much traffic your apps obtain and the total number of ad clicks. But you must remember not to ruin the website's UI/UX design by placing several ads.
Job Portal App Development Process
Job portal app development is challenging, but each process has unique goals and challenges. Let's discuss the job portal app development process in detail:
Discovery
This stage considers identifying  goals, the scope of app development, and recognition of the target audience, choosing the features and functionalities, and assessing your key market players. It is critical to conduct market research as it helps to know the requirements of job seekers and recruiters.
Designing and Development
During this phase, mockups and wireframing are created once UI/UX designing and prototyping are completed. After prototyping is functional, actual coding and development can start for job portal apps. For this, highly skilled developers require as they help in creating a secure, scalable, and robust job portal app.
Testing
After the app's development, you need to conduct thorough tests using manual or automatic testing methods as it aids in identifying the glitches and bugs and builds a flawless job portal app. You may test the user interface designing, features, and functionalities to address the bugs.
Launch
Once testing is finished, you can launch the job portal app in public over different social media platforms and email campaigns to attract job seekers and recruiters. In this stage, you need to check that server is configurable and job portal is deployed on the Internet. Here, developers need to address that everything is functioning properly.
Maintenance and Updates
The job portal app development process does not need to end after the launch because there is a need to provide regular maintenance and updates to ensure the smooth and secure functioning of the app. This stage considers adding new features or functionalities, fixing glitches, and improving security exposures.
Best Job Portal Apps
Let's explore the best job portal apps that provide a wider category of job listings, matching capabilities, and filtering options to make the job process easy and efficient for job seekers.
Indeed Job search

Compatible with: Android, iPhone, and iPad
Where to access: Google Play and iTunes
Cost: Free
This job app enables users to find a job according to their capabilities, skills, locations, type of work, and desired salary. It provides free access to find jobs from thousands of company websites and job boards in a single click. It simplifies the job process as you apply to any role using your mobile, send personalized messages to employers, and track the application status.
LinkedIn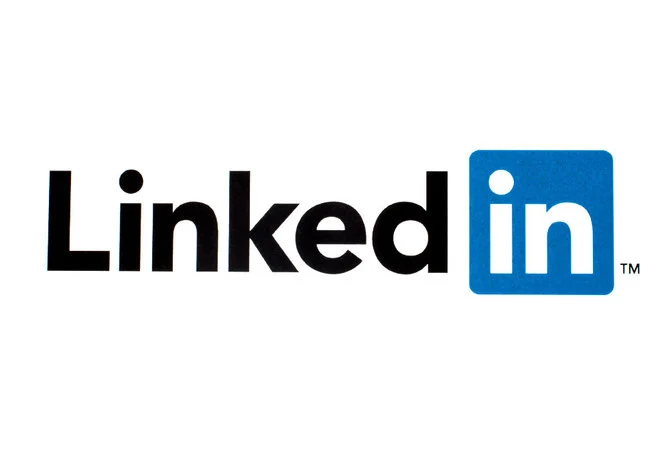 Compatible with: iPhone, Android, and iPad
Where to access: Google Play and iTunes
Cost: Free for the basic plan or $29.00 a month for the Premium membership
It is one of the best job portal apps that help to find jobs and is perfect for networking, communicating with co-workers, and sharing professional news. It aids in instantly and easily developing connections and getting the right career. LinkedIn job search filter supports you in narrowing down the millions of posted jobs that suit you.
Glassdoor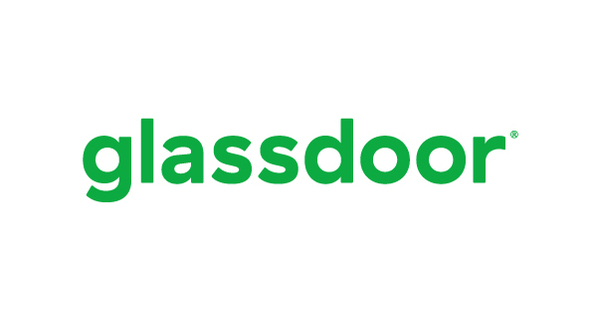 Compatible with: Android, iPhone, and iPad
Where to access: Google Play and iTunes
Cost: Free
It is quite different from other apps due to providing insights on jobs. It permits you to find the job from newest to oldest, read company reviews, and learn about the benefits and salaries. You may also set the push notification to get the latest job posts.
ZipRecruiter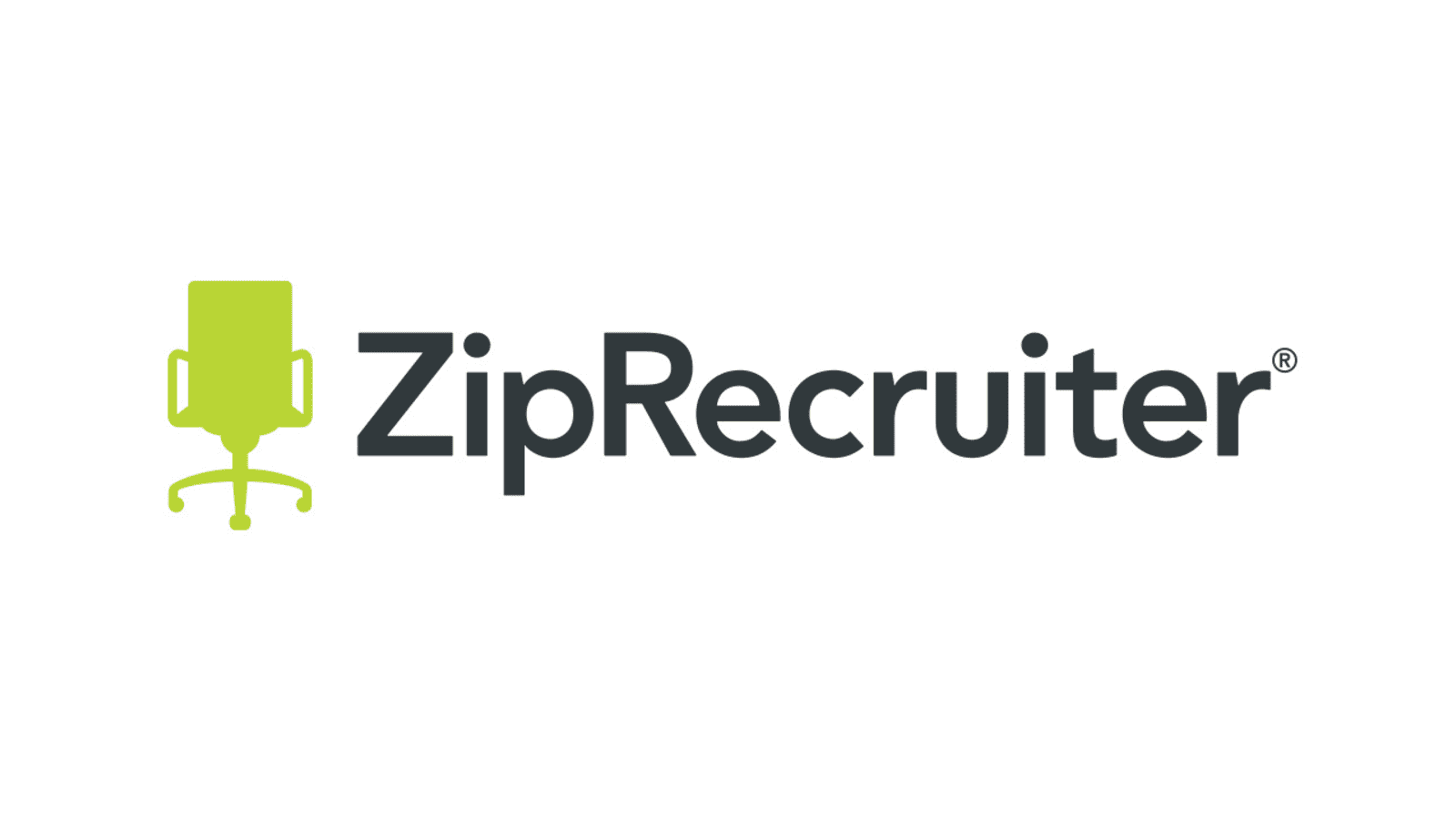 Compatible with: Android, iPhone, and iPad
Where to access: Google Play and iTunes
Cost: Free
ZipRecruiter allows you to access millions of jobs using a single click on your mobile. A key feature of this app is that when an employer views your resume, you instantly get email alerts on your phone. You can also get automatic alerts about the latest job that matches your skills.
To know more job application, read: Best job search apps
Job Portal App Development Cost
The actual cost cannot be estimated for developing the job portal app because many factors may affect its cost, such as tech stack, location, app types, app complexity, etc. Considering all the factors, we estimate that the job portal app development cost around $5,000 to $40,000.
The job portal app development cost considers the software design and development, integrating their required features, texting, and releasing the portal to the market. Because if app complexity increases, it will directly affect the overall development cost.
Developing a job portal needs significant investment for making planning and systematic implementation. Hence, partnering with a reputable job portal app development company aids in making customized job portal apps.
A skilled developers team may give you a rough estimation of the detailed cost breakdown according to the project requirements as they are available during the process from app designing to development.
Factors Influencing the Cost of Job Portals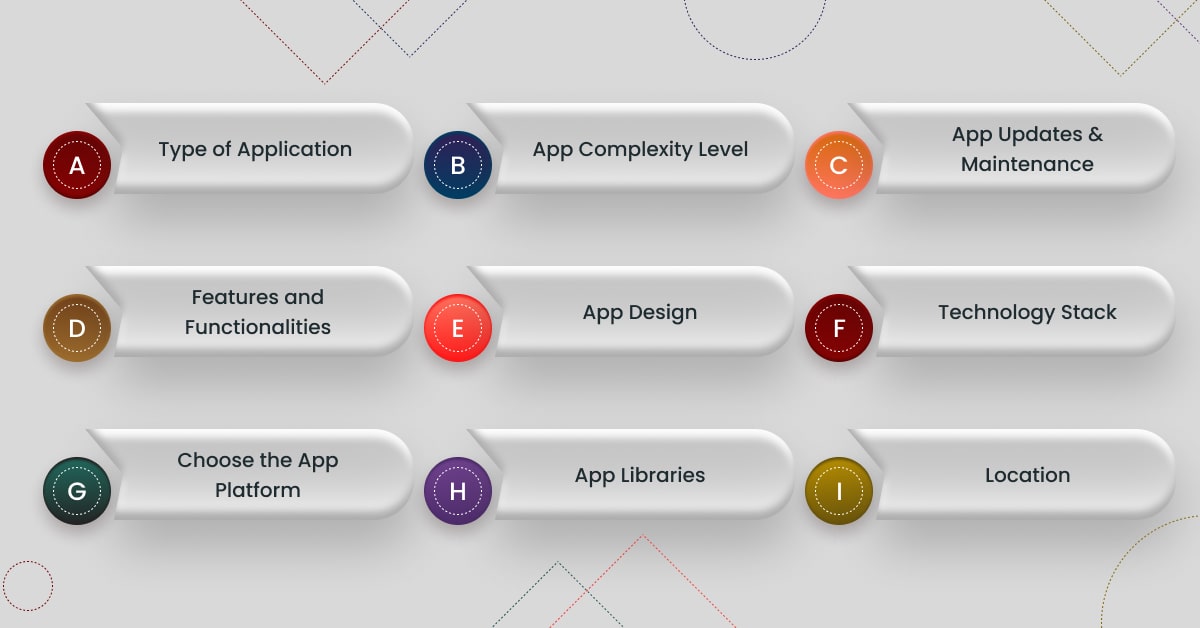 The cost of developing a job portal app is quite a challenging task. Different factors can determine the estimated job portal app development cost.
Let's check out the factors that must be considered in the final cost estimate for developing the job portal app.
Type of Application
You must decide the type of apps, such as Hybrid, web, or native apps. Hybrid apps are portable, have a single code base, and work on multiple platforms. You can choose web apps to get a desktop version of your apps.
Along with this, native apps are considered as best because it provides a sound user experience and more access to device hardware/software inclusion of features. Hence, the development cost may differ according to your application type.
Features and Functionalities
The more feature you add to the job portal app, the more costly it will create for you. Some must-have features also increases the cost but may increase user engagement. These features are registration, advanced filters, saving the candidate's account, profile development, payment integration, and CV development.
Choose the App Platform
Choosing the right app platform is daunting for job portal app development. Hence, you can select a platform according to the targeted audience or age group. You may select single or cross-platform platforms available in current times for your app development.
App Complexity Level
The different features and functionalities determine the app's complexities. For example, basic apps have regular functionalities such as basic UI components, pre-determined backend, analytics, and template features.
On the other side, high-level apps have top and additional features such as database relationships, custom animation, real-time synchronization, media processing, and several advanced features.
App Design
App designing consider UI design, wireframing, and animation as these factors may impact on the job portal app development. Your app design must have your unique identity as it may stand out among others. You can choose it from custom or standard UI.
App Libraries
Many applications require third-party libraries that get broken if it is not updated; hence, timely updates are required for app libraries.
App Updates & Maintenance
After deploying the app, bugs can affect it at any point. To fix such bugs, you need to update the apps. The app developers maintain it. Some companies offer after-support and maintenance services after overall app development. But some companies may ask you for additional costs.
Team Structure
To develop an app from scratch, you need several developers teams such as Android/iOS developers, project managers, testers, and UI/UX designers or graphic designers. The cost of hiring these developers relies on their proficiency level.
Technology Stack
The tech stack you choose for developing job portal software development affects the overall app development cost. For example, the Job portal app is developed using the latest technologies require more cost than traditional technologies.
Location
The cost of Job portal app development is highly affected by the location of the job portal app development company. For example, companies dealing in the US require around $200 to $250 per hour for developing the job portal app, while in Europe, developers charge approximately $125 and $170 per hour.
Likewise, in India, you can quickly take the job portal app development services in about $20 and $25 per hour.
How to Develop A Job Portal App with eBizneeds?
Job portal app development considers different aspects, but focusing on user-friendly and fascinating ideas is key. Any job portal app's success relies on transforming the ground-breaking ideas of developing transparency into the recruitment procedure.
It attracts many users and creates wider popularity of your job portal apps.
Are you looking for an innovative idea for job portal app development and uncertain about developing it? Well, we are always here to assist you! At eBizneeds, we specialize in job portal app development that keeps users more engaged than other companies.
Hire our dedicated app developers to transform your ideas into reality. As a pioneering Job portal app development company, our main focus is to deliver high-quality custom software development that meets your expectations.
Hurry up to contact us to know the estimated cost of developing the job portal apps. You can also check out our portfolio to see how efficiently we have delivered on-demand app solutions that meet business needs.

Key Takeaways
In conclusion, determining the job portal cost is a challenging task. It is intended to streamline the recruiting process of candidates. Different factors affect the job portal app development cost, such as features and functionalities, app type, app complexity, tech stack, design, and location of developers.
FAQs On Job Portal App Development
Which is the best job portal app?
There are several best job portal apps, such as Indeed job search, LinkedIn, ZipRecruiter, and Glassdoor. These apps provide a wider range of services, such as filtering, job listing, and matching job capabilities. It also connects job seekers with recruiters as there is a wider professional network.
How much cost do you require for job portal app development?
Job portal app development cost determines by different factors such as location, design, functionalities, and so on. The average cost of developing such job portal apps is $5000 to $40,000.
How long does it take to develop a job portal app?
The time it takes to develop a job portal app relies on factors such as app complexity, scope, and project needs. Commonly, an effective job portal app development will take 7 months to a year or more.
What are the key features of a job portal app?
Job portal apps include different features such as sign-up/registering, job listing, job application tracking, employer profile, company reviews, job search filtering, etc.
Do I need to hire a professional development team to develop a job portal app?
Developing a job site requires the collaboration of project managers, designers, and skilled developers. To ensure the security, scalability, and quality of job portal apps, we advise hiring a professional development team.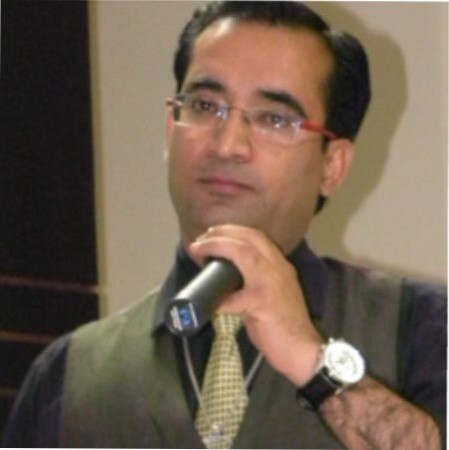 Naveen Khanna is the CEO of eBizneeds, a company renowned for its bespoke web and mobile app development. By delivering high-end modern solutions all over the globe, Naveen takes pleasure in sharing his rich experiences and views on emerging technological trends. He has worked in many domains, from education, entertainment, banking, manufacturing, healthcare, and real estate, sharing rich experience in delivering innovative solutions.