Last updated on January 9th, 2023 at 08:00 am
In the digital age, businesses are under pressure to transform their software. Custom software development is an essential part of this transformation. Hence, businesses need to partner with the right custom software development company to get the best solution.
Custom software development can assist companies in unlocking a new revenue stream, optimizing operations, and improving customer engagement.
This blog post will evaluate the significance of custom software development services and how they can assist your business in achieving digital transformation.
Before you can figure out how much custom software development costs for digital transformation, you need to know what it is.
What is Custom Software Development?
In contrast to commercial off-the-shelf (COTS) software, custom software is created after considering the user's demands. COTS is perfect for a broad audience since it focuses on a wider range of criteria.
Due to its broad marketing, many firms will include OTS software into their routine business applications. Microsoft Office represents the most important example of OTS software since it can serve a global audience.
In today's cutthroat business environment, creating software or an application that fulfils specific company demands is essential for survival.
The procedure of creating, designing, constructing, and delivering software specifically for an individual or set of individuals inside a business or as a third-party service is known as custom software development.
How Does Custom Software Development Aid in Digital Transformation?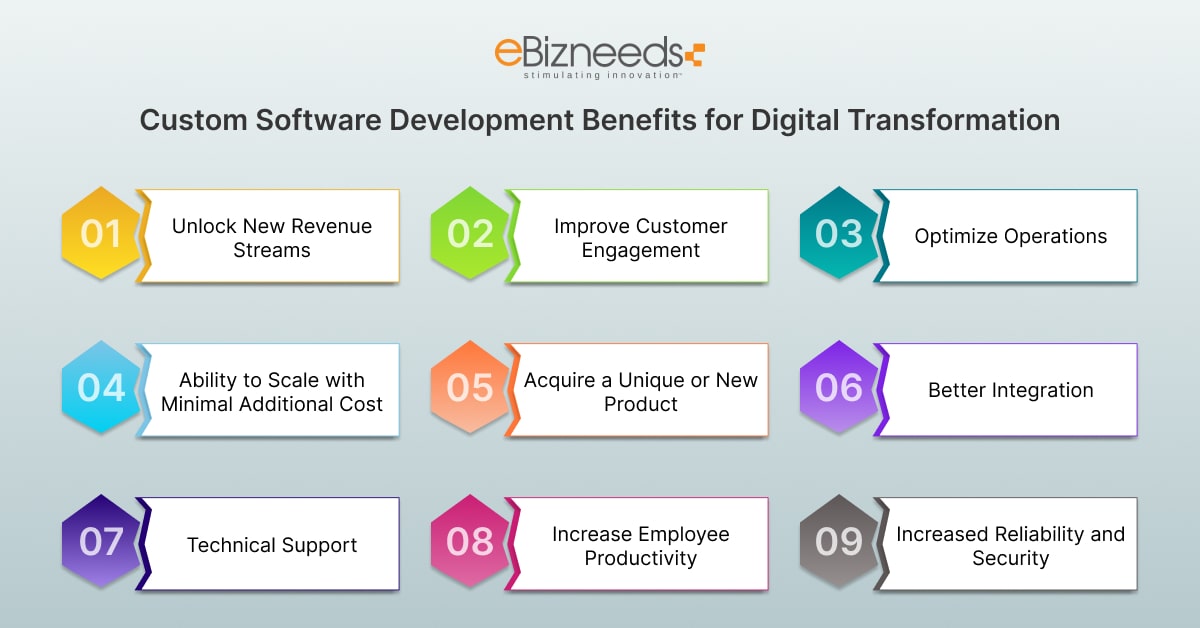 Custom software development can help businesses with digital transformation in the following ways:
Unlock New Revenue Streams
Custom software development can support the business in developing new products and services and penetrating new markets. It can be done by creating a new eCommerce platform.
Improve Customer Engagement
Custom software development can assist companies in enhancing customer engagement. It is performed by custom apps that meet their customers' particular requirements. You can also develop a custom CRM software or a custom loyalty program.
Optimize Operations 
Custom software development supports businesses in optimizing their operations. It is performed by developing custom apps that improve efficiency and automate tasks. You can also create a custom inventory management system or a custom order management system.
Ability to Scale with Minimal Additional Cost
Another main advantage of custom software development is its ability to scale with minimal additional cost. As your business expands, you can add more functionality or users to your custom software without experiencing higher prices.
Unlike the OTS solution, you don't have to pay licensing fees to add more users or features to this one.
Acquire a Unique or New product that Meets Your Business Needs
Another benefit of custom software development is that you can get innovative products that meet your business needs. You are also not limited to the functionality and features available in the OTS solution.
You can also hire a custom software development company to create a custom solution. Consequently, it meets the specific needs of your business.
Better Integration with Existing Systems
You can effectively integrate the existing system through custom software development. You can also build custom apps that interface with current systems like CRM and accounting. It is not possible with OTS solutions because they do not provide this extent of integration.
Technical Support
Custom software development firms naturally offer more technical assistance than OTS software vendors. These companies are highly responsive to customers' needs. It can also provide a custom solution for identifying specific issues.
These custom software development companies can also offer customized assistance in implementing the software to accomplish business goals.
Increase Employee Productivity
Custom software development solutions can aid businesses in increasing employee productivity. By automating tasks and enhancing efficiency, custom software can support the employees in completing their work faster and more efficiently.
It can free up the workforce's time to emphasize more significant tasks like customer service or product development.
Increased Reliability and Security
Custom software is highly reliable and secure compared to OTS solutions because it is created specifically for your business and meets a specific need.
In contrast, OTS solutions are designed for a wide range of businesses and are not always tailored to specific business requirements.
Custom software is commonly created by a team of experienced developers who know your company and industry. Consequently, it increases security and reliability.

Prerequisites to Estimate the Cost to Develop Custom Software
During the scoping sessions, the software development company discusses this prerequisite. An expert company such as eBizneeds will help you in each step, from defining your project goals to devising monetization strategies for software development.
Project Goals
The initial step for comprehending the custom software cost is to illustrate your project goals during the initial conversation. You should emphasize the explicit purpose that will assist you in designing software based on your time and efforts.
The key benefit of evaluating the goals is that the development team will stay aligned and focused. If you develop well-defined goals, it helps to develop the software in less time and also provides better cost optimization.
Target Audience
The critical step for successful software development is to determine the target audience. The potential audience is commonly considered to be individuals interested in the product or services.
Addressing the latest trends, conducting market research, and conducting in-depth competition analysis can aid you in providing a clear idea about the target audience. The time and cost of evaluating the target audience will affect the overall software development cost.
Type of Software
Determining the type of custom software that will meet your needs is a required step for evaluating the time and cost to develop custom software. Time and price are also associated with the functionalities and complexities of software.
A well-integrated software system has excellent features for engaging and retaining users. It will also assist you in increasing your trajectory in an otherwise viable world.
User Journeys
Developing the user journey map for visualizing the user flow in your software is another crucial step. A customer-oriented map can assist companies in evaluating the overall development flow. It also provides you with an estimated cost to develop custom software.
After we've gone over the requirements for figuring out how much software development costs, we'll talk about some of the most important things that can affect how much software development costs.
Custom Software Development Cost Factors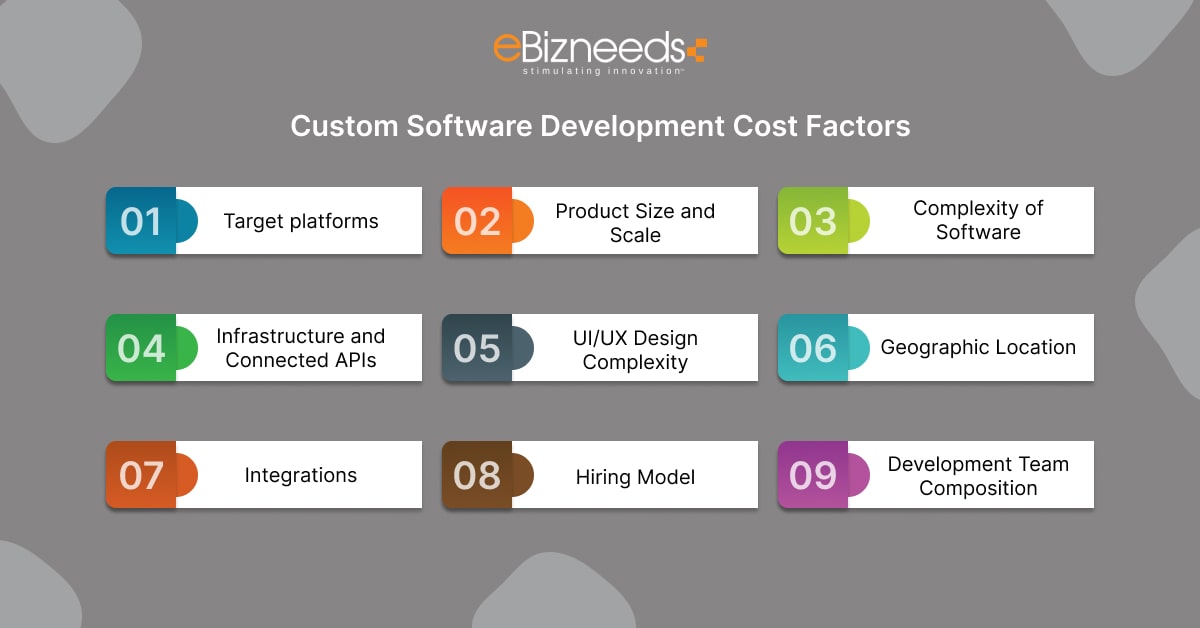 The budget measures direct and indirect costs related to custom software product development. These are both internal and external aspects. Understanding such factors provides a more accurate estimation of a custom software development cost.
Let's check out the key factors influencing custom software development costs.
1. Target platforms
You need to assess the target audience if you want to build your software according to mobile apps (Android and iOS), web technologies, and desktop (Mac OS and Windows) operating systems. After assessing it, you may know which type of platform is presently in everyday practice.
Building mobile, web, and desktop software considers different technologies. For this, you need a number of resources; therefore, all costs are distinct. For instance, the number of perfect device screen sizes for Android apps is higher than for any iOS app.
There are different alternatives in platform-based software development. Most products run on Android, iOS, or multiple platforms. The choice must be made after assessing the product's target audience and understanding what sort of platform is currently in use.
Custom software development costs depend on your selected platform. There is a possibility of saving development costs when choosing an overlay product.
However, such software is used in a sufficient number of businesses. It indicates that a financial company customer is unlikely to cover software products.
2. Product Size and Scale
The significant factor that influences custom software development costs is the scale and size of your software product. Investment costs depend on the size of the projects.
In contrast to this, different purposes and companies directly influence the size of the software product required. Startups are usually small and use an MVP development approach to launch their products.
Their products are small and were originally intended to be tested by a small user base. In contrast, enterprises require a large team to develop their software.
They also have complex procedures, internal systems, and more. Moreover, their plans may also require small- and medium-sized software. They may require a presentation, website, page app, web app, and similar software with less demanding needs.
3. Complexity of software
These include screens, automation needs, process deployment, complexity, independent and dependent techniques, and other factors. The average cost of custom software development depends on its intricacy.
When you add more features to your software via code, it becomes more complex. For instance, if you're going to develop a profile that permits different people to build profiles, upgrade them, customize them, and view other profiles, then you need to pay accordingly.
The database would grow because the compatibility needs updates. It applies the same to complex logic. But in this case, you will need more time, and thus the overall cost will be increased.
4. Infrastructure and Connected APIs
Sometimes, an app operating in isolation offers a lot of user value. Some apps rely on high-level background processing that relies on an external system. What does that mean? It infers that many well-known software products, such as Airbnb and Grab, hide their challenging backend procedures behind a sound and easy-to-use interface through which users can interact.
When you want to include different payment choices or integrate local features, it creates additional challenges for backend procedures. While the front end uses UI/UX design, the back end does all of the heavy lifting.
The backend infrastructure is essential to software development, from product stability to product security. Consistently, a more challenging backend system increases the average cost of custom software development.
Instead of developing a backend from scratch, there are specific backend app programming interfaces. APIs help execute the backend features with less custom software development.
5. UI/UX Design Complexity
These days, providing the best user experience is significant. With the development of the end-user experience sector, more sophisticated and innovative methods are being created.
More creative and complex UI/UX design is challenging to address. A functional and intuitive user interface is a significant factor affecting software user retention.
UI/UX design considers all the graphical elements like buttons, user interface features, and fonts. Hence, a good UI and UX indicate a more intuitive user interface and an enjoyable experience for individuals who use your product.
In this case, the custom software development costs directly depend on the UI and UX you choose for development. Although it may require additional working hours, the investment can attract and pay off many users. As you can see, the design can affect the application cost.
6. Geographic Location
The location of the development company depends on software development costs. If you select software development outsourcing, you can opt for overseas teams to significantly reduce the custom software development costs.
Hourly rates vary from location to location and according to the business value proposition. It ranges from $20 to over $50 per hour. Instead of an hourly rate, the more important thing is what you get for that rate.
Large contractors offer you a software development team without senior supervision. It gives full responsibility to you for leading the team. It is sometimes known as "resource allocation commitment." Other firms, such as eBizneeds, offer senior management
Firms, such as eBizneeds, enable account managers to oversee all aspects of development initiatives. and ultimately act as an extension of the executive team in sharing accountabilities for the success of the software app.
In the current international world, firms seek more inexpensive software worldwide. Likewise, the product's quality varies, and software development costs differ in different locations. Hence, it demonstrates the chances of existing with varying sets of prices.
As per the above consideration, custom software development costs will differ according to the geographical location of your development team.
It pays more to US developers than to African developers. Moreover, the middle ground is a region in Eastern Europe where we can get quality products at an affordable rate.
7. Integrations
The other cost factor is integration, which is permitted and essential for a software product. Instead of developing new functionality from scratch and incurring additional development costs, companies can practice third-party integrations.
When the integration of parties is moderately complicated, however, a professional development team is required to effectively integrate the functionality into your software. Integrating with legacy enterprise systems occurs in more comprehensive and complex solutions.
Integration with third-party apps and APIs is less costly than developing everything from scratch. But, with the integration factors, you cannot eliminate the changes in custom software development costs.
8. Hiring Model
Another cost factor is related to the hiring model. After removing the outdoor surface, it's time to look at different choices and costs in custom software development. You must follow the below recruitment model when seeking developers:
– Expansion of the in-house team:
As per this model, hired software developers must work in the office. It indicates that the best cooperation has the maximum value.
– Outsourcing:  
This model emphasizes outsourcing the project or part of it to the software development company. Consequently, it will effectively work for you. It shows less control over product development, however, than over property selection.
– Freelance: 
This model considers hiring developers through platforms such as TopTal, Upwork, and Fiverr. It is a cheap alternative but comes with problematic service quality.
Choosing a feasible hiring model may affect the custom software development cost. Hence, you need to select the hiring model wisely.
9. Development Team Composition
A web software development team consists of a backend developer, a frontend developer, a requirements or business analyst, a control or QA engineer, a UI or UX designer, and a project manager. Some of these resources are dedicated to your project.
And some developers work on many projects (i.e., work temporarily on your project). Remember that you must hire software developers with diverse expertise to create the software. There are different categories of enhancement in this context:
– Junior: 
Although the younger classes do not integrate into the developmental age, they integrate into the individual's experience. It varies from 0 to 1 year of experience for junior developers. These experts can perform simple tasks under the guidance of senior and mid-level developers.
– Middle: 
These experts have approximately 1 to 3 years of experience. They understand how to manage challenging tasks and work on tasks autonomously.
– Senior: 
Senior developers have over five years of experience in their group. They can also take any technical summary and demonstrate the project aspects affecting the unexpected costs.
As a result, the group composition evolves with distinct experiences and hourly wages to pay.
Average Cost of Custom Software Development
There are a variety of pricing models that help to estimate the average cost.
Software Type
The price is determined by the type of solution, which means you are developing a solution for a large, medium, or small business. The cost of development varies depending on its scale.
Building custom software for enterprise-level organizations requires high-performance developers and may cost you around $250,000 to $1500,000,000; for a medium-sized organization, you may need to spend approximately $55,000 to $70,000.
The cost of small-scale applications can range from $15,000 to $650,000.
Work Hours
If we talk about the cost per work hour, it varies in different countries. So, the location and the length of your project together will help to determine the price. Large-scale solutions' development costs will be higher as they need more time and comprehensive resources to build.
Team size
Your project size determines the size of a development team. If your project is significant, you need to hire more people. Therefore, the cost will be added accordingly. A small project can be developed with the help of a small team. Consequently, the price will be less.
It is a wise decision to hire custom software development services from outside sources. Outsourcing your work to freelancers can help you reduce costs, as you can get experts at competitive prices.
Software Package
An agreement is made between the custom software development company and you to deliver the project in a specific package. It includes the cost of each development aspect, a detailed project plan, and instalments to pay. In most cases, the bill is paid in instalments.
There must be transparency in the contract to estimate the correct cost of the software.
Proposal helps estimate the cost
A proposal is an excellent way to estimate the development cost of custom software. It includes all the required functionality, features, and purposes of the solution. Then it is reviewed by vendors, who help you suggest any points you may have missed. It is a great way to assess the cost of custom software at a very early stage.

Conclusion
Estimating the custom software development costs is not challenging if the project planning is appropriate. If you make a proposal based on what your business needs, the vendor's response will show the whole picture.
One thing that clearly illustrates the pricing of custom software is the role of developers. So, whether you hire developers off-shore, in-house, or as freelancers, their experience can affect how well the project turns out.
It's a good time for you to rethink your strategy for estimating and reducing software development costs. If you feel stuck at any point in strategizing or need help, contact us at eBizneeds.com.
FAQs
Q1: What is meant by "software cost estimation"?
When figuring out how much software will cost, you have to think about how to measure the price of a possible project based on things like the resources needed, the technology used, and the time it takes to finish each task.
Q2: What are software development costs?
Software cost is related to the number of resources, technology stake, and time used to develop a project.
Q3: How much does software development cost?
Depending on our experience, we can say that the cost of custom software will range from $40,000 to $100,000. Remember that no two custom programs can be alike. For instance, custom software developed for a startup can vary in terms of complexity and features from enterprise-level software solutions.
Q4: How do you calculate a budget for a software project?
Develop a project scope.
Calculate the estimated cost for each task.
Consider hosting, maintenance, and licensing costs.
Consider contingencies and tax costs.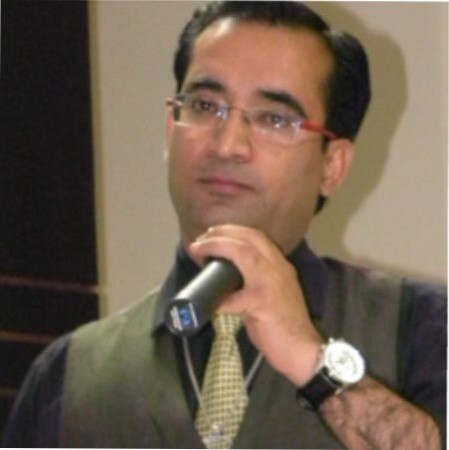 Naveen Khanna is the CEO of Ebizneeds, a company renowned for its bespoke mobile app development and web development in eCommerce app development and AI App development. Delivering high-end modern solutions all over the globe, Naveen takes pleasure in sharing his experiences and views on the latest technological trends.