Last updated on October 11th, 2023 at 11:57 am
Agriculture has been a part of human life since the initiation of development. We rely on it to store our energy and food. Agriculture and farming are the most common and oldest trades in our society.
Both have changed their ways as a result of technological advancement and time. They become highly productive in a short period of time. Hence, farmers can take benefits from building agriculture software to get the best outcomes.
Agriculture is a significant element in the US economy. Hence, the national agriculture technology program is used to improve agriculture.
Even though many of us might think about the high-tech equipment used in agriculture, the use of agriculture software development services is a huge step forward for the industry.
This blog focuses on the essential factors of agriculture software development that support farmers in enhancing productivity. It also allows them to be introduced to new agriculture processes.
Before discussing how to build agriculture software, we will discuss what is agriculture software development.
What is Agriculture Software Development?
Agriculture software is intended to provide comprehensive workflow management solutions to farmers. Agriculture management IT systems offer farmers unprecedented insights and control over their lands and processes.
It is possible if we encourage research and development in computer science, engineering, and physical science to work together.
In addition to getting access to accurate information, the agriculture sector sets up software engineering to do the following tasks:
Control of Pests and Diseases
Optimization of harvesting time
Keeping Records
Livestock Management
Performance Monitoring
Land Mapping
Crop loss prevention
Risk Management

How Does Agriculture Software Work?
A modern agriculture software technique is grouped according to the scope of the task it achieves. Let's discuss how agriculture software works.
Assess and track the day-to-day practices on a farm.
includes the features that enhance a farm's profitability and efficiency, such as irrigation software.
Available crop management
Permits to keep track of and manage the workers' progress and make it easier for them to work together and talk to each other.
develops the connected agriculture software with other techniques.
Agriculture software must be an inclusive technique to manage the most critical agriculture tasks. Therefore, it must result in enhanced data flow and increased agriculture productivity.
Types of Agriculture Software
Agriculture software is categorized into different agriculture software products. All such products enhance farm and crop quality through optimum utilization of time and resources.
The distinct kinds of agriculture software products are discussed below:
Agriculture Accounting Software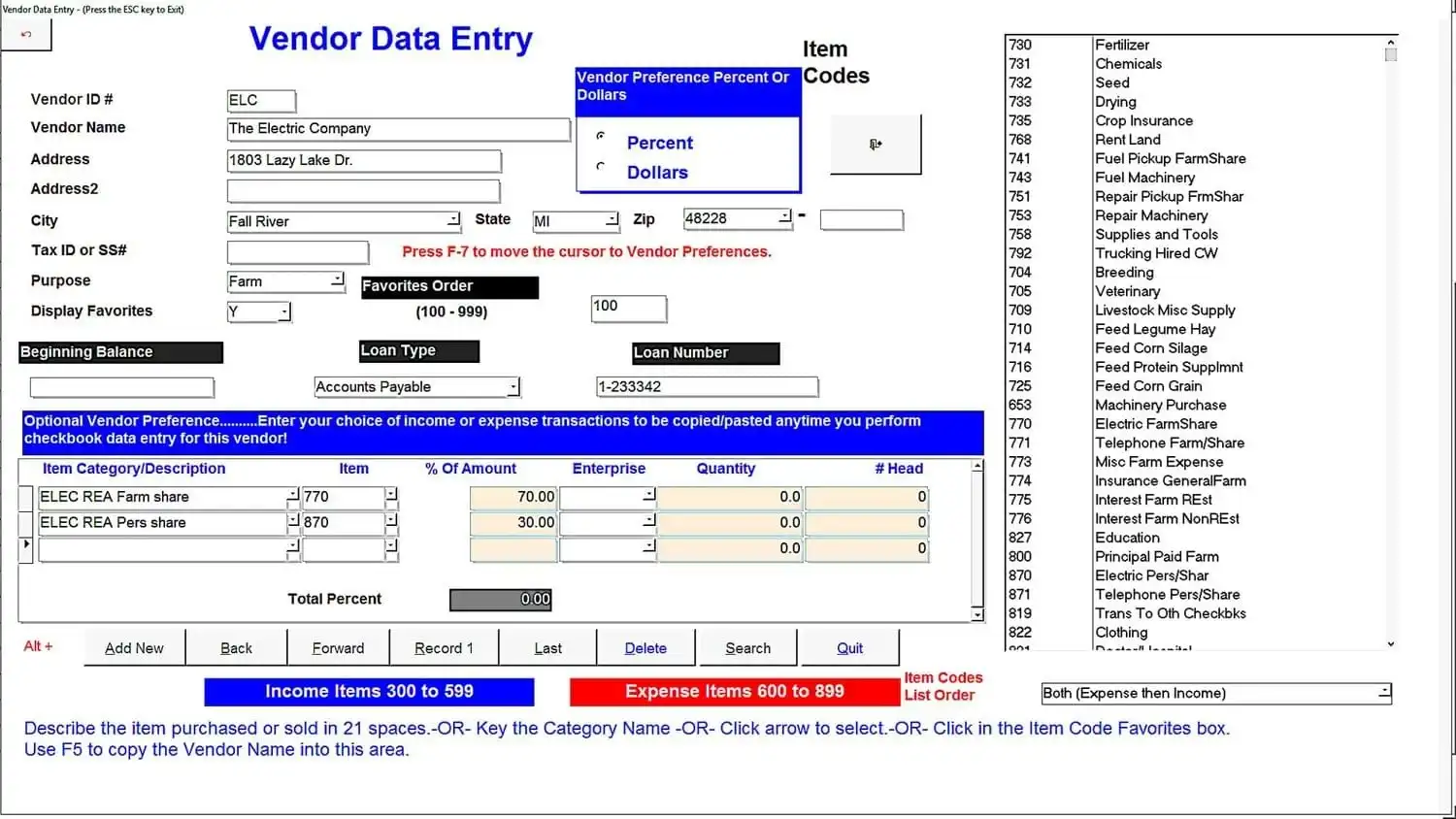 Source: Software Connect
It is another type of agriculture software. Agribusiness needs accounting software for the smooth running of financial business operations. You can address your budget, salaries, expenses, losses, and profits on one platform.
Agriculture Drone Software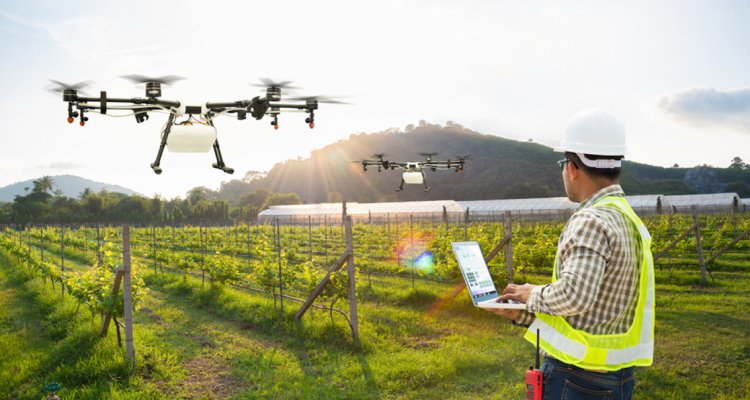 Source: WUR
It makes it easy to navigate livestock, terrain, and crops. Data gathered via these drones can help you assess the area effectively and make monitoring easy. It is not just restricted to evaluating and monitoring.
Drones can also spray crops with pesticides, fertilizers, and herbicides. The agriculture drone software offers its users an inclusive list of solutions.
The agriculture drone software's comprehensive solution lists take into account the following:
Agriculture Drone Analysis Technology
Precision agriculture drone software
Ariel Crop Scouting
Drone Field Mapping in Agriculture
Smart Farming System Solutions
UAV data processing software
Livestock management with UAVs
Drone Development Platforms
Agriculture Management Software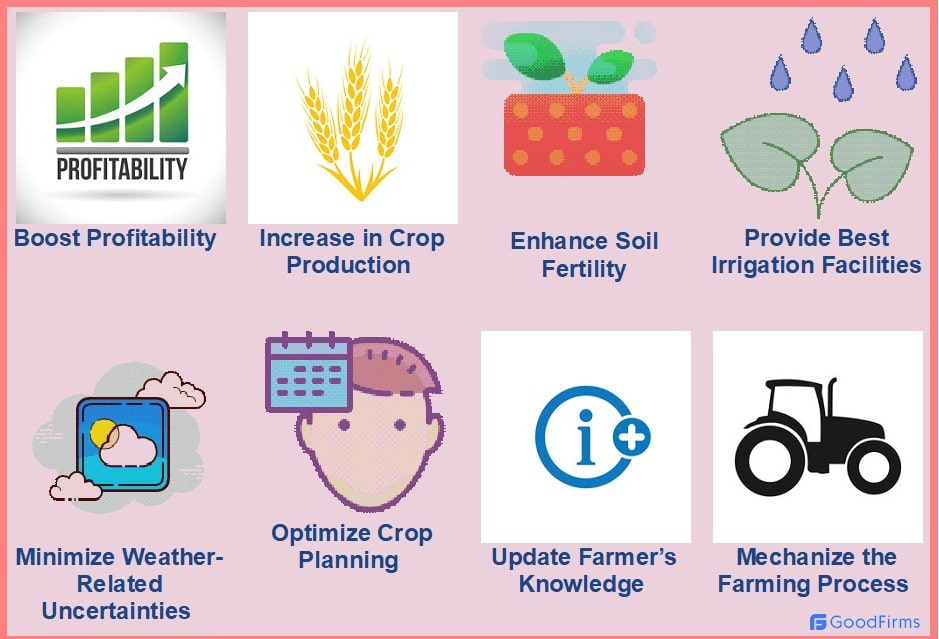 Source: GoodFirms
It considers all the management aspects related to your crops and farm. It feels like managing your produce, accounting, land, maintenance, equipment, and reporting.
Precision Agriculture Software
Source: Agremo
The API software can be combined with your current infrastructure and sensor software to modify your agribusiness. You can also use software on your phone or computer to get real-time information about your agribusiness.
The complete list of solutions provided by agriculture drone software considers the following:
Integration of Agriculture Software
Agriculture Monitoring Systems
Agriculture drone software solutions
Soil Sensors
Precision Data Management
Precision farming software
Agriculture Mapping Software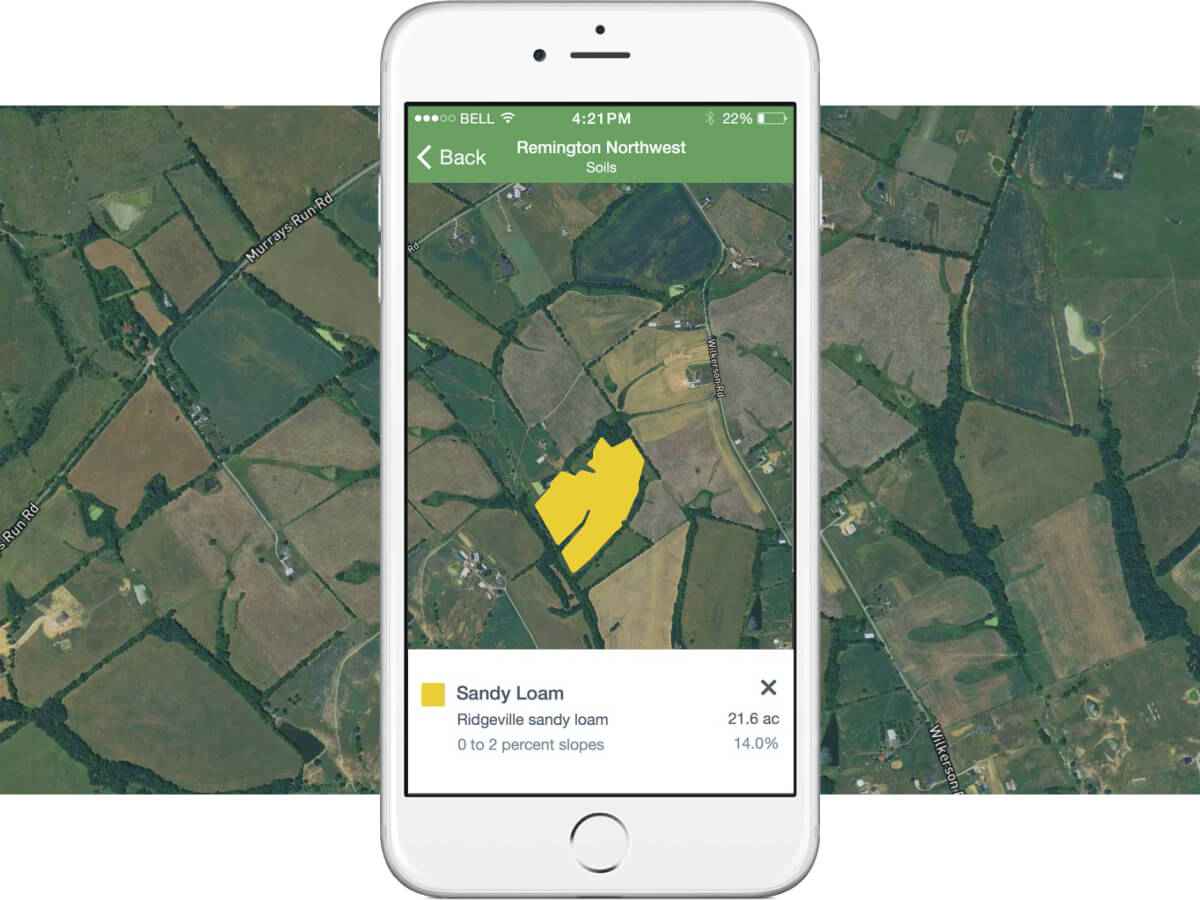 Source: Mapbox
It goes hand in hand with using drones. In this context, drones do require being programmed effectively. Hence, they can perform significantly. The drones support carrying out activities that might be challenging for manual performance.
Even if those activities can be performed manually, they may not be as significant as those done by drones. Tasks like applying fertilizer, spraying pesticides, and evaluating and monitoring the fields could be performed very simply by drones.
What Are the Examples of Agro-Technology?
Farmers can pick best technology from available different technologies in the market. All agriculture software solutions encompass the same things to enhance the farm's performance and increase productivity.
Farmers must weigh all the benefits and limitations of different choices before making a decision. Various factors can affect the final decision, like the farmer's priorities, budget, technologies, and farm's day-to-day activities.
Here, there are different examples of agro-technology.
Let's discuss it in detail.
Farm Automation
You can use automated farm procedures, such as robotic innovation, to make your agriculture business more productive and safe at work.
Such innovation occurs in computer visualization, watering devices, and automatic seeding.
Most of the time, automated solutions help farmers make more money and need less help from people.
Precision Farming 
It is a relatively new trend that supports farmers with each element of crop seeding, growing, and harvesting procedures. It is mainly related to optimizing efficiency.
Software deals in precision farming technology helps to reduce the high operational costs. The global sector for precision agriculture is estimated to be worth $43.4 billion by 2025.
Weather Tracking 
TV weather reports are not effective for farmers at the global level. Today, advanced weather tracking stations can provide timely and more feasible weather updates to farmers' smartphones.
It can also assist the farmers in preventing crop losses and reducing the harm caused by inadequate weather forecasts.
Intelligent Sensors
Smart data-gathering sensors in interconnected agriculture sectors are at the forefront of precision farming. Offering valuable data on nutrient levels and soil humidity, farmers can determine which field sectors need more fertilizer or water.
Sensors support reducing the overall effect of farming on the environment and make farmers competent in developing efficient resource management.
Food Tracing 
Software dealing with traceability for the food production sector can support:
Avoiding food fraud
Executing the food production safety rules
Increasing the efficiency of logistics and supply chains
For example, a technology called blockchain can be used to make digital ledgers that give accurate information about where products are and how the whole supply chain works.
Agriculture Drones 
Another motivating technology field for agriculture is the utilization of agriculture drones. Apart from flying above, it helps to develop the digital surface models of a farm. It also allows for next-level evaluation competencies to precisely track and measure a broader range of agriculture conditions.
When it comes to small-scale farming, drones are a better and more cost-effective option than satellite imaging.
Satellite Imaging 
In current times, satellites can offer farmers high-performance monitoring techniques. It provides unprecedented resolutions for the image. Farmers can utilize satellite imaging technologies to assess their field crops in detail remotely.
As a result, it contributes to significant cost and time savings. Agriculture software uses satellite imaging to significantly improve precision farming. It is integrated with field-based data-collection sensors.
What Are the Benefits of Agriculture Software?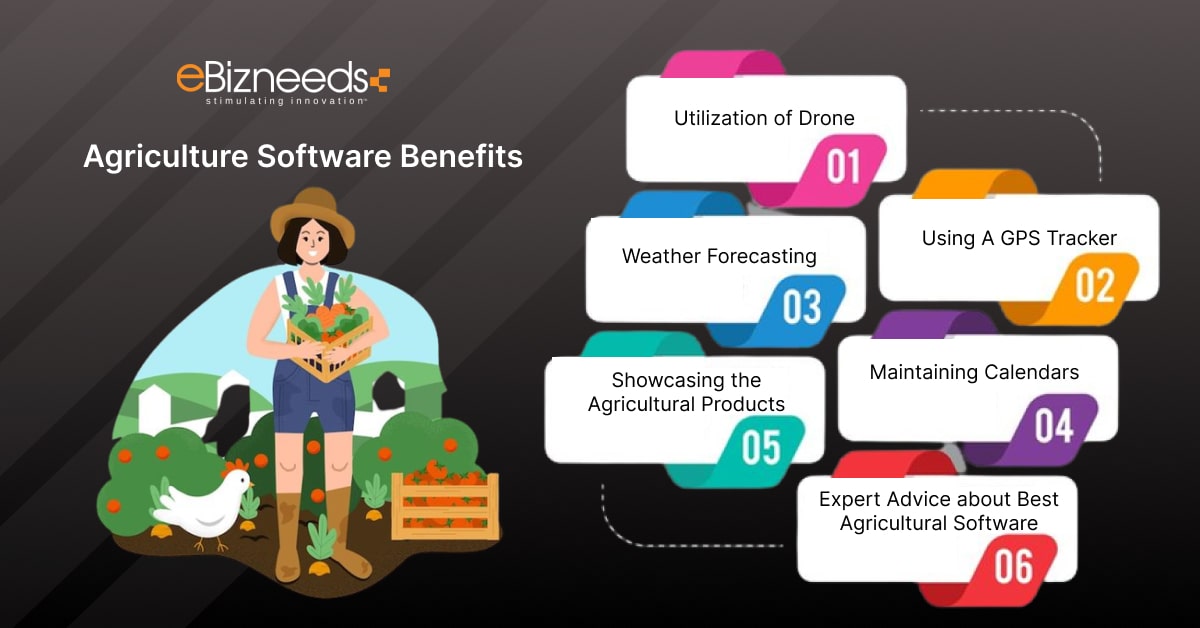 Developing agriculture software is essential to optimizing the overall farming process. And, it assists farmers in strategically planning their farming operations. There are different benefits of using agriculture software for farmers.
Let's take a closer look at the benefits of agriculture software.
Utilization of Drone
It can be used to water the plant or sprayed everywhere during farming. It will help to ensure the profitability of the company. Using the embedded thermal camera makes it simple for farmers to keep track of the area where they require water more or less via software.
Using a GPS Tracker
It can assist the farmers by restricting them from gaining admittance through roaming among the fields. It permits them to estimate any place in the area within seconds, whenever required.
Increasing Fertility with Agriculture Software Development Services
Modern technology is highly beneficial for farmers in the agriculture sector. If more people work in the agriculture business, then more productivity is required from the company. We all understand that the population rate is increasing.
In such circumstances, each effort must be directed toward building agriculture products that each individual can feed on.
Weather Forecasting
Weather forecasting is one of the significant factors in the context of agriculture. The agriculture software can notify the farmers regarding the lousy climate. It makes them competent to help farmers decide their crops more significantly.
Maintaining Calendars
A variety of agriculture software is available on the market. It supports the farmers in maintaining their farming schedule. Farmers who use farming software prevent themselves from failing to complete a task at a specific time.
Showcasing the Agriculture Products
With the support of agriculture software, farmers can demonstrate their products to their prospective customers. This way, it would have a clear idea about a product offered by customers. After assessing the outcomes, customers can make a buying decision.
Expert Advice About Best Agriculture Software
Before you come to the farm, you must carefully examine the crop and seek expert advice. Through Agriculture Software Development Services, farmers can access crop experts at any point to discuss distinct concerns and get permits to get solutions for them. It helps maintain real productivity.
Meanwhile, the agriculture sector is increasing daily due to advanced technology. Farmers can provide the best-expected results by utilizing different agriculture and farming software.
Popular Features of Agriculture Software Development
Growers now have access to more than 50 software programmes. There are different features of Agriculture Software Development but sometimes it may be exhausting. The simplest way to avoid confusion is to select the agriculture software that best meets the unique demands of your business.
Different software for the agriculture sector considers different features and depend on different data. Let's take a closer look at each of these features:
Labour Management with Agriculture Software Development
The software will support keeping track of your productivity and human resources. The software will keep a schedule for employees.
You would be aware of the labourers' working hours and the amount of money they generate. Due to the tracking list in agriculture software, you would know whether you need to make changes to become more dynamic.
Field Management
It is impossible to monitor all the fields effectively. But, by using the agriculture software, there would be no running between the sectors to keep an eye on everything.
You can assess crop rotation or irrigation by using the software. The agriculture software schedule will consider the timing of manure or cultivation. Due to software, field management would become much more accessible.
Real-time Data
Getting actual data is significant for enhancing your productivity. Farmers can get real-time data analysis by using agriculture software. The software will offer all the scheduled information for the chosen diameter of the field.
You also do not need to rely on someone or wait longer to understand if the area is ready for seeding or how the irrigation system is functioning. This software will also notify you about the farming schedule of your program.
Inventory Management
The agriculture software will support maintaining the inventory. The farmers can track the products related to their warehouse. They can also handle the number of goods they create on their farms. By using agriculture software, there will be no chance for human error in different products.
Collaboration
You will be competent at contacting and sharing your thoughts and ideas with trusted groups. The agriculture software will allow you to form groups with friends to improve yourself and efficiently do farming. Hence, with good counsel, your productivity will enhance immensely.
Weather Reports
The software will be competent for forecasting the weather, which will be highly significant for scheduling the work. You would understand the ways to protect your crops in advance.
Accounting with Agriculture Software Development
The agriculture software will support accounting. It will calculate the yield and profit amount for your developing crops. Due to that, you will have a clear idea about your field's effectiveness.
At the end of this blog, you may think about customizing the agriculture software for yourself. Although there are different companies, you must choose the perfect one. It could support you in selecting the best one among other companies.
Agriculture Software Development Process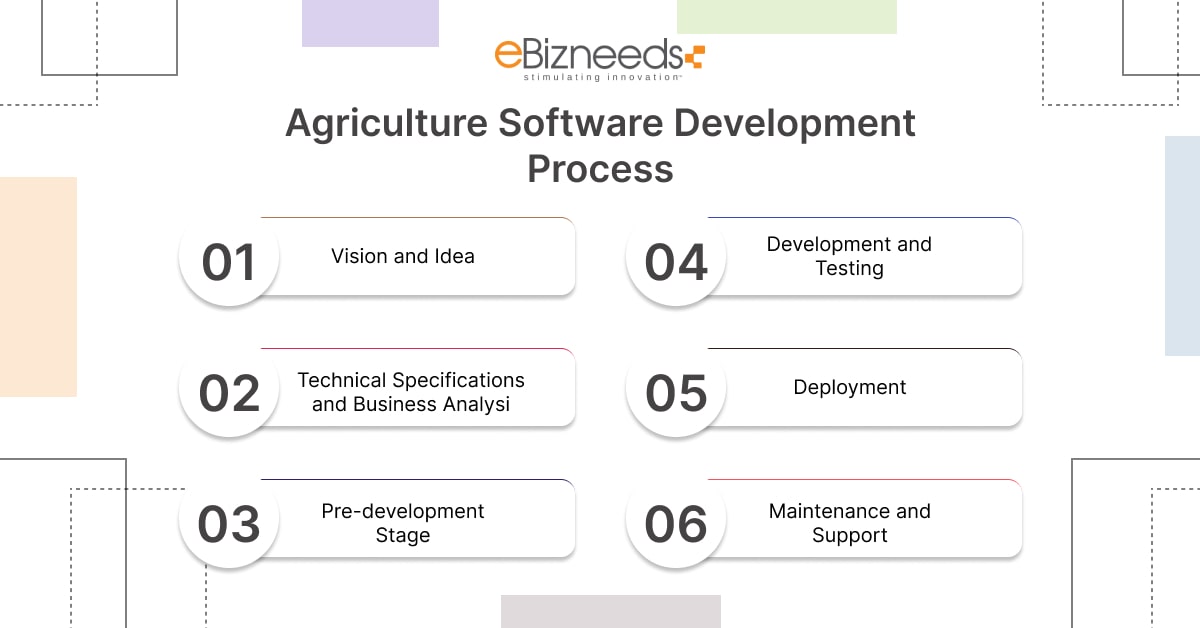 Planning is crucial for agriculture software development because it has complicated development process. Here, we went into great depth about how to build agriculture software.
Step 1: Vision and Idea
You must first codify the responses to these fundamental investigations:
Who are your prospective customers?
What prospective nation or region do you have? Which operating system, such as iOS or Android, is most well-known in this area?
Which problem would your software identify?
Who are your primary competitors? What can you do more effectively than they can?
How will you make money from your software?
After you've addressed each of such concerns, you'll want technical specialists to assist you in translating your concepts into a set of capabilities.
Step 2: Technical Specifications and Business Analysis
A business analyst is a specialist with strong technical skills who can identify the most effective technology solution for problems in the real environment. Generally, a technical specification seems to be the result of a business analyst's effort.
It is a legal statement that takes into account every aspect of the development process, including cost, timeline, and staff members. It is also product of the work done by business analysts. It would let you manage the process, design the agriculture software, as well as test the idea.
Additionally, it would provide developers with guidelines and serve as an assurance for the customer that they would obtain the precise result they are looking for. You must undergo this stage if you want to create software for agriculture.
With its assistance, you can manage the process, create the program, and test your project.
Step 3: Pre-Development Stage
The whole project is now being developed by developers, including the APIs, backend, cloud storage, third-party solutions, as well as software design.
The planning phase is crucial for complicated software since it forces programmers to plan carefully and provide the groundwork for future expansion.
Step 4: Development And Testing
The agriculture software development begins at this point. The quality control team starts testing the program feature by feature while employing all these little delay.
Agriculture software is created to be utilized just outside of the market, making it challenging to test it. As a result, you should guarantee that your staff has knowledge of evaluating items in actual settings.
It is crucial for testing agriculture software in actual conditions.
Step 5: Deployment
Before your program is available to the general public, this is the last phase. You may deploy the program and start collecting data when your experts have made sure it satisfies all software store requirements.
Your target market would determine your user acquisition approach. The greatest course of action is to use conventional and online marketing to promote your software immediately to farmers.
Step 6: Maintenance And Support
The creation of agriculture software sometimes doesn't stop with deployment. Without ongoing maintenance, no software can endure. As new frameworks and technological advancements are developed, the globe switches to different operating systems, however your software has to stay current.
After it is placed for using, your software must be maintained in order to remain current and provide the most benefit to your users.
You may improve existing functionality and create new ones even during maintenance phase. Additionally, it modifies the project very slightly. It will make sure your program is viable and offers the greatest amount of value to users.

How Much Does It Cost to Develop Agriculture Software?
After discussing how to build agriculture software, let's move on further to understand the cost of developing agriculture software.
Remember, there is no fixed cost for developing agriculture software. Still, essential agriculture management software costs about $25k to $60k. And, moderate agriculture software costs around $40k to $85k. It depends on the kind of software you are developing.
Factors Affecting the Cost of Agriculture Software Development
Different significant factors affects the agriculture software development cost. Let's take a closer look at each of these.
Software Complexity
One reason why it costs more to make agriculture software is that the software are getting more complicated. The more complex software is, the higher its price will be. It will also increase the time for agriculture software development.
Hence, if you are running short on time and budget, do not make your software complex.
Software Size
Due to several features in agriculture software development, its size will be larger, and ultimately, the cost of agriculture software development will be higher.
Hence, if you want to keep the Agriculture software cost low, keep the software size as small as possible while considering the significant features.
Software Developers' Location
The last significant factor affecting the agriculture software development cost is the location of software developers. The region of agriculture professionals is highly important in deciding the cost of developing agriculture software.
Hence, you need to choose the location of the developer prudently. Hiring dedicated developers in the UAE is recommended, as they charge less than developers in other locations.
These significant factors may affect the cost of developing agriculture software. But remember, the price keeps fluctuating from one software to another.
Tech Stack for Building Agriculture Software
Usually, there are different ways to develop a agriculture software by hiring an agriculture software development company. You can also create an in-house developer team, which is highly costly.
After deciding on software idea, it is time to turn those ideas into software using cutting-edge technology.
There are different ways to make software for agriculture, but we've talked about some of them here:
Frontend
Our agriculture software developers use strong front-end technologies to make software with a great user experience (UX), a smooth user interface (UI), and easy-to-navigate internal structures.
Backend
You can use the backend stack, which includes programming languages, frameworks, databases, and web servers, to make operations run smoothly.
Mobile App
As one of the best agriculture software companies, we select a mobile technology stack that is fully compatible with the entire development, maintenance, and design processes.
Flutter
Android and iOS
Hybrid
React Native
Key Takeaways On the Topic of Agriculture Software Development
The best agriculture software is important for managing and automating food safety, accounting, crop management, inventory, and many other things.
Let's assume you are planning to enter an emerging agriculture management market. In such a case, you must consider the best competitors and something unique.
First, you need to work with experts in software development who will help you set business goals in the right direction.

FAQs
Q1. What are the three types of agriculture in the USA?
The three kinds of agriculture in the USA are row cropping, produce farming, aquaculture, and animal husbandry.
Row cropping includes corn, cotton, soybeans, sorghum, peanuts, sunflowers, sugarcane, and other crops.
Growing cabbage, cauliflower, broccoli, Brussels sprouts, cucumbers, and lettuce is an example of produce farming.
Aquaculture and Animal Husbandry include farming catfish, oysters, swai, shrimp, raising cattle, hogs, eggs, dairy, poultry, and carp.
Q2. What are the four agriculture products in the USA?
The USA's different agriculture products are cotton, fruit (berries, apples, and melons), tree nuts (pecans, almonds, walnuts, pistachios, and hazelnuts), and corn.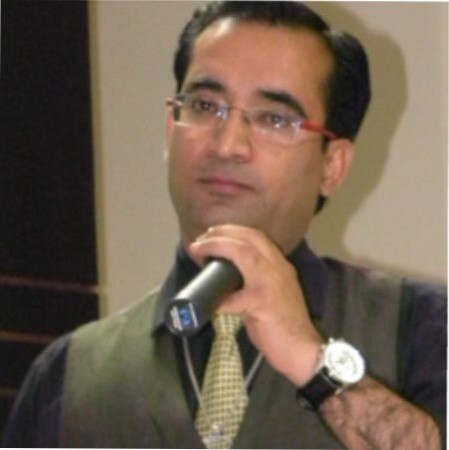 Naveen Khanna is the CEO of eBizneeds, a company renowned for its bespoke web and mobile app development. By delivering high-end modern solutions all over the globe, Naveen takes pleasure in sharing his rich experiences and views on emerging technological trends. He has worked in many domains, from education, entertainment, banking, manufacturing, healthcare, and real estate, sharing rich experience in delivering innovative solutions.