Last updated on October 11th, 2023 at 10:57 am
In this new tech world, every business has a website or app that helps to complete every task from the smallest to the biggest. Hiring web developer for startups are a fast-growing trend that keeps up with the increasing demand for websites and apps.
Web developers make and take care of websites and software applications. They use a set of complicated coding and programming languages to create instructions in the form of commands that a computer can understand.
For successful web and mobile app development, you need a team of dedicated developers or a single dedicated developer. Almost every startups company hire web developer to get support for their projects.
Hiring dedicated developers help to avoid the additional cost of keeping full-time developers on staffs like paybacks, salary, and reimbursement.
The main goal should be choosing a team to fill skill gaps and make things go as smoothly as you want. Then, with the help of the best developers, you could take your business to the top of its field and attract customers worldwide.
They will be responsible in the project from the beginning to the end. If you put the right amount of money into hiring a web developer, they will help you to assist in your startup business.
Benefits of Hiring A Web Developer for Startups
Website development is the key to the success of your business, no matter if you're starting and need a new website or an established business looking to update your old one. It would be better to hire web developer for startups in the USA  to get benefits.
Let's delve a deep more about it.
1. Planning and strategy
Planning and strategy are the keys to develop a good website. When you hire a company for website development in the USA, you have access to a team of experts in website development.
They work on your project while keeping your long-term and short-term goals in mind and the preferences and buying habits of the people you want to reach.

2. Less Time Consuming
Hiring a web developer helps startup business to save their time and provides added value because through this, they can provide services on the time. As a professional web development company, we ensure all our projects are done on time and to the highest standard.
3. Project Management & Quality Assurance
Professional web development companies also have project managers and quality assurance experts who ensure the end product is up to equivalence and tested on several quality parameters.
4. Affordability
When you hire web developer, you get a lot of benefits, from getting the job done on time to better project management and lower costs. If you think of hiring web developer for startups in the USA, you would require more cost and you couldn't be more wrong.
Since you have access to a team of developers, designers, and marketing experts, it is always a cheaper option than hiring one in-house developer.
Steps to Hire Web Developers for Startups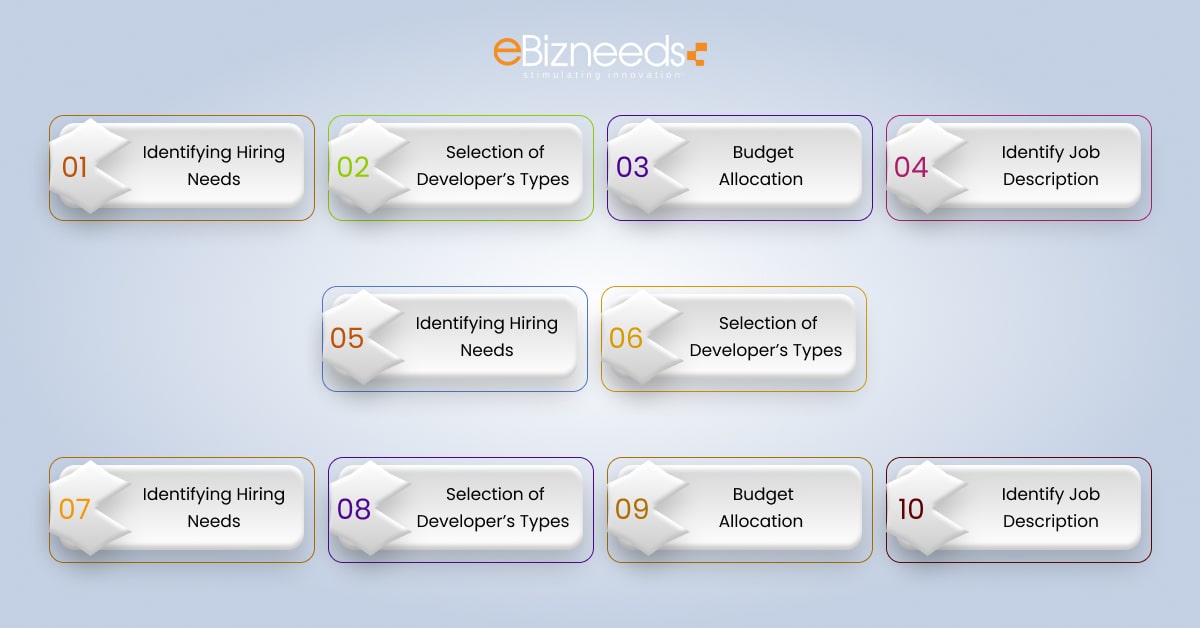 Developers are hard to find and keep, even in high demand. Only 1.71% of unemployed professional developers are actively looking for work. For startups to compete with big tech companies in a high-value-added field, they need to find ways to hire the best developers that go beyond pay and the norm.
So here, we will discuss how to hire web developers for startup.
1. Identifying Hiring Needs
Start by making a plan for hiring web developer. Once you know these things, you can choose the best technology stack for your product. A startup needs to hire familiar developers with the tech stack used to build the app.
This is the first step in ensuring your product meets the company's goals. It also makes it easier to hire good developers. Here's how to figure out what your business needs to do to get there:
Before you write any code, you need to figure out what problem your solution solves, if it needs an interactive user interface, and if it needs to be user-friendly or fast. All of these things depend on your business goals.
Whether the apps are web-based, mobile, cross-platform, or desktop doesn't matter, you can hire Web Developer for your startups.
Different projects require different development stacks. With so many programming languages, technologies, frameworks, and tools on the market, choosing the right stack is essential to ensure your product meets your business goals.
If you need to get your product out quickly, you can choose from some essential, ready-to-use Ruby on Rails libraries or other no-code solutions.
If you want to overgrow, the tech stack you use must be able to scale.
Not all technologies are the same level of safe, so you have to build with the best security and risk-mitigation practices in mind.
Once you know how your product works at its core, you can do good recruitment planning. It will help you to speed up the process and make it easier to hire people from start to finish.
2. Selection of Developer's Types
If you are thinking how to hire web developers, this blog will guide you to choose them based on your needs such as whether you want to outsource, hire freelancers or have in-house developers.
You can even hire developers on a project-by-project basis, which lets you pay them a fixed price for the length of their contract. If you want more flexibility and your startup is in its early stages, you can hire web developers to help you to meet your changing needs.
On the other hand, outsourcing adds more costs that can be avoided by automating more of the hiring process with the right HR software.
There are more pros to hiring an in-house development team than cons. You'll have better communication and coordination, and your product will improve. Also, your in-house team will have more context and expertise you can't find elsewhere.
Remote developers are more cost-effective for a startup that is just getting started. It all comes down to determine the employment model that best fits your start-up's needs.
3. Budget Allocation
Whether you're a cash-strapped startup or have a lot of capital, budgeting is essential at every step, even when deciding how much you can spend on hiring developers.
When allocating the budget, hiring a skilled and high-quality developer is one of the most important things to do. Tech giants are trying to hire away every available developer with perks and bonuses, making the competition challenging. However, startups are still at the top because they are more creative. Startups hire the right people, giving them more freedom, stock options, and better relationships with the company.
Web developers cost requires small budget if they have affordable rate. For example, instead of allocating your budget to recruitment agencies, you could buy software that lowers the recruiting cost. You can cut costs even more by hiring developers from places with less competition to work from home.
4. Identify Job Description
Before hiring web developer for startup, you need to know what kind of specialist you're looking for. The search results will be better if you know what you want clearly. For example, front-end and database developers do very different things.
Start by writing down the role, what it involves, and what skills you want your developers to have. Then, you can write the perfect job description. Even though it takes a long time to write detailed job descriptions, startups might be smart to use templates from reputable sources.
Here are some ways to make your developer job description stand out and attract the right people:
Ensure your JD is easy to read by writing in the second-person point of view and addressing the reader as "you." It needs to have all the essential facts, be well-organized, and be easily read.
Consideration of Tech Stack
Give a list of the most critical technologies and skills that are needed for the job.
Be honest about your start-up's culture and mission; let that come through in how you talk about it on JDs.
Startups do well when they immediately show developers what benefits they can offer. If your company values a good balance between work and life and encourages flexible hours, it should be on the JD.

5. Source of an Appropriate Developers
Finding suitable candidates can be challenging if you don't know where to start. Here are some of the best places to hire web developer for startups:
Stack Overflow
Github
LinkedIn
ZipRecruiter
Reddit.
Hackathons and other events for developers can also help you meet new people and build new relationships. And the best way to reach all of them without going over budget is to use an applicant tracking system (ATS), which lets you post multiple job boards with just one click and for free.
Startups can also look at real-time data that shows which job boards give them the best developers and how much money they make from those developers. This lets you worry less about the admin work and more about finding the best developer.
Even though employment agencies and software development companies can do the sourcing for you, it can get expensive, and they might not be doing it just for the startup's benefit.
6. Shortlist the Feasible Applicant
Traditional ways of vetting applicants are neither efficient nor good value for money. By the time you get to the end of the list, some of the best developers may have already been hired by other companies.
With modern HR tools, you can screen candidates and make a short list of the best ones. Since every web developer has their own set of skills, it's easy to shortlist by researching their reliability and eliminating them based on your needs.
Using HR software, you can automatically screen the resumes you get and eliminate those that don't meet your requirements for the developer's role based on skills, education, and experience.
7. Develop the initial call
How a developer makes you feel at first can make or break your search for the best one. Your first email should be attractive enough for the best people to join your startup. Set your goals and the benefits you can bring to them.
Once you've set up the next call with the candidate who cut, you'll know what interests them, what they want, and when they meet your requirements.
8. Conduct the Interviews
A standard interview and technical evaluation are the best ways to find your ideal candidates. Even though it can be scary to do everything independently, the right tool will make it easy to organize the process and narrow your list of candidates.
With an interview scheduling tool, you can handle the whole process from start to finish on the same platform. This is because it automates assessments, schedules interviews, and lets the startup owner and team discuss the discussions and whether or not the candidate is a good fit.
After you've talked to the potential web developers and given them a programming task to evaluate them, here are some things to watch out for:
How excited are they about the role of driving for your startup, the learning curves, and the chance to directly contribute to the mission and vision of your startup?
Experience, a portfolio, or an area of expertise should be something that can be put to work.
Are they able to work well with others? Will this person get along with the rest of your group?
Is this person capable of being a leader? Does this person have enough drive to take charge of their field in your startup?
You can hire web developer for startup based on their skills, knowledge, and ability rather than their experience or brand names.
9. Make offer letters
Ensure the contract spells out all the terms and work orders as soon as you've found the right person and completed all the job offer details. It's vital that you and the person you're thinking about hiring agree on the same thing.
Lastly, the official offers should be made as soon as possible so you don't lose your top hire.
The offer management software helps you do this quickly and satisfactorily. It comes with offer letter templates and lets you set SLAs for offer rollouts. You can also sign documents without paper and see how many offers are accepted and rejected.
10. Inducing New Web Developers
How do you ensure the web developers you've hired for your startup don't know how things work in your office? How you introduce them to the team and make them feel like they belong is essential, as is making sure they have everything they need to work with confidence.
By 82%, your startup will be able to keep the developers it hires if the on-boarding process is smooth and a plan and best practices are in place.
Software for on-boarding new employees can help you to focus on building relationships and getting work done. A solution can handle all your on-boarding tasks, from filling out paperwork to get to know your new employee.

Conclusion
Hiring web developers can be challenging for startups in their early stages. Startup owners don't have much space to move around to find the best developer for their team.
We've shown that outsourcing is a good idea and given you a step-by-step plan for finding the right developer.
FAQs
1. How to hire web developer for your startup?
Freelance developers often use sites like Upwork, Toptal, and Guru to find work.
If you want to hire web developer for startup, you can use Github, LinkedIn, Stack Overflow, and other social media sites with job boards. You can save money when you hire from LinkedIn.
You can hire outsourcing companies or meet developers at Hackathons, meetups, and development conferences.
2. When to hire coders for a startup?
Depending on the startup, you usually hire your first developer when you need to fix a problem with your product. For example, you should hire your first developer when you need a prototype, an app, or issues that no-code solutions can't fix.
If you're starting a business and don't know much about technology, it helps to have a developer with you when making your product roadmap.
3. How many developers do I need to hire for my startup?
The number of required web developers for startups depends on the scale and complexity of your product. Early-stage startups only need one or two developers to build the minimum viable product.
If you're building a mid to large-scale project and plan for rapid growth, you may need to hire an entire team.
You can even break the whole project into smaller parts called "micro-services," allowing you to employ two to three developers at each stage. And the best way to attract, interview, hire, onboard, and retain them all is by using ATS. 8,000+ growing businesses trust the award-winning software.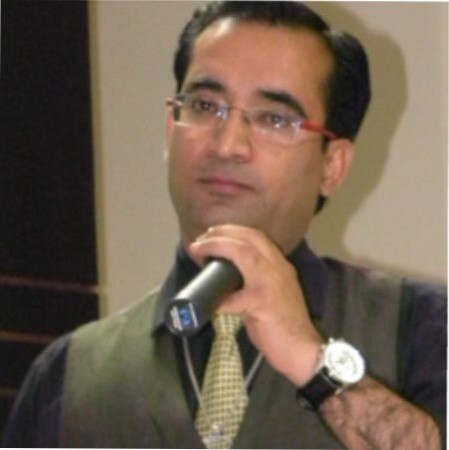 Naveen Khanna is the CEO of eBizneeds, a company renowned for its bespoke web and mobile app development. By delivering high-end modern solutions all over the globe, Naveen takes pleasure in sharing his rich experiences and views on emerging technological trends. He has worked in many domains, from education, entertainment, banking, manufacturing, healthcare, and real estate, sharing rich experience in delivering innovative solutions.