The logistics sector needs creativity to overcome challenging limits in modern digital times. The fundamental cause for implementing mobile apps in this sector is the competency to have real-time data regarding products, vehicle status, and employee efficiency.
Personalized and user-friendly logistics mobile apps can highly enhance the effectiveness of supply chain management and logistics processes.
By using Logistics App Like Locate2u, the supply chain and related businesses have extended. Logistics apps have brought higher transparency among freight forwarders and avoided all mediators for attaining trustworthy supply chain procedures.
What is a Logistics App?
A mobile, web, or desktop logistics app lets firms coordinate their shipments. Logistics App Like Locate2u commonly involve features for users to assess their shipments' status in real-time and track them via GPS history.
Logistics apps share functionalities with other commerce and business management apps, such as inventory and accounting. Renowned logistics app instances consider Uber Eats, Instacart, and Postmates.
Logistics Market Statistics
The logistics app domain considers some encouraging numbers in the field.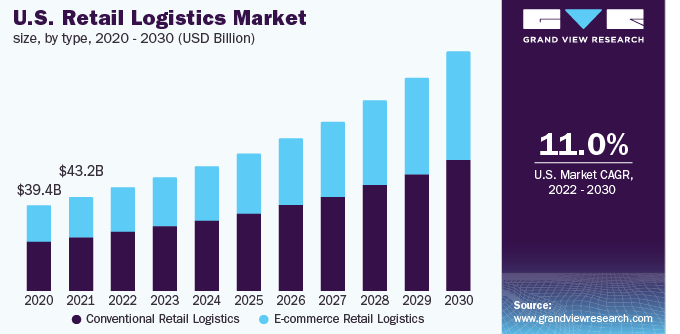 Source: grandviewresearch.com
The US retail logistics market was worth USD 43.17 billion in 2021.
It is estimated to expand at a compound annual growth rate of 11.0% from 2022 to 2030.
The escalating demand for retail logistics across the US due to the pandemic is predicted to drive market growth in expected times.
How Does A Logistics App Work Like Locate2u?
Logistics App Like Locate2u plays a significant role in completing business success in the fast thriving environment. Moreover, a well-planned app can assist you in streamlining operations and helping the retail sector.
However, it would be best to comprehend how your logistics business operates and functions to make it work that way. In this place, logistics apps can support your logistics company greatly by ensuring real-time monitoring, shipment management, fleet tracking, and more.
Hence, if you plan to develop a logistic app Like Locate2u, here are a few significant phases you must go through.
Phase 1: A parcel request is created through shippers and offers data associated with destination, weight, size, load, and origin.
Phase 2: The drivers get notified by shipping descriptions, and once they approve the shipping request, they provide instant shipping services.
Phase 3:Once the driver accepts the delivery request, he will deliver the parcel by using the in-built GPS functions and tracking the vehicle's real-time location.
Phase 4: The shipper is notified after the cargo is delivered, and a beginner is created.
Types of Apps Required in Logistic Businesses
Before shifting to logistics mobile app features, let's have a snapshot of Logistics App Types:-
Fleet Management App
These fleet management apps provide consistent data from handling different armada vehicles to following their tasks. These apps can record all the identified data with the fleets and send them to the executives.
You can distribute the app to vehicle drivers and deals with the management from beginning to end.
On-Demand App
Web designers can prefer to use on-demand apps as it provides effective solutions. For using transport and logistics app development, it can support you in transmitting the products as per the client's needs. It also causes you to relate with the customer.
Warehouse Management App
Warehousing operations are similarly a set of coordination businesses. From tracking the fleets to returning to a warehouse, the app keeps convenient for maintaining the administration process feasible and essential.
Process Tracking App
This app supports you with following field of your driver. You can find constant updates regarding conveyance and your fleets course.
Similarly, users can focus on complicated transport and logistics app development that considers all the highlights for achieving the different needs of your business coordination.
Top Benefits of Creating a Logistics App Like Locate2u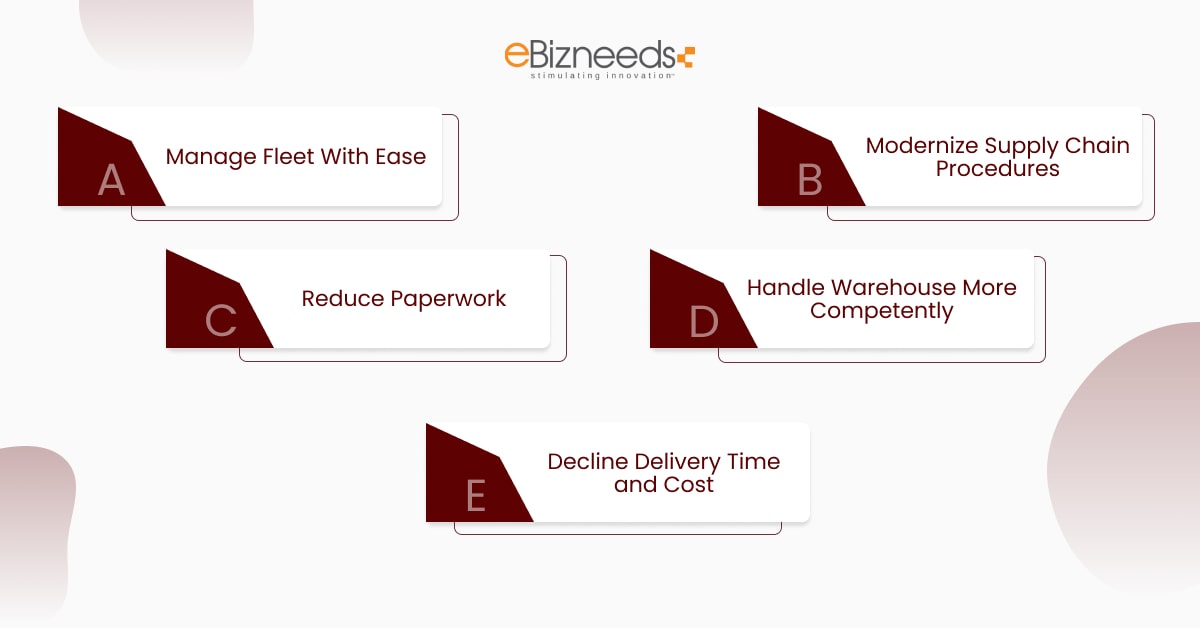 Logistics and supply chain companies must offer good speed, higher resilience and predictability for maximizing the service quality for retailers. Keeping this in mind, different small logistics companies will need to develop a logistic app.
Here, we will discuss a few benefits of developing the logistic app.
Manage Fleet With Ease
You can manage and track the data of commercial vehicle information in one place.
Users can assess the technical circumstance of your trucks and handle their concerns through obligatory inspections to address any issues with engines and brakes.
The data-driven approach related to this app will assist you in handling business more effectively via tracking data of drivers, the allocated trucks, vehicle routes, vehicle capacity, and other management tasks.
Reduce Paperwork
The transport and logistics app development procedure will avoid conventional paper forms and service order methods with business automation. You can also send e-bills, create online payments, settle electronic delivery proof, and track delivery.
Therefore, it provides a facility to access the data faster, save time and waste less paper and money.
Decline Delivery Time and Cost
Easy vehicle tracking and real-time data updates would make your business highly controllable and transparent.
You can schedule freight delivery, estimate fuel costs, and manage the routes with feasible information. Therefore, logistics apps will not only make your workflow more visible, but they will also require less cost.
Modernize Supply Chain Procedures
Logistics App Like Locate2u will support you in reducing the unrequired steps in supply chain procedures and managing them, offering a perfect workflow.
Furthermore, assimilating blockchain technology for logistics apps modernizes this sector by providing an end-to-end, transparent, robust, and secure supply chain infrastructure.
Handle Warehouse More Competently
In the logistics sector, one of the significant areas of function is handling the warehouse sector.
You need to keep inventory track to understand how many goods are shipped and maintained in the warehouse. You must ensure that any trucks must not leave half-empty or overloaded and that the inventory does not run out of supplies.
AI-based logistics mobile apps can streamline your warehouse management procedure by managing the inventory space and providing reminders of its statuses.
Logistics App Features to Integrate Like Locate2u
When you hire the logistics app development company, you will get a full service with different panels like Admin, Users, etc. Let's look deeply at them when evaluating the must-have features of the logistics app.
Users Panel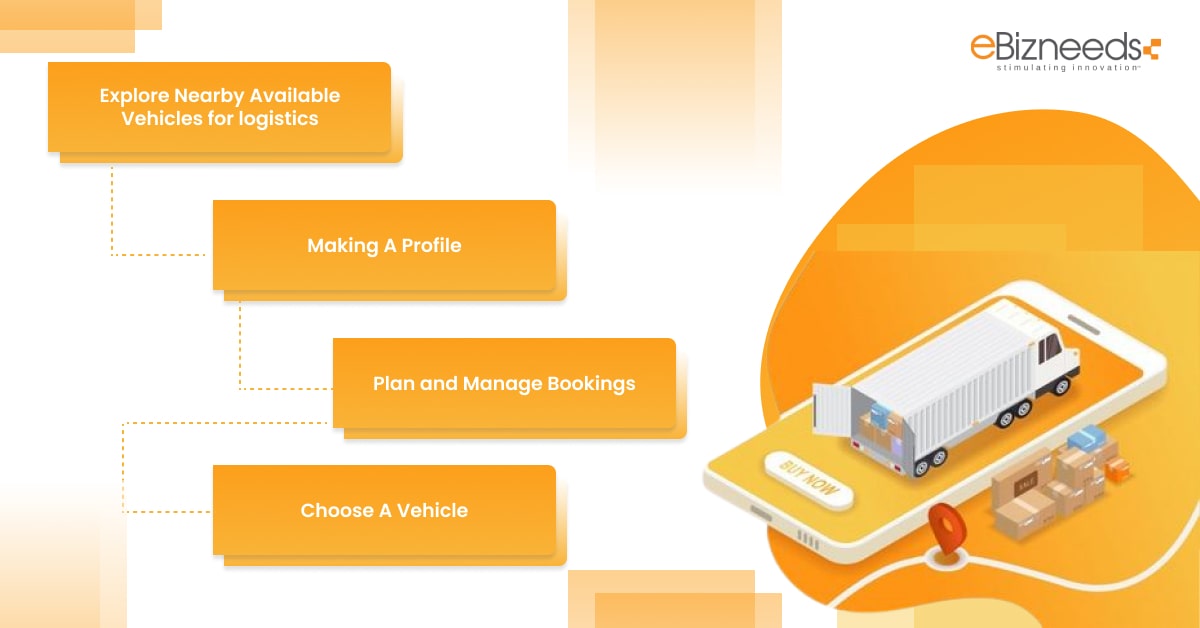 Explore Nearby Available Vehicles for logistics
Users can now search for the nearest vehicles available for transportation.
Making a Profile
Once you download the mobile logistics app, the user's significant step is registering and developing a profile. Users can sign in with their current Gmail and social media justification or create new accounts.
Plan and Manage Bookings
Users can schedule the bookings according to their interests and needs. They can handle the booking as per the date/time, or it could be rescheduled. Moreover, the user can pre-book by mentioning the pickup date/time and also location.
Choose a Vehicle
These logistics mobile app features allow customers to choose the ideal vehicle from the available alternatives. But, the consignment size for delivery simplifies the whole procedure.
You should offer them correct step-by-step data to reduce confusion and license new customers to use the logistics app efficiently.
Driver Panel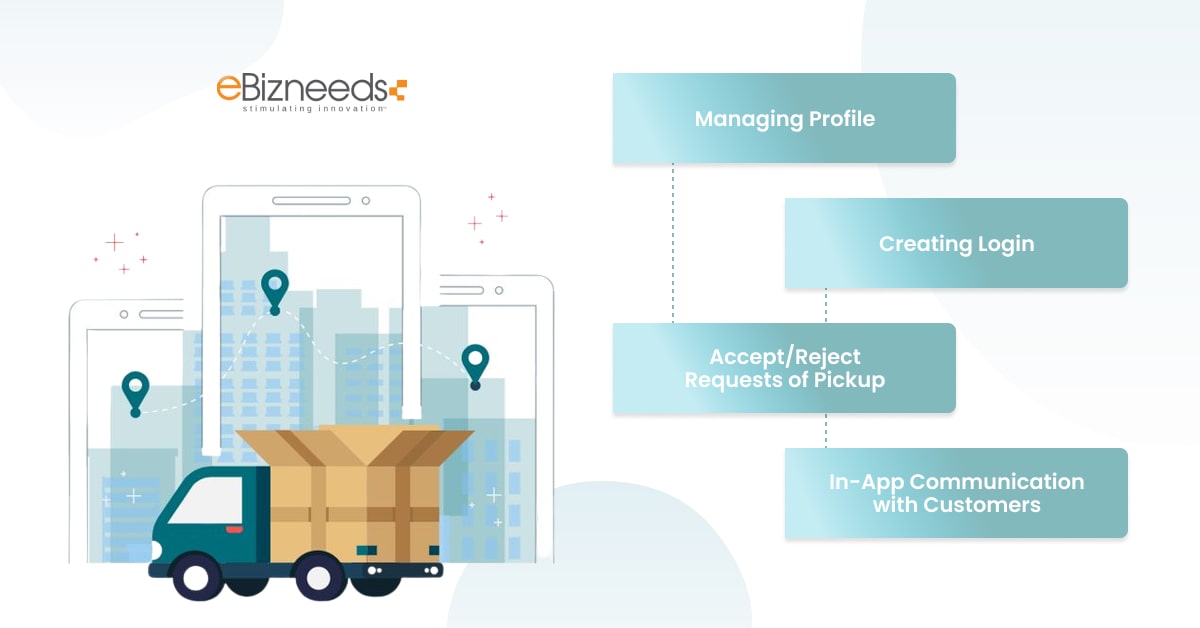 Managing Profile
It is another significant feature since it permits drivers to date the data on their profiles. It is sometimes required for the driver to update their profile statuses, like changing addresses, licensing details, or other data.
Creating Login
The driver should initially sign into the logistics application. The driver can sign up using their email address or social media profiles. Logistics app developers must ensure that the login procedure is easy to use and straightforward.
Accept/Reject Requests of Pickup
This feature permits the drivers to reject or accept any pickup request or order according to their choices.
In-App Communication with Customers
We have an in-app chat or calling function to share or eliminate contact data. These transport and logistics app development features will enable drivers who cannot find the correct address of customers.
Admin Panel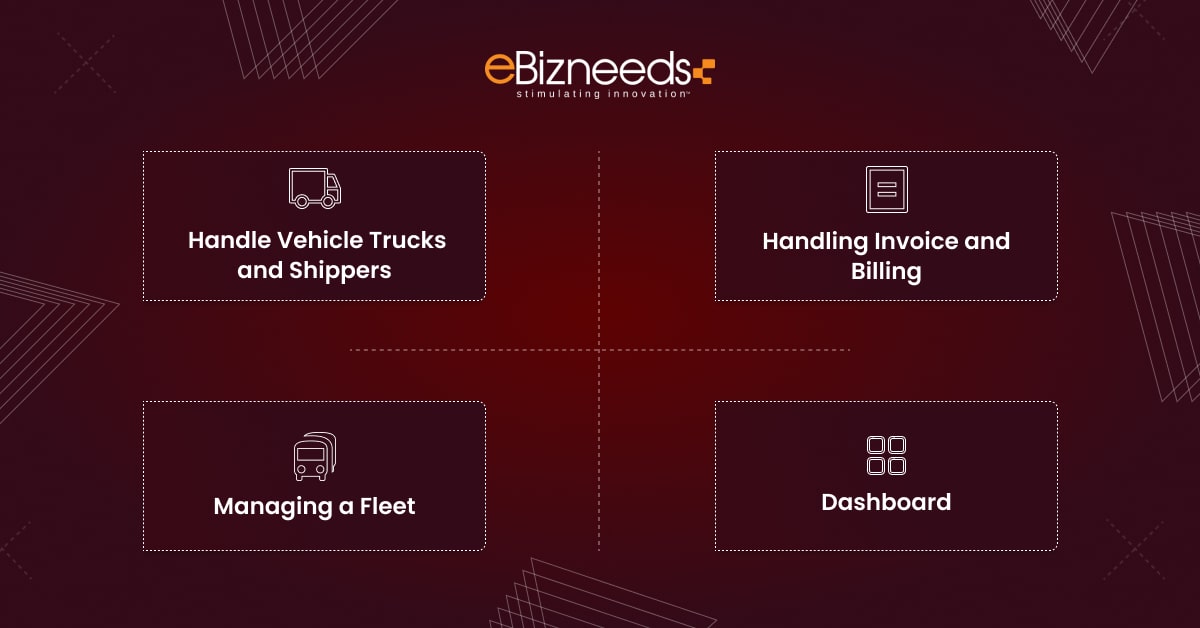 Handle Vehicle Trucks and Shippers
The vehicle transporters and all extra costs incurred while making deliveries are managed and stored.
Dashboard
It is another essential feature wherein an admin can track all logistics app development practices. The admin is significant in the transport and logistics app development. However, it does keep all records of drivers and customers.
Admin is accountable for the whole app, such as complete orders, pending orders, etc.
Managing a Fleet
The best feature for improving a logistics app is fleet management. It lets the administrator see where their Fleet is right now. But it can help the administrator point out providing the shortest route directly to the driver.
With the help of fleet management, it's easy to get in touch with the drivers through the app, so there's no need to call them.
Handling Invoice and Billing
The admin can make and change invoices using the manage billing and invoice features. But the application only says a few words about the administrator.
Admin also handles payments by approving the driver's fee and reviewing other transactions.
How Does An On-Demand Logistics App Development Generates Revenue?
People are moving to online platforms because there is a lot of demand for business solutions that can be done digitally. This strategy or module helps businesses to grow and gives them multiple ways to make money.
Some of the ways an app owner can make money with transport and logistics app development services are listed below:-
Ads
When people use the app for free, it's a great way to make money because it can make a lot of money by showing ads.
Paid Apps
The app makes money because users pay a set fee to get a license to use the app for life.
Furthermore, if the app has a strong USP, users will pay to download it, which means the owner can make a lot of money.
Freemium Business Model
It is a common way for apps to make money. Users get some basic features for free but must pay for more advanced features. So, the app owner gets a way to make money.
Commission
Commissions are the best way to make money with this app. The app's owner charges a fixed fee to drivers who want to be on the platform. So, it helps the person who owns the app and those who drive earn money.
How to Develop A Logistics App for Your Businesses Like Locate2u?
To ensure transport and logistics app development goes smoothly and works well, you must follow the proper steps and do each step perfectly.
If you meet the requirements for each step, the seven steps below will help you to make the best application possible: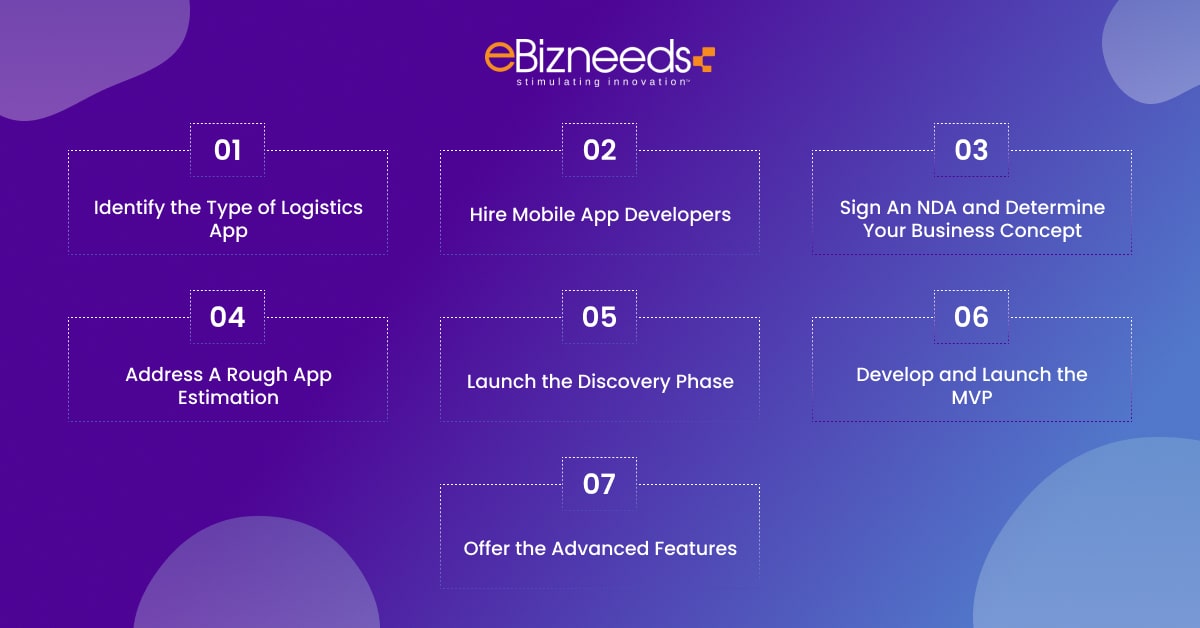 Step 1: Identify the Type of Logistics App
Logistics include many different areas, so logistics apps have other goals, end users, and features. Now, you must decide what kind of app you want to make. You can pick from the following:
Logistics On-Demand Mobile Apps
Warehouse Mobile Apps
Fleet Management Mobile Apps
Step 2: Ask for a Quote
Your goal is to consider the team's technical skills and how well they can talk to you and the client. But does it make a difference? There are a lot of good logistics app developers, but the project's success depends on how well the team members can communicate with each other. It requires "soft skills."
How to Find the Best Mobile App Developers:
Technical blogs where industry leaders share helpful tips with their clients
Professional social media networks like LinkedIn
Review sites for clients, like Clutch or GoodFirms
Once you've decided on the best logistics app developers, you'll need to contact their salespeople, usually through a contact form on their website.
Step 3: Sign an NDA and determine Your Business Concept
Once your request has been answered, a sales manager will contact you to discuss the project. But you don't have to tell people who aren't yet your tech partners everything about your Logistics App, Like Locate2u. So, if your business idea is good, a sales manager who likes it will send you an NDA (Non-disclosure agreement).
But if you have a short deadline, ask the person to sign a non-disclosure agreement before the first call. Tell the sales manager about the development of the on-demand logistics app, such as its features, users, etc. The sales manager will send this information to business analysts, who will guess how much your app will cost.
Step 4: Address a Rough App Estimation
Because so many technical details and requirements need to be worked out, a rough estimate of how much the app will cost is not the same as the final cost of your project. So, avoid companies that say they can make a full logistics app for a low price.
You can choose the winner by comparing rough estimates from mobile app developers, such as timeframes, technologies, team size, and hourly rate.
Step 5: Launch the Discovery Phase (Inception)
The discovery or idea phase can take anywhere from one to three months. During this time, your logistics app development company will ask questions about the app's business logic, functions, end-users, and how they use it to create a project specification.
Another thing that comes out of the discovery phase is the prototype of an app. The prototype is an interactive design comprised of several screens depicting the main app's design elements. Follow the link to try out our app prototype.
After the discovery phase, the team will show you the app's prototype, send you the project's specifications, prototype, and final cost estimate, and wait for your feedback.
Step 6: Develop and Launch the MVP of Your Logistic Application
Before making the full-featured app, the mobile logistics app development team in the USA will make an MVP app (minimum variable product). The minimum viable product (MVP) is an app version wherein only the features you need to prove your business idea. The development team will do the following things to make an MVP:
Make a plan for developing the app's MVP
Start the development phase
Put the app's MVP on the app stores
Step 7: Offer the Advanced Features to the Logistics App Like Locate2u
After getting user feedback, you and your development team will decide what next-level features to build. Think about adding features like:
Digitized paperwork
Built-in messaging
A digital gallery with pictures of freight to your logistics app
Ability to change the status of a shipping order
History of shipments that have already been sent
Choosing the Best Tech Stack for Logistics App Development Like Locate2u
The technology stack for developing a logistics app is a set of programming languages, frameworks, libraries, and other tools used to make a logistics app that works well and can grow as needed.
The tech stack that our skilled logistics app developers use can significantly affect different factors, such as the final product's performance, scalability, user experience, cost, and time and money.
Here are a few of the most popular technology stacks that we offer for logistics app development:
Backend Technologies
MongoDB, MySQL, or PostgreSQL are used for the database.
js and Express.js are used for the logic on the server side.
We use technologies like Stripe and PayPal Mobile App to connect the payment gateways.
Either AWS, Firebase, or Azure is used to host and run the app.
Frontend Technologies
We use CSS, HTML, and JavaScript to make better user interfaces.
Bootstrap and Material-UI are used to design.
Build the mobile app with React Native, Angular, or Vue.js.
Mobile App Technologies
The database uses NoSQL
Cross-platform apps like React Native, Flutter, Ionic, and Xamarin
Stripe and PayPal are used as payment gateways.
We put the app on the Apple Store and the Google Play Store.
Additional Technologies
Stripe, PayPal, or another payment gateway must be integrated.
MongoDB or MySQL is used for database technology
Google Maps is used in Maps Integration
Firebase Cloud Messaging must be used for push notifications.
JWT, OAuth, or another authentication method must be used for Authentication and Authorization.
AWS, Google Cloud, or Azure are used for Cloud Platform
Our logistics app developers may choose to use a different technology stack depending on the needs of the logistics app.
What is the Estimated Cost of Creating a Logistics App Like Locate2u?
As we've already discussed, the final cost of app development depends on how your on-demand logistics mobile app development process works.
How much it costs to make an on-demand app depends on how it was built. For example, the cost of making a simple on-demand app for logistics would be between $30,000 and $120,000.
The cost of developing a logistics app for an on-demand app with a medium level of complexity would be between $120k and $200k.
The cost of developing a full-fledged, complex, on-demand logistics app could be anywhere from $200k to as much as you want it to be, depending on things like the design of the mobile logistics app, the features of the mobile logistics app, etc.
Along with some answers, let's look at the factors that make up the final cost of developing a mobile logistics app.
Choice of the Tech Stack
You might already know that the cost of making a Logistics App Like Locate2u will depend on your chosen tech stack. When we talk about programming languages, it's costly to hire mobile app developers who know Swift, Golang, and R.
In the same way, new languages will have fewer libraries and frameworks, which will add to the overall development work.
Let's talk about the best technology stack for developing on-demand logistics apps:
| | |
| --- | --- |
| Must-have features | Technology Stack |
| Frontend development | CSS, JAVA, BootStrap, and Swift |
| Push notifications | Push.io or Twilio |
| Backend development | Python, Ruby, Javascript, and Angular |
| Payment Gateways | Braintree, e-wallets, and PayPal |
| Real-time analytics | BigData, Apache, Cisco, and Spark |
| Credential login | Twilio or Nexmo |
| Cloud platform solutions | Google Cloud, AWS, Oracle, Microsoft Azure, and IBM |
| Database requirements | Postgres, Cassandra, MongoDB |
| DevOps | Chef |
| Applications and Data | Amazon Elasticache, Angular, Amazon RDS, BootStrap |
Backend and Frontend Developmen

t
What you choose to do for Backend and frontend development will be a big part of how much your logistics application will cost. More specifically, it depends on the design, frameworks, tools, and technologies you choose for your Logistics App, Like Locate2u.
Either Monolithic or Micro-services will work. However, those frameworks for micro-services tend to be more expensive than those for monolithic. Still, it's all worth it due to providing logistics applications that can be scaled up.
Platform (Android or iOS)
You could choose either Android or iOS as the platform you use. Because Android is so fragmented, it can be a little more expensive to make apps for it than iOS.
Cross-platform app development is a third option for developing logistics apps. If you choose cross-platform logistics app development, your app will work great on both platforms, and its performance won't be any worse than that of a native app. Also, it saves money compared to making the app for both platforms separately.
Application Type
Since it's an on-demand app, the logistics app development cost tends to be higher than for any other category, like social media and e-commerce. Because this single app has three separate panels, it needs the same resources as the three apps.
So, it's clear that a logistics app that works on demand will cost more than other apps that don't work on demand.
Location of the Company
The location is one of the most critical factors in figuring out how much it will cost to make a logistics app. It is known that hourly growth rates increase as you move from east to west.
The above factors directly affect how much it costs to make a Logistics App Like Locate2u. However, you can always change your on-demand logistics app to fit your customer's needs.
Development of Team Size
You don't need to be told that the cost of developing a logistic mobile app will be less if you hire a reliable and experienced on-demand app development company to do it for you.
Companies that make apps on demand have an advantage over freelance developers: they can guarantee the high quality of their mobile and digital solutions.
We're finally done talking about how much it costs to make a logistics app and the other things that affect the cost.
Conclusion
The future of on-demand logistics app development looks good based on all the statistics and predictions that are available right now. Since logistics mobile app development came along in logistics, things have gone more smoothly, and processes have been streamlined.
Technology trends show that AI and other modern technologies are increasingly used in logistics, which is a big deal for this industry.
We can expect Logistics App Like Locate2u to be made possible by AI to make logistics and warehouse management even more accessible. IoT is another next-generation technology that will change the logistics field.
FAQs
What are some ways a custom logistics app Like Locate2u can make money?
Depending on what you need and what people want, we can add several ways to make money from your on-demand Logistics App, Like Locate2u, such as installation fees, a freemium model, commission-based revenue streams, and in-app advertising.
Can the extra features be added after the mobile Logistics App, Like Locate2u, has been released?
Yes, we can add custom new features to the app even after its release. You can talk to our experts right now to find out more.
How are the security and safety of my business data ensured?
At our company, protecting our client's information is a top priority, and we do everything we can to keep it safe and private. Our advanced data protection systems use encryption, secure keys, firewalls, and other security measures to keep your information safe. We promise to keep every bit and byte of our client's data safe and secure.
What factors should I consider when selecting a logistics app development company?
As one of the best companies that make apps for logistics, we suggest that before you choose us, you check out our past work and see what the market thinks of us by reading our online reviews and ratings on the listing portals.
Also, finding out about our team and asking about our business and subject matter expertise is essential.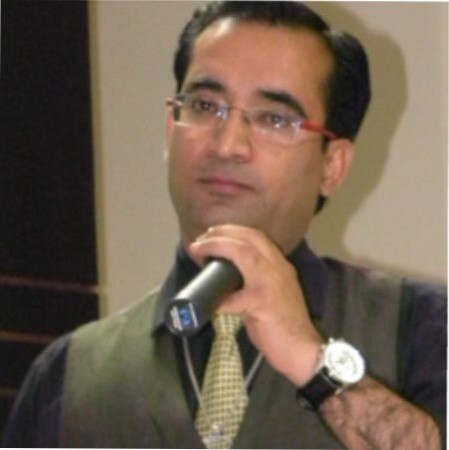 Naveen Khanna is the CEO of Ebizneeds, a company renowned for its bespoke mobile app development and web development in eCommerce app development and AI App development. Delivering high-end modern solutions all over the globe, Naveen takes pleasure in sharing his experiences and views on the latest technological trends.