Last updated on October 20th, 2022 at 05:03 am
The evolution of technology and innovations has urged various business companies to shift their presence online through B2B website development for higher user engagement and business profitability.
Designing a B2B website that can cater to the needs of your business is a difficult task. And there is no doubt that most business website projects run over budget and sometimes do not promise to deliver the services that your business needs.
You must ensure that your end project is not a disappointment for you, so focus on everything through the gaze of a modern B2B buyer.
A modern buyer is comfortable in accessing the information, data, and resources at their own time, in their own space. Apart from all of this, users expect their online presence to be simple and seamless. 
Gone were the days when business websites purely focused on aesthetics. If you want your business website to be successful, you must ensure that it aligns perfectly with the buyer's needs and demands. 
In this digital era, customers have evolved way too much, and they prefer doing extensive research and exploring a wide range of options before making a purchase. Even after exploring your sales reps personally, customers look for digital channels as their purchase motivation. 
This whole process includes exploring various websites to search for the best options with safe payment gateways for online payments. Thus, the user buying experience will totally depend on your website's usability and design.
Nowadays, websites are not considered as a brochure to display your products. Instead, it is considered as a way of converting visitors into customers by offering them smooth experiences. 
It doesn't matter whether you are a small start-up or a large company. Every successful B2B website requires proper implementation and strategy to make it a successful approach. The strategy is based on a combination of experience and expertise.
With a full-planned preparation and strategy, nothing can stop your business from becoming a successful brand in the market.  
What is a B2B Marketplace Platform?
Business-to-business marketplaces share a lot in common with various other eCommerce platforms. Still, they have curious features that require your consideration. So, before continuing to the vital phases of B2B platform development, how about we start with the B2B marketplace definition.
In this manner, you will perceive how these platforms are not quite the same as different organizations occupied with eCommerce business. 
A B2B marketplace is a place on the web where dealers offer their products and services. Instead of B2C websites focused on end clients, these platforms target different organizations. Thus, the expression "business-to-business marketplace." 
It is significant that payments on such marketplaces are done by B2B transactions of various types. The most famous of them are: 
Bank transfers
Paper checks
Credit cards
Wire transfers
Various types of Business-to-Business Websites
In the first place, the classification of online B2B website development marketplaces depend fundamentally on products and services offered. 
Vertical vs. horizontal B2B e-commerce platforms
As per the market share, we can divide B2B platforms into vertical B2B marketplaces and horizontal ones. 
Vertical marketplace platforms focus on a particular specialty or offer products to specific organizations. The exemplary models are Joor (design attire) and Toursworld (B2B travel marketplaces). 
Simultaneously, horizontal marketplaces offer labour and products from any domain or segment. The principal marketplaces of such kind that strikes our mind is Amazon Business.
Product-based vs. service-based B2B marketplaces
As the name suggests, product-based B2B multi-merchant marketplaces offer physical merchandise to organizations. This marketplace type is noted for high investments and overhead costs. That is the reason why developing a product-based marketplace might end up being a somewhat costly venture. 
For example, on Alibaba and Global Sources, purchasers can discover practically any type of product. 
Service marketplaces, in their turn, assist organizations with fixing their problem areas by offering them the necessary services. These services might incorporate content creation, event management, talent recruiting, food cooking, and so on. 
The notable examples of B2B services marketplaces are Toptal and Upwork. These platforms assist associations with employing the most skilled experts globally.
Market Overview of B2B Marketplace Domain
Forrester predicts that  in U.S, B2B eCommerce transactions will reach $1.8 trillion by 2023. This figure will make up 17% of the total number of B2B deals in the United States for the predefined period. 
As you can see, the eventual future of the B2B marketplace area looks extremely encouraging. Do you consider how to sell web design services on a B2B market that will give us a net profit? We recommend that you pay attention to the following B2B market trends:
The Target Audience Changes Gradually
Earlier, individuals from Generation X were principle B2B clients. Nowadays, we can observe the shift towards millennials in such a manner. 
Digital Marketing Strategies are Implemented Widely
Before entrepreneurs used traditional promoting techniques, for example, cold pitching or trade shows to acquire new clients. These days, offline marketing has been replaced by digital marketing strategies. For example, Augmented Reality (AR) and Artificial Intelligence (AI) are effectively used nowadays. 
New Payment Alternatives are Being Adopted
Checks, terms, and buy orders stay the primary payment choices for B2B purchasers. However, mobile wallets, for example, Amazon Pay or Apple Pay, have been progressively well known now. Aside from them, third-party financing and Automated Clearing House are acquiring force. 
Customer Personalization Happens 
The new information shows that 50% of clients feel that improved personalization is a central element for B2B platforms. Thus, brands effectively use AI, client information, and AI to customize client experience.
Key Player of the B2B Marketplace Domain
Let's have a look at the leaders of the B2B marketplace that have been dominating the market with their customer-driven services. By exploring their business strategies and approaches, you can better understand your customers, and you will have better chances to succeed. 
Amazon Business;
Alibaba.com;
ThomasNet;
Global Sources;
DHGate.
Challenges and Opportunities in B2B Marketplaces
So, you have decided to develop a B2B website for your business, but how are you going to make your website a successful approach for your business. Before beginning with the B2B development approach, you need to consider the challenges and opportunities included in the B2B marketplaces.
The very first thing that you need to consider is to hire B2B website developers that can create websites as per your business requirements and needs. 
Challenges
Some of the most common challenges that most of the start-ups face while setting their foot in the B2B marketplace are:
Building Long-Term Trust-Based Relations with Clients
It's not a secret but a secret that acquiring new clients can be cost-intensive. Thus, maintaining good relations with existing purchasers turns into a foremost concern for all organizations. 
For a business-to-business marketplace, this errand goes to a whole new level. Rather than B2C eCommerce platforms, online B2B marketplaces can survive with a small client base. They don't really have to develop new methodologies to engage new customers.
Providing Customers with Exceptional User Experience
Your B2B marketplace site needs to be easy to understand to bring you steady pay. However, clients actually will, in general, use personal computers while placing an order. They begin searching for the necessary items on mobile. Considering that, the mobile optimization of your website needs to be your first priority. 
It would be a smart idea to offer purchasers self-service features. Thusly, you will make order management and real-time processing more convenient. Recollect that these processes need to be open on all gadgets to set up an easy-to-use experience.
Handling Huge Orders
If you choose to make a B2B marketplace, set yourself up for the mass request conveyance. The odds are good that large organizations will be paying immense orders on your B2B discount marketplace. 
How might you deal with mass requests? To start with, you can set up unique limits for such purchasers. Individuals purchase items in enormous amounts to get a discount markdown. So why deny them such a chance? 
Likewise, it would not damage to make an exceptional presentation page for discount buys. Give clients every one of the necessary subtleties to guarantee trust in the mass request framework on your online B2B marketplace.
Payment Gateways
The brilliant principle is to make the payment choices advantageous for clients, and there is something else! You need not disregard the consistency with global legitimate and monetary guidelines. 
Also, with regards to B2B marketplaces, the normal request esteem regularly is a lot higher if we contrast them and B2C or C2C online marketplaces. That is also explicit payment techniques used in every nation and value vacillations dependent on the number of things requested. 
Opportunities
The B2B marketplace offers a huge pool of opportunities, and many business organizations have started to leverage the benefits offered by the B2B marketplace. 
B2B Processes Need to be Streamlined
With regards to B2C online business platforms, any customer's solicitation can be tackled with a single tick. 
That isn't the situation with business-to-business marketplaces. Enormous organizations actually will, in general, execute utilizing obsolete advancements. They will, in general, depend on telephone, fax, and pen-and-paper. 
Without a doubt, they don't do this to no end. Stacks are excessively high, so trust should be guaranteed between parties. In any case, proprietors of B2B multi-merchant marketplaces should figure out how to smooth out the means of the exchange cycle. Along these lines, its effectiveness and features will be altogether expanded.
Business-to-Business Domain Remains the Blue Ocean
When in doubt, new client situated marketplaces definitely know their rivals. They will, in general, follow set up platforms like Amazon or eBay marketplace and discover innovative approaches to work on their contribution to get the high ground. 
Concerning the web B2B software development, there are numerous classes without a solitary dominating solution. 
At the point when you characterize a vacant specialty or somewhere in the vicinity called a blue sea, you can zero in on tracking down a one-of-a-kind answer for a chicken and egg issue. Subsequently, you improve the chances of acquiring a strategic advantage in building network impacts.
A B2B Marketplace Launch can Improve the Business's Offering
For well-settled organizations, beginning an online marketplace is a decent method to carry additional worth to their contributions. 
In addition, you get a chance to develop relations with your clients and work on their steadfastness. Your environment of outsider providers can satisfy different purchasers' needs at any phase of the client project. 
Step-by-Step Guide for B2B Web Design and Development
We don't have to remind you how important an organization site is in 2017. Most associations with your organization will happen on the web, and similarly, as face-to-face, initial feelings are everything. Indeed, 38% of online clients will quit drawing in with a site completely if its content or configuration is dull, as indicated by HubSpot.
B2B sites are no special case, with 40% of mobile phone and tablet proprietors utilizing their gadgets to look for B2B items. For generally little to fair size organizations, the website development world is an unknown area. So, whenever you've hired a website development company or freelancer, use this exhaustive aide as a beginning platform for your project development.
Step 1: Research Your Competitors' Websites
This stage can be executed inside or with your organization or designer. The following are a couple of tips on the cutthroat exploration measure: 
It's ideal for analysing similar organization B2B business website development just as circuitous competitors' intended for motivation 
Think about features across all competitors: What works? What doesn't? 
Look for recent fads to remain serious and look outside of your industry for an interesting viewpoint.
Step 2: Choose a Website Platform
Before you can start delivering your ideal B2B site, you need to choose the right host to house your new site structure. Most organizations decide on a substance the board framework (CMS), and we commonly prescribe WordPress to all our site customers.
WordPress is a famous, simple-to-use CMS stage and offers online discussions to assist its clients with tackling issues without the cost of an in-house developer. But, the genuine excellence of WordPress lies in its completely adaptable nature. With the utilization of different modules, you can undoubtedly make a site your own.
Step 3: Create a Complete Timeline
Collaboration and openness are absolutely vital in building a successful website. Work intimately with your office or project worker to set up an development timetable, which will include: 
Every one of the phases of site advancement, from imaginative idea development and copywriting to advancement and testing 
Due dates for every achievement and those answerable for each subsequent stage being developed 
Deadline for launch date (soft and hard launch dates, if relevant) 
Recall that each undertaking is essential to the following, so skipping around in the process will blow up eventually. Adhere to the course of events by delivering opportune, merged criticism to stay away from lost amendments.
Step 4: Discuss & Approve Designs
After examining a customer's assumptions and brand character, originators will normally start by making landing pages and sub-page ideas. The following are a couple of site configuration best practices to think about when conveying your necessities to a planner: 
Make a mobile-friendly website 
Use huge, superior grade and ideally custom symbolism 
Perfect, semi-level plan to permit clients to handily discover what they're searching for 
Straightforward symbols to convey administrations and arrangements 
Clients can recognize a templated look, so ensure your site looks special and on-brand
Step 5: Define the Site's Structure
When the imaginative symbolism is characterized, settle the design of your site: 
Start with the sitemap: Define the construction, chain of importance and fundamental necessities of your site dependent on your expressed destinations and brand technique. 
Guarantee satisfactory features: Some components are simpler to create during the coding system, so figure out which functionalities are imperative to carry out first. One element that B2B customers by and large longing is the capacity to "portal" content, which creates leads through structure entries. 
Consider SEO best practices: SEO warrants its very own blog (here's one: SEO Hacked Everyone Should Know in 2017). However, remember more extensive SEO thoughts to guarantee your webpage is streamlined for web indexes: 
Speed is everything. Pick a dependable host and be aware of components with huge record sizes. 
Continuously know about UX. Clients rule the web, and Google knows it. Ensure your site is fabricated coherently; to assist guests with discovering what they're searching for, your hunt rankings will endure. 
Incorporate keywords: Make a rundown of the keywords you are positioning for, just as the ones you want to be positioning for. Incorporate them into your duplicate, title labels and meta depictions.
Step 6: Start Wordsmithing
The objective of most B2B sites is to fuel the business pipeline with advertising qualified leads (MQLs) instead of close arrangements. To assist your webpage with accomplishing this objective, follow these tips for B2B site content: 
Keep duplicate basic and brief: B2B items and administrations are regularly profoundly specialized or concentrated and in light of the fact that educated authorities aren't generally the essential purchaser persona, use edible language to clarify your proposition. 
Incorporate deliberately positioned CTAs: Provide a convincing proposition, for example, a free demo or counsel in return for contact data. This sets up a need and instructs guests on contributions, helping kick off the business cycle. 
Keep up with brand uprightness at each level: It's significant that substance on your site conveys a consistent character and provisions a composing style that reverberates with your purchaser personas. Accomplish this by adjusting all substances to your setup brand technique.
Step 7: Develop & Launch
After plan and duplicate endorsements, the coding system starts. Contingent upon the size of the site, this can take somewhere in the range of 2 a month and a half.
Then, at that point, you'll need to direct an inner quality confirmation (QA) or survey measure on the completed item by testing joins, twofold checking duplicate and guaranteeing that all symbolism is set up.
When this is finished, execute a delicate dispatch by pushing a site live when traffic is low, for example, toward the end of the week. This will empower you to test the webpage in a live climate where you can reveal the last alters before formally dispatching the site.
The most common way of making another site is troublesome. However, let this aide fill in as an update that your imminent clients WILL pass judgment flippantly.
So, pause for a minute today to audit your B2B site and choose if your cover and the story inside are the best portrayals of your brand.
The Key Takeaway
A website is your approach to expand deals and further develop income, it's not a brochure anymore. The visitors should get a kick out of the chance to invest energy at your website, they should jump at the chance to explore and think that it is not difficult to make orders or to reach you.
Focus on the language and plan of the site to suit your client's requirements. However, on the off chance that you feel this is getting an excessive amount to smooth out, contact an expert B2B website development company and look for a secure system on the best way to go with regards to it. The drawn-out outcomes will merit the project.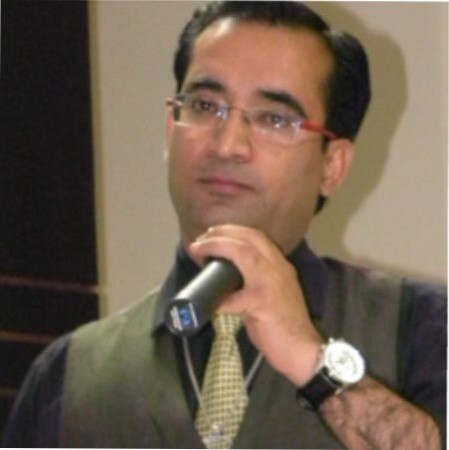 Naveen Khanna is the CEO of eBizneeds, a company renowned for its bespoke web and mobile app development. By delivering high-end modern solutions all over the globe, Naveen takes pleasure in sharing his rich experiences and views on emerging technological trends. He has worked in many domains, from education, entertainment, banking, manufacturing, healthcare, and real estate, sharing rich experience in delivering innovative solutions.