Last updated on October 12th, 2023 at 06:14 am
Internet of Things (IoT) and mobile app integration technology will profoundly impact our lives in the coming years. The Internet of Things (IoT) is interacting to enhance mobile apps. We live in a smart house where smartphones control all of our devices.
In addition, IoT development companies will simplify the process of developing mobile applications. Mobile app development organizations are considering the latest IoT trends in developing new mobile apps.

Predictions for the Future of IoT
IoT devices can support the companies for using their information in different ways such as creating, sharing, and collecting the data using their infrastructure. While certain companies are leaping into IoT techs, others are highly cautious, observing from the side-line to gain insights from these IoT future predictions.
When looking out these key trends, remember to focus on how IoT devices affect and interact with company infrastructure to solve the issues.
1. Safety Regulation
Because of the already existing IoT capabilities, concentrating on technologies and responding quickly to security concerns will be relatively simple. IoT professionals are concerned about their systems' long-term security and administration needs.
Regulators are developing a method for IoT product producers to resolve the problem if the cyber security measure fails.
2. Enhancement of the Retail Shopping Experience
IoT and mobile apps are making an impact in the retail business. IoT investments can have a positive impact on the company's bottom line. In a global technology company Zebra poll, over 96 percent of retailers think they are ready to adapt their brick-and-mortar stores and infrastructure to adopt IoT.
Retailers can now obtain real-time data on customer behavior using IoT Apps, making brick-and-mortar stores as successful as online ones. IoT app helps retailers make smart, educated business decisions that enhance customer experience and introduce effectiveness while providing unforgettable experiences for their customers.
The finest illustration of this is the Amazon Go retail location. Amazon Go uses barcode scanning as customers enter and exit the shop, and they may take the items they want and go. The software delivers a receipt to the consumer after they leave the business.
3. Smart Cities
Municipal authorities will use devices in the future to detect reckless drivers and passengers. Devices like video kiosks and monitoring stations will make it easier to keep an eye on things. These devices will be able to connect to the Internet. As a benefit, there will be no chances for human error or other mistakes by the authorities.
4. IoT Security
Industry experts predict that data leaks will increase in the near future, resulting in financial losses for businesses. After this disclosure, companies will invest in IoT and mobile application integration-oriented technology to increase data security. As a result, data security will be improved due to automated Machine Learning.
5. Edge Computing
Many IoT devices have relied on the cloud for data storage for a long time now. Data storage and analysis have become prerequisites for IoT development, programming, and production. A local device receives the IoT device's data before sending it to the cloud through the Internet of Things (IoT).
Secondary storage, like on-premises, organizes, filters, and analyses data before sending it to the cloud. Edge Computing helps to handle the vast volumes of data received by the device and reduces dependency on the cloud, which is already overburdened enough.
6. Traffic Management
According to the latest IoT Trends, IoT technology is being utilized to solve global difficulties including traffic and obstruction problems. Numerous businesses provide solutions that make advantage of IoT-installed technology in cars and traffic infrastructure. It helps to reduce wasteful traffic and congestion by helping to build more intelligent traffic networks.
According to McKinsey, by 2025, cities that use smart mobility technology may reduce transportation-related problems by an average of 15% to 20%. It is determined that strong technologies like IoT are necessary to implement smart city initiatives.
7. Blockchain
An emerging trend in the Internet of Things is the growing need for blockchain technology. because it guarantees secure record keeping, fosters vibrant network node interaction, and may aid in ensuring data security in IoT devices. Blockchain technology also makes IoT programs more suitable for the way nature distributes them.
Markets & Markets projects a USD 2,409 million growth in the size of the global blockchain market. Blockchain's prospects for mobile app integration are thus quite bright. Smart contracts and cryptocurrency wallets, for instance, are created using this technology. Blockchain technology will contribute to the creation of an open, safe, and connected future of IoT.
The NFT industry is one well-known illustration of current trend in IoT.
8. Metaverse
In order to expand its capabilities, the Metaverse architecture relies heavily on the Internet of Things (IoT). The interaction between the Metaverse and the Internet of Things will surely provide new opportunities for the IT sector to flourish and expand.
Future applications of IoT trends will find increasingly extensive uses in a variety of sectors, including gaming, entertainment, media, healthcare, eCommerce, manufacturing, and so on.
9. Digital Twins
It allows you to test a product, process, or business model using collected data without risking real-world resources. For instance, a digital twin uses some of the plant's manufacturing process.
Employees can develop different optimization models and hypotheses and predict issues in the future. It all happens in simulated reality; in the real world, plant employees will apply the best-fitted optimization model and reduce unnecessary expenses.
It can pretend hacker attacks on IoT systems so that security experts can enhance their means of data protection.

Integration of Mobile Apps in the Future
With the advancements in mobile app techs and transformation in the user preferences, what worked ever before is not as much as effective today. Mobile app development is characterized by the rapid and constant evolution.
This section will reflect on the future applications of IoT in mobile app development.
1. IoT-Enabled Mobile Applications
The Internet of Things is growing at a dizzying rate because it allows control of people and equipment. Using mobile apps to expand IoT data gives real-time information about persons and equipment and allows users to improve process efficiency.
As the Internet of Things (IoT) begins to influence businesses, many well-known companies are investing in this new era of connectivity.
IoT applications include autonomous vehicles. This vehicle can assist you in applying clever learning to navigate the vehicle on well-known routes. The automobile will assist you in navigating the roadways as it selects the patterns. You should keep an eye out for this mobile app integration since it is among the best.
2. Artificial Intelligence
Artificial intelligence (AI) has substantially impacted the environment of mobile app development. Businesses increasingly use AI-powered apps to deliver a better customer experience with fewer resources, resulting in massive productivity and cost benefits. As a result, mobile users are getting more personalized and in-depth experiences than before.
Ai improves the made-up programs and makes them better at acting like humans in every way. When making mobile apps, AI can be used for a number of different tasks. It can help you and make voice recognition easy. You can talk to an IoT Development Company about how to effectively use AI with IoT and mobile apps.
This is what Siri and Alexa do when you tell them to do something: they use artificial intelligence to do it. Bloomberg is another company that does this. It worked with AI experts from Alpaca-Japan to make an app. It's also called the Alpaca Forecast AI forecast grid. This app will help you guess how the stock market will move and make managing your account easier.
3. Wearable Technology
As wearable electronics become increasingly prevalent, businesses seek new ways to convey data to their consumers through these devices. This shift can positively affect sports, health, fashion, hobbies, and healthcare.
When wearable devices are factored into the mobile app development process, it will be possible to construct new applications to excite consumers and improve their mobile experience.
Wearable gadgets will be made and bought more often because of the way the Internet of Things is moving right now. For instance, the Apple Watch and AirPods are becoming more famous and getting more customers. The fitness industry also uses wearable technology at higher reach and it increases into the market in the near future. Some Android apps also use wearable technology to track weight and maintain fitness records.
4. Chatbot
Chatbots and mobile applications are gaining popularity because they enable businesses to collect large quantities of user data and utilize that data to build a tailored approach for customers while providing them with a seamless experience.
One of the most well-known chatbots is Drift. In addition, they use chatbots and conversational marketing. It includes plenty of conversation and provides insights about your concerns before it takes you to the agent.
5. Cloud-Driven Mobile Apps
Since there is an increase in the number of business mobile applications, storage space will become increasingly restricted. Cloud storage is the most effective method of overcoming this problem. Therefore, cloud computing will make data collecting for your company much simpler as a result of this.
Furthermore, security measures and administration will be simplified to a greater extent than they are now. Because they have a more significant number of customers, cloud-based businesses will generate more money in this market.
Cloud-driven mobile apps enable users to access the data from anywhere across devices, ensuring data consistency. It is easier to scale as the server resources can be increased or decreased as required. It also collaborates with apps that need multiple users to work on the shared data.
Cloud-driven mobile app integration is set to lead in the future due to advancements in cloud-based technologies and the increasing need for seamless, scalable, and collaborative experiences.
6. Augmented Reality (AR) And Virtual Reality (VR)
In order to bring the virtual and real worlds together, two elements of the metaverse like augmented reality and virtual reality will be necessary. This hybrid reality will include distributed, centralized, and interoperable components.
It offers you a path toward more stability as well as an expanding future. It expands the reach of several sectors and makes them accessible without needing to be physically there.
7. Mobile Commerce
The use of mobile wallets like Apple Pay and Google Wallet for payments is becoming more and more common. Future IoT trends are increasing, and companies may wish to provide customers the option of cardless or cashless payments. Mobile wallets will also grow with better security, ease of transactions, and newer products.
For example, Apple Pay is mainly designed for iOS devices. It provides higher security and works in approximately  60 nations globally.

8. Cross-platform App Development
Cross-platform development will be used to create future mobile apps. These programs are compatible with a variety of operating systems, including Windows, Android, iOS, etc. The native platform development for the original apps is taken into account by the cross-platform mobile application.
To keep up with current trends in IoT, developers must build apps that work on a variety of mobile platforms. Therefore, they need cross-platform to create contemporary apps.
For instance, Instagram employs cross-platform app development since it found it difficult to concurrently release upgrades to Android and iOS; as a result, they don't lose users. With the help of the cross-platform app framework, they were able to do this.
9. 5G Technology
It may fundamentally alter how people utilize mobile apps. Mobile applications' latency will be reduced, and their data-sharing speed will be increased. The environment will support the huge data transfer between apps and services. It increases the usability of cloud computing for various types of devices. This advancement may create a new market for apps.
In addition to having to build an app that can handle this volume of data, developers will be fighting to build applications that can access real-time data in order to provide fresh and interesting apps. 5G reduced latency, for instance, might be advantageous for apps that rely on real-time data, such as autonomous vehicles, remote surgery, or live gaming.

Conclusion
When it comes to the Internet of Things (IoT), smartphone apps are essential. Mobile apps and the Internet of Things (IoT) are becoming increasingly intertwined as linked devices thrive by many IoT development companies. Moreover, this relationship between mobility and the Internet of Things is expected to grow and mature.
As the Internet of Things (IoT) continues to grow, mobile app development will need to focus more on the user experience of their mobile applications to flourish.
As a result, when IoT is applied to all parts of the business, it creates a massive opportunity for increased production, efficiency, and sustainability. The Internet of Things (IoT) will continue to revolutionize the iOS app development services and Android app development industry in the future.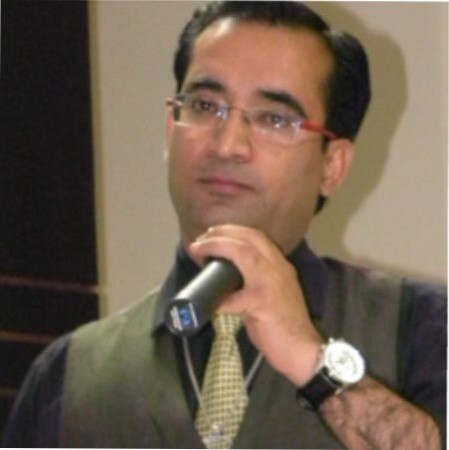 Naveen Khanna is the CEO of eBizneeds, a company renowned for its bespoke web and mobile app development. By delivering high-end modern solutions all over the globe, Naveen takes pleasure in sharing his rich experiences and views on emerging technological trends. He has worked in many domains, from education, entertainment, banking, manufacturing, healthcare, and real estate, sharing rich experience in delivering innovative solutions.