Last updated on October 12th, 2023 at 06:20 am
Healthcare is one of the important aspects of our life. The best example is Covid-19, which has taught us the importance of health. Regular medicine supply and healthcare items were one of the toughest requirements at that time. It is one of the main reasons behind the uprising of the healthcare platforms like 1mg.
The healthcare app development is rapidly progressing as internet users; we are witnessing the new normal: purchasing the medicines, health supplements, healthcare home-use equipment, and even booking the health checkup tests from a healthcare app like 1mg. These apps have become a boon for many users.
It is one side view of healthcare apps. On the other hand, if we talk about the business, then medicine manufacturers, pharmaceutical companies, or healthcare equipment suppliers are generating good revenue with the help of these apps.
There are two things for developing these apps: Idea and mobile app development company. The mobile app development companies are helping the healthcare businesses sell their product and reach the right audience by developing an app.

Key Stats about Healthcare Apps Like 1mg
Before we proceed to the further sections of this blog, it is necessary to read some important stats about healthcare apps and their development. So, let's deep dive into it:
The global digital health market will reach approx $660 billion by 2025.
By 2025, the eHealthcare market will be $38
The leading influencing factor in boosting the market's growth is the use of smartphones and tablets for healthcare consultancy, online medicine ordering, and
By 2030, the global telemedicine market size will be $459.8
Till the last quarter of 2021, 65.3 thousand healthcare apps were available on the Google Play Store, and this trend will increase in 2022.
E-health apps user penetration will hit 3.30% by 2026.
These statistics represent a comprehensive picture of healthcare app development and indicate a huge growth in the digital health market. So, if you plan to launch your health app, then it is a nice decision. But before taking any decision, it would be nice to understand various aspects of app like 1mg.
In the upcoming section of this blog, we will read some exciting information about how 1mg earns via its business model.
The Business Model of 1mg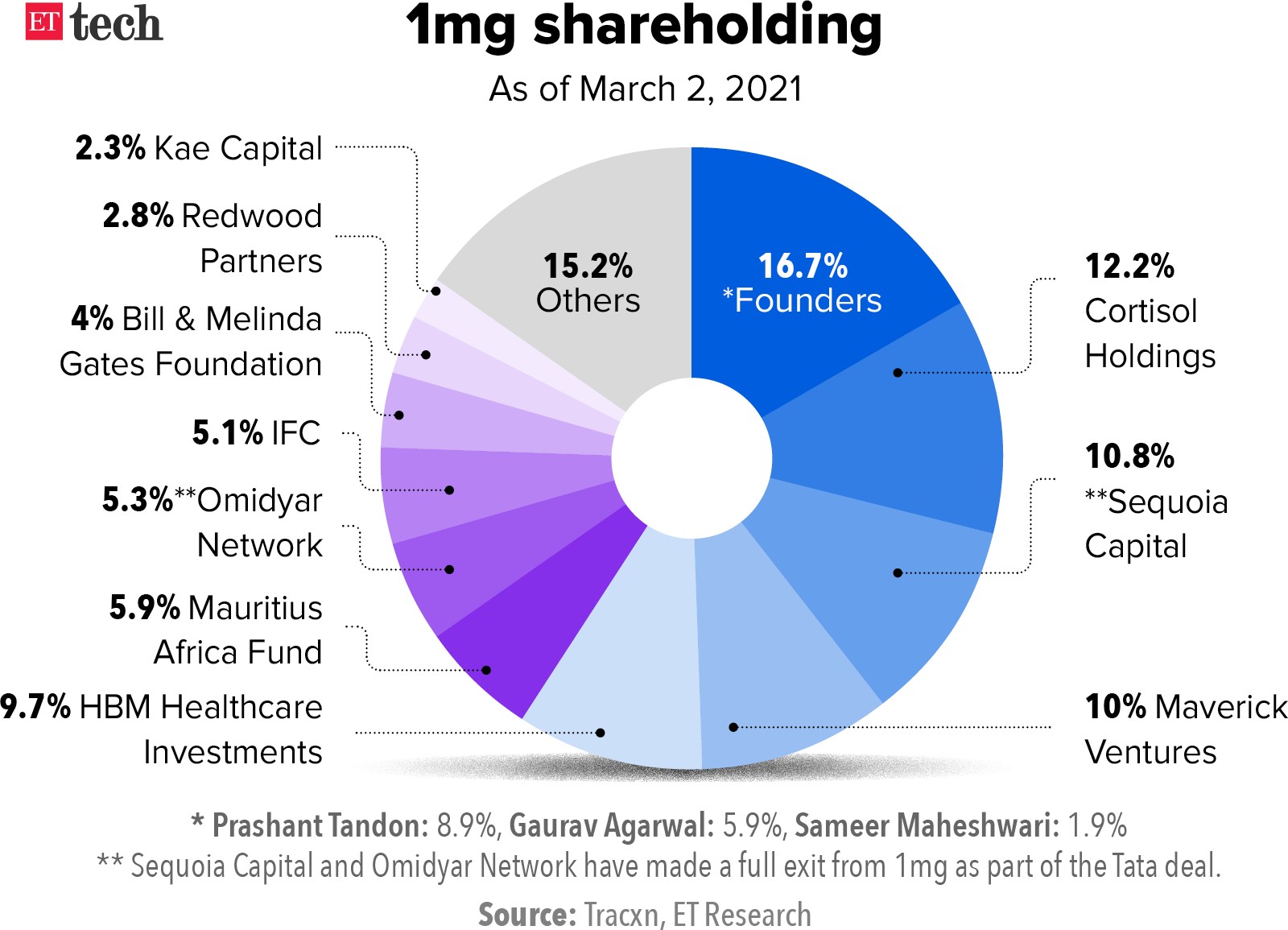 Source: https://economictimes.indiatimes.com/tech/startups/tata-digital-to-acquire-majority-stake-in-1mg/ articleshow/83393293.cms
1mg is India's largest digital health care platform where users can buy medicines via uploading prescriptions; they can book lab tests, consult doctors, and buy healthcare supplements, including Ayurvedic medicines. In June 2021, Tata Digital Ltd acquired it with a 55% stake, and now it is known as Tata 1mg. It offers a wide range of healthcare products covering Allopathy, Homeopathy, and Ayurvedic medicines.
For personal care, there is also a vast range of products available that covers sexual wellness, skincare, baby care, hair care, elderly care, women care, men care, and pet care. You can consider including all these categories while thinking about healthcare application development.
It would be best to look into the business model of apps like 1mg for deep understanding. So, let's check what it is.
The business model of app like 1mg comprised of 5 streams, which are: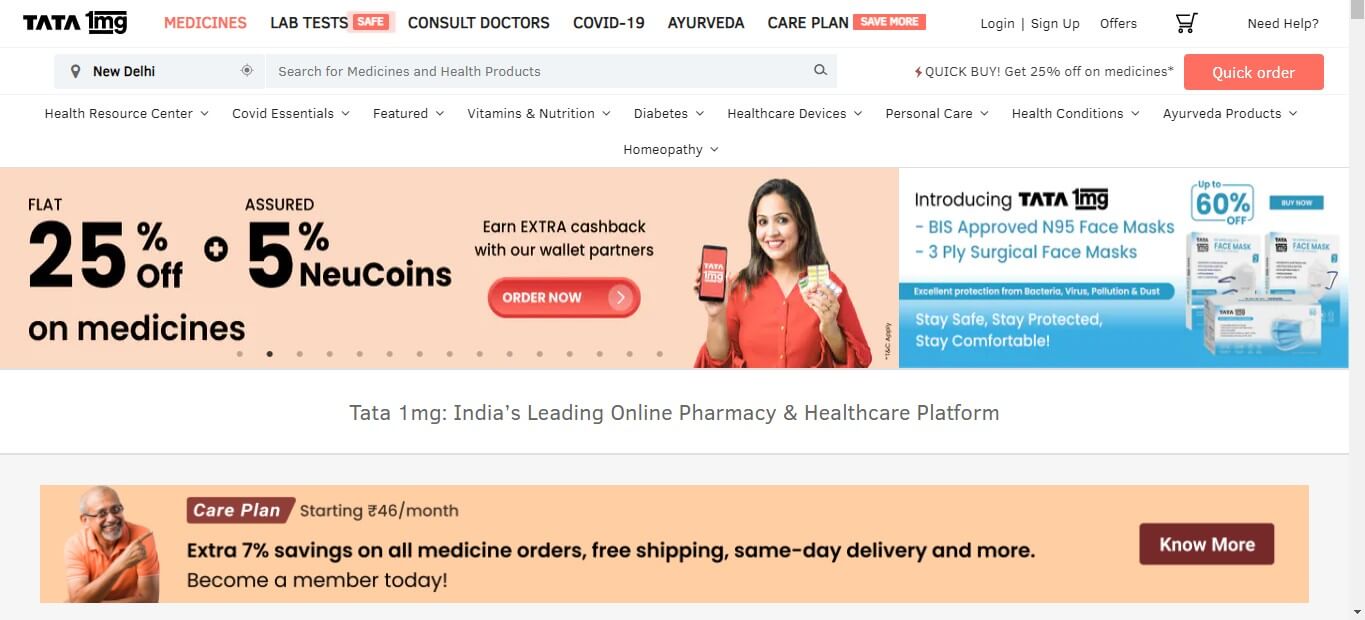 1. Online Medicine Ordering And Delivery
The prime objective of online medicine ordering and delivery is to make medicines available for all effortlessly. While accessing the 1mg app, users can easily purchase common medicines. On the other hand, prescribed medicines can only be available and delivered after uploading a genuine prescription by doctors.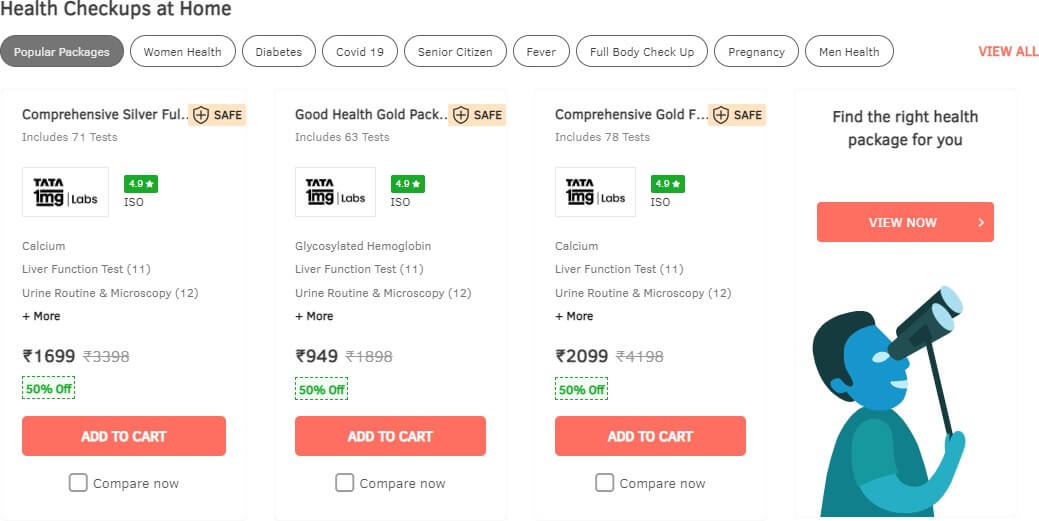 2. Healthcare Lab Testing
For having the best health, lab tests are best. It works in two ways: you can go for the prescribed tests or choose the lab test plans available on the 1mg platform.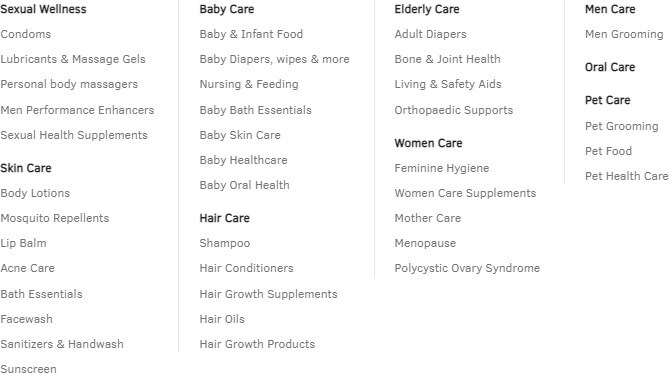 3. Personal Care Products
Personal care products are an integral part of our life. Due to busy life and pollution, our skin and hair need to be taken care of. With this objective, 1mg provides various personal care products and generates good revenue.
4. Doctor's Consultation
Sometimes it is a very tough task to find a doctor for consultation. But with an app like 1mg, you can easily find them. On the 1mg Healthcare platform, you can choose your doctor via seeing their ratings and reviews posted by other users.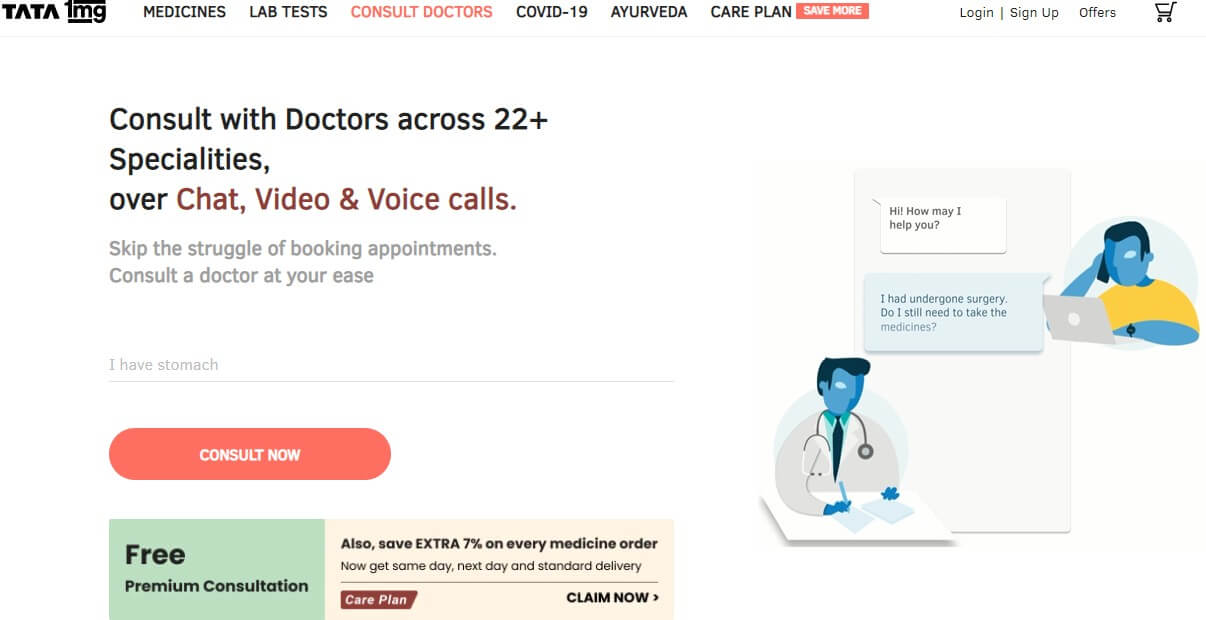 5. Subscription Based Healthcare Plans
Users can choose subscription plans at their convenience, which also allows them to save costs. Users have several benefits, such as free health monitoring and priority processing while ordering the medicines. Additionally, premium customers support is also available.
How Does App Like 1mg Works?
Developing an app like 1mg is one of the finest ideas for revenue generation. So, before developing an app based on this idea, you need to understand the working. Usually, all online medicine ordering and delivery apps work similarly. So, here are some key points about how an app like 1mg works that you would love to read.
Signup
The first step is signup, where a user needs to put their basic details such as name, address, phone number, e-mail id, and alternate contact. Once the signup and registration are done, a user can access the app.
Online Medicine Ordering
A user can order the medicine on their requirement basis or as prescribed by the doctors. The pharmacist verifies the prescription, and they confirm the order. The delivery channel partner delivers the package to the given address.
Delivery
The delivery channel partners are one of the important parts of online medicine delivery app development. They deliver the medicines as per the order and location mentioned by users. From the functioning point of view, it is related to features like Geolocation, MapAPI, and others.
Multiple Payment Modes
One of the specialties of online medicine delivery apps like 1mg is that they offer multiple payment modes so the users can choose their preferred payment method. A user can pay via credit card, debit card, or wallet, and some pharmaceutical vendors allow cash on delivery services.

Features You Need To Consider While Developing An App Like 1mg
Several healthcare apps are available in the market and contain features accordingly. Digital healthcare apps are meant to be for common users. That can be possible by offering a variety of features that helps the users to access the app effortlessly.
So, let's read about the crucial features of e-health apps. Additionally, it is always beneficial to take help from an experienced healthcare app development company as only they can provide you with the right guidance.
#1. User Panel
It is also called a user's app containing the features that a user can choose accordingly.
Profile Creation
Once the users download the app and put their details, such as name, address, and contact number, then they can easily create their profile. On the other, no signup process is easy with e-mail and phone numbers.
Search Bar
The app, like 1mg, is known for providing ample options for ordering medicines, and healthcare items, booking lab tests and consulting with the doctors. So, a powerful search bar option allows users to search for desired medicine, healthcare items, or doctors for consultation.
Alternate Medicines
It is okay that a user can order the medicine at ease. This feature shows alternatives to the specific medicines that a user can order. It also helps when required medicine is not available in the stock so the user can order an alternative one.
Prescription Uploading
It is one of the most powerful features that you can consider for healthcare mobile app development. It allows users to upload the prescription on the app to get the desired medicines. A prescription goes to the pharmacist, who confirms the orders after verification.
Payment Methods
Multiple payment methods integration is most important for a healthcare app. You can include all the payment methods such as credit card, debit card, mobile wallet, and cash on delivery.
Communication
The mode of communication works fantastic in terms of the relationship between app support and customers. For example, suppose a user ordered the medicine, then they will be notified via SMS and e-mail. The users can also ask for support in case of any issue.
Feedback
It is one of the most required features for the betterment of the app, where users can provide their feedback regarding app and service experiences. On the other hand, you can use it to improve the app functionality and make strategic decisions.
#2. Admin Panel
The admin panel facilitates the app admin or app owners to manage and handle the respective tasks.
Login
The admin panel provides a secure login facility where only admins can log in via their credentials. It also has direct access to the admin home or dashboard.
Admin Dashboard
It works as a complete control panel for healthcare app-admin where they can monitor or switch to any task. They can also generate the reports, manage the user's account, and others.
Vendor Management
Vendor management is a must for catering to the demands of customers. The app admin can add or remove the vendors as per their needs.
Price Management
In case of price modification and fluctuation, an admin can handle it with ease. They can modify the price tag anytime whenever they need it and can also associate it with some discount offers.
Push Notification
When there is any update in the app and terms & policies, an admin can send push notifications to the vendors and users.
Customer Support
Although the customer support team will be different, in case of any emergency, an admin can also handle it via replying to emails and messages to the customers.
#3. Pharmacists Panel
The pharmacist panel stands for vendors. It contains key features that help the vendors to perform their tasks.
Vendor Login
Each vendor has a unique login id and password for secure login into the vendor panel. The vendor login is directly associated with the vendor dashboard, which works as a complete control panel.
Prescription Verification
For medicine delivery, it is a must to verify the prescription. That is the main motive behind developing prescription verification features. A pharmacist can check and verify all the prescriptions uploaded.
Inventory Management
Inventory management is a necessary process for supplying or delivering medicines on time. There is no need to use a separate app for it. A vendor can do it from their panel.
Invoice Generation
The vendors or their staff can easily generate the invoice against the order placed by a user or customer. They can also generate the invoice in case of supplying bulk orders.
Shipment Management
Once the order is confirmed and packed, then vendors generate notification for the delivery partners including the location details.
#4. Delivery Panel
This panel is for delivery partners and contains all the useful features needed to perform their duty in a good way.
Registration
A delivery boy can register after providing all legal details like social security or driving license numbers.
Dashboard
After login into the account, delivery personnel can see all the details such as the number of deliveries scheduled, delivery address, contact number mentioned with the order, and all.
Route Navigation
One of the crucial features of the delivery panel is route navigation. It is empowered by Google Map API that facilitates the delivery boy to deliver the medicine package to the right address.
In-app Communication
While delivering the medicines, the delivery staff can talk to the customers via chat, message, and call.
The features mentioned above are essential features for a healthcare app. But for creating the best user experience, it would be best to include some advanced features that we will read about in the upcoming section. These are some of the recommended features by some renowned healthcare app development services providers.

What Are The Advanced Features?
The advanced features can help you to differentiate your app from existing ordinary apps in the market. There is huge competition in the market, so you need to think about creating a unique app, and that can be possible with the help of advanced features listed below.
Chatbot Support
The chatbots are game-changers, and these are applicable to all industries. Ai-powered chatbots are providing tremendous results in customer support. So, you can also implement and integrate it with your healthcare app.
In-App Consultation
The in-app consultation allows users to communicate with the doctors within the app, where both can talk to each other via voice message, video call, or chat. After consultation, the patients will get an e-prescription that they can use to purchase the medicine.
Nearby Medical Shop
Sometimes users want to shop the medicine from a local store. The nearby medical store search option can help them search local shops nearby.
Multi-Language Support
It will help users to search for required medicine in their native language, and they can also talk to the doctor speaking the same language.
The Steps You Need To Follow While Developing An App Like 1mg
In this section, we have gone through various aspects of healthcare platforms like 1mg. Here are the steps you can follow while developing the healthcare app like 1mg.
Study & Research
Your first would be like studying and researching competitor apps. It would be better to go through all the points such as features, functioning, advanced features, if any, and key specialties of competitors' apps.
Requirement & Feasibility Analysis
It is fine that you will implement a unique idea in the form of a healthcare app. But before proceeding, the better idea is to do a requirement and feasibility analysis. It means what the requirements are and what is the feasibility of your idea.
Choosing Tech Stack
Healthcare apps have the potential to make life easier for doctors and patients. So, a healthcare app must have a very clear purpose and need for success. You can choose it according to the platform you focus on, such as Android or iOS.
Hire Dedicated Developers
You need experienced developers to turn your healthcare idea into an app. The best way to do it is  to hire dedicated developers. The dedicated developers will not only help you but also guide you on what you can implement to make your app the best.
App Designing & Development
The dedicated healthcare app developers will design and develop the app per your requirement and specific nature. It would also be best if you remain in continuous touch so you can inform them immediately in case of any required change.
Testing & Launch
The final step is testing. With the help of QA professionals, you will test your app under rigorous testing conditions to bring out the app's real potential. Congratulations, your app is ready to launch once the test results are okay.

Cost To Develop An App Like 1mg
An app like 1mg is a popular healthcare platform. According to the estimates of the cost of mobile app development, it would cost you around $40,000- $50,000. It includes the cost of designing and developing the platform, data integration, and regulatory compliance expenses.
The approximate cost depends on the project's complexity, which highly depends on many factors. These factors are- a type of app you want to build, customer base size and location, development team size and experience, features and functions you want your app to have at completion, and what platforms you want your app to be available on.
The Conclusion
Healthcare has been a space of constant evolution. With the advent of mobile apps, healthcare is now much more accessible than before. Mobile apps' impact on healthcare and the affordability of these services is phenomenal.
Healthcare mobile app development has made it possible for the users to order the medicines at ease for doctors to connect with their patients, thereby improving access for those who are underprivileged or live in remote areas with limited access to medical facilities.
In addition, it has helped reduce the time people spend waiting in queues and has resulted in them spending less time on transportation and more time with their doctors. A healthcare platform like 1mg is such a perfect example of it. If you want to create an app like 1mg, consulting a healthcare app development company is always the best idea.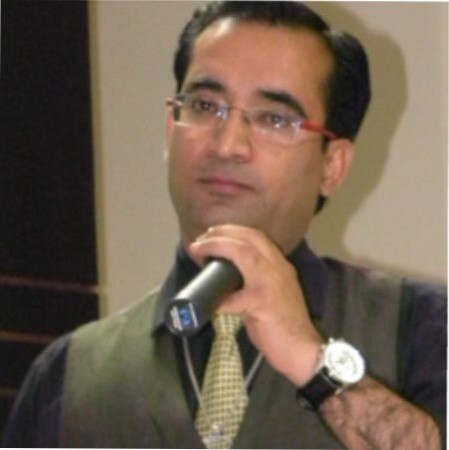 Naveen Khanna is the CEO of eBizneeds, a company renowned for its bespoke web and mobile app development. By delivering high-end modern solutions all over the globe, Naveen takes pleasure in sharing his rich experiences and views on emerging technological trends. He has worked in many domains, from education, entertainment, banking, manufacturing, healthcare, and real estate, sharing rich experience in delivering innovative solutions.