Last updated on October 11th, 2023 at 09:10 am
In current times, a large number of people are investing highly in their health. They have not only improved their standard of living but also raised their fitness standard. Consequently, the demand for fitness apps has risen highly. You will easily address a variety of such apps on both the Google Play Store and App Store.
Another option is that this sector will further assess the sudden boom in the upcoming times. Hence, if you want to develop a fitness app in 2023, you have the correct choice.
However, the main concern you may struggle with is the fitness app development cost from scratch in 2023. When you are also facing the same issue, this blog is for you. It will help you to develop clear understanding regarding the estimated cost of developing a fitness app.
So let's delve deep more about it.
What is A Fitness App?
A fitness app is a software application that is designed to help users track, monitor, and improve their physical fitness and overall health. These apps are typically available on smartphones or other mobile devices, and may be free or available for purchase.
The apps share certain features with other health and wellness applications like nutrition and mindfulness. Some recognized fitness apps are Nike Training Club, Google Fit, Strava, and Fitbit.

Fitness Apps Statistics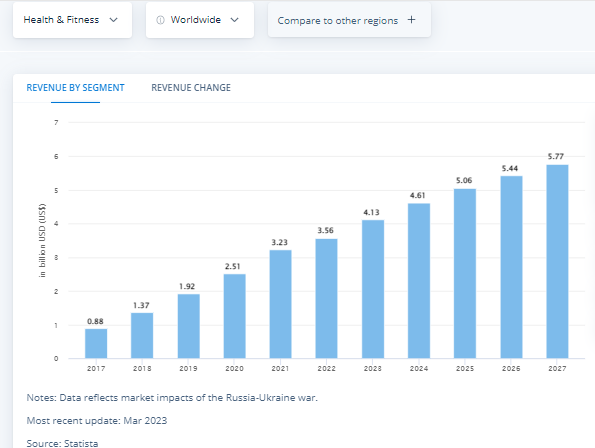 Source: Statista
Total health and fitness segment revenue is estimated to arrive at US$3.56bn in 2022.
An international comparison shows that most revenues reached US$1,587.00m in 2022.
By 2022, the health & fitness section's in-app purchase income will total US$2.35 billion.
In the fitness sector, paid app downloads and advertising income are projected to reach 3.76 billion in 2022.
By 2027, the market is estimated to generate US$5.77 billion in sales overall, representing an 8.71% CAGR from 2022 to 2027.
The most recent prediction places the average income per download at $0.95.
How to Monetize A Fitness App
Most probably, the cause of developing a fitness app is to profit from it. Different app monetization models exist now, and we are enlisting some fundamental ways to make money from this fitness app.
One-Time Or Monthly Fee
You can offer different subscription plans or charge users just once while buying the application. The former is infinitely highly profitable; however, persuading individuals to pay you a recurring monthly fee can be much more complex.
Hence, it would help to make your app special and valuable by charging a fee.
Ads
It is one of the easiest ways to monetize the fitness app. You can make your app free and create revenues by considering ads. In this case, you have two choices. You can develop agreements with the end buyers of the ads yourself (most probably, these are related to fitness, nutrition, and clothing forms) or utilize an ad network.
The former choice may be highly productive but complex, while the latter is simpler. But it may be less profitable. We should warn you that this model is not the best choice because ads can sometimes frustrate users.
Sponsorship or Affiliate Sales
You can get a few sponsors who will pay for their content to your users or direct them to their websites and online platforms. You can also create affiliated commissions by endorsing suitable products or services. And, you can get a fee when users buy them on your advice.
Paid Features
Another choice is to provide special functionalities that are not accessible for free. It can be anything from the training plans to individual assistance from the coach. You can integrate this model with another one as well.

Essential Features of Fitness Apps
Fitness apps have various features with wearable devices. These features help users track, monitor, and improve their physical fitness and overall health. Here, we will discuss the essential features of a fitness app.
Login and Personal Profile Development
Users must sign up for your fitness app to develop a personal account. It is a highly significant functionality because the profile considers the user data like height, weight, and other metrics.
Along with this, the goal they wish to achieve is with the app's support. You can permit to login via social accounts or Gmail; hence the authentication process is becoming simple and faster.
GPS
When you develop an activity training application, GPS is the number one feature because it strengthens the app's key functionality. For workout apps and other fitness applications, geolocation services integration supports the users to connect with friends nearby or search for gym sites.
Workouts
These apps would not be workout apps if they didn't provide different exercises or exercise programs for users to select from. You can create an interactive and easy-to-navigate menu wherein users can customize workouts, select from various training initiatives, and develop the session lengths.
After developing their preferences, users can access video lessons or guided training that accomplishes their requirements. Workouts may consider strength training, yoga, bodybuilding, and exercises for gym equipment.
The Functionality of Diet Apps
There should be a calorie counter with whole foods databases. Hence, users can record their meals and set weight-loss goals. Moreover, offering diet plans is significant if you enable users to do something over a calorie tracker.
App functionality helps you to identify the different recipes, weekly recommendations, or collaboration with Dietitians and nutritionists.
Activity Tracking
This feature helps to track steps count, benefits of exercises, kilometers run, and other activities a user considers. This feature must be user-friendly in the dedicated application and constantly update users' stats.
Users often check, so try to offer full stats to assess the practices and make it easy to navigate and use.
Notifications
Any app has notifications, but they're especially important in developing fitness apps because they remind users to exercise routinely or follow their diet. Push alerts might also contain encouraging words for people with trouble using exercise programs.
Gamification
Gamification in fitness app creation might encourage people to utilize your app repeatedly. By gamifying your app, you can make it more engaging and enjoyable for users, who are likelier to stay on your app longer.
These consist of badge-based reward systems, frequent training bonuses, or incentives for adhering to a set timetable.
How Fitness Apps Are Affecting Our Exercise Habits?
Fitness apps have become increasingly popular in recent years and are changing the way we approach exercise and fitness. Here are some ways in which fitness apps are affecting our exercise habits:
Increased motivation: Fitness apps provide real-time feedback and help users track their progress, which can be a great motivator for sticking to a fitness routine.
Customization: Many fitness apps allow users to customize their workout plans based on their fitness level, goals, and preferences, which can make exercise more enjoyable and effective.
Accessibility: Fitness apps can be accessed from anywhere at any time, which makes it easier for users to incorporate exercise into their daily routine.
Community building: Many fitness apps have a social component that allows users to connect with others who have similar fitness goals, which can provide support, encouragement, and accountability.
Improved accountability: Fitness apps can help users stay accountable by tracking their progress, reminding them of their goals, and providing feedback and encouragement.
Factors Affecting the Cost of Fitness App Development
Making a fitness app should performs better than its rivals because making money is difficult. It requires a comprehensive plan that considers various factors that affect the overall time and budgetary constraints. It is discussed as below:
App Development
The fitness app development cost relies on the app development process. The cost range varies from platform to platform. Because creating apps for a single platform, like Android or iOS, takes longer time and is more difficult, so it will cost more than developing cross-platform apps.

Backend Infrastructure
A further element that influences the entire fitness app development cost is creating the backend infrastructure. You may require to create web services for storing databases or add authentication methods to secure data about users based on your needs.
If performed incorrectly or with excessive external APIs, it can dramatically raise your entire costs.
Location
Because hourly wages are lower in areas like India compared to the USA, hence we can say that countries and regions have a key effect in setting the final pricing of a fitness app.
App Functionalities
The fitness app development cost is significantly influenced by its internal features. As opposed to complex features, choosing basic features would be less expensive. It is true that sophisticated functions are more complicated and require more time to complete than basic features.
The internal features of an app have a big impact on the price. Simple features are going to be cheaper to choose than complicated features. Advanced functions are more complex and take longer to build than basic features.
Recruiting
The effective use of recruiting techniques can result in cost savings. Outsourcing is less expensive than recruiting internally. It is better to employ outsourcing to develop an app with experts' assistance and for a lower cost.
UI/UX
With extensive functionality and a complicated design, a mobile fitness app costs more to create. The development cost, which is distinct from the designing cost and contributes significantly to the overall fitness app development cost.
It is another factor in addition to the time needed to build a design.
Types of Fitness Application
Numerous apps for smartphones allow you to keep updated on all aspects of your health. Here are the numerous kinds of fitness applications available to help you stay in shape, ranging from the just necessary to the really uplifting.
Nutrition and Diet Apps
Users of such applications can monitor how many calories they consume, food consumption, and other such metrics. Users can configure the app according to their choices to receive a suggested meal plan, such as vegetarian, vegan, or keto diet, intermittent fasting, etc.
In addition, such applications give users a chance to communicate with qualified dietitians all over the world.
The fitness app development cost comes between $20,000 and $80,000.
Workout Applications
Users of this fitness software can choose their exercise regimen. Although the training routines offered on the app are typically not customized, they provide valuable details about each exercise, such as which muscle area is used and how many extra calories are burned.
Due to this, users can choose appropriate exercises to add in their routines and make informed judgments.
These fitness app development cost comes between $60,000 and $90,000.
Yoga Apps
This app category's users can access tutorials on performing proper yoga poses and working out with yoga. For optimal advantages, these applications also provide guided meditation.
In addition, users may utilize these applications to join yoga groups to exchange experiences, find inspiration, and improve their performance. To develop such kind of app, you can consult with healthcare app development company.
The costs involved in creating such a fitness app are $10,000 – $70,000
Companion App
Some apps are created particularly for one manufacturer of exercise equipment. They interact with the machinery and improve its performance. For instance, eBizneeds created a workout app linked to a certain treadmill brand.
This technology enables users to interact, share performance information, and participate in various challenges while tracking their treadmill activity.
This app's price ranges from $40,000 to $150,000.
Activity Tracking Apps
These fitness tracking tools keep tabs on your daily steps and the speed and distance of your jogging and cycling. Adidas Walking by Runtastic is one illustration. Applications for activity monitoring frequently connect to wearables that may monitor your heart rate, cholesterol levels, and other vital signs.
Such fitness app development cost comes between $40,000 and $125,000.
Locations of Developers
It would be best to have a professional team of a project leader, a developer for iOS, a team of quality assurance, a business analyser, the best Android app developer, and a UX/UI designer for top fitness apps like Calm and MyFitnessPal.
A development staff typically costs between $24 and $150 per hour to hire mobile app developer.
Fitness app developers from diverse geographical areas may charge varying hourly rates. The USA and Australia, for example, charge the highest salaries for software developers. Indian developers are the most affordable. The developer's hourly rate can significantly impact the fitness app development cost.
| | | | | |
| --- | --- | --- | --- | --- |
| Location | UK | US | India | Canada |
| Android | $120-$200 | $130-$150 | $15-$40 | $65-$85 |
| Web Developers | $65-$130 | $75-$120 | $15-$50 | $45-$80 |
| Average Fitness App Development Cost | $95 – $176 | $100- $490 | $15 -$55 | $61 – $86 |
| iOS | $110-$200 | $100-$220 | $15-$45 | $75-$95 |
Design Complexity
You must consider the complicated nature of the design when creating your fitness app. You may save fitness app development cost on this if you're happy with the interface of your app and choose one of the pre-made design templates.
However, you must invest in hiring app developers for an appealing layout and feature-rich app if you want to develop an idea distinctive with a style that defines your business.
Maintenance & Support
Developing an app is not an ending process for developers because, after launch, you must go through the maintenance and support system to identify the issues a user addresses. Therefore, it is essential to include the added resources of maintenance post-launch in your budget.

Average Cost of Developing A Fitness Mobile App
The fitness app development cost relies on the amount of complexity and features. Considering the above elements, a fitness app development company can categorize the cost of a fitness app by using the following factors:
Android and iOS app development for native apps
UI/UX design
Web Development
Backend development
Quality Assurance
MVP Testing
Considering all the above elements, the fitness app development cost can cost about 25k-30k USD on Android & iOS platforms.
"Ready to take your fitness business to the next level? Check out our article on how to build a healthcare platform like 1mg and discover how our cost-effective app development solutions can help you achieve your goals today!"
Conclusion
Health and fitness apps have included a new aspect of fitness and health. Promoting health services has become highly easier due to such applications. Different businesses in the gym and fitness field are demonstrating their services with such apps as a platform.
Many people are prone to fitness and seek to stay fit to address such demanding circumstances in the long term. It is a good chance for you to launch a distinct fitness app in the marketplace.
You can contact our healthcare website development company to develop fitness apps.
FAQs
Q1. What is the average cost of developing a fitness application?
Fitness app development can be highly undertaken, requiring a high investment in time and cost. Commonly, the fitness app development cost will rely on the complexity of the functionality and features you need and the competencies of the developers you hire. But, many customized fitness apps commonly start from $25k to $60k and much more.
Q2. What kind of features should you seek in a fitness application?
The better set of features for a fitness app relies on the needs and goals of end users. General features consider the diet plan, recording workouts and diet plans, giving motivation by rewards and awards, getting customized suggestions from user data, and links with other trainers or users.
Q3. Do I require a dedicated developer to develop my Fitness app?
Yes! Selecting a professional developer with experience in creating mobile apps is significant. Not only will they comprehend how better to transform your ideas into reality. However, they would be able to offer insights into the possible concerns that may arise during development and support you to eliminate the time-consuming.
Q4. Can I develop a personalized version of my fitness app from scratch?
Obviously Yes! Developing a personalized version facilitates flexibility and control over features, functionality, and design. But, it also needs greater technical competency and experience compared to working with current frameworks or templates.
If you are unsure whether you have the required skills to develop a personalized version of your fitness app, hiring an experienced developer who can support transforming your vision into reality may be valuable.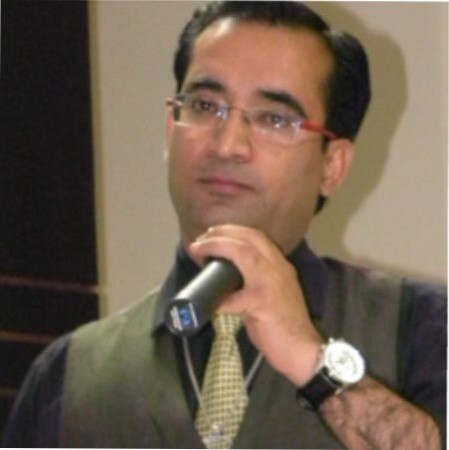 Naveen Khanna is the CEO of eBizneeds, a company renowned for its bespoke web and mobile app development. By delivering high-end modern solutions all over the globe, Naveen takes pleasure in sharing his rich experiences and views on emerging technological trends. He has worked in many domains, from education, entertainment, banking, manufacturing, healthcare, and real estate, sharing rich experience in delivering innovative solutions.