Last updated on October 11th, 2023 at 01:39 pm
Are you aware that 80% of consumers prefer to arrange their travels online, according to a vast number of travel surveys? It is a reality in the current digital era. Most individuals like to easily manage their travel from the convenience of their homes.
People may make arrangements according to their requirements with the help of travel applications and websites like Expedia and TripAdvisor. These applications contain a variety of data, reviews, and feedback from users all over the world.
These factors aid in their selection of travel-related purchases and efficient trip planning.
This blog will explain how much it costs to build an app like TripAdvisor, as well as what that app is.
It is important to know how much applications like TripAdvisor cost since they work well and may bring in a lot of money for you.
Let us describe the TripAdvisor app once before discussing how the company generates money and what variables affect the cost to build an app like TripAdvisor.
What is the TripAdvisor App?
The biggest site for booking hotels and vacations is TripAdvisor. Both iOS users and those using Android mobile applications may visit the website. Each month, there are roughly 463 million individuals. It enables you to learn about more than 850 travel, dining, and airline experiences.
The main advantage is that you can use the TripAdvisor app for Android to evaluate hotel reservations made on more than a thousand travel websites and find the best deal.
A website such as TripAdvisor is crucial since it enables you to organise your complete vacation in one location in addition to booking accommodations.
It is crucial for creating an app like TripAdvisor because of all these factors.
You may be wondering how TripAdvisor makes money at this point, given how useful and important their app is. We need first to examine its fundamental characteristics in order to understand it.
Features are an essential part of any application, which means that they may have a significant impact on how much it costs to create popular apps like TripAdvisor.
There are several features in the TripAdvisor Android application. By developing the greatest iPhone and Android app, you can increase your income, so keep that in mind when you prepare to construct an app similar to TripAdvisor.
For the creation of unique Android apps in this situation, you should hire on-demand app developers.
You need a development team to finish the development process in order to produce such an app effectively. A mobile app development company may provide this service.

What Do TripAdvisor App Statistics Say?
72% of users always consult reviews before planning their eating, staying, or visiting.
TripAdvisor has over 702 million reviews and ratings of restaurants, rentals, homestays, and hotels.
TripAdvisor has over 7 million restaurants, homestays, and hotel locations across the world.
Being one of the largest travel applications, TripAdvisor has about 500 million monthly dynamic users.
The company has produced revenue of $1.62 billion globally so far.
Now you should think of apps such as TripAdvisor as being more significant and effective as compared to how the TripAdvisor app development company makes money. To comprehend this, you must check what features this app should offer to its users.
It is stated that developing an app does not improve your reputation. It all depends on your services and your communication with your prospective customers. Features are a highly significant factor for your travel app, such as TripAdvisor, to increase its users and leads.
TripAdvisor has several distinguishing features that set it apart from the competition. This app has everything from lucrative offers to cost-friendly packages. Let us know, if you want to create a travel app similar to TripAdvisor.
So, you should include all of these important parts if you want to make good apps for iOS and Android that make money for your business. Moreover, you should hire an iPhone app development company for an effective TripAdvisor app for iPhone.
Rather than taking on all of the risk yourself, you can consult with a mobile app development company and ask them to assist you with your project. However, creating an effective app necessitates full development teams dedicated to your projects.
Now let's delve a bit more into the features of the travel app.
Essential Features for the TripAdvisor Android App or Similar Websites
One of the most well-known travel guide applications, TripAdvisor has recently seen significant revenue growth.
Given its enormous success, you may be asking what aspects of TripAdvisor's business and revenue models make it so successful, as well as how to create a successful travel app.
The TripAdvisor Guide app, like other travel advisory applications, must include the following essential characteristics.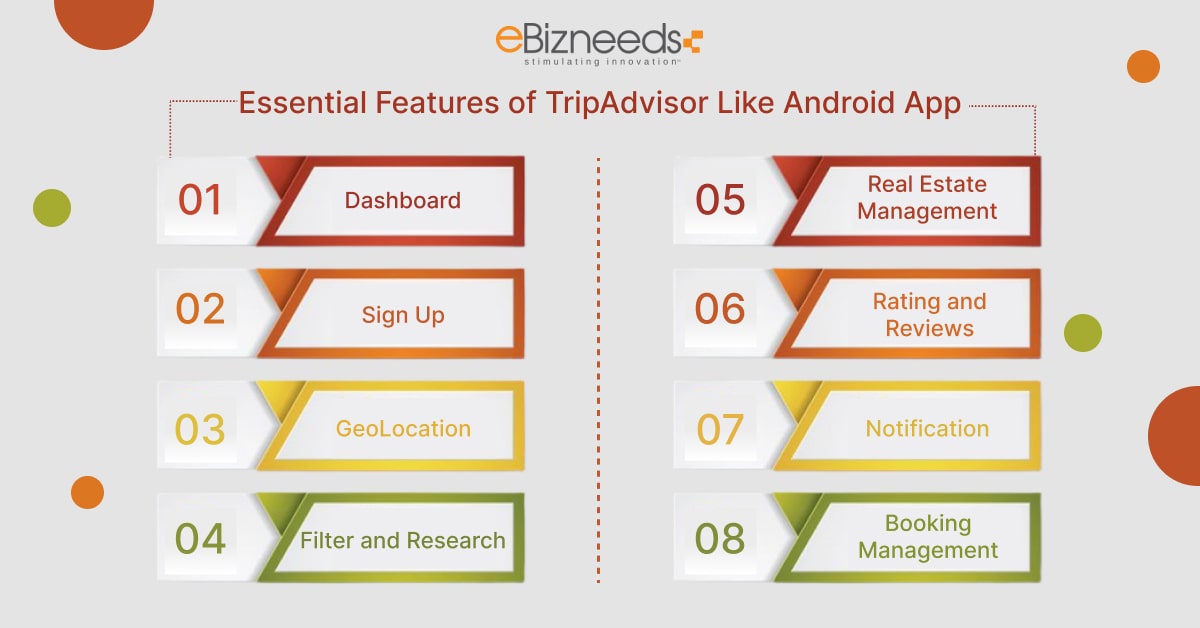 DASHBOARD
A dashboard for individual users is a feature that is very important to consumers. Both the TripAdvisor website as well as its Android and iPhone apps take this feature into account.
The dashboard helps customers maintain track of their past actions and histories. They may evaluate the profile and confidential info as well. They need to be capable of editing and updating it as well.
To the greatest extent feasible, you must ensure that your dashboard's UI/UX design is user-friendly. When contemplating any function for your apps, always keep the customers' satisfaction in mind since it will create your app highly user-friendly and expand your app's client base.
Additionally, it is a crucial component of the TripAdvisor business strategy.
SIGNUP
It is the key component of any trip guide application, including the TripAdvisor city guide tool. Users are prompted to create accounts in this situation so they may use their own distinctive characteristics on your travel applications.
Ensure your app or website's registration procedure is user-friendly and straightforward. You may do this by signing up utilizing their Gmail accounts, Google logins, or social networking services like Facebook. These days, it is the essential component of every software.
GEOLOCATION
You could take into account the geolocation feature in your app. The consumers really value and benefit from this function, which also helps them when traveling. They can locate the closest locations and dining options for their journey.
You can hire dedicated developers to consider this feature in your Android app development.
FILTER AND SEARCH
Since the app is really about seeking and making travel or vacation reservations, search is a very important element. So, when creating an app such as TripAdvisor, searching is a key function.
The consumers must be able to check up various locations all around the globe. Identify all the noteworthy locations in this case. Another advantage of this is that while searching, all relevant filters should be taken into consideration.
The filters are related to rating filters, which determine whether the user wants to check a review that has more than four stars or fewer than four stars. It will permit them to address the best-associated hotels, places, and flights.
Clients of the TripAdvisor app can also leave reviews, mostly on places they want to visit, allowing them to take these parameters into consideration and select the best destinations for their trip.
Other options include requesting the position, times, locations, the number of rooms, and several other.
REAL ESTATE MANAGEMENT
This function relates to users who offer their rental properties on your travel applications, like restaurants and lodging. On your app, they should also be capable of organizing their accounts and possessions.
They may participate in the TripAdvisor rating scale and post reviews for the TripAdvisor app. Therefore, it is important to take into account various characteristics relating to property owners as well.
RATINGS AND REVIEWS
The TripAdvisor revenue model adds features related to reviews and ratings. It is also highly significant for the TripAdvisor business model and the TripAdvisor app for iPhone. It is because ratings and reviews help influence customers.
You should request that your users leave a TripAdvisor review after visiting or planning a trip through the app.
In order to include this function into your application, you may also speak with a firm that creates iPhone applications. Users are encouraged to submit evaluations to TripAdvisor's ranking system.
Additionally, they have the option of writing a TripAdvisor app review that might attract new clients by collecting honest user feedback.
NOTIFICATIONS
When creating an app, notifications are important features. They are required to contact, advertise to, and remind people. Notifications are another way to avoid disturbing the clients.
Users must provide notifications like reminders, validation of reservations, and alerts about promotions. It is an important component of TripAdvisor business plan as well. It is the finest strategy for TripAdvisor business strategy and therefore will support the endorsement of the app.
Booking Management
The businesses and owners of properties that provide their services on your app should be capable of managing their booking services via their profile. They are also a component of TripAdvisor app review as well as rating system, as was previously mentioned. You must therefore pay close attention to them as well.

Key Features For a Service Provider
Manage Bookings
Property holders must be competent not only to develop business profiles and list the properties they wish to rent but also to cancel, track, and manage all their bookings on your sites. This feature can be applied using special APIs that will require 15+ hours of development.
Adding Services to the Listing
Owners of taxis, restaurants, nightclubs, spas, and other travel service providers must be competent to develop business profiles and include basic data regarding their services, such as price, description, photos, opening times, and routes.
Executing these choices in a TripAdvisor replica will take 50+ hours, or $1750 to $8900.
Analytical Tools
It will permit you to gather and group data regarding the habits, pains, behaviours, and goals of clients. Moreover, here you can consider marketing techniques that will enhance the extent of communication with existing and potential consumers.
Depending on the complexity and number of such techniques, their development will take from 10 to 200 hours.
What Are the Key Benefits of Developing an App Like TripAdvisor?
Developing a travel app like TripAdvisor can provide you with different benefits. A travel app acts differently for different businesses. For instance, when you are operating a travel agency, you will require an app that helps you reach more customers and understand your facilities.
A travel app will increase your user base, ultimately increasing your earnings and bookings.
Following are some of the benefits related to travel apps like TripAdvisor:
provides discounts to loyal consumers
Earn Loyalty Points
expands your reach to achieve the best results
provides customized services
Extend your reservations and bookings.
24×7 hours of maintenance and support
Budget-friendly holiday packages

Estimated Cost for Developing An App Like TripAdvisor
You could now know how TripAdvisor makes money since you know what features an application like TripAdvisor needs. The cost of development is also impacted by these aspects. You may also ask about the cost of these features from on demand app development company.
An app similar to TripAdvisor may take 3-5 months to develop and costs about $15,000. This rate is the minimum. Based on all the variables that might affect the price of developing the app, it may be higher than that.
The cost of your app would vary depending on the fees your developer or firm charges as well as the features you want to add. It will be more costly to collaborate with an Indian development company than an American development company.
TripAdvisor App Development Cost Influencing Factors
Before moving on to the next section, let's check out some factors that can affect the TripAdvisor app development cost.
TripAdvisor App Development Cost Based on Complexity
One of the essential factors is complexity. At the current time, it is not rocket science to comprehend how it acts. A less complex solution is cheap. The main reason for this is that something simple and basic takes less time, money, resources, attention, and a smaller development team. Moreover, even developers with less experience can perform this.
But when you speak about an app like TripAdvisor, which is complex, the story can be something else. Because it needs a longer development time, more work, developers with more experience, and a big team with adequate resources, the cost is certain to go higher.
It describes how the complexity of a platform affects the overall development cost.
Tech Stack
It is illustrated as the set of different technologies that is widely applied to develop a tour and travel app like TripAdvisor. Nowadays, it considers everything from programming languages to back-end and front-end frameworks, as well as other major elements.
As technologies are specific to the application channel, the alternative tech stack narrows down based on the platform you choose.
Yet, one of the key platforms that is widely applied in the market is the MEAN stack. For in-depth details regarding the same, it is suggested that you consult a development company. Each stack has its own price, so you can hire Android app developers to get a more in-depth understanding.
Mobile App Development Platform
Since we are discussing mobile app development, selecting a platform is significant. In current times, the platform can be categorized into two distinct kinds. These are both hybrid and native apps.
Among them, native apps are native to the platform and also can't run on another platform. While a hybrid app can run on one or more channels,
Native app development provides you with two major alternatives: Android and iPhone app development services. Despite the never-ending Android vs. iOS debate, both platforms are excellent in their own right.
At the end of the day, the decision depends on your business requirements and your individual preferences. Apart from this, hybrid app development does not provide all that many different alternatives. But one of the most popular ways to develop cross-platform apps is with React Native app development services.
Cross-platform apps are significant and trendy today because you don't have to build two completely distinct apps, and they also generate the best value.
Related to the cost part, Android app development is moderately expensive as compared to iOS. Moreover, the rate of cross-platform app development is highly subjective.
CONCLUSION
That is all you need to know about the cost of developing a TripAdvisor-like app. When you want to learn more regarding it or want to develop a similar strategy for yourself. It is highly suggested that you consult a renowned on-demand app development company.
They will be competent to provide you with a close cost estimation based on your project specification and aid you in confirming the tech stack, platform, and other things.

FAQs
How can a website for travel like TripAdvisor make money?
By collecting a fee for each transaction on travel sites like TripAdvisor for restaurants, you may generate revenue. The commission may be charged to your landlords, network operators such as rental agencies, lodging establishments, dining establishments, and tourist attractions.
Utilizing ratings and adverts can also generate income for you.
Where can you get a list of every TripAdvisor request?
To see all of the queries you have posted or posed regarding the TripAdvisor app, go to your account and choose the forum postings option under Your efforts.
TripAdvisor is Owned By Who?
The Application is owned by Expedia, Inc. TripAdvisor Media Network is an operating business of Expedia, Inc.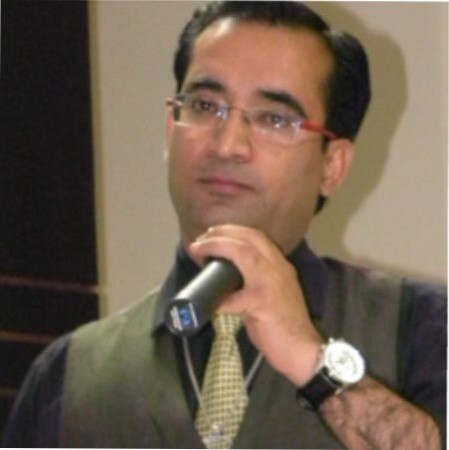 Naveen Khanna is the CEO of eBizneeds, a company renowned for its bespoke web and mobile app development. By delivering high-end modern solutions all over the globe, Naveen takes pleasure in sharing his rich experiences and views on emerging technological trends. He has worked in many domains, from education, entertainment, banking, manufacturing, healthcare, and real estate, sharing rich experience in delivering innovative solutions.